Tracy Sprinkle's story has been defined by overcoming adversity ever since his career at Ohio State.
Going into his second season with Ohio State in 2014, Sprinkle was temporarily dismissed from the team after being arrested on drug charges. After working his way back into the team's good graces and into a starting defensive tackle spot to begin the 2016 season, Sprinkle suffered a knee injury that nearly ended his career. But Sprinkle persevered through his hardships both on and off the field to regain his spot in the starting lineup in 2017, when he was also a team captain for the Buckeyes.
So it shouldn't come as a surprise that even though Sprinkle went unselected in the 2018 NFL draft, then signed with the Carolina Panthers only to be cut before the regular season began, he's still trying to make his NFL dream come true.
He's attempting to make his way back to the NFL by playing in the inaugural season of the Alliance of American Football, in which he is a starting defensive tackle for the Atlanta Legends. Three games into the season, Sprinkle has recorded five tackles, including a sack in the Legends' second game against the San Diego Fleet.
That sack is just the Sprinkle on top.@TSprinkle93 | #AllHailATL pic.twitter.com/QVzG30J5eP

— Atlanta Legends (@AafLegends) February 18, 2019
That ability to rush the passer is exactly what Sprinkle wants to show in the AAF, where he is playing as a 3-technique defensive tackle, giving him the opportunity to demonstrate his athleticism more than he could in the nose tackle role he played at Ohio State.
"I think being in this league has showcased the athletic ability that maybe some NFL coaches didn't see or scouts didn't see football-wise," Sprinkle told Eleven Warriors in an interview this week. "And then just being relentless, getting to the quarterback, and that's the things I've been trying to focus, but I've also got to stop the run while doing that."
Although the league is still in its infancy, Sprinkle is confident that players who perform well in the AAF will get another shot to play in the NFL.
"I think it's going to happen for sure," Sprinkle said. "There's going to be a lot of great stories coming from the AAF. You have a lot of different people that come from the CFL or Arena Football and played great in the NFL, and I think that's what this league is going to do. It's going to develop us to play great in the NFL."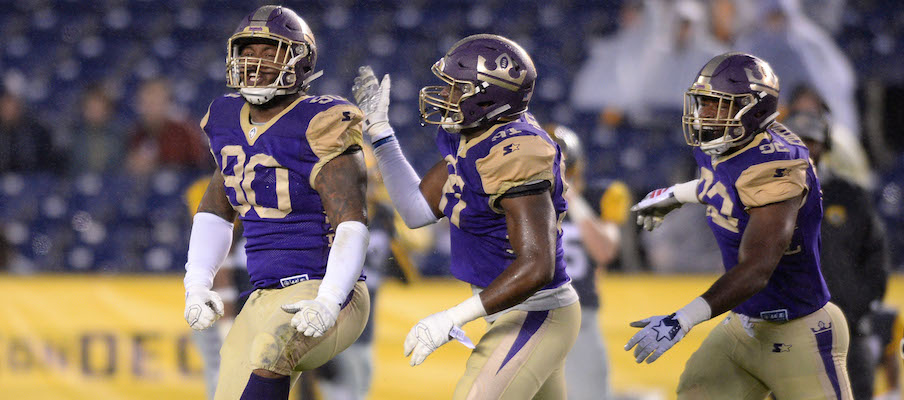 Sprinkle also knows from his experiences with Ohio State and the Panthers, however, how quickly an opportunity can be taken away. So while his objective from playing in the AAF is to make it back to the NFL, he's also trying to live in the moment.
"Everybody has a dream of playing in the NFL, making it to the NFL, but the main thing is staying in the NFL, and that's something that I learned. You never want to get complacent, you never want to feel like you've made it or something like that," Sprinkle said. "Sometimes I look forward, I try to look forward to what's coming, but I'm so focused on taking it day by day now, and I think being a part of the AAF taught me that."
"There's going to be a lot of great stories coming from the AAF. You have a lot of different people that come from the CFL or Arena Football and played great in the NFL, and I think that's what this league is going to do. It's going to develop us to play great in the NFL."– Tracy Sprinkle
While Sprinkle is continuing to pursue his professional football dreams on the field, he's also keeping busy off the field. Just last week, Sprinkle announced the launch of the #HowSheGoneEat clothing line – a joint venture between he and fellow former Ohio State defensive linemen Tyquan Lewis, Jalyn Holmes and Michael Hill – building a brand off a slogan that started three years ago when they were all playing for the Buckeyes, and blossomed into a social media phenomenon.
THE WAIT IS OVER! We are proud to announce our apparel line Tha Launch! You can purchase through our social media sites as of now! Our website is in the works!! Join the movement! #HowSheGoneEat #apparel #clothingbrand pic.twitter.com/iEQ3YqP8eA

— Tracy Sprinkle (@TSprinkle93) February 20, 2019
"When it first started back in 2016, we were already kind of thinking like, 'Wow, this could be something big,'" Sprinkle said. "Once we started seeing everybody using (the hashtag), we realized that it was a good marketing opportunity, so we tried to take advantage of it."
While it was Lewis who initially coined the phrase, Sprinkle – who graduated from Ohio State in 2017 with a degree in consumer and family financial services – said he took the lead on turning the brand into a business, beginning the work of launching an apparel line this past fall after he was cut by the Panthers.
Over the past four or five months, Sprinkle's work included finding a supplier to make the assorted apparel that he and his teammates are selling, forming an LLC, arranging investments from each of the other three former Buckeyes and finding a logo designer.
"It took about four or five months of work," Sprinkle said. "It was a lot of things that led up to just starting a business. It's not like you can just hop up, sell some T-shirts. It was a lot that went in with it."
The quartet announced the launch of the #HowSheGoneEat apparel line last Wednesday, and started selling shirts and hoodies through social media. Sprinkle and his teammates now have a website, howshegoneeat.com, and are planning to sell more items in the near future, including apparel for women and children.
Altogether, Sprinkle expects 2019 to be a big year for him both on and off the field, as he continues chasing his dream of playing football at the highest level while also building his new business.
"My plan for this year, 2019, is obviously to excel in the AAF," Sprinkle said. "This is what I'm doing right now so I want to focus on that. I want How She Gone Eat to grow even larger than what it is. Then I want to be back into the NFL by training camp of this season.
"When the new year came in, I planned on having a real busy year and a real successful year; full of wins, full of blessings. And that's what you can expect from Tracy Sprinkle. I'm focused and I'm locked in on doing it, and I believe it's going to come to light."