UNIVERSITY PARK, Pa. – No matter what happened last week, Ohio State couldn't answer the question of whether it could soften the loss of Nick Bosa to a core muscle injury that should hold him out until at least November.
The Buckeyes beat Tulane 49-6 last Saturday, but the defensive line didn't have many opportunities to shine against the wishbone offense of the Greene Wave. After that blowout victory, head coach Urban Meyer called the matchup a "much different game today than it will be next week" since the linemen didn't have many chances to rush the passer due to the offensive style.
With Bosa still out in the first top-10 matchup of their season, the Buckeyes relied on Chase Young and Jonathon Cooper to replace the production. And while Bosa likely would've changed the game in only the way he can, both defensive ends maximized their high snap counts.
Young had two sacks, which increased his season total to four sacks, and added six tackles, three tackles for loss, a pair of quarterback hurries and two key pass breakups. From the opposite side of the line, Cooper had three tackles, including two tackles for loss.
Cooper said neither he nor Young did anything different to lead to an increased level of play.
"I wouldn't say we did anything differently," Cooper said. "Me and Chase, we stepped up to the plate and ever since Nick went down, we realized a lot of people talking about how, 'What's this mean? What's this mean for the defense, defensive line?' Me and Chase just want to show we're not taking any steps back. If anything, if Nick goes down, we have to step up our game even more. And I don't think we approached the game any differently, but we knew what type of game it was going to be, we knew what type of opponent we were going to face and we just went out there and gave it our all."

"I feel like the statement we made was no matter if Nick's down, Dre'Mont's down, no matter who's down, next man up," Cooper said. "As long as we go out there and play and do what we have to do. There's no stepping back. The defensive line has to step up as a unit. I feel like we proved that today."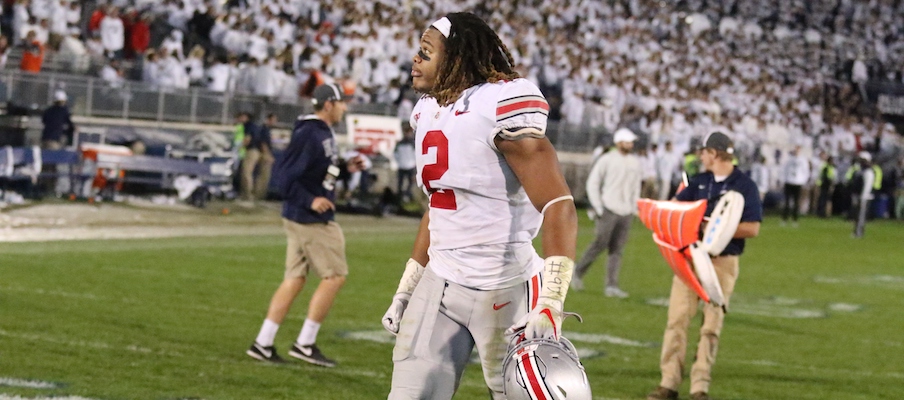 With 2:03 remaining while trailing by one point, Penn State needed to traverse the field to score a touchdown or field goal in order to recover the lead it had recently lost.
Last year, the Ohio State defense held up in a similar situation, but defensive tackle Davon Hamilton said he wasn't thinking about that.
"Honestly, no," Hamilton said. "I mean, I just knew we just had to make a play. I mean, this is our season right now, so we've got to make a play. We're got to win the game. No matter what."
Not all went well for the defense, despite it keeping Ohio State in the game while the team's offense sputtered for large portions of the game, especially early.
The Buckeyes continued their issue of giving up big plays by allowing a 93-yard pass from Trace McSorley to K.J. Hamler. The play tied TCU running back Darius Anderson's 93-yard scamper two weeks ago for the longest play from scrimmage against Ohio State in program history.
McSorley had a 51-yard scramble, and he hit multiple other receivers for 20-plus-yard gains.
"I mean, that's not the game plan coming in," Hamilton said. "We don't want to give up any yards, but, I mean, things happen. They play football, they have scholarships, they're a D-I school too, so we can expect that they might break some plays here and there. But like I said before, we're not even at our full capacity, our full potential yet. And when we show that, no team is stopping us."

"I think it just shows how tough our team is," Cooper said. "That no matter how many plays they run, no matter (how many) good plays they run, we always go back to the sideline with the same mentality that we can win this, we can do this, we work for this, we train for this. Just keep going out there and keeping the faith, keeping the energy."
McSorley managed to gain 461 all-purpose yards — 286 passing yards and 175 rushing yards — compared to Dwayne Haskins passing for 270 yards and picking up just eight yards on the ground.
Haskins wasn't at all shocked by McSorley's performance, for the Maryland native watched the Ashburn, Virginia, star quarterback while growing up in the region.
"Everything I was expecting," Haskins said. "He's a hell of a player, a fierce competitor. He makes a lot of plays. He gave us a lot of fits today, but I'm glad we came out with the W."
For as ecstatic Ohio State was about winning, Penn State felt as much — if not more — devastation for allowing the improbable comeback to be completed.
While the Nittany Lion defenders thought they plays well for the majority of the game, they understood how much they let it slip down the stretch.
"I mean, we fought, we just didn't wrap up the tackles in the fourth quarter that we needed to make," Penn State cornerback Amani Oruwariye said. "They made plays. I give them credit. They made some plays and they are a good team, but we just need to tackle and we just need to finish."

"No question, we need to tackle better in space," Penn State linebacker Koa Farmer said. "I think Ohio State did a great job (getting its skill players in space) and that was the adjustment they made and it hurt us. We need all 11 guys getting to the ball and we need to tackle."

"I feel like we got good pressure on him, but we didn't bring him down as much because they like the quick game," Penn State defensive tackle Robert Windsor said. "They don't hold the ball and look for the deep ball. They throw those little quick passes that you guys saw, so I feel like that was where it was hard to get sacks. We were hitting him, but he was getting it off because he was just throwing those little quick passes."
For right tackle Isaiah Prince, Saturday marked a return to the scene of what might have been the senior's worst game of his career.
"This was very special for me," Isaiah Prince said. "I think we played great as a team, played a good team but we just continued to fight hard. I think we knew what we was walking into, I think the majority of people on the team were here in 2016, and we didn't want to leave with that feeling, so we just continued to play."