Turns out, all that outrage yesterday over a social media graphic clearly about Ohio State's football team hoping to silence what is always a raucous whiteout crowd in Happy Valley actually produced a positive. 
The hub-bub somehow triggered my brain to crave hearing Paul Simon's The Sound of Silence as I started to compile the roundtable which was followed in my iPod's 105 GB of heat by The Sounds of Science, penned of course by Adam Yauch, Adam Horowitz and Michael Diamond.
My advice to you is to go ahead and cue up Paul's Boutique as Ramzy, Derrick and David drop science like Galileo dropped the orange while the Buckeyes put the final touches on preparations to take on No. 9 Penn State tomorrow night in Beaver Stadium.
---
Ohio State's rushing attack has seen its yards per carry decrease each game from a high of 7.1 against Oregon State to a low of 4.0 versus Tulane. Of course, J.K. Dobbins looked great against TCU and Mike Weber was awesome against Oregon State though Weber was nicked last weekend. Urban Meyer said he would be fine but how confident are you in Ohio State's ability to have a big nigh rushing against Penn State? Do they even need a big night with what the passing game has been doing especially in situations where the opponents are sticking another safety in the box and leaving a lot of one-on-one coverage?
Ramzy: Defenses generally key on stopping the run and taking on a little more risk for lower-probability plays, like downfield passing. The biggest concern with the rushing attack is Ohio State's penchant for OL penalties. The Buckeyes can afford to be one-dimensional against teams like Tulane. Against TCU they ran a few "passing handoffs" like the tunnel screen to Parris Campbell. If they were facing Ohio State's 1996 back-seven this weekend, I'd be more concerned. They're not. And Zone 6 runs routes now and catches passes, from a QB who doesn't hesitate to let it fly. It's a brave new world.
David: As inconsistent as Ohio State's rushing attack has been this year, Penn State's run defense has been worse. The Nittany Lions rank No. 82 nationally against the run, giving up an average of 172.5 yards per game. What's incredible is that average is bolstered my limiting Kent State's inept offense to 41 rushing yards. Their only power five opponents to date —  Pitt and Illinois (!) — have each gashed Penn State for 245 rushing yards on the ground.
With Penn State so undersized on the interior, I envision Ohio State's ground game churning out some big numbers Saturday.
Derrick: Fairly confident. It certainly helps that Penn State's defensive front four is a bit smaller than Ohio State's behemoths in which we call the offensive line. However, I think if the Buckeyes are to be successful, they're going to have to run through the middle of the field, or at least away from Penn State's Shareef Miller. You also make a good point on the passing front. If Parris Campbell, KJ Hill, Austin Mack ... really take your pick at the receiver position ... are left on an island, I'm trusting Dwayne Haskins to throw an accurate ball all day long. He's after all my Heisman pick through four games. Really ... who has Alabama and Tua played?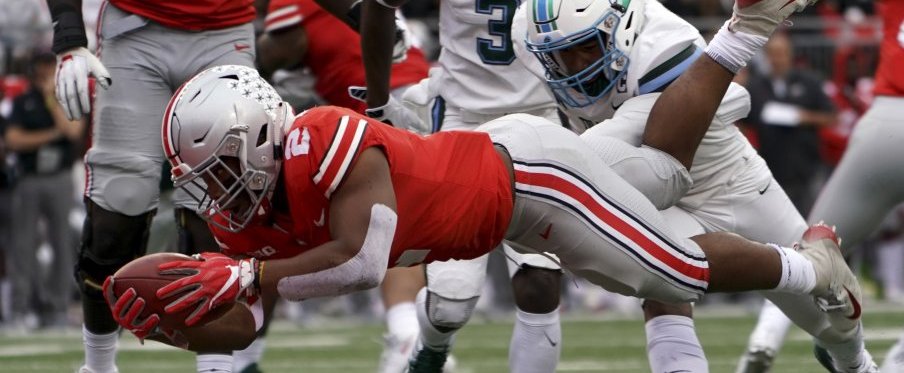 Penn State quarterback Trace McSorley leads the nation's most prolific scoring offense into battle Saturday night against a Buckeye secondary capable of giving up big plays. Will the pass rush and back seven be able to limit the Nittany Lions' aerial attack? What gives you the most heartburn about the matchup of Penn State's receivers versus Ohio State's coverage guys?
Derrick: I don't think the pass rush is, or has ever been, the problem this season. Even without Nick Bosa, Dre'Mont Jones, Robert Landers, Jonathon Cooper and Chase Young are capable of disrupting a passing game ... no matter who the opponent is. And, with Jordan Fuller and Isaiah Pryor playing well in the secondary, the Buckeyes have a safety blanket deep. My concern is solely at the linebacker position. Looking back at film, the second level of Ohio State's defense is the point where most big plays have taken place. You could make an argument that the secondary didn't play as well as needed against TCU. But it looks as if they've corrected that problem. I'm not sure I can say that about the linebackers just yet.
David: Visions of McSorley hurling bomb after bomb to whichever side of the field Jordan Fuller isn't roaming is the primary concern, in my opinion. Each of Ohio State's cornerbacks have flashed this year, but they've all had their struggles as well. And while McSorley doesn't have DaeSean Hamilton or Mike Gesicki to look to downfield, the offense still has plenty of weapons in Juwan Johnson and DeAndre Thompkins. 
Ramzy: Penn State's slot receivers are going to have a field day. Ohio State will give up a bunch of yards Saturday; the key will be keeping the home team inefficient in the red zone - like, FGs or nothing instead of TDs - and forcing turnovers. Over 500 yards allowed will mean little if the Nits stay off the scoreboard.
Penn State tailback Miles Sanders rushed for 220 yards in the blowout of Illinois and looks to have a nice blend of speed and power. Meanwhile, Ohio State's defensive line is without Nick Bosa though Dre'Mont Jones, BB Landers and others have stepped up, and the starting linebackers didn't record a tackle in part-time duty versus Tulane. Do the Buckeyes contain Sanders? How many yards – ballpark – do the good guys give up on Saturday and who is the player to watch from a run-stopping standpoint?
Ramzy: The linebackers controlled their gaps pretty well against Tulane, but they have had lapses - like, lapses they should not be having - in each of the first four games. Edge containment is an issue. Catch-up speed is an issue - I cannot think of a single big play this year where anyone from Ohio State's defense has caught the ballcarrier from behind. The best way to get that home field going nuts is to bust open big plays, and unfortunately there's a high probability for that on Saturday night. Sanders  - over 150 yards with McSorley adding 50 of his own.
Derrick: I think Saturday features a high scoring affair and Penn State, as it loves to do, will rely on McSorley to do the blunt of its damage. Having said that, I don't know that Sanders has the same amount of success that he did against the Illini. For starters, Ohio State's defense is ... well ... better than Illinois'. McSorley will be forced to go to the air more, taking attempts away from Sanders. I think Ohio State gives up close to 300 total yards, under 100 of which are on the ground. Player to watch in the running game? Linebacker Tuf Borland. The sophomore is an excellent run-stopping linebacker but he's got to make the tackle at the point of attack. That's been a point of concern so far.
David: Buckeyes coaches and players have spoken very highly of Sanders this week, and for good reason. Losing Saqoun Barkley should've been a bigger hit to the offense than it has been, and a lot of the credit goes to Sanders.
Ohio State was better limiting bigger plays to Tulane, but Sanders and the Penn State offense are a different beast. I think the reason Ohio State's defense played better last week because Chase Young stopped selling out against the quarterback played the ball a bit more than he had through three weeks. It'll help if that continues against Penn State, but I still see the Nittany Lions having success on the ground against these linebackers.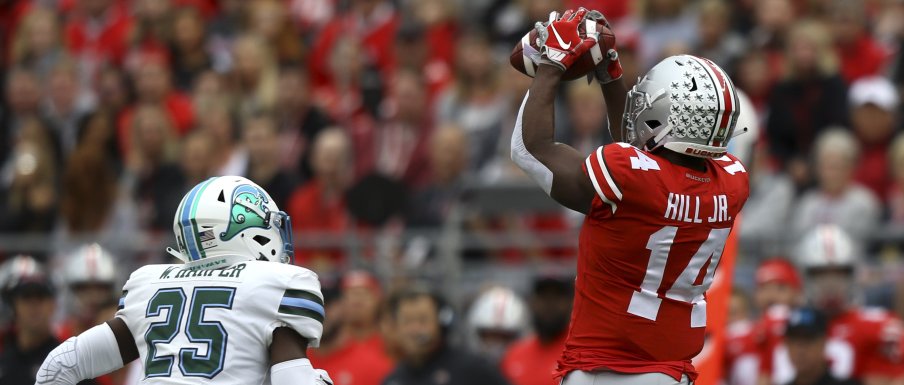 In our 11W slack and in the comments of various 11W articles, I've seen plenty of debate about which receivers have the best hands especially in the wake of Austin Mack's issues versus TCU. Give us your confidence ranking of OSU receivers solely from the standpoint of pure ability/effectiveness in securing the catch.
David: I can give Mack a pass for the TCU game because of how tremendously uncharacteristic it was. I still think he has the best set of hands on the team, and that's probably because I have the catch he made against Michigan last year ingrained into the very essence of my being. After Mack, give me K.J. Hill and Terry McLaurin, followed closely by Johnie Dixon. Then create a big gap in between that group in the next, which contains Binjimen Victor a few steps ahead of Parris Campbell (who has done much, much better this year and of course leads the team in both receiving yards and touchdown receptions). 
Ramzy: 1) Hill 2a) Dixon 2b) Saunders 4a) Mack 4b) McLaurin 6) Victor 7) Campbell. Parris had a great Saturday, but it will take more to shed the feet-for-hands label. Mack had a lousy night in Arlington, but it will take more for him to be deemed unreliable. 
Derrick: Austin Mack still has the best hands on the team. I'll just start there. I don't think I have any doubt about that. He leads the way for me from a receiving standpoint, alongside KJ Hill, who seemingly comes up with a big play every time the Buckeyes call his number. Terry McLaurin, Johnnie Dixon and Parris Campbell have also been uber-effective this year but Campbell has had issue with drops in the past -- although we haven't seen that as much in 2018. Then you take into account guys like Binjimen Victor and CJ Saunders, who haven't gotten the amount of opportunities as the aforementioned four. Still, I like my chances with either. 
Wild speculation time – There's been a lot of talk following a report that Ohio State was discussion a possible succession plan for Ryan Day to eventually succeed Urban Meyer. My gut says Meyer continues to lead the program for at least 5 more years but what does your intuition say? How many more years will Meyer be the head coach at Ohio State? Why? And what is the percentage chance that Day would be the eventual successor? 
Derrick: I'm absolutely with you there. Meyer has habitually stated how much he loves Ohio State and Columbus, and so has his entire family. I don't see him going anywhere in the next five years. If, and that's a big if, he does leave, Day is absolutely the man for the job, especially now. In terms of a percentage, I'll go 20 percent he eventually becomes Meyer's successor.
Ramzy: Urban is chasing Knute Rockne for winning percentage and Woody for all-time B1G wins. I'm bullish on him coaching until he's 65 at minimum. He's 54 now. I'd love to see Ohio State give Day the Brett Venables treatment. HC-in-waiting is a non-starter for me and from a leadership standpoint isn't a great idea. Succession planning is good; having an indefinitely-timed "president-elect" is distracting.
David: Like you, Chris, I too think Meyer will be around for at least another few years, and it's hard to imagine Day sticking it out that long before taking control. After what he did during Meyer's suspension, he's going to be on the short list to fill vacancies at dozens of schools with money to burn over the course of the next few years. He'd have to be willing to say "no" to a lot of great opportunities to assume a role that might now truly be his until... what, 2022? 
Ohio State travels to Happy Valley as a 4.5 point favorite over the Nittany Lions. How does it play out? Give us your final score and game MVP.
David: The Buckeyes are going to hammer Penn State's defense where it's weakest, and that's right up the gut with the run game. Weber should be ready to go, but after getting dinged up last week, I expect Dobbins to make the most out of a majority of his carries. The sophomore runs for 160 yards and two touchdowns as the Buckeyes come away with a 38-31 win. 
Derrick: I'll take Ohio State by a 34-31 final. Close game in a big-time environment and the Buckeyes escape with a win. Dwayne Haskins (who else?) leads his team to the victory with another 300-yard passing day.
Ramzy: I think this is actually a revenge game for the Buckeyes, not the Nittany Lions. Ohio State let PSU off the hook in 2016 - have you ever heard of a game where you win every statistical category and TOP by 15 (!) minutes and lose? I still cannot believe Curtis Samuel got only two carries in that game. 42-31 Ohio State. Plenty to be irked about, and a victory. Per usual.