The first game week of the season has arrived, which means the Ohio State football team's full attention – at least on the field – is now focused on preparing to play Oregon State in the Buckeyes' season opener at Ohio Stadium at 12:07 p.m. Saturday.
On the surface, Oregon State doesn't look like it will pose much of a threat at all to Ohio State on Saturday. The Beavers didn't win a single game against a Football Bowl Subdivision opponent in 2017, and are just beginning the rebuilding process under new head coach Jonathan Smith, a former Oregon State quarterback who was previously the offensive coordinator at Washington.
Nonetheless, it's important for Ohio State interim coach Ryan Day and the rest of the coaching staff to put together a solid scouting report on the Beavers in order to construct a gameplan that enables the Buckeyes to take advantage of their strengths and exploit their opponent's weaknesses.
The first scouting report of the year can be the most difficult to put together, as there isn't any game film from this season to go off of – meaning there remain a lot of unknowns, especially with a new coaching staff, in regards to how Oregon State's offense and defense will look this season. On the flip side, the season opener also offers more preparation time than any other game during the regular season – giving the Buckeyes' coaches plenty of time to watch film from last year, and gather as much intel as they can, to put together the best scouting report possible.
Ultimately, Ohio State should have a scouting report put together at this point with notes on what the Buckeyes could expect to see from every player who could possibly play for the Beavers on Sunday.
For our purposes, though, we'll just take a look at the Beavers who are most likely to see extensive playing time on Saturday.
(Update: Oregon State released its actual depth chart on Monday afternoon. This scouting report was written before the Beavers released their first depth chart of the season, so you will notice some differences between the actual depth chart and the lineups listed below.)
Quarterback
6 Jake Luton – 6-7, 234, Redshirt Junior OR 2 Conor Blount – 6-1, 204, Redshirt Sophomore
Luton, who started Oregon State's first four games of last season before suffering a thoracic spine fracture that ended his season, is expected to be the Beavers' starter once again this season. Luton, who has prototypical size for a pro-style quarterback and demonstrated the ability to throw the ball with impressive zip down the field in limited action last season, completed 83 of 135 passing attempts (61.5 percent) for 853 yards with four touchdown and four interceptions in 2017 – his first year at Oregon State after transferring from Ventura College – before his injury.
Blount has competed with Luton for the starting quarterback job throughout fall camp, however, and as of Sunday night, the Beavers hadn't yet named their starter at the position. Blount, who completed 19 of 35 passes for 183 yards with zero touchdowns and two interceptions as a true freshman in 2016, took a redshirt in 2017.
Running Back
21 Artavis Pierce – 5-11, 201, Junior
As Oregon State's second-string running back for the past two seasons, Pierce ran for 846 yards and five touchdowns on 166 carries and added 36 catches for 260 yards and a touchdown. A shifty back who will now be the Beavers' starter, Pierce also returned kickoffs last season, averaging exactly 20 yards per return (540 yards on 27 returns).
Calvin Tyler Jr., who had just three carries for 11 yards last season as a true freshman but also had nine kickoff returns for 182 yards, was in line to Beavers' the No. 2 running back this season but is sidelined by a knee injury, leaving no other available running backs with playing experience.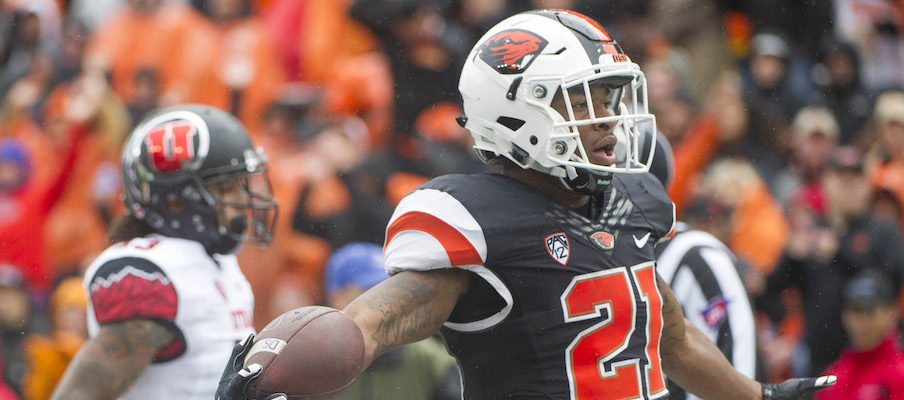 Wide Receiver
17 Isaiah Hodgins – 6-4, 208, Sophomore
18 Timmy Hernandez – 6-0, 198, Senior
8 Trevon Bradford – 6-0, 179, Junior
Oregon State returns three of its top four wide receivers from last season in Hernandez, who caught 30 passes for 357 yards and three touchdowns in 2017; Hodgins, who caught 31 passes for 275 yards and two touchdowns; and Bradford, who had 11 receptions for 204 yards.
Hodgins is the big target of the group; he won't beat many defensive backs deep with his speed, but he offers the ability to box them out with his size and make contested catches. Hernandez is the most experienced and well-rounded receiver of the group; he isn't tremendously big or fast, but he shows route-running skill. Bradford, who is set to become the Beavers' starting slot receiver, made a few big plays in limited action last year and offers the most dangerous speed of the group.
Tight End
81 Noah Togiai – 6-4, 242, Redshirt Junior OR 10 Isaiah Smalls – 6-4, 222, Freshman
Togiai, who led Oregon State with 34 receptions and 461 receiving yards in 2017, was expected the biggest threat on the Beavers' offense to an Ohio State defense that struggled to cover tight ends last season. However, Togiai suffered a knee injury during the Beavers' scrimmage last Thursday and was seen on crutches after the injury, according to Steve Gress of the Corvallis Gazette-Times, bringing his availability for Saturday's game into question.
If Togiai is unable to play, the Beavers appear set to turn to Smalls – a three-star true freshman from Los Angeles – to fill his place in the lineup.
Offensive Line
73 Blake Brandel – 6-7, 307, Junior
63 Gus Lavaka – 6-4, 353, Junior
52 Sumner Houston – 6-2, 287, Senior
76 Yanni Demogerontas – 6-3, 287, Senior
67 Trent Moore – 6-4, 289, Senior
Oregon State returns four of its five starting offensive linemen from last season, with Brandel, Lavaka and Houston back at left tackle, left guard and center, while Moore shifts from right guard to right tackle.
A third-year starter, Brandel is the most experienced and complete lineman of the group, showing good strength at the point of attack but also the athleticism to be an effective pull blocker. The enormous Lavaka, as you might expect, is a powerful run blocker who can move defenders, but struggles against quickness. Moore and Houston, by contrast, show quick feet but are undersized and struggle to handle power.
Defensive End
97 Kalani Vakameilalo – 6-3, 322, Senior
92 Isaac Garcia – 6-4, 248, Redshirt Freshman OR 72 Miki Fifita – 6-4, 296, Junior
Oregon State's most experienced defensive lineman, Vakameilalo is expected to anchor the Beavers' front from the defensive end spot in new defensive coordinator Tim Tibesar's 3-4 base defense and as one of two defensive tackles in the 2-4-5 nickel defense.
Los Angeles Valley College transfer Jeromy Reichner was expected to start opposite Vakameilalo, but with Reichner sidelined by an injury, Garcia appears to be in line to start in his first collegiate game on Saturday, though Fifita and senior LaMone Williams could also see playing time in the rotation. Garcia, who joined the team in January after he was academically ineligible last season, has the potential to emerge as an impact player but is an unknown at this point.
Nose Tackle
90 Isaac Hodgins – 6-0, 265, Freshman OR 99 Elu Aydon – 6-3, 378, Junior
Although Aydon has two years of experience and more than 100 pounds on Hodgins, a true freshman, Hodgins appears to have passed Aydon up for the starting nose tackle job. Despite his massive size, Aydon got pushed around at times last season, and his conditioning has been called into question.
Hodgins, the younger brother of the aforementioned Isaiah Hodgins, is a bit small for a nose tackle but has made a strong impression on his coaches and his teammates since enrolling in January, and appears to have worked his way into the Beavers' starting lineup as a result.
Outside Linebacker
7 Kee Whetzel – 6-3, 206, Sophomore
49 Andrzej Hughes-Murray – 6-2, 245, Junior OR 9 Hamilcar Rashed Jr. – 6-4, 223, Redshirt Sophomore
While it's uncertain which two of the three will start, Whetzel, Hughes-Murray and Rashed are all expected to see regular playing time this season in Oregon State's outside linebacker rotation.
All three saw some playing time off the bench last season, but Whetzel was the most productive of the group, recording 26 total tackles, three tackles for loss (two sacks) and one fumble. Hughes-Murray recorded 21 tackles, with one sack, in 2017, while Rashed recorded six tackles last season, but all three should have a chance to make bigger impacts this year.
Inside Linebacker
32 Jonathan Willis – 6-1, 225, Senior
41 Shemar Smith – 6-1, 237, Junior
An experienced leader on Oregon State's defense, Willis ranked fourth on the team with 68 total tackles and led the team with six tackles for loss and three sacks last season. He tends to get swallowed up by bigger blockers and isn't a big impact player in pass coverage, but he's a sound tackler who finds his way to the football in space.
Smith, who recorded 14 tackles in 10 games last season, moves into the lineup as a new starter alongside Willis in the Beavers' new defensive scheme.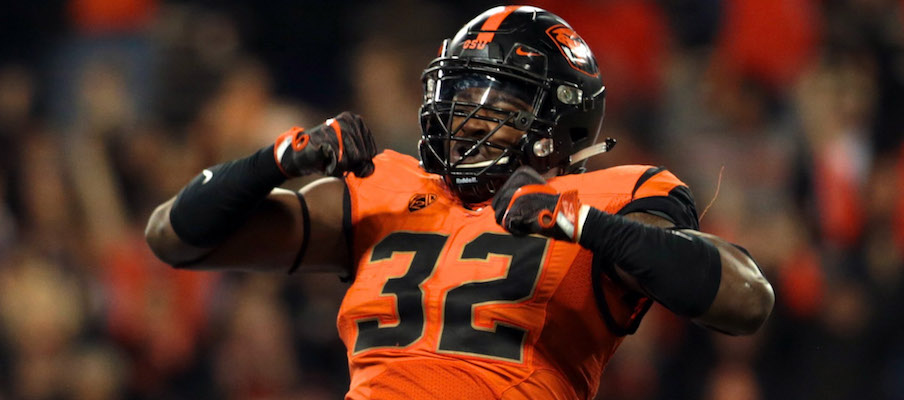 Cornerback
4 Dwayne Williams – 5-9, 175, Senior
14 Kaleb Hayes – 6-1, 183, Redshirt Freshman
2 Shawn Wilson – 5-9, 193, Junior
Williams, who started Oregon State's first three games of last season before suffering a season-ending knee injury, is expected to return to the starting lineup. With Jay Irvine and Isaiah Dunn, who were each starters for part last season, sidelined by injuries going into the season, Hayes appears to be the top candidate to start opposite Williams on Saturday.
Wilson, meanwhile, appears in line to be the third cornerback when Oregon State goes into its nickel defense. Wilson led all Beavers cornerbacks with 34 tackles last season, showing physicality in the run game, but he had his share of struggles in coverage.
Safety
15 Jeffrey Manning Jr. – 6-1, 192, Redshirt Freshman
33 Jalen Moore – 6-0, 208, Junior
Moore stood out on Oregon State's film from last season as one of the Beavers' most active defensive players. The strong safety, who is at his best playing downhill against the run, recorded 75 total tackles in 2017, tied for the most among all returning Oregon State players.
David Morris, who also had 75 total tackles last season and might well be the Beavers' best defensive player, is supposed to be the starting free safety alongside Moore, but he is sidelined by a foot injury. With Omar Hicks-Onu, who also played regularly last season, also sidelined by injury, Manning appears to be the top candidate to step in and start alongside Moore.
Overall Outlook
While Oregon State returns some solid players with experience, there aren't going to be many impact players on the field Saturday. The Beavers' arguably best offensive and defensive players (Togiai and Morris) could both miss the game due to injuries, and there aren't many other players in Oregon State's lineup who would crack the rotation at Ohio State. Simply put, Oregon State will have to play at its absolute best – and need the Buckeyes to play at their worst – to have a chance to win Saturday's game.