While we still have to wait a little over three more weeks to see the 2018 Ohio State football team take the field for its first game of the season, several members of Ohio State's 2017 football team will take the field when Week 1 of the NFL preseason kicks off on Thursday night.
Former Ohio State cornerback Denzel Ward, center Billy Price, defensive ends Sam Hubbard and Tyquan Lewis, offensive tackle Jamarco Jones, linebackers Jerome Baker and Chris Worley, quarterback J.T. Barrett, defensive tackle Tracy Sprinkle and safety Damon Webb are all among the Buckeyes who could see their first NFL game action as their new teams each open their preseasons on Thursday.
Among them, the Buckeye who could draw the biggest spotlight on Thursday night is Ward – the No. 4 overall pick in April's NFL draft – whose Cleveland Browns, already in the spotlight this preseason as the featured team on this year's edition of the HBO series "Hard Knocks," play the New York Giants in a 7 p.m. game that will be nationally televised on NFL Network and locally in Columbus on 10TV.
NFL Preseason Week 1 Schedule

THURSDAY
Game
Time/Score
TV
Chicago at Cincinnati
7:00 pm
ABC6*
Carolina at Buffalo
7:00 pm
 
Cleveland at N.Y. Giants
7:00 pm
NFLN/10TV*
New Orleans at Jacksonville
7:00 pm
 
Pittsburgh at Philadelphia
7:00 pm
NBC4*
Tampa Bay at Miami
7:00 pm
 
L.A. Rams at Baltimore
7:30 pm
 
Washington at New England
7:30 pm
 
Tennessee at Green Bay
8:00 pm
 
Houston at Kansas City
8:30 pm
 
Dallas at San Francisco
10:00 pm
NFLN
Indianapolis at Seattle
10:00 pm
 
FRIDAY
Atlanta at N.Y. Jets
7:30 pm
NFLN
Detroit at Oakland
10:30 pm
NFLN
SATURDAY
Minnesota at Denver
9:00 pm
NFLN
L.A. Chargers at Arizona
10:00 pm
 
*In Columbus TV market
Ward, who is already listed as a starting cornerback on the Browns' depth chart, will be thrown into the fire immediately on Thursday night against a Giants team that includes one of the NFL's best wide receivers, Odell Beckham Jr., though it's likely that Beckham – who suffered an injury in a preseason game against the Browns last August, and ended up playing just four games in the regular season – won't play on Thursday.
In the first couple weeks of his first NFL training camp, Ward has drawn praise from his new coaches and teammates for how he has performed as a Brown so far.
"I think that he has the ability to be one of the elite corners in this league," fellow Browns defensive back Damarious Randall said last weekend, according to 247Sports' Josh Edwards. "He is fast. He can run with anybody. The biggest thing that I am impressed with is his press technique. He is not scared to go up there and press anyone. That is one thing that you look for in a younger guy."
Other former Buckeyes to watch in that game include running back Carlos Hyde, who is entering his first season as a Brown after four seasons with the San Francisco 49ers, and cornerback Eli Apple, who is looking to get back on track after a tumultuous second season with the New York Giants.
Price, Hubbard and Worley, meanwhile, will make their debuts for Ohio's other NFL team on Thursday, when the Cincinnati Bengals open their preseason with a game against the Chicago Bears, also at 7 p.m., which will air on ABC6 in Columbus.
Like Ward, Price – the No. 21 overall pick in April's NFL draft – is already listed a starter on his new team's depth chart. He's had his share of struggles early in training camp, as he adjusts to snapping the ball to a quarterback under center after rarely doing so at Ohio State, but he's nonetheless in line to be the Bengals' starting center and says he's excited to take the field at Paul Brown Stadium on Thursday night.
"There's going to be nerves without a doubt," Price said Tuesday, per Geoff Hobson of Bengals.com. "I think you're silly if you don't think there's going to be any nerves. This is your first NFL preseason start. But it's going to be fun. You've got to make sure you control what you can control and go out there and have some fun."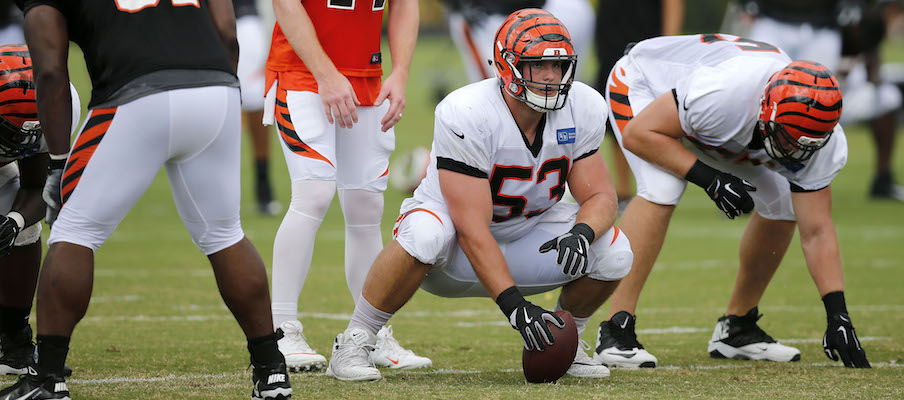 Hubbard and Worley, meanwhile, should both see playing time for the Bengals' defense on Thursday. For Hubbard, a third-round pick, it will be a realization of a dream come true, as the Cincinnati native will be playing for the team he grew up cheering for in front of his hometown crowd for the first time. For Worley, an undrafted rookie, every preseason game will be crucial for him to perform well and improve his chances of making the regular-season roster.
Another Buckeye who will certainly be of interest on Thursday night is Barrett, also an undrafted rookie who is looking to earn his way onto the Saints' roster. As their current fourth-string quarterback, however, Barrett probably won't see much playing time in Thursday's 7 p.m. game against the Jacksonville Jaguars, as second-string quarterback Tom Savage and third-string quarterback Taysom Hill are expected to see most of the reps.
Of course, there are plenty of other Buckeyes to watch when the Saints take the field, as their roster currently includes an NFL-high six former Ohio State players, also including wide receivers Michael Thomas and Ted Ginn Jr. and defensive backs Marshon Lattimore, Vonn Bell and Kurt Coleman. The Jaguars also have two Buckeyes in Michael Bennett and Andrew Norwell, who is set for his first time action as a Jaguar after he said a five-year, $66.5 million deal with the team in March.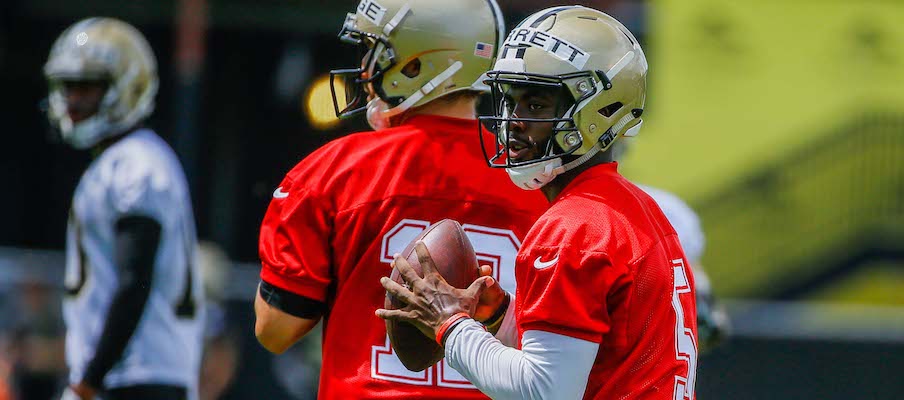 Another intriguing game for Ohio State ties could come at 10 p.m. Thursday, when the Indianapolis Colts play the Seattle Seahawks, as both teams drafted Buckeyes this April. The Colts selected Lewis with a second-round pick, while the Seahawks selected Jones with a fifth-round pick, and that could potentially mean the former teammates even matching up against one another on Thursday. Jones is currently competing to be the Seahawks' starting right tackle. It's uncertain whether Lewis will be able to play on Thursday, however, as he was listed on the Colts' injury report with a foot injury earlier this week.
Other former Buckeyes who could be on the field in that game include defensive end John Simon for the Colts, and tight end Nick Vannett for the Seahawks. Former Buckeyes and current Colts safety Malik Hooker isn't expected to play until later in the preseason as he works his way back from a torn ACL.
Another former Buckeye who tore his ACL last season, linebacker Raekwon McMillan, is expected to play when the Miami Dolphins play the Tampa Bay Buccaneers at 7 p.m. on Thursday. Baker, who played alongside McMillan in Ohio State's linebacker corps in 2016, is also expected to make his Dolphins debut on Thursday.
Sprinkle, who is looking to make the Carolina Panthers' roster as an undrafted rookie, will get his first chance to show what he is capable of in NFL game action when the Panthers play the Buffalo Bills at 7 p.m. Thursday.
Webb, who is looking to make the Tennessee Titans' roster as an undrafted rookie, will get his first chance to play in an NFL uniform at 8 p.m. Thursday, when the Titans play the Green Bay Packers – a game that will also serve as the head coaching debut for former Ohio State defensive end and assistant coach Mike Vrabel, and as the NFL coaching debut for former Ohio State cornerbacks coach Kerry Coombs.
Marcus Baugh, an undrafted rookie tight end from Ohio State, will get his chance to play in his first NFL preseason game when the Oakland Raiders play the Detroit Lions at 10 p.m. on Friday night, in a game that will be televised on NFL Network.
Jalyn Holmes, a fourth-round pick defensive end from Ohio State, will also get a chance to make his NFL preseason debut on NFL Network when the Minnesota Vikings play the Denver Broncos at 9 p.m. Saturday.
Other former Buckeyes who will play in nationally televised Week 1 NFL preseason games include Ezekiel Elliott, Rod Smith, Noah Brown and Tyvis Powell, as the Dallas Cowboys play the San Francisco 49ers on Thursday at 10 p.m. on NFL Network; Darron Lee and Terrelle Pryor, as the New York Jets play the Atlanta Falcons at 7:30 p.m. Friday on NFL Network; and Jeff Heuerman, Bradley Roby and Corey "Philly" Brown for the Broncos.
Columbus-area viewers who want to watch Malcolm Jenkins, Cameron Johnston and Cameron Heyward in action will also have that option on Thursday at 7 p.m., as the defending champion Philadelphia Eagles' game against the Pittsburgh Steelers will be televised locally on NBC4.
The NFL also offers an online subscription service, NFL Game Pass, which allows viewers to live out-of-market preseason games and replays of all NFL games.
---
Author's note: Tennessee Titans safety Damon Webb was omitted from the list of 2017 Buckeyes making their NFL preseason debuts in the original publication of this article.