About 200 to 250 people gathered outside the north rotunda at Ohio Stadium on Monday evening for a rally in support of Ohio State football coach Urban Meyer, who is currently on paid administrative leave from the university.
Jeff Hamms, a 49-year-old Myrtle Beach, South Carolina, resident who calls himself "Tennessee Jeff," organized the rally and spent about 10 minutes speaking to the crowd of Meyer supporters and assembled media, explaining why he felt it was important to support Meyer and leading the crowd in several Meyer-inspired chants.
You can watch video from the rally below.
Hamms said he did not want the rally to be about former Ohio State wide receivers coach Zach Smith – refusing to even say his name – and said he did not condone the alleged actions of Smith, who has been accused of domestic abuse by his ex-wife, Courtney, on multiple occasions.
But after seeing Meyer's statement on Friday, in which Meyer said he reported the allegations made against Smith in 2015 – after previously denying knowledge of them at Big Ten Media Days – Hamms said he felt like he needed to make a public show of support for the Ohio State football coach because of the narrative around the situation, specifically referring to comments by ESPN's Paul Finebaum in which Finebaum referred to Meyer as a "fraud."
"I'm just wired like this," Hamms said. "I don't care if three or four people would have showed up. My main objective was to show Urban Meyer how much we love and adore that man, as not just as a 90 percent winning coach, but as the coach of Ohio State Buckeye football and the man himself and what he's done for the university."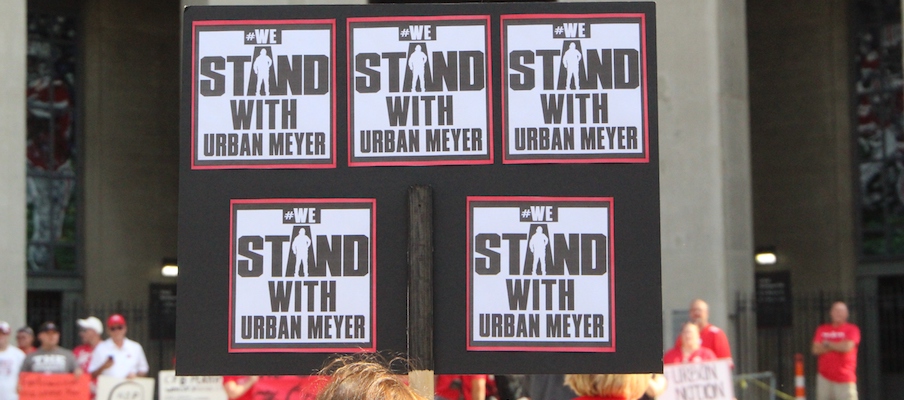 In addition to bringing up Meyer's 73-8 record as Ohio State's football coach, Hamms also talked about Meyer's work with the Urban and Shelley Meyer Fund For Cancer Research and with the Buckeye Cruise For Cancer, and said that he has talked to players, staff and others who know Meyer and has heard nothing but good things about him.
"I've never heard one time, coach-wise – and I've talked to them – anything derogatory about Coach Urban Meyer," Hamms said. "This is bigger than me. It's bigger than all of us. It's the players' families. Those guys are 18, 19 years old. They go away from home. They trust Coach Meyer and their staff with their children … I've asked players, parents … I say, 'What's he like playing for?' And they just love playing for him."
Hamms closed the rally by leading the participants in a singing of "Carmen Ohio."
Crowd sings Carmen Ohio at the rally to support Urban Meyer outside Ohio Stadium. pic.twitter.com/RVAbq2OWoG

— Dan Hope (@Dan_Hope) August 6, 2018
The rally was immediately met with heavy criticism on social media, with some of that criticism coming from other Ohio State fans who felt it was an embarrassment to the university. Hamms, however, said he didn't care about the criticism.
"I care about one man right now, and that's our coach, Urban Meyer," Hamms said. "Why he's not over there tomorrow morning, I'll never know … he should be over there coaching our football team. That's what I care about."
Stacy Elliott, the father of former Ohio State running back Ezekiel Elliott, was also among those present for Monday's rally. Elliott, like Hamms, said he made the trip specifically to Columbus for the rally to show his support for Meyer.
"Urban Meyer is one of the best things that has happened to this university," Elliott said. "I love Urban Meyer. He's a man of integrity. I know this."
Elliott also said he was not concerned about the criticism the rally might bring, believing that people who support Meyer need to get out and show their support.
"If anybody really looks into this, and are not haters of Ohio State and haters of Urban Meyer, they will see the actual facts," Elliott said. "And all of those who know Urban Meyer need to stand up and be men and defend what is right."
Neither Meyer, nor anyone else currently affiliated with the Ohio State football program, was present for the rally. Hamms said he did receive the university's permission, though, to hold the rally outside Ohio Stadium.