When I was a student at Ohio State, the time spent in the wee hours of an April morning, waiting for the ticket buying window to open was one of my favorite days of the year. I felt like by getting in early, I was somehow gaming the system instead of just getting a chance at a spot in line that was ultimately determined by an algorithm.
But they were tickets, dammit! And I got to see some great home games in college. Heart-palpitating victories against top-tenish teams in the form of Iowa and Purdue in 2003! An awesome upset of Michigan in 2004! A hilarious revenge annihilation of Iowa in 2005! The Game of the Century in 2006!
I honestly don't remember how much all of that football cost me, but I know that it was worth it, because the boring, two and a half touchdown victories over MAC schools were worth sitting through to be able to see everything else.
Today, a season ticket for the 2018 Ohio State football season will run you six hundred and thirty nine American dollars. If you're a student, you only pay a mere two hundred and thirty eight dollars, but as a student, you don't get to experience the wonderful world of flexible pricing. Flexible pricing, of course, means that buying individual tickets will be a much different experience financially if you decide to check out Tulane ($67 a ticket) versus Michigan ($197 a ticket).
I've never had a season ticket for Ohio State home games, outside of being a student. I usually end up being able to go to one or two games a season due to 11W things or a lucky break or two, but that's always been enough for me, despite the nagging feeling that I'm missing out on some really kickass live football. And a savings of about 110 bucks if you compare a season ticket versus buying them all individually.
Any purchase like this involves a lot of mental math about how and why you should pay for it, but ultimately when you're spending hundreds of dollars, the question comes down to something pretty simple: is it worth it?
The simple answer is "yeah, you dingus, it's Ohio State football, it's always worth it," and to a certain extent I agree with that. I've sat through some terrible, borderline unwatchable Jim Tressel specials at the 'Shoe in my life, but the spectacle of the stadium and the fans and the band always makes the experience worth it in a subjective, anthropological sense. Like, if you're Jane Goodall and you've shifted your field of study to Ohio State fans in their natural milieu, then hell yeah, sign yourself up for 20-2 wins over Akron in 2007 (a miserable game that I also attended) all day.
On the other hand, if your desire is to watch great football...
Let me put it this way: in the past three seasons, Ohio State has played ranked teams at home six times, winning four of those matchups. Those games have either been entertaining because they were close, interesting contests that went down to the wire (Michigan in 2016, Penn State in 2017) or because they were really awesome blowouts (Nebraska in 2016). But what's crazy is that in Urban Meyer's time at OSU, the Buckeyes have only played an additional three games against teams that were ranked at the time they came to Columbus.
That's less than 1.5 games per season at home against ranked opponents, and due to some high-profile out of conference opponents falling on hard times (Cal, Oregon State), what's been intended as a strong way to open the season has more often than not ended up being a disappointment either because of an early loss or just bad opposition.
When Kevin suggested this topic to us a few days ago, he noted that 2018's slate of home games might be the worst since 2013. And he's right in the sense that 2013 sucked out loud, when the best home game was a fairly pedestrian win over an okay Wisconsin team.
But 2014 also had some really terrible home games as well, and it also helps me make my point.
Ignoring the loss to Virginia Tech, Ohio State won their home games that season by an average score of 52-19, which includes a win over a really garbage Michigan team.
I went to two games that season; the Cincinnati game, which I enjoyed because I really, really like it when the Buckeyes stomp the hell out of the Bearcats on the gridiron, and the Indiana game, to which I'll devote a few paragraphs.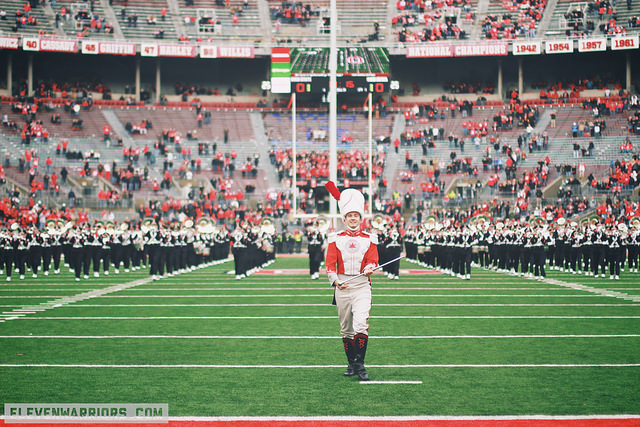 I think the 2014 Indiana game was the first time that I've ever really questioned whether or not I made the right decision by showing up. It wasn't the seats; my now-wife and I had scored some great tickets on the 40 yard line in A-deck. But it was late November, and wet and icy conditions preventing people from getting to the lots meant that Ohio Stadium was barely half full when the game started and never got above two thirds capacity the entire game.
The game itself was fine. After a really sluggish start, Jalin Marshall sparked the team and they ended up winning relatively comfortably in the end against a game Hoosier squad. But as I walked back to our car, I kept thinking "yeah, this all could've been accomplished with me at home and under the covers, sending stupid Tweets and drinking hot chocolate."
Which brings me back to the present.
It's entirely possible that in 2018 Ohio State will not play a ranked opponent at home until the Michigan game. September is especially dire. Away games at TCU and Penn State will be fun, but the home slate against Oregon State (possibly the worst team in America), Rutgers (Rutgers), and Tulane (meh coach, bad quarterback, lost their best running back to graduation) is bad. If P.J. Fleck and Scott Frost can turn around Minnesota and Nebraska quickly, things will pick up in October, but in reality it's going to be slim pickings until Michigan. Again.
The issue is this: as a student, I wasn't picky about games because I didn't have to be. I got a cheap season ticket and if Indiana sucked, well hell, I could just check out Purdue or Wisconsin later in the year. Now that luxury costs much, much more, and the base price for a game like Michigan runs close to two hundred dollars.
When that's your only option to see a guaranteed interesting/exciting game because of a weak home slate, you begin to wonder how much you're really willing to spend. In other words, the way ticket prices are constructed now compounds the problems of some unforeseeably bad scheduling, because there simply aren't enough good games on the home schedule overall. When fans look for a ticket that offers a bang for their buck and can't find one, then they won't buy any ticket at all.
There are only two ways to fix this. First, the bottom tier of the Big Ten has to get better (or at least more interesting, like Indiana was under Kevin Wilson), which is out of Ohio State's hands. Second, Ohio State needs to recognize that attendance will begin to dwindle for every game if tickets for even middling opponents cost, for instance, the 96 dollars that is the face value of a stub to get into the Minnesota game.
Keep flexible pricing, but only for one or two specific games on the schedule, and make everything else a flat price. Because as it stands now, the only losing battles the Buckeyes will face at home will be against their own expectations at the turnstiles.