Heisman Trophy winner, four-time Pro Bowler, NFL Offensive Rookie of the Year, Maxwell Award winner, Walter Camp Award winner, unanimous All-American, Big Ten MVP, first round draft pick. 3,768 rushing yard and 534 receiving yards in college. 10,441 rushing yard and 2,227 receiving yards in the NFL. 78 NFL touchdowns. Seven 1,000-yard seasons in the NFL.The only NFL player other than Jim Brown to rush for 10,000 yards without missing a start. Number 27 retired at Ohio State. 
He needs no introduction, but the accolades remind us just how spectacular Eddie George was. Indeed, there is a case to be made that no greater football player has ever worn scarlet and gray. 
George retired from the NFL in 2006, and that's when things got interesting. What I mean by that is Eddie George was so masterful, so consistent, so much the quintessential three-yards-and-a-cloud-of-dust downhill runner that it is almost boring to discuss his on-field accomplishments. There was a kind of literal straightforwardness to his game. Like Archie Griffin or Orlando Pace, George is less a subject for devotee debate than a mythologized symbol of Buckeye greatness
George's post-football endeavors, on the other hand, make you pause. He is a restaurateur and a financier. He starred in Chicago on Broadway and teaches business at Ohio State. He has a degree in landscape architecture and plays in Shakespeare's tragedies. 
Take Eddie George for all in all. He is a Buckeye and NFL legend, but he is also writing a vibrant story with depth imperceptible in a retired number or a bronze statue.  
In his own words
Can you give readers a quick rundown of the many things you are involved in?
First and foremost, I like to sector my things off into 'three E's,' if you will. It's education, entrepreneurship and entertainment. And under each of those silos, there are different things that I have done and that I continue to do.
I'll start with entertainment. I've done reality shows, commentated, I've acted on Broadway and on film and that's what I currently do. Looking for roles, whether it's on NCIS: LA or Ballers with The Rock or doing Chicago, a musical, on Broadway. And looking for opportunities with that with the right people.
Under entrepreneurship, I consider myself an uber entrepreneur. I look at great opportunities that are going to bring great cash flows, big business ideas that I'm passionate about. But my mainstay is wealth management. That's what I focus on: maintaining and sustaining the wealth of high net worth individuals, working with specialty groups on 401K plans and really building relationships. I like to say my infrastructure is transparent – high level of integrity – and we're always going to keep out clients' best interests at heart to maximize their wealth over a long period of time. And that's going from cradle to grave.
Under education, I got my degree, my B.A., in landscape architecture at Ohio State. I got my M.B.A. from the Kellogg School of Business in 2011. I'm currently teaching at The Ohio State University as an adjunct professor during the spring semester, going on my fourth year. We cover the business of professional sports.
So, under those three umbrellas or silos, that's where I operate. I find those sweet spots, and I try to create synergies among them – whether it's entertainment and education, entertainment and entrepreneurship or all three – to create more revenue streams and more opportunities to help individuals and continue to grow as a businessman.
You do an incredible number of different things. What is the best part of your day?
The best part of my day is when I see my son, when my son comes home from school. That's probably the best part of my day, sharing that time with him and finding out how his day was. Going to his games or his track meets. I really enjoy that, just spending time in life spit-balling, having simple conversations over lunch or something. That's what I enjoy the most.
What is the most important life lesson you want to teach your son?
The most important life lesson is… wow… is to always search for the wisdom in everything. Whether it's a success or a failure, you always have to find the gem, the lesson learned that's there, to prepare you for the next level.
Always building relationships. You never want to burn bridges with anybody. You want to continue building relationships time after time because you never know when you need to lean on somebody.
And I would say to create memories with your family and your loved ones. Tomorrow is never promised, and you never know when your time is up or that person's time is up. So, you have to take time and smell the roses, and not be so focused on work and trying to get ahead and trying to collect the next pay check. Those things are important, don't get me wrong, they're next to breathing. But you have to take time to smell the roses.
If you could have dinner with any three people, who would they be? 
Gandhi. I would love to talk to Gandhi. I think that would be a fascinating conversation. I think there would be a lot of simple answers to complex questions.
Meryl Streep. I think she's the best actor in the world – that's including men. She's just a phenomenal actress, just does a fantastic job of displaying her characters. She's one of my favorite of all time.
And I think the third person, alive or dead, is probably William Shakespeare… to see if he really wrote all those plays!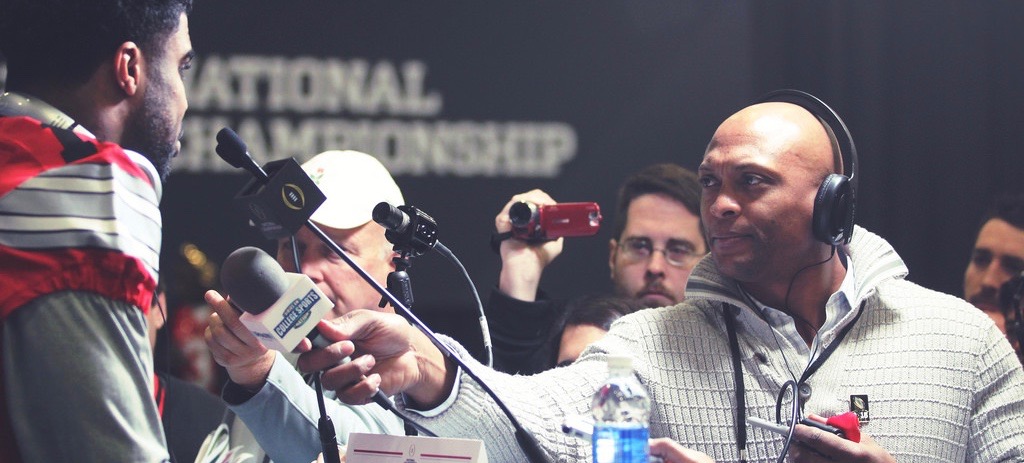 You campaigned for President Obama in 2008. What is the role of athletes in the political conversation?
Well, I think athletes have a platform. They have a voice, and they have the impact and power to bring light to various situations. Athletes are not just entertainers or simply there for everyone's pleasure, scoring touchdowns or putting baskets through a hoop. We pay taxes too. Our kids go to school as well. We live in the society. We do a lot of things that everyday people do.
The direction and leadership of this country – local, state-wide and national – you speak to that because you live in the society. You do something great for a living and people look at you differently, but when you see injustices that don't resonate with you, you have family that are still impacted. Where you are economically in society, you voice that opinion. To not have a voice about that, you kind of go against your truths.
To each his own. Some guys choose not to get in it politically because you perform for people from the left and the right. Guys are very sensitive about that. But there are times when you have to put things on the line and say, this just isn't right, and we have to bring light to a situation that most people aren't going to look at.
What is the biggest lesson you learned playing football that helped you transition to life after football?
The biggest lesson I learned playing football is leadership… self-leadership and knowing yourself and constantly pushing yourself to be a better person. Which leads to living a life with integrity. Which leads to having a strong brand for yourself that people just gravitate toward. Your name is everything that you have. You can't compromise that for anything.
What I learned playing football is that championships are not necessarily won on the field. That's the end product. But, more or less, it's won at the top, and that starts with leadership. Not just the head coach, but the culture that you create within the walls of the facility, of a building, of an organization. So, it starts with the ownership, and it permeates down to the that very last person picking up trash in the facility – that that's done with a sense of purpose, that it's down with integrity, it's done with a mission in mind, it's done to create champions within those walls.
That's one thing that I've learned playing football, and I apply that to my home. It starts at the top. It starts with me or my wife, and it permeates to our children. We try to create a winning culture within our home that our kids can thrive on. When they face adversity, they have a blueprint for how to navigate through that.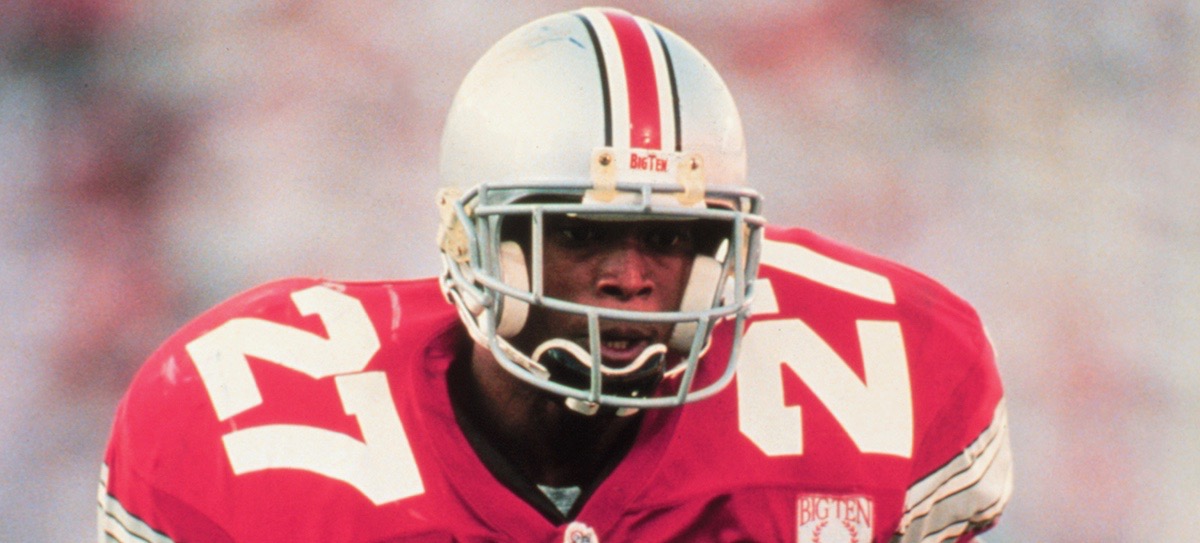 Do you ever think about going back into football?
If the opportunity ever presented itself, maybe as an owner… that's one way I would love to go back. Front office, and deal with setting the tone of what the organization is going to do – the direction of the organization and how we are going to create a culture. I really enjoy that, from the top down, so that's one thing I would love to do if I ever got back into football.
What are you most looking forward to?
What I'm looking forward to is answered prayers. We pray for great health, pray for the wealth and health of my children – that their dreams are accomplished. I look forward to seeing them achieve and accomplish. And I also look forward to certain prayers that I put out there – to God, to the universe – that they are answered. So, it's not a flashy answer, but it's an honest one.