A pair of former Ohio State defensive ends will get their opportunity to impress scouts from all 32 NFL teams and show why they should be selected in the 2018 NFL draft when Senior Bowl week begins Tuesday in Mobile, Ala.
Coming off of Ohio State careers in which both were contributors for the last four years and part of the Buckeyes' famed "Rushmen" package for the past two years, Jalyn Holmes and Tyquan Lewis will strap on their Buckeye helmets for one more week of football as they participate in this year's premier all-star game for NFL draft prospects.
While J.T. Barrett, Damon Webb and Chris Worley participated in last week's East-West Shrine Game and Marcus Baugh and Michael Hill participated in last week's NFLPA Collegiate Bowl, the stakes might be even higher for Holmes and Lewis – who are each ranked among the top seven defensive ends in this year's NFL draft by ESPN's Mel Kiper and Todd McShay – as they will have the opportunity to demonstrate their skills alongside and against players who are considered to be among the top prospects in this year's draft class.
Holmes, who accepted his Senior Bowl invitation the day he received it, said the opportunity he has this week is one he has been dreaming of since he was a kid.
"I just remember me and my little brother watching NFL Network all day, just watching either the combine or just watching the Senior Bowl and just wondering where dudes were going to end up at, and now, I'm living what I used to watch," Holmes told Eleven Warriors last week. "So it did really just hit me."
Lewis described the opportunity to play in the Senior Bowl as a "tremendous honor," and said he plans to take the same approach into this week's game – that this could be the most important game of his career – as he took throughout his career at Ohio State.
"Every game I go into, almost is like, this is the game that could determine my future," Lewis told Eleven Warriors last week. "And that's the way I think about this one as well."
Getting to have one more opportunity to play football alongside each other, Lewis and Holmes said, makes their chance to play in the Senior Bowl even more exciting.
"Me and him, we're really, really close friends, so it's going to be a good chance for both of us to get after it," Lewis said.
The first part of the Senior Bowl evaluation process begins Tuesday morning, when Holmes, Lewis and the rest of the participants in this year's game are going through weigh-ins, where they will have their heights, weights, hand sizes, arm size and wingspans measured. The Senior Bowlers will then hit the field at Ladd-Peebles Stadium for their first practices of the week on Tuesday afternoon, with Holmes and Lewis' North squad – which will be coached by the Denver Broncos' coaching staff – taking the field at 4:30 p.m. (3:30 p.m. Mobile time) for a practice that will be televised on NFL Network.
The North squad will return to the field for 1:30 p.m. practices on Wednesday and Thursday, which will also be televised on both NFL Network and on ESPNU, as NFL scouts and decision-makers will actually place a priority on evaluating practices over the game itself.
Holmes, who played both defensive end and defensive tackle for the Buckeyes last season, says he wants to show evaluators that he is fundamentally sound, comfortable on the field and versatile during this week's practices.
"Just those three things, that I'm dependable and you can be able to coach me and I'm willing to play any position that a D-line coach asks, so I feel like if I can show those things, I can land in a good spot, and try to have the best NFL career I can," Holmes said.
"I just remember me and my little brother watching NFL Network all day, just watching either the combine or just watching the Senior Bowl and just wondering where dudes were going to end up at, and now, I'm living what I used to watch." – Jalyn Holmes
Lewis, who was a three-year starter for the Buckeyes and the 2016 Big Ten Defensive Lineman of the Year, wants to prove he can be a fit for any team.
"I just want to show them that I can play really well, and I'm a great defensive end," Lewis said.
Both Buckeyes feel as though they will be well-prepared to put their best foot forward this week. Lewis, who has been training with Tom Shaw in Orlando, Fla., says the transition over the last month from finishing his Ohio State career to beginning the NFL draft process "has been really, really smooth." Holmes, who has been training with EXOS in Phoenix, says he has working on preparing for March's NFL Scouting Combine but finding ways to translate those drills to football – while also continuing to do some defensive line position work – to keep himself fresh for the Senior Bowl.
"I just feel like I use like some of the 40 techniques and try to apply to football," Holmes said. "Like in the weight room, we're working on get-offs and trying to get our legs stronger to get off to get that extra push to get off a little faster. So, in my mind, I look at it as like right now working on my get-off for (this) week. And we got the trainers, they're trying to get us our steps right and all that type of stuff to get off the ball or to get off of the 40 fast, and I just try to keep it close together."
Perhaps the biggest reason why Holmes and Lewis feel confident and prepared going into this week, though, is that they spent the last four years learning from Ohio State defensive line coach Larry Johnson, as they look to continue Johnson's long history – at both Ohio State and Penn State – of developing defensive linemen who have gone on to success in the NFL.
"Coach Johnson is one of the best to ever do it, and that's one reason why I came to Ohio State and I feel like he trained us as pros at Ohio State," Holmes said. "I'm teaching the coaches here (at EXOS), it seems like, some new stuff when it comes to like D-line work … it's kind of different, because now you're doing it on your own, but I'm just enhancing everything Coach J taught me and just bringing it along with me."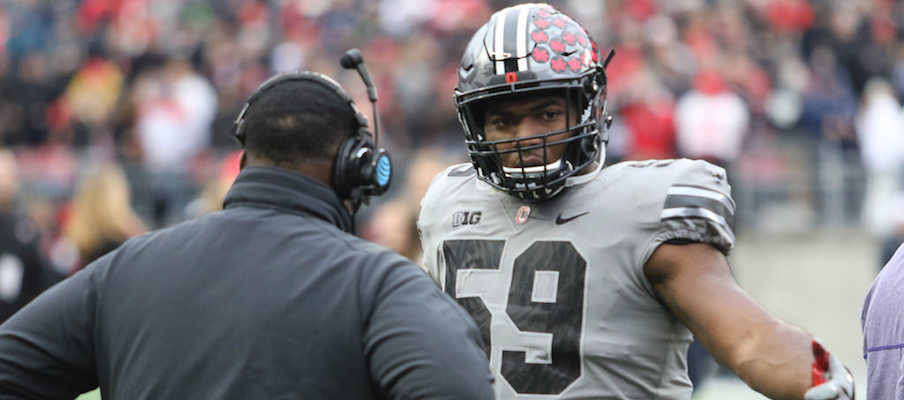 Beyond the opportunities to perform on the field, the other crucial aspect of Senior Bowl week is the opportunity for NFL teams to meet with and interview potential draft picks, and Holmes – a 2017 Ohio State captain who was highly regarded in Columbus for his leadership skills – believes that opportunity could be just as beneficial to his draft stock as the chance to play one more game on the field.
"I'm excited for those meetings because I feel like once teams get to know me as a person, it really helps my chances," Holmes said. "I think one thing they will see is that I like to say I'm a servant. I'm real selfless. I'm willing to play anything they tell me to play, And I just, I'm a team player and I'm just overall, I feel like I'm a good person to be around, so I feel like I can show them that I can bring the positive energy to their locker room, which is good. Any team, I feel like that could be a plus for me."
Lewis, a two-time captain at Ohio State, also wants to show teams the type of person he is as much as he wants to show them the type of player he is.
"First off, you're getting a great young man," Lewis said. "You're getting a great player. I'm someone that can help contribute to making a locker room better. I just carry a good presence."
Lewis and Holmes weren't the only Buckeyes to be invited to this year's Senior Bowl. Billy Price, who is widely regarded as the top center in this year's draft class and is already considered a potential first-round draft pick, told Eleven Warriors last week that he was invited to the Senior Bowl, but opted not to play after consulting with people around him who he trusted.
"Just going back to the people around me, they thought it was the best idea not to," Price said. "I did get invited to it, and I talked to (Senior Bowl executive director) Phil Savage myself to just say 'Hey, I appreciate the opportunity.' I just found it best not to perform and not to participate in it, again just trusting the people around me and looking for my best interests and my future."
Savage told scouts and media on Tuesday morning that Ohio State's other defensive end prospect in this year's draft, Sam Hubbard – who was eligible for the Senior Bowl as a fourth-year junior because he graduated in December, and is also a potential first-round pick – was also among the 10 players who declined invitations to this year's game.
As for the two Buckeyes who are participating in the Senior Bowl, however, you can watch Holmes and Lewis play one more game in Ohio State helmets on Saturday at 2:30 p.m., when the week-ending game will be played at Ladd-Peebles Stadium and televised on NFL Network.