CINCINNATI – Chris Worley's phone began ringing during the fifth round of last month's NFL draft.
The team on the other end wasn't calling to draft him, and that call never came, as all 256 picks went by without Worley being selected. But by the time the seventh round came to an end, the former Ohio State linebacker had offers from 10 to 12 teams who wanted to sign him as an undrafted free agent.
Ultimately, Worley decided the best fit for him was just a couple hours down Interstate 71, as he chose to sign with the Cincinnati Bengals.
By signing with the Bengals, Worley was able to stay in his home state while also reuniting with two of his fellow Ohio State captains from last season, Billy Price and Sam Hubbard, who were both drafted by the Bengals.
As he begins his time with the Bengals this weekend by participating in the team's rookie minicamp, however, Worley is in a different position than Price and Hubbard. While Price and Hubbard are sure bets to make the Bengals' roster, having been drafted in the first and third rounds respectively, Worley has no such guarantee.
With a total of 47 draft picks, undrafted free agents and tryout players participating in this weekend's Bengals rookie minicamp, which began Friday and concludes Sunday, and a roster that already includes 90 total players, Worley faces no shortage of competition in his bid to ultimately make the Bengals' 53-man regular season roster.
So as Worley practices as a Bengal for the first time this weekend, he's had his sights set on making a strong first impression on his new coaches and teammates.
"Be a grown man, take care of your stuff, it's time to go practice. You got to practice hard," Worley said. "Just show how serious you are about this. Competing, taking care of your body, eating right, taking care of business around the facility. It's all the little things, plus the big things, that they're looking at."
While Worley is happy to still be in his home state and still teammates with some of his fellow Buckeyes, he said neither of those factors were why he decided to sign with the Bengals. The factors that really mattered, Worley said, were the roster needs and defensive schemes of the teams that offered him, as well as the relationships he had built with the teams' coaches. And after weighing all of his options, Worley determined that the Bengals were the team that best checked those boxes.
"It's definitely a plus once you get here, but as far as trying to stay in Ohio, you can't look at that when you make a decision like that. You got to look at the things that's best for you, team needs, things of that sort," Worley said. "I wasn't really trying to focus on staying home. Once I decided to stay home, I was like 'Oh shit, I'm still here.' And then you kind of see the benefits from that once you make that decision. But I didn't make a decision because of that."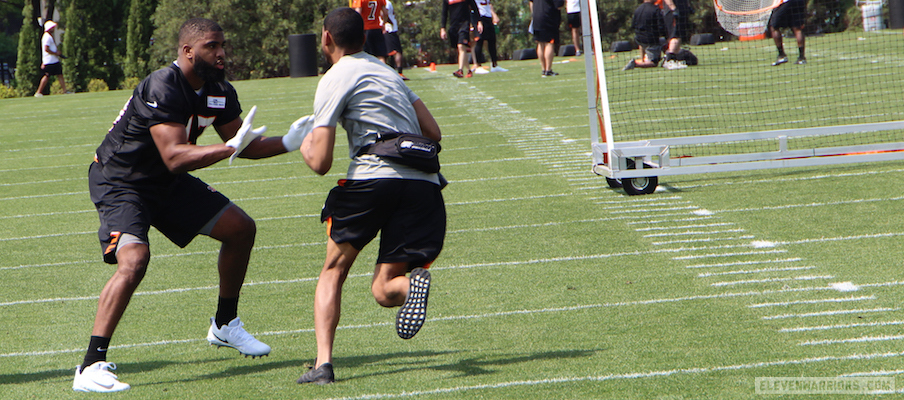 Worley felt good about the relationship he built with Bengals linebackers coach Jim Haslett, who was among the coaches that helped run the linebacker drills at Ohio State's pro day, over the course of the draft process. It also helped the Bengals' cause that Ohio State linebackers coach Bill Davis, who worked alongside Marvin Lewis when they were assistant coaches for the Pittsburgh Steelers in the 1990s, could provide insight to Worley on the Bengals' head coach.
As Worley decided on which team would be the best team to sign with, he wanted to go to a team where he felt like he could trust the coaches and where they would give him a genuine opportunity to make the roster.
"Coach Haslett, he was real big throughout my process," Worley said. "That steady line of communication showed someone that wants you, rather than some teams, they never showed up to pro day, never talked to you, they just kind of want you to fill a need for a camp spot, so to say. And I really wasn't into that. I'm here trying to make a team.
"I know what these guys stand for, and they know where I've come from as well at Ohio State," Worley added. "Dealing with my coaches, they know that those guys are going to teach me the right way. And so it's kind of like a double dose of trust, as far as what you're getting, so that was a big, big part in what I did."
When asked about Worley following the opening day of the Bengals' rookie minicamp on Friday, Lewis said the Bengals felt really good about him – as well as Price and Hubbard – throughout the draft evaluation process. And while Lewis didn't specifically address Worley's chances of making the team, Lewis did say he thought the Bengals "were able to sign a couple of guys (as undrafted free agents) who really have an opportunity to compete for spots on the roster."
"They were very productive players at a high level in college, and they have an opportunity to come in here and compete," Lewis said. "That's important that we can continue to give guys those kinds of opportunities and have that competition."
All of that said, it won't be easy for Worley to make the Bengals' 53-man roster. Vincent Rey, Nick Vigil and Vontaze Burfict are all returning starters for the Bengals at linebacker, while they also added middle linebacker Preston Brown – a starter for the past four years for the Buffalo Bills – as a free agent and Malik Jefferson, a former Texas standout, as a third-round draft pick.
The Bengals could have an extra roster at linebacker at least to start the season, though, as Burfict is set to serve a four-game suspension. It also helps Worley's cause that he played all three linebacker positions in Ohio State's 4-3 defense, potentially offering him the versatility to do the same in Cincinnati, while he was also a regular for the Buckeyes on special teams, where he will need to make his mark this preseason to earn a roster spot.
Worley appeared to make a good first impression during the opening day of the Bengals' rookie minicamp on Friday, when he showed coverage ability in team drills, practiced with several special teams units and, as evidenced in the video below, gave all-out effort on every rep.
In order to have a chance to make the Bengals' roster, though, Worley knows he must have to give that level of effort at every opportunity.
"You got to do everything to a T, or try to do it to a T," Worley added. "No one's perfect, but you have to try to do everything to a T, while you're competing and doing everything. That's the biggest thing, and I just came here to compete."
While seven Ohio State players were selected in this year's draft, Worley was one of six Buckeyes to sign with teams as undrafted free agents, along with J.T. Barrett (New Orleans Saints), Marcus Baugh (Oakland Raiders), Tracy Sprinkle (Carolina Panthers), Damon Webb and Elijaah Goins (both Tennessee Titans). Michael Hill (Detroit Lions), Erick Smith (Jacksonville Jaguars) and Nick Seme (Bengals) are also participating in rookie minicamps this weekend on a tryout basis.