When Kevin Wilson was hired before this season as Ohio State's offensive coordinator, one expectation was that the tight end position would play a bigger role in the passing game than in Ohio State's previous offenses with Urban Meyer as head coach.
Seven games into Wilson's tenure, the Buckeyes are gradually starting to show signs of having a passing offense that uses the tight ends more frequently.
In the Buckeyes' seventh game of the season against Nebraska, which Ohio State won 56-14, starting tight end Marcus Baugh caught three passes for 43 yards and a touchdown, while second-string tight end Rashod Berry caught two passes for 29 yards and a touchdown.
That marked only the second time in Meyer's 74 games at Ohio State that two different tight ends have caught touchdown passes in a single game. Their combined 72 receiving yards was the most Ohio State had from the position in a single game since 2014.
Baugh, Berry and third-string tight end Luke Farrell have combined for 21 catches for 260 yards and four touchdowns this season, which has the Buckeyes well on their way to having a more productive season at the tight end position than last year, when Baugh and A.J. Alexander combined for just 28 catches for 296 yards and two touchdowns over 13 games.
Like the rest of Ohio State's offense, it's tough to determine whether the tight ends' uptick in production has more to do with their own improvement or playing weak competition in recent weeks. Buckeyes fans will want to see their tight ends make meaningful plays against top-notch opponents – particularly, in the Buckeyes' next game against Penn State on Oct. 28 – before being convinced that they can be impact players for the offense.
Ohio State's tight ends are still a long way away from becoming focal points of the offense, and it's unlikely they ever truly will be. But Ohio State's tight ends are starting to show encouraging signs that they can at least give quarterback J.T. Barrett more options in the downfield passing game and help open up the Buckeyes' spread offense for everyone else.
If the Buckeyes can continue to grow at the tight end position – which Wilson, who is also the Buckeyes' tight ends coach, says his players still need to do – they could end up having more tight end production than the Buckeyes had in any of Meyer's first five seasons in Columbus.
Wilson said the Buckeyes tried "very, very hard" to force some plays to the tight ends earlier in the season, and it didn't work. On Saturday, however, Wilson believes quarterback J.T. Barrett and the Buckeyes allowed the passing game to flow more naturally, and Baugh and Berry simply emerged as playmaking options – combining for the most productive game by the tight ends this season – because of their development.
"I would have told you a couple, three weeks ago, 'OK, this is going to happen, this might happen, we're going to get this guy the ball here, here and here,' and it didn't happen. And really Saturday, we didn't really think about it happening, and it did," Wilson said in regards to utilizing the tight ends in the passing game. "The thing that encourages me (with Baugh and Berry) … they're practicing better."
While Wilson is seeing improvement by the week by his tight ends as pass-catchers, however, he says that they must work to continue getting better as run blockers.
Wilson says he has seen improvement in that area from Baugh, who is in his second year starting for the Buckeyes. Baugh's pass-catching production in terms of catches and receiving yards per game are currently almost identical to his statistics from last season, but he has now caught touchdowns in each of Ohio State's last two games, all the while seeing limited second-half snaps in each of the Buckeyes' last five games as a result of them blowing out their competition.
Berry, who converted to tight end from defensive end this offseason, remains raw at his new position, especially in regards to blocking technique. Nonetheless, though, Berry has started to take on a bigger role in Ohio State's offense by the week – playing a season-high 33 snaps, all with the first-team offense, against Nebraska – and Wilson is seeing improvement by the week from the athletic 6-foot-4, 260-pound redshirt sophomore.
"He gets by a lot with his athleticism," Wilson said of Berry. "As explosive as, as just innately physically skilled as any kid I've dealt with.
"He's learning how to play the position. We didn't move him 'til the very end of summer, so he's had a short window to polish his skills. He has a high ceiling and I'm encouraged by the way he's coming along and he's not even close to so many things he can do better. He's got a chance to be a special player. I'm proud of him."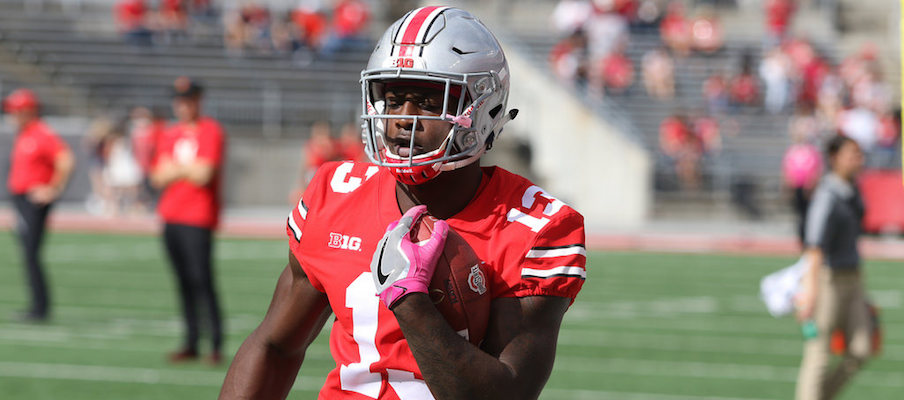 Ohio State experimented with using two-tight end packages – something the Buckeyes have rarely done in Meyer's first tenure as coach – in last week's game against Nebraska, deploying Baugh and Berry on the field together for a total of six plays. Wilson indicated Wednesday that the Buckeyes would like to expand on those packages going forward if Baugh and Berry can continue to improve.
"Both of those guys got to keep coming on in the blocking game," Wilson said. "There's a reason you want those two tight ends in. You can block down, you can get down around, you can reach block, you can lead for the quarterback."
Those packages might be used primarily in the running game, but Wilson says he expects Baugh and Berry to continue catching more passes if they can increasingly prove they belong on the field as blockers.
"There's so many plays without the ball. There's more plays like that than touchdown catches," Wilson said. "The more they keep coming without the ball, the more they're going to play for us."