Ohio State coach Urban Meyer wants his best 11 players on each side of the ball to be on the field.
In order to do that on offense, the Buckeyes need to find a way to play running backs J.K. Dobbins and Mike Weber at the same time.
Meyer said Monday that the Buckeyes are working on putting together offensive packages that utilize 20 personnel – two running backs, zero tight ends and three wide receivers – and 21 personnel – two running backs, one tight end and two wide receivers – in the interest of getting both Weber and Dobbins on the field simultaneously.
"We're working on maybe playing them both at one time," Meyer said Tuesday on the Big Ten teleconference. "They're that quality of players. When you put your best 11 on the board, those two names surface. So our obligation is to play the best players."
Running backs coach Tony Alford said Tuesday that he doesn't know exactly what those personnel groupings will look like – and even if he did, he wouldn't tell the media before the Buckeyes use them in a game – but that the coaches are still working to figure out how to use them most effectively.
"We got some packages we're looking at and we'll see if we can get them on the field together," Alford said. "It's just a matter of how we want to use those pieces in the chess game, and we're still talking about it.
"It's just how we place those pieces in the puzzle and how we want to use them. And we're still kind of back there brainstorming how we want to go about it. But it's also got to fit within the confines of what we do. We're not going to invent some new offense in order to do so."
Weber says the Buckeyes have been working on implementing two-back sets with he and Dobbins in practice, and he expects them to ultimately use them in games.
Once the Buckeyes do begin using the two-back combination, Weber expects it to cause problems for opposing defenses.
"I feel like it'll be something scary," Weber said. "We both are pretty similar but different at the same time, and I feel like defenses are not going to be able to handle that if we do it the right way."
Ohio State regularly used two-back packages last year with Curtis Samuel at H-back, with Samuel often lining up alongside Weber in the backfield. The Buckeyes haven't done that this year with their new H-backs, as Parris Campbell and K.J. Hill primarily line up as slot receivers. But Alford said what the Buckeyes did last year with Samuel and Weber provides a blueprint for them to work off of this year with Dobbins and Weber.
"It just goes to show it can be done and it can be done rapidly," Alford said of last year's packages with Weber and Samuel.
"I feel like it'll be something scary."– Mike Weber on potential two-back offense
Weber, a redshirt sophomore, missed two of the Buckeyes' first four games and was limited in the other two while recovering from a hamstring injury. Dobbins, a true freshman, emerged in that time as a running back who is too good for the Buckeyes to keep off the field.
"I've had some very, very good players, but at this stage of his career, he's the best one I've had at this stage," said Alford, who has coached running backs at the Football Bowl Subdivision level since 1996, with stops at Kent State, Iowa State, Washington, Louisville and Notre Dame before coming to Ohio State in 2015.
Dobbins has started all five of Ohio State's games this season as a result, but upon Weber's return to being fully healthy last week, Weber ended up playing more snaps than Dobbins and receiving more carries (10 to Dobbins' six) in the Buckeyes' 56-0 win against Rutgers.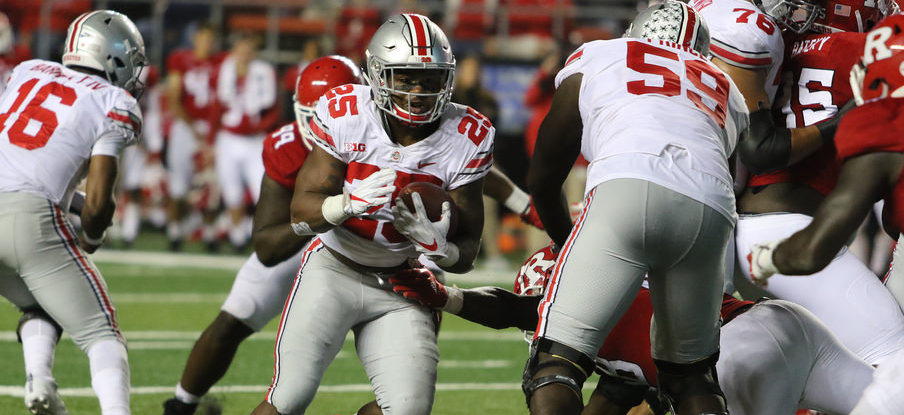 Regardless of whether the Buckeyes end up using a two-back set, they expect both Dobbins and Weber to play regularly. Alford says their skill sets are similar enough that the Buckeyes can run any of their plays with either of them, which avoids the problem of providing tells to a defense based on which back is in the game, but yet distinct enough that they want to keep both in the game plan.
"They have some similar skill sets, but they also have some very different skill sets that they can use and be dangerous in their own right," Alford said. "It's a good problem to have."
The Buckeyes could choose to simply rotate Weber and Dobbins, keeping both backs fresh, but they'd like both backs to be able to play more often than not, which is only possible if the Buckeyes find ways to play both simultaneously. Meyer says he has never had two running backs who can complement each other as well as Weber and Dobbins can, which increases the motivation to get both on the field at the same time, and Alford believes there is legitimate value in using two-back packages.
"They're two dynamic players, I think two of our best playmakers on offense," Alford said. "So let's try to get them on the field at the same time, so they're not sitting there watching like me."
Alford says Weber and Dobbins are both capable of taking on lead blocking responsibilities when the handoff goes to the other running back, which enables a two-back package to be effective.
"I don't think you want to have any of them to do that as a heavy dose, but they're definitely willing and able to do that on occasion," Alford said.
Another running back who appears to have a skill set that the Buckeyes should want to get on the field is sophomore Demario McCall, who scored two touchdowns – one rushing, one receiving – in the second half of Saturday's game at Rutgers. Incorporating McCall into the two-back packages is not imminent yet, however, in part because McCall is still working his way back to 100 percent from an abdomen injury.
"He's still a little small in comparison to those guys, and we got to still work on some things as far as pass pro and some things like that, and he's still trying to get back healthy," Alford said of McCall.