Ohio State is fully expected to win Saturday's game at Rutgers.
The Buckeyes have defeated Rutgers by at least 39 points in each of the last three years – the first three meetings ever between the two schools – and Ohio State appears to have the vastly superior team this year once again.
Presumably, Ohio State should be able to cruise to a victory on Saturday in Piscataway. The Buckeyes themselves, however, aren't looking at it that way.
"I hope people don't think we're just taking Rutgers lightly," said Ohio State linebacker Jerome Baker. "I don't understand why people always say, it's Rutgers. They're a gifted team. We're coming into their field. They're definitely going to bring it. So it's going to be fun."

RUTGERS SCARLET KNIGHTS
1-3 (0-1 B1G)
ROSTER / SCHEDULE
---
7:30 P.M. – SATURDAY, SEPT. 30
HIGH POINT SOLUTIONS STADIUM
PISCATAWAY, N.J.
---
BIG TEN NETWORK
BTN2Go
Saturday night's game represents a return to Big Ten play for the No. 11-ranked Buckeyes (3-1, 1-0), who have spent the last three weeks playing non-conference games after winning their season opener at Indiana. It's also the second Big Ten game of the year for the Scarlet Knights (1-3, 0-1), who lost their conference opener to Nebraska last week.
That return to playing conference opponents, who the Buckeyes will play for at least their next eight straight games, is one reason why the Buckeyes aren't taking this game lightly.
"The Big Ten is if not the best, one of the best, conferences, so you have to bring it every game," Baker said. "We're going to go out there and definitely perform to bring everything we've got."
RUTGERS BREAKDOWN
While the Big Ten East has teams who provide tough competition for Ohio State each year, Rutgers has not been one of those teams since joining the conference and the division in 2014.
The Scarlet Knights have won only four conference games in their three-plus seasons in the Big Ten, and have never even kept a game close with the Buckeyes. The Scarlet Knights were especially bad last year, when they lost all nine of their conference games and were shut out four times, including a 58-0 loss at Ohio Stadium.
Four games into this season, the results haven't been much better. The Scarlet Knights' only win so far came against Morgan State, a Football Championship Subdivision team. Their losses including a home defeat to Eastern Michigan.
There is one area, however, where Ohio State coach Urban Meyer says the Scarlet Knights are much better this year: Defense.
"That's the most improved defense that I've seen in the country this year," Meyer said of Rutgers. "They were not very good a year ago. They're very good now."
After allowing at least 31 points in eight of their 12 games last year, the Scarlet Knights have not allowed more than 30 points in any of their first four games this year. That includes a season-opening game against Washington, which is averaging 44.5 points per game for the season.
Rutgers ranks among the Football Bowl Subdivision's top 30 in yards allowed per game (298.3), points allowed per game (18.3) and third-down conversion defense (30.2 percent).
The leader behind that improvement has been Chris Ash, who is in his second year as Rutgers' head coach after working for Meyer as Ohio State's defensive coordinator in 2014 and 2015.
"You're seeing a lot of things that he believes in on their defense now," Meyer said. "I think he understands his personnel much better now."
"They were not very good a year ago. They're very good now."– Urban Meyer on Rutgers' Defense
Ash and defensive coordinator Jay Niemann have made some changes to their defensive scheme to better fit their personnel – most notably, the Scarlet Knights now primarily use a 3-4 defensive front, even though Ash has typically preferred the 4-3 defense – but Ash says the credit for his team's defensive improvement goes to the players.
"It wasn't pretty last year. We all know it. We all own it. But they've done a great job of pressing the reset button, getting refocused," Ash said. "We've made some tweaks to our scheme that really fit our personnel that we have on our football team. So I think we're putting our people in better position to do what they can do. I think we're fundamentally developed better in terms of the fundamentals and techniques and things that we need to execute our schemes. And I think we play harder. I just didn't feel like we played hard enough last year."
The Scarlet Knights – which will be the third odd-fronted defense, following Oklahoma and Army, that the Buckeyes have faced this year – play three big bodies up front in Darnell Davis, Sebastian Joseph and Willington Previlon. Kemoko Turay starts on the edge as a hybrid defensive end/linebacker. Junior linebackers Trevor Morris and Deonte Roberts, both returning starters from last year, lead the Scarlet Knights with 29 and 26 tackles, respectively.
Rutgers' secondary has also been one of the team strengths this year. Led by strong safety Kiy Hester, who has two interceptions and six passes defensed this season, the Scarlet Knights have 25 total passes defensed this year, tied with Ohio State for the 10th-most in the FBS.
The Scarlet Knights did lose their best cornerback for the season when Blessuan Austin suffered a season-ending torn ACL last week against Nebraska. That could leave the Scarlet Knights more vulnerable on the back end than they were in their first four games. But Ohio State wide receiver Parris Campbell is expecting a challenge from Rutgers' defensive backs.
"One thing I noticed right off the bat when I started watching film is that their secondary is very aggressive," Campbell said. "They have really, really good coverage skills. And you don't see too many guys getting beat on that defense."
All together, Ohio State offensive coordinator Kevin Wilson says Rutgers' defense has been "rock solid" through its first third of the regular season.
"Their defense is going to give them a chance, and we've got to play well or it's got a chance on the road to be an ugly game," Wilson said.
Along with Rutgers' defense, Meyer says he is also considered about the potential impact that special teams could have on Saturday's game.
That's partially because Meyer considers Ash to be a "very good special teams coach." Because Ash was involved in every special teams meeting during his two years at Ohio State, Meyer says the Buckeyes have to be "conscientious" of their tendencies in that phase of the game.
Meyer's other reason for concern on special teams is Janarion Grant – a very legitimate concern considering that Grant has eight combined kickoff and punt return touchdowns, tied for the most in FBS history, in his Rutgers career. Grant is one of the best returners in college football when healthy. That said, it is unclear whether Grant will play in Saturday's game, as he has yet to be cleared medically after missing last week's game against Nebraska due to headaches; Ash told reporters Thursday that Grant's status is "day-to-day," and that it won't be known whether he can play until Saturday.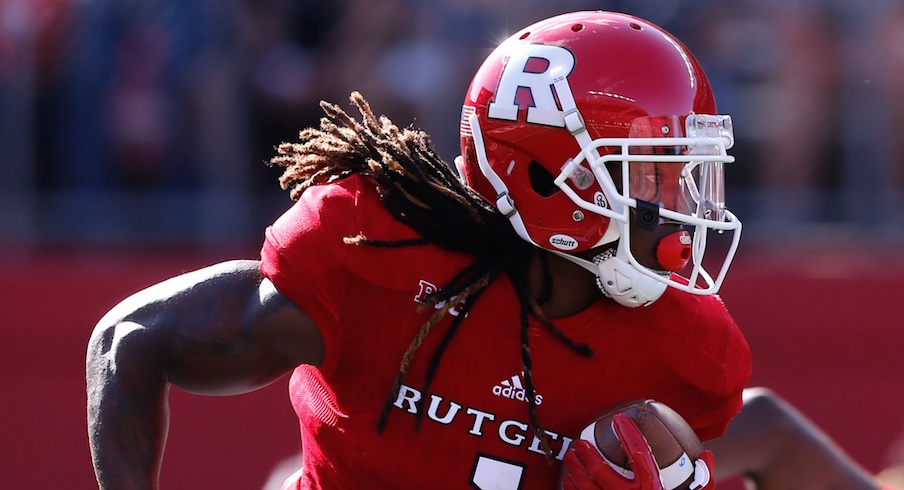 The Scarlet Knights likely need Grant to have any chance of challenging the Buckeyes in Saturday's game, considering that the wide receiver is also their most dynamic offensive weapon.
2017 Statistical Comparison
 
OFFENSE
39.3
28th
POINTS FOR
27.3
80th
229.8
24th
RUSHING OFFENSE
163.3
69th
319.3
13th
PASSING OFFENSE
163.5
117th
549.0
9th
TOTAL OFFENSE
326.8
110th
.415
60th
3rd DOWNS
.383
80th
.833
69th
RED ZONE
.933
23rd
DEFENSE
20.0
39th
POINTS ALLOWED
18.3
27th
139.0
61st
RUSH DEFENSE
118.8
37th
228.3
67th
PASS DEFENSE
179.5
34th
130.2
75th
PASS EFFICIENCY DEFENSE
106.7
27th
367.3
56th
TOTAL DEFENSE
298.3
24th
.339
49th
3rd DOWNS
.302
28th
.818
63rd
RED ZONE
.929
111th
SPECIAL TEAMS
3.2
99th
PUNT RETURN
12.0
31st
33.8
4th
KICKOFF RETURN
17.9
104th
43.2
13th
NET PUNTING
33.9
114th
MISCELLANEOUS
+ 1.0
21st
TURNOVER MARGIN
0.0
59th
6.8
71st
PENALTIES
6.3
65th
9
EDGE
9
Rutgers' offense has a completely different look at the skill positions from last year; their leading quarterback (Kyle Bolin), running back (Gus Edwards), wide receiver (Damon Mitchell) and tight end (Jerome Washington) are all transfers in their first seasons with the Scarlet Knights. Despite those additions, however, the Scarlet Knights haven't been much more productive on offense than they were last year. The Scarlet Knights are near the bottom of the FBS in total offense (326.8 yards per game) and have yet to score more than 17 points in a game against an FBS opponent.
Meyer says the Scarlet Knights' offense is "a little bit behind their defense," but he says the Buckeyes still have to beware of that unit because "they're getting better and they got a really good coach in (offensive coordinator and former Minnesota head coach) Jerry Kill running the show."
Ohio State defensive linemen Tyquan Lewis and Dre'Mont Jones said they saw a tenacious and physical Rutgers offensive line on film.
"Even though they've had their struggles, they've still been able to get movement and do the things they do very well," Lewis said. "I've played against Minnesota before, you get a lot of different looks. You get gun looks, you get under center looks, so I mean, they're good at what they do. I'll give credit to them."
Ash knows the odds will be against his team in Saturday's game. He's repeatedly stated, dating back to Big Ten Media Days, that Rutgers isn't focused on trying to be better than Ohio State and the other top teams in the Big Ten East, knowing it will be difficult for his program to reach that level. But he still expects his team to give it everything they've got.
"We're excited about the opportunity," Ash said. "Just another week to try to get better. Another opportunity to play a Big Ten team. An opportunity for us to go out and play a common opponent from last year and again measure improvement that we've made from last year to this year."
BUCKEYE BREAKDOWN
Even though the Buckeyes have won each of their last two games by more than 30 points, Ohio State's season continues to be defined by its loss to Oklahoma.
Considering the quality of opponents, no margin of victory over Army or UNLV was going to change that. Considering the Buckeyes' recent history against Rutgers, no margin of victory over the Scarlet Knights is going to change that either.
Ohio State's performance on Saturday – unless it is unexpectedly bad – isn't going to prove whether or not the Buckeyes can win against top-tier competition. But it is another opportunity for the Buckeyes to continue to build momentum and make strides on both sides of the ball, both of which are especially important now that every game for the rest of the regular season will count in the Big Ten standings.
"Pass defense continues to be No. 1 on the hit parade … that's No. 1 where we need to improve," Meyer said this week. "And then No. 2 is consistency on offense, especially as we start getting into conference play and facing better defenses, you have to play much better."
"I hope people don't think we're just taking Rutgers lightly." – Ohio State linebacker Jerome Baker
Consistency on offense starts with quarterback J.T. Barrett, who struggled in the loss to Oklahoma but is coming off his best performance of the season against UNLV, in which he completed 12 of 17 passes for 209 yards and five touchdowns on just six possessions before being replaced, due to the game's lopsided nature, by backup quarterback Dwayne Haskins.
Ash, who knows Barrett well from his time at Ohio State, expects the Buckeyes' quarterback to give his defense a "tremendous challenge" on Saturday.
"He's a tremendous leader," Ash said of Barrett. "He's a competitor. He's tough as nails. Never too high, never too low. And when you got a quarterback that's got the skill set that he has and he's got those characteristics, it's a tough challenge."
Barrett and his wide receivers have gained confidence in one another over the past couple weeks, so the wide receivers are confident that Barrett will give them opportunities to make plays on Saturday night. Because of the respect they have for Rutgers' secondary, however, the wide receivers say they will need to be prepared to make challenging plays on the ball.
"What we're going to have to do is make those tough catches, because I know J.T.'s going to give us a 50/50 chance to go get it, so we just got to come down with it," said Ohio State wide receiver K.J. Hill.
Ohio State's offense has become more efficient in its past two games, scoring on six of nine possessions against Army and on eight of its first 10 possessions against UNLV, but Wilson says Rutgers will force the Buckeyes to be sharp in their execution in order to keep that going.
"We got to block them up front, we got to firm it up, we're going to have to make challenged throws one-on-one," Wilson said.
As for the other side of the ball, Ash and Kill both echoed this week what nearly every opposing coach has said about the Buckeyes this season: Ohio State's strength is its defensive line, which will be as good as any defensive line they will face this year.
"It's the strength of their football team, by far," Ash said. "They have got a lot of good players on the football team but as a unit, you talk about all the units, the defensive line is definitely the strength. They've got size, they've got explosiveness, they've got depth and they've got experience."
Like Barrett, Ohio State's defensive line is also coming off its best performance of the season to date against UNLV. As a team, Ohio State had 13 tackles for loss against the Rebels. That started with the dominant performance by the linemen up front, who want to keep it going against the Scarlet Knights.
"It's very important to get out ahead and make it a point of emphasis that you're here to dominate the game," Lewis said. "Coming out and setting a tone, that's the main objective."
"It's the strength of their football team, by far." – Chris Ash on Ohio State's defensive line
If the defensive line can put consistent pressure on Bolin like it did against UNLV quarterback Armani Rogers last week, that could go a long way toward the much-needed continued improvement for the pass defense, which gave up 806 combined passing yards against Indiana and Oklahoma but only 107 combined passing yards against Army and UNLV, though it was largely untested in the passing game against Army and was plagued by pass interference penalties against UNLV.
The Buckeyes know they still need to get better, and they know Saturday is another opportunity to do so that they need to take advantage of. From Ash's viewpoint, though, the Buckeyes already have been getting better leading up to Saturday's game.
"It's a good football team," Ash said of Ohio State. "A lot of experience, a lot of talent. Playing very well here the last few weeks. I know they had the hiccup with Oklahoma, but looks like they are back rolling and playing at a high level right now."
HOW IT PLAYS OUT
While Ohio State insists it's taking Rutgers seriously as a threat to win this game, the real question going into this game – much like it was going into last week's game against UNLV – isn't whether the Buckeyes will win but how much the Buckeyes will win by and how much their backups will get to play.
Ohio State vs. Rutgers Results

| Year | LOCATION | RESULT |
| --- | --- | --- |
| 2016 | Columbus, Ohio | Ohio State 58, Rutgers 0 |
| 2015 | Piscataway, N.J. | Ohio State 49, Rutgers 7 |
| 2014 | Columbus, Ohio | Ohio State 56, Rutgers 17 |
Rutgers appears to be better than it was last year. It's too early to tell how this year's Ohio State team compares to last year's team. But Rutgers isn't 58 points better than it was last year, and Ohio State isn't 58 points worse, even with the Scarlet Knights having home-field advantage this year.
The Scarlet Knights defense should be able to keep this year's game closer than last year's. The health of Grant could determine how many plays the Scarlet Knights are able to make on offense and special teams. But even if the Scarlet Knights hit a few big plays on offense and/or in the return game, and the defense plays as tough as it has all year, it's still likely the Buckeyes will ultimately pull away in this one.
That could put the Buckeyes in a position to cover, with a 30-point betting line according to Vegas Insider, even though Ohio State is just 1-3 against the spread this season.
Much like last week, though, when Ohio State removed most of its starters from the game before the second half, it's likely the Buckeyes will use Saturday as an opportunity to give extended playing time to its backups – including Haskins and fellow backup quarterback Joe Burrow – if they can build a comfortable lead by the third or fourth quarter.
---
ELEVEN WARRIORS STAFF PREDICTION: Ohio State 45, Rutgers 10