One thing that makes college football so great is that every year, things are pretty drastically different. Players stay at a program 3-5 years, and typically starters only start for one or two before graduating or moving on to the NFL.
This means that every season, there are guaranteed to be new breakout players on every team. These players could either be brand new starters or returning starters that made a huge leap over the offseason.
Ohio State is no exception. After graduation and yet another NFL exodus, the Buckeyes are searching for players to step up and fill the voids left by the departed players, or in some cases, improve upon lackluster production from last season.
Here's a look at 10 players – five on each side of the ball – that you can expect to have a breakout season in 2017. 
Offense
Binjimen Victor – Wide Receiver
Last season, Binjimen Victor played sparingly during his true freshman season, catching just four passes for 64 yards and a touchdown, but after an exodus at the position and a year of development, he'll look to be one of the team's top receivers in 2017.
Victor said most of his issues last season were mental. He said he felt confused with the offense and lost in practice until things began to click during the team's bowl practices. Which could explain why he was suddenly thrown in the game during meaningful moment in the biggest game of the year.
"He was a guy on the field in a critical time, so that should be telling in itself."– Zach Smith on Binjimen Victor
"Last year, I didn't have any clue what was going on," Victor said. "This year, I have an understanding. Now I feel more comfortable and I can play."
Smith said given his size and skill set, Victor might have more potential than any receiver he's ever coached. It's only a matter of time before he reaches it. It could even be this season.
"I don't know if i've ever had [a receiver] with as high a ceiling as he does," Smith said. "Just his ability – he is a 6-foot-4 kid with a seven foot wingspan that can run, he's loose, he can get in and out of breaks, he plays physical at times."
J.K. Dobbins – Running Back
Ohio State has a returning starter at running back in Mike Weber who rushed for over 1,000 yards last season, but that's still not going to stop me from putting J.K. Dobbins on this list.
He's a true freshman with a proven veteran in front of him, but from what he's shown and how coaches have talked about him, it may be impossible for the Buckeyes to keep him off the field in 2017.
Dobbins – like a lot of other players on this roster – is a physical freak. At last summer's Nike camp, Dobbins was named the Nike+ Football Ratings Champion, essentially naming the best overall athlete at the event full of top athletes. Dobbins ran a 4.45 second 40-yard dash, posted a 43.1-inch vertical leap, 4.09 second 20-yard shuttle and a powerball toss of 42 feet.
He's going to play in 2017, and it's not hard to imagine he emerges as one of the team's top playmakers by the end of the season, even with Weber on the roster.
Johnnie Dixon – Wide Receiver
Though highly recruited out of high school, Johnnie Dixon hasn't had too much success at Ohio State yet as he's been plagued with knee injuries since his arrival.
"He's a very highly recruited guy out of Dwyer High School, a very talented guy, nice person," Urban Meyer said of Dixon last spring. "But he got here, had this tendonitis and issues in his knees, and he would go two practices and have to miss two."
"He's had injuries and knee issues since we've had him, but he's been a breath of fresh air."– Urban Meyer on Johnnie Dixon
But this spring, Buckeye fans got a taste of what Dixon can do when he's healthy. The speedster hauled in six catches for 108 yards and two touchdowns in Ohio State's spring game, earning the game's MVP honors.
Dixon carried that momentum into fall camp, and with less than two weeks until the start of the season, he's still healthy and is on pace to be one of the team's starting wide receivers.
Isaiah Prince – Offensive Tackle
Though he was a starter last season, Isaiah Prince had some pretty clear struggles throughout 2017, to the point where people questioned if he should remain a starter. This makes him a prime candidate for this list. 
"He struggled at times last year and he's taken it to heart," offensive line coach Greg Studrawa said of Prince. "His offseason's been outstanding with what we've done so far. His attention to detail, his work ethic and the little things he's been doing are tremendous."
At 6-7, 310, Prince has all the physical tools to be a great offensive lineman, he just has to improve his technique slightly and play with confidence.
"That was the biggest thing, every time I'd make a mistake I'd hang my head and I'd be so frustrated and it would just build up play after play after play," Prince said.
But no matter how frustrating last season was, Prince said he's grateful for the experience because ultimately, it's helped make him a better player.
"I learned a lot from last year," Prince said. "Without last year, I wouldn't have had this growth."
Parris Campbell – Wide Receiver/H-Back
After the numbers Curtis Samuel put up at the H-back position last season, Parris Campbell has some huge shoes to fill, but he's got the skill set to do it.
Campbell is the fastest player on the offensive side of the ball, according to the team's charts on the wall of the Woody Hayes Athletic Center, and he's also the most versatile as he's able to find yards on the ground and through the air.
Though his stats in 2016 were far from eye popping, this season Campbell will benefit from more touches, a more uptempo offense and being a more central part of the offensive game plan.
In addition, it's likely Campbell will return kickoffs once again in 2017, and we've all seen what he can do when he finds space on a kick return.
So close to six. pic.twitter.com/HBkxybX3nc

— Eleven Warriors (@11W) October 8, 2016
Honorable Mentions:
K.J. Hill
Austin Mack
Terry McLaurin
The starting right guard
Defense
Kendall Sheffield – Cornerback
If you're looking for a brand new player who's going to make an instant impact, look no further than junior college transfer Kendall Sheffield.
Sheffield is a former five-star recruit who originally enrolled at Alabama before transferring in search of more playing time. After spending one year at Blinn College in Texas, Sheffield committed to Ohio State as the nation's top junior college cornerback.
Two years removed from high school, Sheffield is game ready, and he's a physical freak. He clocked the team's second-fastest 40 time, just behind fellow cornerback Denzel Ward, has an incredibly muscular frame and already showed his physicality in Ohio State's spring game.
"Have you seen him? He looks like an action figure," fellow cornerback Damon Arnette said. "He's fast, he's athletic, he's a great corner, he's just exactly what we need for that rotation."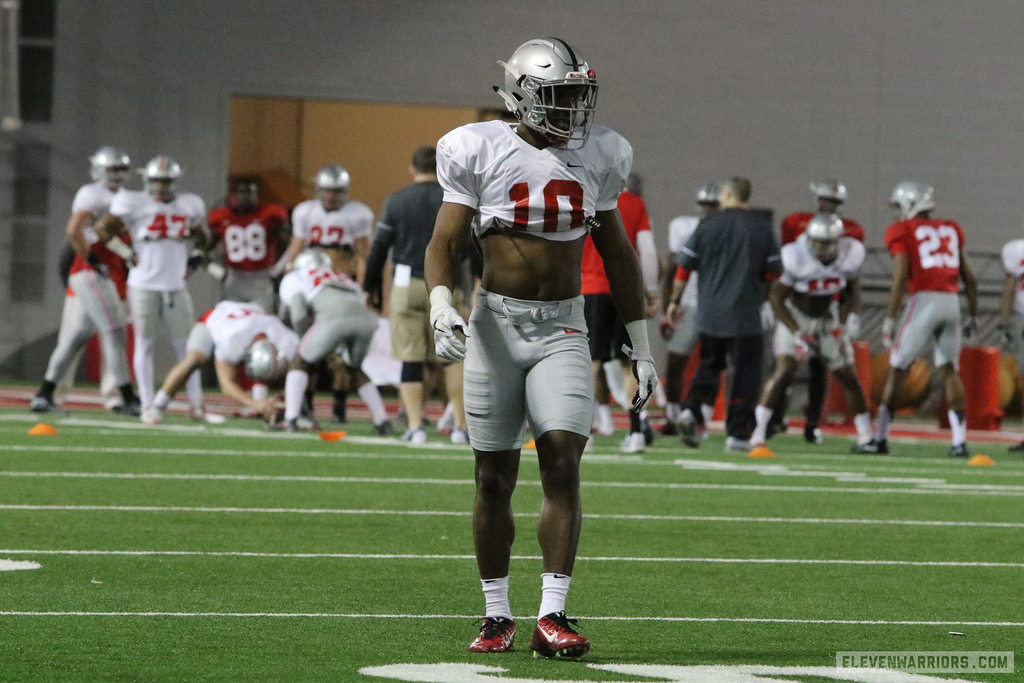 There's a good chance Sheffield will be a starter at cornerback this season. At the very least, he'll be in the rotation.
Damon Arnette – Cornerback
There's a good chance Damon Arnette will turn out to be Ohio State's most improved player on the defensive side of the ball in 2017.
Arnette started at the nickelback position for most of the 2016 season until back-to-back lackluster performances forced the coaching staff to change things up, putting Gareon Conley inside instead.
"Damon played a lot of snaps at the nickel and he had two tough games," Kerry Coombs said. "He gave up two catches two weeks in a row and that's below the standard here. We had to make a change and he understood that. He didn't like it and he shouldn't have liked it."
A few months later, Arnette is tremendously improved. He's one of the team's best options at cornerback and will at least rotate with the starters this season while manning the nickelback spot.
And following Bradley Roby, Eli Apple, Gareon Conley and Marshon Lattimore, he knows he has quite the standard to uphold.
"Like Coach Coombs said, there's no drop-off," Arnette said. "Year to year, either from subbing somebody in or out, like there should be no drop-off."
Dante Booker – Linebacker
Let's not forget, before suffering a season-ending injury in the opening game of 2016, Dante Booker actually beat out Jerome Baker to win a starting spot last year. The same Jerome Baker that finished last season with 83 total tackles, 9.5 tackles for loss and two interceptions.
That fact alone should get Buckeye fans excited to see Booker take the field as a starter once again in less than two weeks.
"I feel like it kind of created an even greater fire inside me that I've always had, but it's burning even brighter now."– Dante Booker on His Injury
Booker is bigger than Baker – about an inch taller and 15 pounds heavier – but he moves quite well. While Booker and linebackers coach Bill Davis both admit he's not quite as fast as his counterpart, he's close.
Ohio State clocked Booker at 4.4 seconds in the 40-yard dash, just 0.03 seconds slower than Baker's 4.37. That speed, combined with his size could prove lethal for opposing offenses this season.
Damon Webb – Safety
It's hard to put a returning starter on a "breakout players" list, but given he had some struggles last season and was overshadowed by three eventual first-round picks, I felt it fitting.
Since the spring, the coaching staff was pretty clear that when it came to the safeties, it was Damon Webb and then everybody else.
Webb started the entire 2016 season at the falcon safety position, opposite of Malik Hooker. He struggled at times, much to the ire of of Buckeye fans, but Urban Meyer and defensive coordinator Greg Schiano have spoken about Webb's improvement this offseason and he seems poised to make a big leap in 2017.
"I think Damon, as I told you guys in the spring, coming out of spring, I felt he was the one guy who practiced like a big-time player, and he's picked up right where he left off," Schiano said. "He's in tremendous condition, best shape of his life. He understands it better than anybody in the back end. We need him to have a big year. Everybody else is newbies.
Webb, now in his senior season, is the most veteran player in the secondary, and that experience should pay off this season.
Denzel Ward – Cornerback
This might not be a fair addition to this list, because really, Denzel Ward's breakout season was last year, it's just that nobody really noticed.
Ward never started a game last season and was overshadowed by eventual first-round picks Marshon Lattimore and Gareon Conley, but he played just as many snaps as they did and according to his position coach Kerry Coombs, he played just as well.
"He's really good. He's as good as the other two. I played three guys of equally talented ability."– Kerry Coombs on Denzel Ward
"From a production standpoint, and you guys watched the games, the production was identical for those three kids," Coombs said. "To somehow say we were less when one went onto the field would be an incredible injustice. Go back and check the numbers."
Ward is essentially a returning starter, and like the two departed cornerbacks, he's got first round talent. He's got great balls skills – leading the team in passes defended last season – and he's the fastest player on a roster full of speedsters.
"He's really good," Coombs said. "Look at me. He's really good. He's as good as the other two. I played three guys of equally talented ability."
Honorable Mentions
Chase Young
Erick Smith
Jordan Fuller