Ohio State fully intends to rotate its wide receivers again in 2017.
This isn't a new idea, of course, as it's something the Buckeyes employed the last few seasons.
"Yeah, that's kind of what we want it to be," wide receivers coach Zach Smith said this spring. "Two at every position and then we can just roll them. Unless there is a deficiency somewhere then we're going to play six. That's what we always want to do."
Figuring out who the six will be, though, is where the challenge comes from.
Ohio State does not have a lot of returning production at the wide receiver position. The top-three pass catchers from Smith's meeting room a year ago — Curtis Samuel, Noah Brown and Dontre Wilson — are all gone. K.J. Hill's 18 catches for 262 yards are tops in terms of returning production among wide receivers.
Because of that, there are plenty of opportunities for players to earn their spots in the rotation.
What follows is a breakdown of how Ohio State's wide receiver rotation could be determined. We've broken the potential candidates down into three separate tiers and will discuss what each needs to do to make an impact and/or see the field.
No-Doubters
There are three surefire members of Ohio State's wide receiver rotation and they're the most experienced three: Hill, Parris Campbell and Terry McLaurin. All three were involved last season and with Brown, Samuel and Wilson all gone, it's widely expected these three will be even bigger focal points in 2017.
Campbell spent most of spring practice working in the slot at the H-receiver spot. By all accounts, he excelled and the redshirt junior speedster figures to be a big part of Ohio State's offense this season. Campbell said he's more comfortable at H and in more of the hybrid role, anyway. A former high school running back, he'll surely see some carries this year, as well.
"Here, the H-back is like a premier position," Campbell said this spring. "It takes being a complete receiver but also having running back tendencies. That's what it is."
Hill is intriguing because he also spent a good portion of practice at the inside slot receiver spot. However, like Campbell, Hill can also play outside. In limited opportunities last season, Hill flashed. That's important because when there is such competition for snaps, making plays is important. Hill showed that ability last season on multiple occasions and his versatility has him primed for a breakout season.
Whether he "starts" or not, McLaurin will also be in the rotation at one of the outside spots. He caught 11 passes for 114 yards and two touchdowns last season and those numbers figure to go up with added reps. He's consistent, experienced and the Ohio State staff trusts him no matter the role.  
Probable Contributors, Potential Stars
The three guys in the first tier we've at least seen in a full season of action. The two players in this tier, however, appear to have limitless potential that the staff raved about through most of last season. That didn't necessarily show on Saturdays, though.
Obviously, both Binjimen Victor and Austin Mack were just freshmen in 2016, so it's understandable neither made a major impact. But both are supremely talented and both have a chance to take a huge leap in 2017.
Victor caught four balls for 64 yards and a touchdown during his freshman campaign. He's a 6-foot-4 wide receiver who's fast and, according to the coaching staff, has a chance to be a great one by the time it's all said and done. Consistency, however, is what held Victor — and most freshmen — back.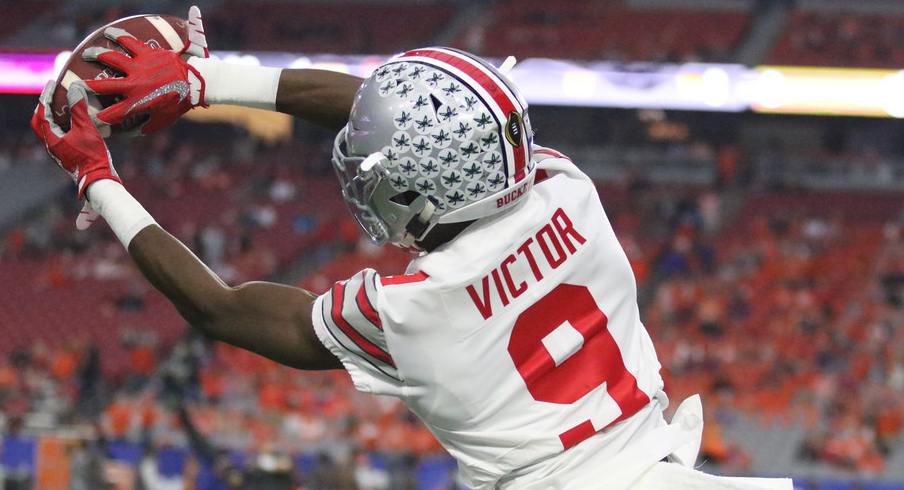 "He just wasn't a go-hard player all the time," head coach Urban Meyer said of Victor this spring. "But he really grew up and he's a great young man. He's going to be fine, a very good player. Just typical freshman stuff."
Added Smith: "[Victor] has all the talent in the world."
As an early enrollee, Mack turned heads in the spring of 2016 and many believed that would lead to an immediate impact on the field in the fall. He saw limited action, however, and caught just two passes on the year for a total of 15 yards. With the departed wide receivers, though, there figure to be more opportunities for Mack this season just as there are for others at his position.
Both Victor and Mack play on the outside, so those two, along with McLaurin (and Hill at times) could see the majority of the snaps at the two outside spots.
The Wildcards
Here is where things get tricky. There are a lot of other wide receivers on Ohio State's roster and we don't know much, if anything, about them.
Johnnie Dixon, Eric Glover-Williams and the Buckeyes' three true freshmen — Trevon Grimes, Jaylen Harris and Ellijah Gardiner — all have a chance to crack the six-man rotation in the fall. There only appears to be one spot left, though, as the five mentioned above should all see significant action.
Dixon might be the truest definition of a wildcard as the once-highly-touted recruit just hasn't gotten his career started yet due to injuries. Meyer, Smith and Co. said this spring Dixon looked the best he did his entire career, but until there's some certainty with his health, it's impossible to predict how Dixon factors into this rotation.
Glover–Williams is interesting as he spent his first two years on campus playing defensive back. He's a potential game-breaker from the slot receiver spot, but like others, struggled at times this spring with inconsistency. That should iron itself out with more reps, but right now he seems to be behind both Campbell and Hill for major snaps in the slot.
Grimes, Harris and Gardiner all reported to campus earlier this month and all three are going to need to battle extremely hard to get on the field as freshmen in a role other than special teams. Grimes seems like the most likely candidate as he was one of the top wide receiver prospects in the country, but he suffered a serious knee injury during his senior season of high school. If he's healthy, though, watch out because he could be just good enough to crack that rotation.