"Thank you for saying that," Kerry Coombs said. Well, shouted.
"I really appreciate it, because that is what he is," Ohio State's cornerbacks coach continued as his discussion with a pool of reporters began. The "he" Coombs referred to is Denzel Ward, Ohio State's incumbent starter at the position even though he did not trot out for the first snap in any game during last season. The reporter told Coombs he "had one returning starter at corner," much to the coach's delight.
"I would prefer it if you guys referred to him as the third starter at corner because that's what he was. We had a true three-man rotation," Coombs said this. "There was never a series where he didn't go and then somebody came out."
Ohio State listed Ward as a co-starter on its depth chart alongside Marshon Lattimore at one cornerback spot for the entire season. The New Orleans Saints took Lattimore 11th overall in the 2017 NFL Draft two months ago, the final peg in a rapid rise for the Cleveland product.
Lattimore's story is rare. Conley's isn't, a three-year contributor for the Buckeyes who put in his time and eventually also became a first-round pick. Conley steadily rose up the ranks of Ohio State's cornerbacks room, stepping in as its leader after Eli Apple left following the 2015 season. Apple became No. 1 following Doran Grant's graduation. Grant did the same once Bradley Roby turned pro.
Sense a pattern? Ward is next.
"I'm telling you he as good as the other two," Coombs said of Ward this spring, referencing Lattimore and Conley. "He doesn't have to say it. I'm telling you that. I think he believes it, he just doesn't have to say it."
Ward isn't a big talker. Any interview with the speedster from Nordonia High School in Macedonia, Ohio, usually results in one, maybe two, sentence answers. Roby wasn't like that, often holding court with reporters and telling them when he would take one or two more questions before nixing things. Apple blossomed into a terrific interview as well after coming out of his shell as a redshirt freshman, both on and off the field. Conley didn't say much in front of the camera while at Ohio State. But he did more than Ward.
"It's definitely a blessing that the coaches have that belief in me that I can go out there and play with the best," Ward said this spring when asked about Coombs's thoughts on his seamless transition to No. 1 corner.
Fans remember Conley's struggles at Michigan State during the 2014 season, forcing Coombs's hand and making him insert Apple back into the lineup. With a tender hamstring, Apple was dressed but riding a stationary bike on the sideline at kickoff. He wasn't supposed to play, but the Buckeyes needed him to as they won 49-37 on their way to the College Football Playoff.
The next season, Conley was terrific. He started every game opposite of Apple, broke up five passes, intercepted two and blocked a punt. That continued this past fall, with four interceptions and eight pass breakups. Ward's numbers, sans interceptions, are similar.
He broke up nine passes to tie with Lattimore for the team lead, compiled 21 tackles (Conley had 23) and allowed 15 completions on 42 chances. Conley gave up 14 on 43 tries, while 13 passes were successful on 36 tries against Lattimore, according to College Football Film Room.
From a statistical standpoint, Coombs is correct: Ward is in the same neighborhood as Conley and Lattimore, except for picking off passes.
"I played three guys of equally talented ability," Coombs said. "I don't run out a guy who is not as good as they other guys. Who would do that? Have you met my boss?"
Urban Meyer expects the best from everyone underneath him as the CEO of Ohio State's football program. That is why Coombs is such a valuable asset, with how he has churned out four first-round cornerbacks in the last four seasons.
Ward is the next guy up, and already catching the attention of NFL Draft analysts who have come to expect it from the Buckeyes. As long as Coombs and Meyer are in Columbus, chances are pretty good they will continue to recruit and develop top-tier talent at an incredible level.
"Another first-round cornerback from Ohio State? Yep. Denzel Ward is a player coaches and teammates have mentioned as the next great Buckeye cornerback," Matt Miller of Bleacher Report wrote in early May. "He's not as big as some of the recent corners to come out of Columbus, but at 5'10" and 191 pounds, he's shown sticky coverage skills and great technique on the edge."
Ward also did this last year to Oklahoma's Mark Andrews, who is listed at 6-foot-5 and more than 250 pounds: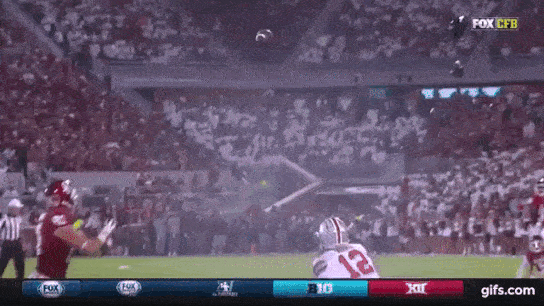 "I just gotta go out and play like I'm the starting corner, the No. 1 corner here," Ward said. "I'm ready to take that leadership role in the cornerback room and help lead the team."
Sounds like all systems are normal for Coombs and Ohio State's cornerbacks.