Ohio State's roster is loaded from top to bottom with highly-rated talent from all corners of the recruiting trail. Some of it elected to return for another season of college football, though multiple players could have gone and played for money at the next level.
Urban Meyer and the Buckeyes made the College Football Playoff with the youngest team in the country a year ago. What was originally deemed a transitional year generated buzz with thrilling victories over Oklahoma, Wisconsin, Michigan State and Michigan before ultimately ending with a giant thud in the desert against eventual national champion Clemson.
Ohio State has a deep trough of experience throughout its roster but it is wrong to underestimate the importance of some over others. We attempt to do that below with the five most indispensable players for the 2017 season — thus, a handful of guys the Buckeyes can't afford to lose be it to injury, suspension or anything else that could prevent them from suiting up on Saturday afternoons.
5. Jamarco Jones — Offensive Tackle
Ohio State's lack of depth on the offensive line is something that we've discussed at length both throughout spring practice and as the summer calendar approaches. Jones quietly had a brilliant junior season at left tackle, finishing with a better pass blocking rate than Taylor Decker, the man he replaced, did in 2016.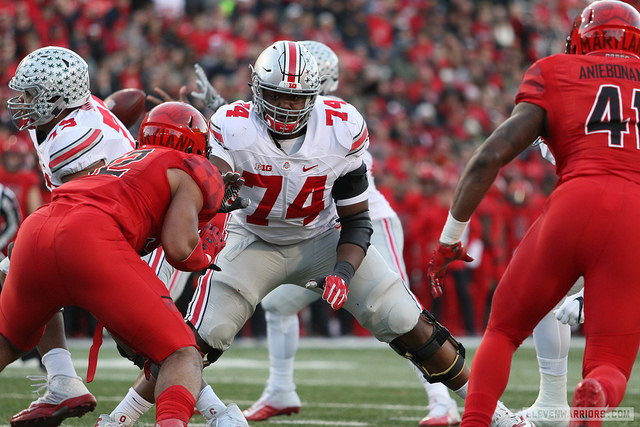 As the Buckeyes try to piece together both who is in line to start at right guard and see if Greg Studrawa's group will have any semblance of depth unlike last season, Jones is a pillar for the team's success. Getting him to return for his senior season should boost the line's productivity and help keep J.T. Barrett upright. In his second season as the man tasked with protecting the quarterback's blind side, Jones will provide a beacon of stability. Without much on-field productivity readily available behind him, you could make a pretty convincing argument that he should rank higher on this list.
4. Denzel Ward — Cornerback
This is the second straight offseason we've slotted a corner in the No. 4 slot on this list, doing so for essentially the same reason. Ward is the lone starter returning at his position, though he rotated with Gareon Conley and Marshon Lattimore in 2016 — a pair of first-round draft picks. That is why he is so valuable.
The rise of Lattimore and Malik Hooker in their first years as starters in the secondary were unprecedented, as both blossomed into top-15 picks with really only 13 game tapes for scouts and other NFL brass to critique. Ward and safety Damon Webb are back as starters on the back end but Kerry Coombs is convinced that the former is prime to become one of the Big Ten's best defensive backs in 2017. The Buckeyes had two of them a year ago in Conley and Lattimore, so Ward must up his game and serve as the leader Coombs's unit needs with so many young bodies floating around.
If Ward isn't on the field this fall, more pressure will be put on Kendall Sheffield, Marcus Williamson, Jeffrey Okudah and Shaun Wade, which might not be a good thing seeing as how none of them have played a snap for Ohio State yet.
No. 3 (tie) Jerome Baker/Chris Worley — Linebacker
As two of the seven returning starters on defense, Baker and Worley both fill very different roles for the Buckeyes. Worley is a fifth-year senior and gladly shifted over to the MIKE after the departure of Raekwon McMillan. The steady hand, vocal leader and a tackling machine, Worley's game isn't flashy — but it is needed as the linebackers familiarize themselves with new coach Bill Davis.
Baker exploded on the scene a year ago after a knee injury to Dante Booker kept the latter out for a month. Booker, he of the known name and unknown game, should enter the lineup at outside linebacker this fall with another chance to show the world what he can do. Davis and Co. believe they won't miss a beat without McMillan but the fact is if one of the three starters goes down, there are some questions due to lack of experience. Injuries to Nick Conner and Justin Hilliard in past years have halted their development, while shoulder surgeries to Malik Harrison and early enrollee Baron Browning knocked them out for the better half of spring. Davis is convinced both will be back and ready to go by fall camp but it remains to be seen. Keandre Jones is another sophomore pushing for playing time but still unproven.
The injuries plus Booker's assumed stability without much of an on-field track record combine to put Worley and Baker at No. 3 on our list.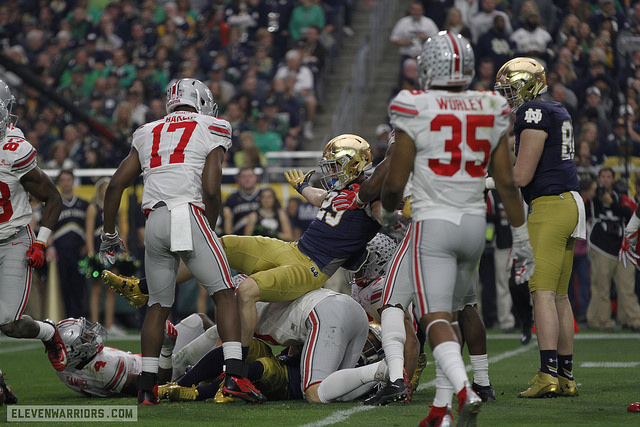 2. Billy Price — Center
Like Pat Elflein before him, Price chose to return for his fifth season and move to center to lead Ohio State's offensive line. He graduated over the weekend, a goal he said played a major role in his decision to come back to Columbus for 2017.
Elflein won the 2016 Rimington Trophy as the nation's top center and his exit left a mega hole in Ohio State's offensive line. But Price stepping in for Elflein gives the Buckeyes another All-American at a crucial position in addition to an incredibly versatile player and leader. Price has the potential to take home hardware and lead the Buckeyes to the College Football Playoff next fall — just like Elflein did — and the depth behind him at center is spotty with Brady Taylor and Jack Wohlabaugh.
And oh, by the way, Price is a four-year starter. Guys like him don't come along very often.
1. J.T. Barrett — Quarterback
Barrett barely inches past Price on this list because of his position and the fact that will again be a Heisman Trophy candidate. At last in his final season of collegiate eligibility, Barrett graduated last winter and said he has since fully immersed himself in what new quarterbacks coach Ryan Day and new offensive coordinator Kevin Wilson threw at him this spring. Back as a starter even though many are ready to move on from him after struggles throwing the ball down the field in 2016, Ohio State will go as far as Barrett takes it this coming season.
Barrett provides leadership and stability at the game's most vital position. Even though Joe Burrow and Dwayne Haskins threw the ball extremely well in the spring game, neither has the on-field credentials in big-time moments like Barrett. It isn't close.
If — and this is a huge if — Wilson and Day can get Barrett back to his quick thinking, ball distributing ways of 2014, the refreshment and enhancement of the Ohio State offense should lead to plenty of yards and points. Being that he is the only quarterback on the roster that has shown he can take over games in winning time, Barrett owns the No. 1 spot on this list.