When J.T. Barrett ended speculation that he wouldn't play football anywhere else other than Ohio State next season, the conversation about the program's quarterback position immediately switched to the second and third spots on the depth chart.
For the most part.
Barrett had a down season in the eyes of some fans, struggling with accuracy and creating explosive plays through the air. Yet he still managed to win a share of the Silver Football as Big Ten Most Valuable Player with Penn State's Saquon Barkley and also received the conference's Griese-Brees Quarterback of the Year award. A lack of a deep threat not named Curtis Samuel and struggles in front of him on the offensive line did not help things as the Buckeyes tried to establish a downfield passing game. Those shortcomings all violently came to a head in the team's 31-0 loss to eventual national champion Clemson in the Fiesta Bowl as part of the College Football Playoff.
That aside, Barrett will start at quarterback for Ohio State in 2017 barring injury. A fifth-year senior in line to become a three-time captain, that is all but set in stone in the eyes of Urban Meyer and new quarterbacks coach Ryan Day.
Barrett's return means another year of waiting to be a starter for Joe Burrow and Dwyane Haskins. True freshman Tate Martell enrolled at Ohio State in January, a four-star recruit from Las Vegas and the National High School Gatorade Offensive Player of the Year.
With spring practice set to open two weeks from Tuesday, we kick off our preview series with a breakdown of we can expect from each quarterback.
J.T. Barrett, Redshirt Senior
To put it simply, Barrett needs to become more comfortable with his game. In all facets.
Indecisions and questionable playcalling by Ed Warinner, Tim Beck and Meyer the last two seasons led to a regression from Barrett throwing wise. With new offensive coordinator Kevin Wilson running the show, Barrett must team up with Day to formulate a plan for success this fall. Ohio State hasn't been to the Big Ten Championship Game since 2014 and with Meyer in Columbus the expectation will always be to earn a trip to Indianapolis before making the College Football Playoff.
In order to do that, he needs his quarterback to play at an extremely high level. Barrett didn't have an awful season (33 total touchdowns) but was nowhere near the production he experienced in 2014 under then-coordinator Tom Herman. Wilson must utilize the quarterback's strengths and most importantly Barrett needs more help than he got last season in the passing game.
During spring practice, Day must correct what at times last season became shoddy footwork from Barrett. Establishing a better rapport with the wide receivers still in the program and working on timing is also essential for the Texan. Barrett will always be a strong leader. Taking steps forward throwing the ball with whatever tweaks to the offense Wilson enacts are high on the to-do list in March and April.
Joe Burrow, Redshirt Sophomore
Burrow had to squash rumors that he planned to transfer from the program in the days after Barrett announced his decision to return. He did so in a perfect way, tweeting, "Lol guys I'm not transferring."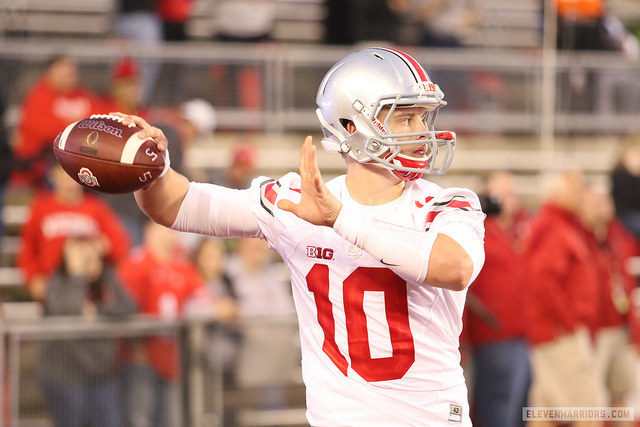 With that out of the way, Burrow's task for the spring is to fend off Haskins and Martell and keep the backup job he owned last season. The Athens native was terrific when he got an opportunity to play in place of Barrett, completing 22-of-28 passes for 226 yards and a pair of touchdowns in four games. All of that came in mop-up duty against Bowling Green, Rutgers, Nebraska and at Maryland.
Burrow's terrific touch on the ball separates him from most quarterbacks but he needs to continue to add weight in the form of muscle mass to throw the ball deeper downfield. Like Barrett and the other quarterbacks, Burrow also needs to become familiar with Wilson and take Day's teaching to continue his personal development.
Burrow still has a leg up on Haskins and Martell for the backup job because he is at least a year older than both. But neither is going to let him have it, especially Haskins. With a full year in the program under his belt, the former four-star recruit will be ready to move up the depth chart.
Dwayne Haskins, Redshirt Freshman
As mentioned above, Haskins should be prime to push for the backup job after a season of learning the offense. Things are different than when he arrived after Beck's departure, and Haskins will have his second new quarterbacks coach in as many seasons.
Meyer is infatuated with Haskins's abilities. Last spring, the head coach said he wanted his new quarterback to "get in that thing" in fall camp, thus the battle to backup Barrett. Haskins is preparing to enter his first set of spring drills in Columbus, which allows for him to push the envelope the way Meyer wants him to even more.
It is fair to slot Haskins as the No. 3 quarterback right now based off of his lack of college experience and being younger than both Barrett and Burrow. But he is a terrific talent, one that Meyer is excited about and hopes makes it difficult on the coach to decide who is the backup.
It is safe to say the fact Barrett did not suffer an injury in 2016 is an aberration, due to the injury history of quarterbacks in Meyer's system. Whoever the head coach puts at No. 2 on the depth chart will be under a microscope for that reason.
Tate Martell, Freshman
The 2016 Gatorade National Player of the Year, Martell (who is listed as 5-foot-11 1/2 inches tall) enrolled at Ohio State in January with eight other members of the program's 2017 recruiting class. He is a natural leader and on the surface, claims to not be affected by the talent in front of him in the quarterback room.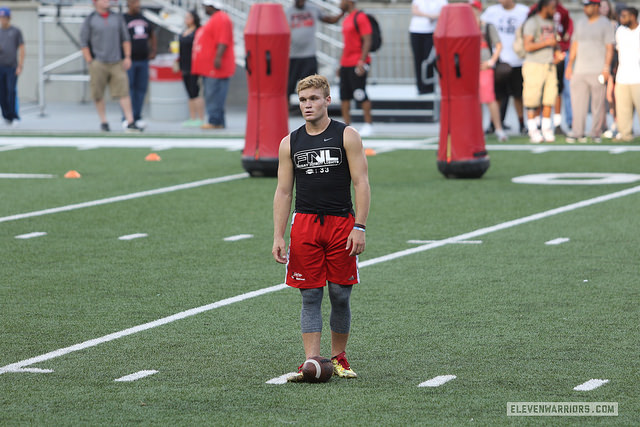 On National Signing Day, Martell spoke about how there would be competition regardless where he went to school (he's right). Meyer told the media the best thing about his new quarterback is how he is a winner (he's right). Martell's perfect record as a starter in high school support both of those statements.
Martell's current reality is living on the bottom of the Buckeye quarterback totem pole. He enrolled early to get a jump on learning the offense and the Ohio State way of life. Bishop Gorman High School in Las Vegas prepared him for the transition plus Martell's finesse in the pocket and quick release is on a different level of the other quarterbacks in the program.
Will that translate to the backup quarterback job? Probably not. But it is not wise to count somebody like Martell out.