Ohio State hired Kevin Wilson to replace Ed Warinner as both offensive coordinator and tight end coach. Fans care most about turnaround for an offense that seemed rudderless in important stretches and which suffered its first shutout loss in 23 seasons.
In other words, Ohio State fans care about the forest and not the trees. Wilson will be judged by the offense's overall output and consistency and less by the position (tight end) he will nominally coach as well.
However, fans should care about output at that position as well. It may have become a forgotten position for Meyer's program in the past two years even as J.T. Barrett privileged Marcus Baugh more than he did most of his other receiving options in 2016. Consider that Warinner's move from offensive line coach to tight end coach in 2016 may have indicated it was a lesser position that would have allowed Warinner to see the bigger picture as coordinator and play-caller. All occur even as Ohio State continues to recruit four-star tight end to the program.
Wilson's track record as tight end coach (2006-2010 for Oklahoma) and head coach (2011-2016 for Indiana) tell a mixed story of the production at tight end for Wilson's programs in the past ten years. His time at Oklahoma maps well with what tight ends were doing for Meyer-led programs at Florida. His time at Indiana looks less reassuring, though this might be a function of the kind of talent Indiana was able to get and who was able to avoid injuries.
Consider the table below, which compares the tight end production for both Kevin Wilson and Urban Meyer from 2006 to 2016, with an obvious gap year for Meyer in 2011. Both oversaw considerable production from their tight ends in what amounts to the start of their respective tenures as Oklahoma offensive coordinator and Florida head coach (even if Meyer started in 2005).
Year
Team
Tight End Leader
Team
Tight End Leader
Tight End Production for Kevin Wilson, Urban Meyer Programs (2006-2016)
2006
Oklahoma
Joe Jon Finley (19 rec, 241 yds, 3 TDs)
Florida
Cornelius Ingram (30 rec, 380 yds, 1 TD)
2007
Oklahoma
Jermaine Gresham (37 rec, 518 yds, 11 TDs)
Florida
Cornelius Ingram (34 rec, 508 yds, 7 TDs)
2008
Oklahoma
Jermaine Gresham (66 rec, 950 yds, 14 TDs)
Florida
Aaron Hernandez (34 rec, 381 yds, 5 TDs)
2009
Oklahoma
Trent Ratterree (11 rec, 152 yds, 0 TDs)
Florida
Aaron Hernandez (68 rec, 850 yds, 5 TDs)
2010
Oklahoma
James Hanna (18 rec, 292 yds, 7 TDs)
Florida
Jordan Reed (6 rec, 79 yds, 1 TD)
2011
Indiana
Ted Bolser (14 rec, 165 yds, 1 TD)
 
2012
Indiana
Ted Bolser (41 rec, 445 yds, 3 TDs)
Ohio State
Jake Stoneburner (16 rec, 269 yds, 4 TDs)
2013
Indiana
Ted Bolser (35 rec, 320 yds, 6 TDs)
Ohio State
Jeff Heuerman (26 rec, 466 yds, 4 TDs)
2014
Indiana
Anthony Corsaro (5 rec, 39 yds, 0 TD)
Ohio State
Nick Vannett (19 rec, 220 yds, 5 TDs)
2015
Indiana
Michael Cooper (17 rec, 205 yds, 2 TDs)
Ohio State
Nick Vannett (19 rec, 162 yds)
2016
Indiana
Danny Friend (7 rec, 65 yards, 2 TDs)
Ohio State
Marcus Baugh (24 rec, 269 yds, 2 TDs)
Wilson took over as tight end coach and offensive coordinator after the 2005 season in which he was previously co-offensive coordinator and offensive line coach. The production at tight end immediately improved.
The receiving game had previously flown entirely through wide receivers before Wilson took over. For example, Lance Dooley led all Oklahoma tight ends with 13 receptions for 157 yards and two touchdowns in 2003. James Moses led Oklahoma tight ends with 17 receptions for 151 yards and two touchdowns in 2004. Oklahoma made the BCS Championship Game in both seasons, not wanting for overall offensive production under quarterback Jason White. Joe John Finley led all Oklahoma tight ends with 13 receptions for 150 yards and two touchdowns in 2005 in an 8-4 campaign that led to Bob Stoops' promotion of Kevin Wilson after Chuck Long left for San Diego State.
The tight ends became more involved in Wilson's offense. Finley's senior season saw him catch 19 receptions for 241 yards and three touchdowns, an overall improvement from his junior campaign. The real improvement came the next year during Jermaine Gresham's sophomore year. Gresham had 37 receptions for 518 yards and 11 TDs in 2007. This incidentally maps quite well with the renaissance Florida tight ends were having after Meyer arrived in Gainesville.
By comparison, that would far exceed tight end production at any point during the Jim Tressel era. Only Rickey Dudley's Mackey Award year in 1995 (37 receptions, 575 yards, and 7 TDs) would compare.
Tight end production improved again in Gresham's junior year. Gresham put up a gaudy 2008 campaign with 66 receptions, 950 yards, and 14 touchdowns. Only wide receiver Juaquin Iglesias (74 receptions, 1150 yards, 10 TDs) had more receptions and yards for a team that fielded arguably the most prolific offense of all time.
Tight end production for Wilson declined in the next two years. Oklahoma overall did as well. The Sooners had a rough adjustment when Sam Bradford suffered an injury early into the season against BYU. The offense made changes as well to account for the absence of a star in the tight end stable. Ryan Broyles became a focal point for the offense, finishing with over 1120 yards receiving. The passing game increasingly flowed through a versatile running back like Demarco Murray, who finished with 522 receiving yards.
Trent Ratterree only tallied 11 receptions for 152 yards in 2009 to lead all Oklahoma tight ends. James Hanna improved this production to 18 receptions for 292 yards and seven touchdowns in Wilson's final year in Norman.
Wilson's tenure in Bloomington tells a mixed story of the production of tight ends, even though Wilson's job expanded to guide the whole program in lieu of a bigger emphasis on tight end production.
Wilson found an immediate contributor in Ted Bolser. Bolser led all Indiana tight ends in receptions from 2011 through 2013, including a 2012 campaign and 2013 campaign that would rank as second-best and third-best for any tight end in comparison to what Ohio State tight ends have done for Urban Meyer.
Bolser's graduation left a void that Wilson's tight ends were unable to fill for his program in 2014, 2015, and 2016. Part of this was a talent problem. Wilson scored a few wins on the recruiting trail but was unable to bring in the kind of talent that he had at Oklahoma or will have at Ohio State. The fact that Wilson's Hoosiers were still capable of burning box scores with two-to-three-star talent should have Ohio State fans intrigued all the same.
Wilson was further hamstrung by injuries and uncertainty at the position later into his Indiana tenure. By 2015, Wilson had to implement a "tight end by committee" approach to a position for which he used to be an assistant coach at Norman. Michael Cooper managed to have a respectable year in 2015. His 17 receptions for 205 yards and two touchdowns surpassed what Nick Vannett was able to do for Ohio State that same season.
Production dropped in Wilson's final year. The leading tight end had seven receptions for 65 yards and two touchdowns all season.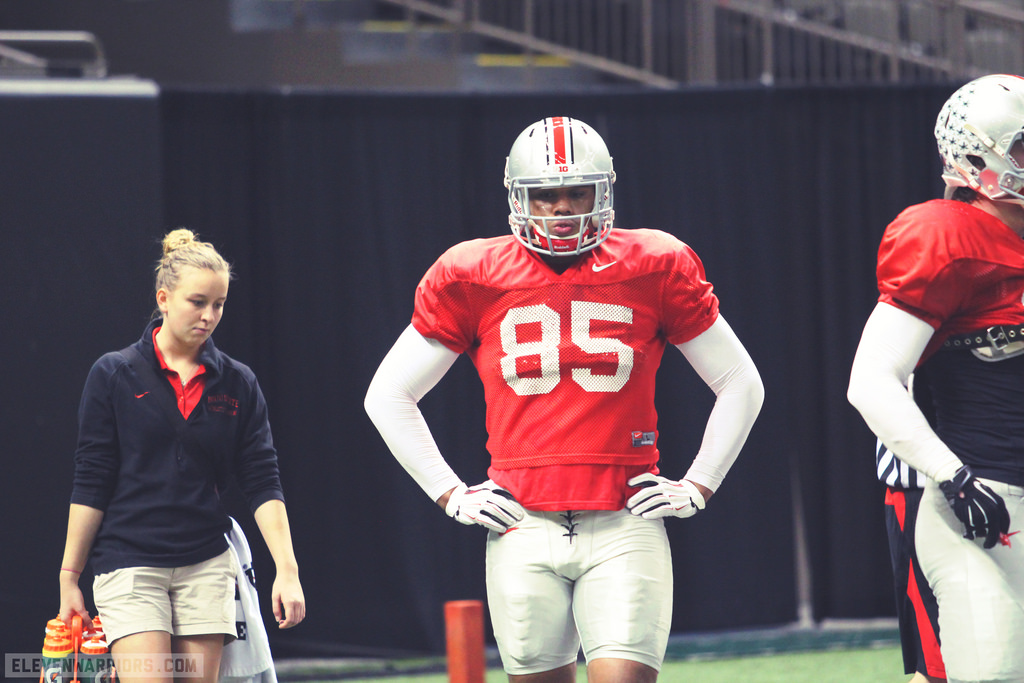 Fans eager to see what Kevin Wilson can do for Ohio State's offense may forget he will also oversee a tight end position that has received less emphasis in the past two years than it received at almost any other point in Meyer's coaching career. Wilson's addition to the staff is an opportunity to expand the role tight ends can play in an offense.
Wilson's track record as tight end coach at Oklahoma and head coach at Indiana tell a mixed story of what he can also do for tight end production. His tight ends have struggled of late to come anywhere close to what Jermaine Gresham was able to do in 2007 and 2008. However, there are readily available explanations. Namely, Wilson will have far more talent at Ohio State than he had at Indiana.
This constitutes a major opportunity to revamp production from a position that has seen less focus in the past two years. It might be one path to an increase in the overall offensive output by which we will judge Kevin Wilson as offensive coordinator.