The many shortcomings of Ohio State's offense finally caught it up to it last night as Clemson embarrassed the Buckeyes in a College Football Playoff semifinal in Glendale, Arizona. 
The 31-0 loss marked the first time Urban Meyer has been shut out as a head coach – ending a streak of 193 games and served as the first time the Buckeyes have been blanked since 1993 against Michigan. 
The defeat ends Ohio State's season with a mark of 11-2 which, if you're looking for a silver lining of perspective, marks the worst season since Meyer's arrival from a winning percentage (84.6%) standpoint and drops his career mark with the Buckeyes to 61-6. 
While the fact remains Meyer is a nothing worse than a top-three college head coach in America, he heads into an offseason in which there's still plenty of work to do to sort out an offensive identity that is disjointed at best and dysfunctional at worst. That much feels like a fact that can no longer be hidden by total offense stats which take into account success against bad-to-mediocre teams but mask the problems in the passing game, in particular. 
I already touched on the offensive line's performance earlier this morning so excluding my thoughts on that group, here are Five (other) Things from the reckoning in Glendale. 
---
FAILURE TO PLAN, OR PLANNING TO FAIL?
Anyone able to figure out what Ohio State's game plan was coming in? I've watched the game twice now and still have no idea what the the Buckeye braintrust was trying to accomplish in the 1st half. 
Meyer spent December talking about Ohio State not being able to win this game playing one-dimensional offense but then went and basically tried to be one-dimensional. 
Yes, Ohio State attempted 19 passes in the 1st half but with virtually all of them targeting receivers ranging from three yards behind the line of scrimmage to maybe three yards past it, those passes were essentially running plays doing nothing to surprise or put pressure on the defense. 
Similarly, nothing Ohio State did in the run game surprised Clemson. My favorite example being the fact the Buckeyes have run only jet sweep to Samuel on the few times Barrett has lined up under center and sure enough, the playcallers put Barrett under center and ran a jet sweep resulting in an 8-yard loss moving the Buckeyes back to the Clemson 30 yard line thus putting them out of realistic field goal range. 
With Clemson daring the Buckeyes to throw anything intermediate or greater, J.T. Barrett through exactly four passes targeting receivers 11+ yards downfield at the 5:00 minute mark of the 3rd quarter. 
After that it didn't matter anyway but was still equal parts humorous and maddening to see a handful of desperate streak routes attempted in search of a minor miracle and/or a pass interference call. 
As the Tigers dictated the action, Ohio State surrendered five TFL and one sack in 30 1st half plays while the offense tallied three 1st downs, went 2/9 on 3rd down conversions and generated eight rushing yards on 11 carries – all adding up to 88 total yards as the Buckeyes limped to the locker room in a 17-0 hole that felt more like 70-0. 
I honestly hate writing about playcalling because I'm just a fan like you but I simply have no idea what the intended strategy was, if it was actually even tried, or if maybe it was abandoned midway through the 1st quarter. 
Whatever it was, Ohio State saw 12 of its 15 drives end before running more than five plays and only one drive lasted longer than three minutes. 
SALUTE TO RAEKWON MCMILLAN
I don't have the desire to type only about bad things so this feels like a good spot to give a shoutout to Raekwon McMillan. 
The entire defense gave good effort despite being on the field for 36 minutes but McMillan stood out as a guy who never quit. 
A Georgia kid who has represented the Buckeyes with nothing but class over the years, McMillan led the defense with 15 tackles including an awesome 12 solo stops along with two TFL and a sack.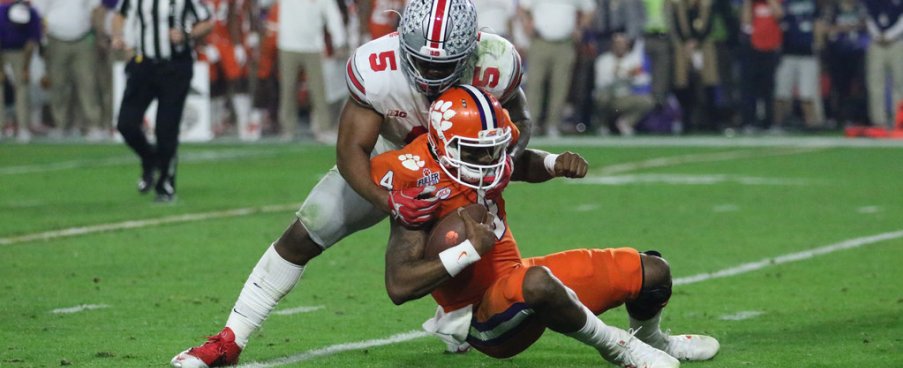 McMillan was mum after the game about his plans but I have to believe he'll go pro since he should be an early-mid round pick and after three years of playing time, I'm not sure he could do much to dramatically improve his draft stock. 
While not flashy or with huge playmaker numbers, McMillan was largely steady and led the Buckeyes in tackles for two straight years, finishing with 102 this season after 119 last year. 
He seems like a player that was taken for granted at times but his leadership will be hard to replace should he opt to leave and his play on the field probably never got the run it deserved because we've been so spoiled over the years by great linebacker play. 
MIKE DROP
After a solid season as first year starter in which he racked up 1,096 yards, showed a willingness to play through pain and stepped up as a pass blocker, redshirt freshman Mike Weber was a liability last night. 
I'm sure he wasn't a fan of not getting a carry until midway through the 2nd quarter as the offensive players and staff dealt with shell-shock but the bottom line is the running back position at Ohio State has to be an overwhelming area of strength and last night it wasn't and not just because the offensive line got swallowed up. 
Weber coughed up the football twice on five carries (losing one), committed a personal foul penalty and dropped a pass that would've easily gone for a 3rd down conversion on Ohio State's opening drive. 
None of his issues last night were any more costly than the other avalanche of errors but I hope Weber reflects on this performance and uses it as a springboard to become the type of beast in the backfield that the playcallers simply can't ignore. 
HAS IT FINALLY COME TO PASS? 
Entering the game with the nation's 78th best passing offense, Barrett, the offensive line and his receivers cooked up a 19/33 passing night for 127 yards with two interceptions and three sacks allowed. 
The worry coming in by those not wearing scarlet-colored glasses was that Ohio State's anemic passing attack saddled with questionable pass pro, no playmakers at wide receiver, a quarterback struggling to find a groove and unimaginative playcalling would play into Clemson's hands and that's exactly what happened. 
Now, through five years of the Meyer era, Ohio State's pass offense has put up the following rankings:
2016: 82nd (213.9 ypg)
2015: 100th (188.8)
2014: 52nd (247.1)
2013: 90th (203.3)
2012: 105th (181.5)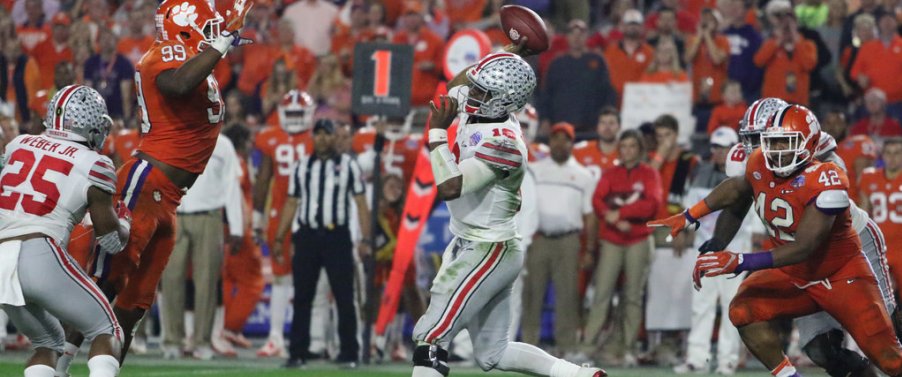 Giving respect to how the offense is constructed, the climate etc., I don't think anyone is expecting a top-10 passing attack but an average ranking of 85th over five years certainly doesn't feel like an acceptable ceiling. 
Making matters worse is there isn't just one glaring problem. There are a host of issues to address. That said, it's realistic to wonder if it is time for Meyer to take the same tact he did when the pass defense was a hot mess leading to the arrival of Chris Ash in January 2014. 
I won't use this space to stump for the removal of any particular coach or player but if Meyer is going to follow through on his promise to take a hard look at the pass offense, it feels like the removal of at least one guy from the list of Ed Warinner, Tim Beck, Zach Smith and Barrett has to be seriously considered. 
I don't pretend to know what the answer is but standing pat doesn't feel like the best option right about now. 
THE SUPERIOR TEAM WON
Ohio State didn't help its cause last night but this was not a game where the Buckeyes beat themselves. Clemson dominated every facet of the game because it had the superior game plan and players at the most critical positions. 
Clemson's defensive line ate Ohio State's lunch led by Christian Wilkins (TFL, PBU), Carlos Watkins (2 sacks, 2 PBU), Clelin Ferrell (3 TFL, sack) and Dexter Lawrence despite the Buckeyes boasting a pair of All-Americans up front. 
Deshaun Watson threw a couple picks but he also threw a touchdown, ran for two more and chewed up 316 total yards against a very good Ohio State defense. 
Finally, give Dabo Swinney the credit he deserves. For all the talk about Meyer's stellar bowl record signaling an edge in games where he has a month to prepare, Clemson's game plan suffocated Ohio State's at every turn. 
Swinney's defensive coordinator Brent Venables had a great, if not predictable, plan to swarm the line of scrimmage daring OSU to throw and it worked. 
Similarly, Clemson's offense did a nice job of scheming favorable matchups such as getting stud wide receiver Mike Williams on Denzel Ward and taking advantage of Hunter Renfrow on Damon Webb. 
I was thoroughly impressed with the Tigers from top to bottom and feel like what they did had far more impact on the outcome than what Ohio State didn't do. 
I fully expect Clemson to get revenge on Alabama next Monday.