When Ohio State announced the suspension of student-athlete and former four-star recruit Torrance Gibson, Urban Meyer told reporters he adamantly opposed the University's ruling.
"It was not an athletic department or football [decision], and I disagree with it. But...," Meyer said on Aug. 29 with a shrug of the shoulders and purse of the lips. That came the same day Ohio State released the high school superstar from South Florida was suspended for Autumn Semester for violating the student code of conduct. It was also the day that set into motion a train of thought in Gibson's head that ultimately ended with him signing with Mississippi Gulf Coast Community College on Tuesday.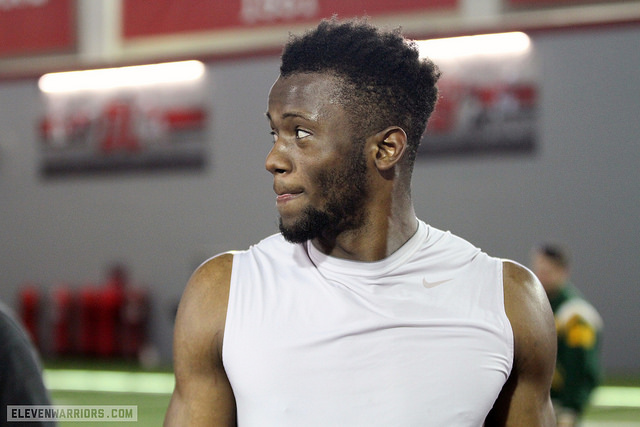 And so the latest chapter in the turbulent, ever promising and extremely hyped college football career of Torrance Gibson is written.
Gibson refuted that he plans to attend MGCCC and told Land of 10's Jeremy Birmingham that he intends to pursue other options at the Division I level. He can do that—signing a Letter Of Intent with a junior college does not prohibit a student-athlete from transferring to another FBS program. If Gibson decides to go that route—which from all indications the fact he wants to transfer at all is a surprise to the Ohio State football program—he will have to sit out a year to coincide with NCAA transfer guidelines. He can play right away at junior college.
Gibson's suspension was set to expire soon with the semester coming to a close and students finishing up final exams on Wednesday. Spring Semester begins on Jan. 9, though it seems like Gibson yearns for a fresh start. An extremely sought after recruit with more than 20 scholarship offers out of American Heritage High School in Fort Lauderdale, Florida, Gibson's towering football potential at the college level remains mostly untapped and isolated on the sideline.
This Was Never The Plan
Gibson committed to Ohio State on Nov. 3, 2014, though his recruitment didn't end there. The Buckeyes had to fend off other schools in the south like Auburn, LSU and Miami—all places he took official visits. Urban Meyer swung by a few days before Signing Day and kept Gibson in the fold, though, despite the Buckeyes having three other scholarship quarterbacks on the roster—Braxton Miller, Cardale Jones and J.T. Barrett. Not to mention Joe Burrow signed on the same day and never wavered following his commitment on May 27, 2014.
"He has skills that most human beings should not have. His size and speed is very, very unique. And he can throw the heck out of the ball."– Zach Smith on Torrance Gibson
"He came in, the thing I asked Torrance is, don't penalize us because our guys play real well," Meyer said on signing day last year. "Everybody has three or four quarterbacks, if you don't you're struggling. Our three or four happen to play really well. Don't hold that against us. Because Cardale might leave after next year, and Braxton is out, you're down to one, maybe two. Don't hold that against us. Come and compete for the spot. You go from Braxton to J.T., don't penalize the Ohio State Buckeyes because all four played well."
Miller moved to wide receiver ahead of #QBgeddon between Jones and Barrett in 2015. Gibson elected to shift to wide receiver too with a hope of helping Ohio State win games as a true freshman.
"I told [Meyer] I want to get on the field. I feel like if I sat on the bench I wouldn't be helping this team, I'd be selfish," Gibson said at Ohio State Media Day in August 2015. "That's not the type of guy I am."
But Gibson didn't play a snap after suffering an ankle injury in training camp. The move to wide receiver, frustration from a lack of playing time in addition to his own immaturity kept him on the sideline for the entirety of last season. He dressed for a few games and even traveled to Virginia Tech for the season opener but also was nowhere to be found on several Saturdays the Buckeyes played in Ohio Stadium.
Zach Smith said last year Gibson's move to wide receiver wasn't permanent. He could help the Buckeyes in 2015 then flip back to quarterback if he wanted to. His talent allowed that to be a possibility.
"I think he can be one of the best quarterbacks in the country. That's a pretty important position," Smith said then. "So if that's true, I don't know how you don't do that. But I know this: From what I've seen he can be a ridiculous receiver."
That potential and belief wouldn't be put on display publicly at least until the 2016 spring game. Gibson said he had every intention of putting the pieces in place and accelerating his development as he moved away from his injury.
"It was hard to bounce back, because the ankle was really in a lot of pain," Gibson said. "But I overcame it and I'll be healthy. I'll be good."
Spring Game Hype
The ankle injury and everything else that Gibson dealt with off the field coupled with a logjam at wide receiver kept him off it for the entire 2015 season. He never played a down for Ohio State, who went 12-1 and beat Notre Dame 44-28 in the Fiesta Bowl without him.
After the Buckeyes unloaded a horde of NFL talent in the form of 12 draft picks—including wide receivers Braxton Miller, Michael Thomas and Jalin Marshall—the table appeared set for Gibson and a bunch of other young players to get snaps and contribute in the 2016 season. Now a redshirt freshman, Gibson's athleticism and potential again served as excitement fodder among fans, media and coaches.
Then came the 2016 spring game and the hype balloon swelled even more. Gibson caught six passes for 50 yards and a pair of touchdowns from Joe Burrow, one on a pop pass when he outran everybody to the pylon and another in the corner of the end zone over a defender with one hand.
Gibson even tried to hit Burrow on a throwback pass to the quarterback. Though it fell incomplete, having an athlete available to orchestrate that kind of creativity in play calling starting turning heads.
"Got a long way to go," Meyer said that day. "[He's] a freak. But he's gotta go get the ball. He's 6-4, whatever he is, and he's got a 35-inch vertical jump, and we're going to teach him how to use that thing."
The excitement for Gibson's potential as a big-bodied and fast wide receiver that could stretch defenses down the field grew after his performance in April. Gibson showed he had all the right parts to help Ohio State replace those departed NFL pieces. With starting positions available everywhere on the offense, fans left Ohio Stadium that day believing Gibson would at the very least be in the wide receiver rotation.
"He has skills that most human beings should not have," Smith said. "His size and speed is very, very unique. And he can throw the heck out of the ball."
It all came to a screeching halt at the end of August when an off-field mistake sidelined him for the entire 2016 season and got him kicked out of school for the semester.
Despite Meyer's disagreement, Gibson had no choice but to serve the suspension. The head coach said he had "zero indication" Gibson wanted to leave Ohio State. Smith said in September a spot in the program remained for him come January should he want it.
On Tuesday, Gibson made it seem like he didn't want it any longer.
What's Next?
Gibson's tumultuous Ohio State career seems to have reached its end even before it really took off. Should he leave Columbus and pursue other opportunities, he will do so with as many receptions, touchdowns and passing yards as when he arrived: zero.

Gibson's future remains uncertain. He left a door open that he could transfer to another Division I program even though he signed with MGCCC. His girlfriend claims he won't be going to MGCCC but the fact he signed with the school means there is a spot reserved for him.
Either way, it doesn't feel like Gibson plans to apply for re-enrollment at Ohio State. Meyer is due to speak to reporters Thursday at the program's on-campus media day. He could try to convince Gibson to return to Ohio State in January or one of the most talented members of the 2015 recruiting class will move on to whatever he feels like should be next.
Whatever happens, Gibson's athleticism, speed and versatility will make him a coveted prospect for Division I programs.
"I think it's a future without, I use this comment sometimes: I don't see a ceiling," Meyer said in the past.
It looks like Gibson's reached his ceiling in Columbus.