Luke Fickell is ready to spread his wings, and doing so on his own terms. But not looking back at his towering success at his alma mater would be a fool's errand.
The University of Cincinnati is expected to name Fickell its next head football coach Saturday. It will be Fickell's second head coaching position after he served as the lead man in Ohio State's forgettable 2011 season, one in which the Buckeyes finished 6-7.
Fickell's terrific body of work and time in Columbus should outweigh any consternation that came along with digging Ohio State out of the heap of trouble following the ugly exit of his mentor Jim Tressel and star quarterback Terrelle Pryor.
In an attempt to put into perspective how much Fickell means to not only the Ohio State program but Central Ohio high school football, let's take a look back at the 43-year-old's career.
As A Player
Born in 1973 and raised in Columbus, Fickell attended DeSales High School where he won three state wrestling championships. During those three seasons, Fickell never. You can watch the title match from his senior season here, where he pinned Ray Edmonds from Akron Archbishop Hoban in 54 seconds while donning a spectacular mullet.
John Cooper offered him a football scholarship ahead of the 1992 season. Fickell accepted, then redshirted after breaking his leg in practice. He then started four straight seasons at noseguard on Ohio State's defense from 1993-96. The 50 consecutive starts remain a school record.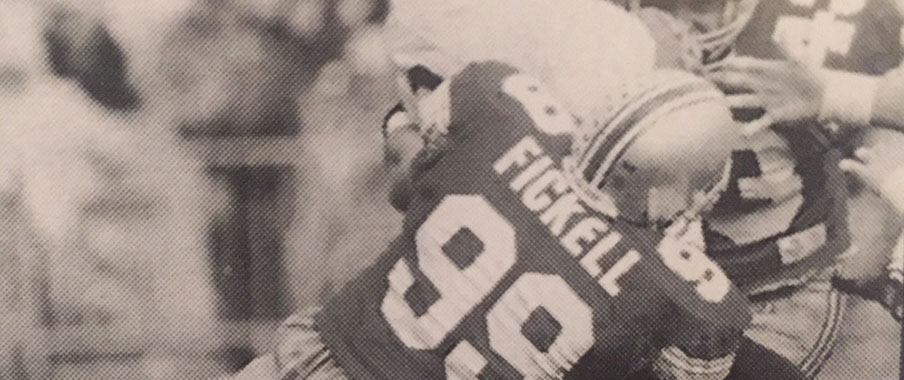 The Buckeyes went 41-8-1 with Fickell in the lineup, sharing a pair of Big Ten championships in 1993 and 1996. Fickell also received his first pair of gold pants in 1994 when the Buckeyes beat Michigan 22-6 in Columbus. In his senior year, Ohio State beat Arizona State 20-17 in the Rose Bowl, the program's first appearance in the Granddaddy of them all since 1985. Fickell made two tackles in that game, essentially playing with one arm after he tore his pectoral muscle in practice the week before. He didn't reveal the injury to the press until after the Rose Bowl and played through pain to secure his 50th straight start.
Fickell's final stat line at Ohio State isn't short on eye-popping numbers, either. He tallied 212 total tackles, 26 tackles-for-loss and six quarterbacks sacks, all impressive considering his position on the defensive line is usually meant for eating up blockers to allow linebackers to roam free and make plays. The Buckeyes finished Fickell's final season as a player ranked No. 2 in the country in both in the AP and Coaches Polls.
Fickell signed with the New Orleans Saints as an undrafted free agent but tore his ACL early in the year and spent the rest of it on injured reserve. He hung up his cleats following that season, so Cooper brought Fickell back to Columbus as a graduate assistant in 1999.
As A Coach
After a year as a graduate assistant at Ohio State — a season the Buckeyes went 6-6 and signaled the start to the final stages of Cooper's coaching career — Fickell took his first full-time coaching job in 2000 at Akron. Fickell led the Zips' defensive line for Lee Owens in both the 2000 and 2001 seasons, a span in which the team went 10-12.
His alma mater came calling shortly thereafter, though, with Tressel making the call to Fickell and bringing him home ahead of the 2002 season. You might remember that as the year the Buckeyes won their first national championship in in 32 years, upsetting Miami (FL) 31-24 in double overtime in the Fiesta Bowl.
Ohio State Defenses Under Luke Fickell

| SEASON | PPG ALLOWED | RANK | YPG ALLOWED | RANK |
| --- | --- | --- | --- | --- |
| 2005 | 15.3 | 5th | 281.3 | 5th |
| 2006 | 12.8 | 5th | 280.5 | 12th |
| 2007 | 12.8 | 1st | 233.0 | 1st |
| 2008 | 19.5 | 6th | 293.8 | 14th |
| 2009 | 12.5 | 5th | 262.3 | 5th |
| 2010* | 14.3 | 5th | 262.2 | 4th |
| 2011 | 21.0 | 27th | 323.5 | 19th |
| 2012 | 22.8 | 31st | 359.6 | 34th |
| 2013 | 22.6 | 34th | 377.4 | 45th |
| 2014 | 22.0 | 26th | 342.4 | 19th |
| 2015 | 15.1 | 2nd | 311.3 | 9th |
| 2016 | 14.2 | 3rd | 286.0 | 4th |
Fickell led Tressel's special teams that season and the next while dabbling on the defensive side of the ball. B.J. Sander won the Ray Guy Award as the nation's top punter in 2003 and Andy Groom was also an excellent performer at the position a year earlier. Chris Gamble served as a solid returner for Fickell during his days as special teams coordinator.
Tressel promoted Fickell to linebackers coach in 2004, a position he held at Ohio State each following year until 2011. Fickell became co-defensive coordinator in 2005 and kept that assignment until he took over the program in 2011. From 2005-11, Fickell's defensive units finished in the top five nationally in points per game allowed five times. Ohio State's defense ranked second overall last season in the same metric and is on pace for another top three mark in 2016.
In 2010, the American Football Coaches Association named Fickell its Assistant Coach of the Year. Even though the NCAA vacated that season, Fickell's group finished fifth in the country in points per game allowed with 14.3 and fourth in total defense at 262.2 yards per game.
After the up and down 2011 campaign as a head coach, Fickell became one of two holdovers on Urban Meyer's staff ahead of the 2012 season along with Mike Vrabel. Meyer named Fickell his defensive coordinator and linebackers coach and he was viewed as the top recruiter in the country by both Rivals and ESPN that year.
Ohio State's defenses dramatically improved at the end of 2014, performed at an extremely high-level last season and is again one of the best in the country this year. Something that often gets lost with how much the secondary improved under Chris Ash and Greg Schiano is that it happened under Fickell's purview.
Those two coaches often receive most of the credit but do their work under Fickell's plan. When Meyer hired Schiano to replace Ash after the latter went to Rutgers ahead of this season, reporters asked how a former NFL head coach would mesh with the Ohio State stalwart.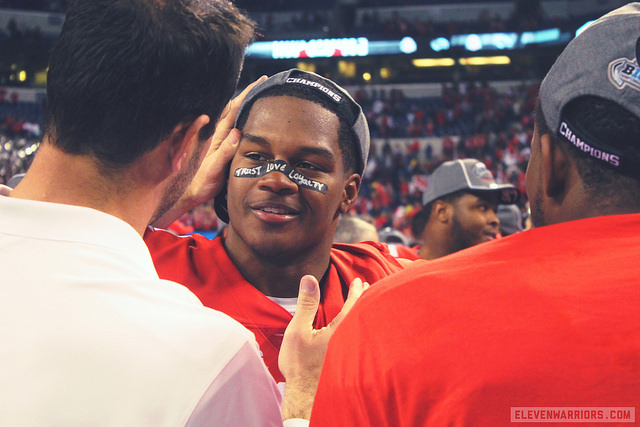 "Luke is the defensive coordinator. Let's be clear on that," Meyer said this spring. "I expect them to work well together."
They have. The Buckeyes fly around defensively and make plays, leading the country in interceptions returned for touchdowns with seven in 2016. Their defense is responsible for 25 takeaways and the team's +16 turnover margin is a crucial reason it is preparing to play Clemson on New Year's Eve in the College Football Playoff.
Not to mention the amount of NFL Draft picks Fickell is responsible for at linebacker. Now in his 15th year as a coordinator or position coach at Ohio State, 12 linebackers have been drafted. Among the names are four first-rounders: A.J. Hawk (fifth overall), Bobby Carpenter (18th overall), Ryan Shazier (15th overall) and Darron Lee (20th overall). Raekwon McMillan is prime to make that list of first-rounders grow to five next spring should he forgo his senior season.
---
Luke Fickell's legacy at Ohio State should never be understated. He dealt with the trying 2011 season with class, dealt an awful hand that included a bevy of suspensions to the best players on the team and a muddy quarterback situation with Joe Bauserman and true freshman Braxton Miller. Remarkably, the Buckeyes remained in the Big Ten title hunt into November before losing their final three games of the regular season by a combined 15 points.
Fickell led a resurgence on Ohio State's defense the last three seasons, teaming up with Chris Ash and now Greg Schiano to provide stability across all three levels. That helped Ohio State thwart the three Heisman Trophy finalists from the 2014 season.
Melvin Gordon struggled to gain only 2.9 yards per carry and Joey Bosa returned his fumble for a touchdown during Ohio State's 59-0 thumping of Wisconsin in the Big Ten Championship. Amari Cooper, despite scoring twice, was mostly prevented from making big plays and tallied only 71 receiving yards, more than 50 below his season average. And against Heisman winner and Oregon quarterback Marcus Mariota, Fickell's unit allowed only 10 points off four Ohio State turnovers to the best player in the country and held the Ducks well below their season average in total yards.
This season, the Buckeyes have already corralled and beaten three of the Heisman finalists—Oklahoma's Baker Mayfield and Dede Westbrook in addition to Michigan's Jabrill Peppers. They'll get a shot at a fourth, Clemson quarterback Deshaun Watson, in the Fiesta Bowl.
In all, Fickell has been part of 11 bowl victories at Ohio State and has a chance to add two more to his resumé this year in the Playoff. Either as a player, graduate assistant, assistant or head coach, Fickell has had his hand in 213 Buckeye victories (if you count the vacated 2010 season) against just 43 losses and the one tie in 1993. That is a winning percentage of .828. He also owns 14 pairs of gold pants, one as a player and 13 as a coach.
He is Ohio born, Ohio-bred and Ohio made. It only seems fitting Fickell plans to stay in the state and give head coaching a try again as he takes over at Cincinnati. Two hours up Interstate 71, though, the Fickell Estate will forever be tremendous.