Losing hurts like hell.
Losing to Michigan hurts worse than that. Losing to Michigan in Ohio Stadium is the worst kind of sports hurt I've endured, and near the very top of that awful category is losing to Michigan in Ohio Stadium with Jim Harbaugh involved.
I was 12 the only time that's ever happened. Ohio State was undefeated in conference play while Michigan had one loss, so the winner of The Game would clinch the Rose Bowl tiebreaker. Fifth-year senior Harbaugh guaranteed the Wolverines would beat the Buckeyes, and damn it he was right.
They returned to Ann Arbor to enjoy Thanksgiving with the Pasadena trip already clinched. Then after having that week off to celebrate, the Big Ten champions flew to Honolulu and played Hawaii because hey why not.
HARBAUGH'S GUARANTEE MARKED only the third time Michigan NOTCHED consecutive wins against Ohio State since 1951.
While Ohio State prepared for Texas A&M in the extremely consolationish Cotton Bowl, Michigan got the islands after Thanksgiving and Pasadena after Christmas. They got to have nice things. Rare things. That 1986 game was only the third time Michigan had put together consecutive wins against Ohio State going back to 1951.
It was also the second victory in what would turn into a ghastly 12-3-1 run against the Buckeyes - but let's go even deeper. Harbaugh's college career ended that January with a loss to John Cooper's Arizona State Sun Devils in the Rose Bowl. That win over the Wolverines in particular catapulted Coop into consideration for a job that would abruptly open up a year later in Columbus, OH.
So if Ohio State had been able to void Harbaugh's guarantee that fateful Saturday instead of validating it, who the hell knows what happens next. One game helped shape a dozen years in the rivalry.
The epilogue to this horror story is that the Buckeyes are on a 14-2 streak of their own since Michigan's ghastly run ended, and last Saturday the current Buckeyes - none of whom are old enough to comprehend a Michigan that gets to have nice things - prevented Harbaugh from celebrating his 30-year anniversary. 
That's a nice thing, for us. It's another Gold Pants party! Let's get Situational!
---
The Air Biscuit
Michigan's 2016 season was a beautiful reflection of its game against Ohio State - what started out strong fizzled at the end when it mattered most.
The Wolverines led the Buckeyes 17-7 with a little over a minute left in the 3rd quarter and appeared to be taking control. Jerome Baker then picked off Wilton Speight and a couple of Michigan penalties later - one via Harbaugh himself - Ohio State had cut the lead to three.
Here's what Michigan's offense did for the rest of regulation. *fizzling sounds*
MICHIGAN WITH THE LEAD AND THE BALL

| DOWN | PLAY | YARD  LINE |
| --- | --- | --- |
| 1st & 10 | Speight 8-yard pass to Darboh | MICH 33 |
| 2nd & 2 | Higdon 3-yard run | MICH 36 |
| 1st & 10 | Speight incomplete to Butt | MICH 36 |
| 2nd & 10 | Evans 5-yard run | MICH 41 |
| 3rd & 5 | Speight incomplete to Perry | MICH 41 |
|   | (Time elapsed: 2:02 | 16 yards) |   |
| 1st & 10 | Speight incomplete to Poggi | MICH 38 |
| 2nd & 10 | Higdon rush for no gain | MICH 38 |
| 3rd & 10 | Speight sacked by Bosa | MICH 32 |
|   | (Time elapsed: 1:31 | -6 yards) |   |
| 1st & 10 | Smith 2-yard run | MICH 22 |
| 2nd & 8 | Smith 4-yard run | MICH 26 |
| 3rd & 4 | Speight incomplete to Darboh | MICH 26 |
|   | (Time elapsed: 1:25 | 6 yards) |   |
Ohio State outgained Michigan 235-61 after the Wolverines went up 17-7.
They failed to crack 100 yards rushing against Ohio State for the second straight year. Relying on Speight's arm produced nine plays in the 4th quarter for no 1st downs and only 3:42 of possession. Michigan totaled five yards of offense in the final quarter with the lead. That's not how to beat Ohio State, or anyone else.
It was also evident Michigan was wearing down, and the play showcased above prior to halftime didn't help. That gimmicky train formation Harbaugh picked up from a Colorado high school on 3rd and long turned into a play-action seven-step drop nobody was ever going to bite on (oh hi, Jim Bollman's 2011 offense!) and gave Speight, already playing hurt, his first punishment of the game. The next pass he would throw would be a touchdown to Malik Hooker.
Michigan couldn't run effectively behind a tenured offensive line. It didn't protect its quarterback well enough. It wasted plays being too cute with Jabrill Peppers. It failed to take advantage of a team that missed two chip-shot field goals and a fake punt. It absolutely dominated the field position battle and still lost.
Michigan had every opportunity to win and it failed. Harbaugh knew this, which is probably why...
---
The Meltdown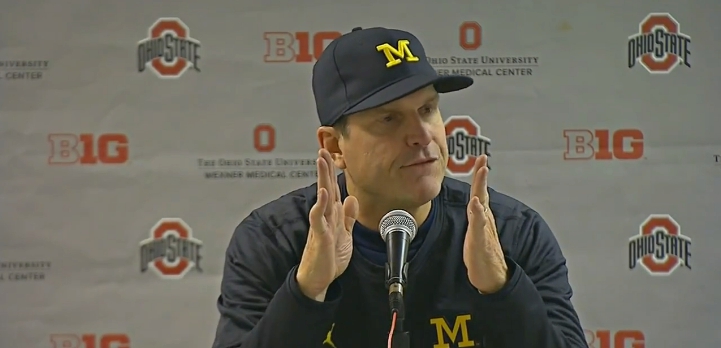 ...he spent the better part of his post-game press conference blaming the officials. This isn't new or unusual behavior for him. It's what he does. And Michigan blaming officials for how they spot the ball against Ohio State is another rich, mahogany-scented tradition:
Apparently Michigan blaming a loss to Ohio State on the spot of the ball by the refs is nothing new. This is from 1972 pic.twitter.com/Qa4G23mXRz

— Hahaharbaugh (@THE_OSU) November 30, 2016
Let's table discussing that 4th down play in the second overtime where J.T. Barrett barely breached the 15-yard line. Ignore the hilarious idea that Ohio State (which finished the 2016 season ranked 123rd out of 128 FBS teams in opponent penalties per game) somehow got preferential treatment by the officials Saturday.
Put aside the fact Michigan's opponents drew nine more flags than Ohio State's did this season, which includes last Saturday. Let's also forget about how shockingly bouncy A.J. Alexander's posterior is as well. His trampoline ass became the grassy knoll in this officiating conspiracy. Maybe he could line up backwards at right tackle. We digress.
Instead we'll focus on what's at the core of Harbaugh's tantrum, which is Michigan's long-standing tradition of refusing to validate anything Ohio State has accomplished at its expense.
Your favorite Michigan fan coping mechanism for diminishing an Ohio State victory in The Game is:

— Ramzy Nasrallah (@ramzy) November 27, 2016
Historically, Michigan does not lose football games. It either wins or is cheated out of winning by others or itself, both of which invalidate the outcome. And in the absence of having any red herring to complain about or blame:
Taylor Lewan; "That's not the No. 3 team in the country."

— Everett Cook (@everettcook) November 30, 2013
Spoken like a man just hours away from committing aggravated assault.
Unfortunately for sad Wolverines, no fan base on earth is better equipped for salty fans with impotent outrage trying their best to diminish a big win. We are impervious to other people's anger. Ohio State fans generally figure out very early on in life that seeking validation where none exists is a futile exercise. Salty Michigan fans are our preferred renewable energy source.
All that said, it's still fascinating that Harbaugh was so emphatic in his tantrum about his vantage point for that 4th down play, which got his employer a minuscule fine. Find the orange yard marker below before you press play - that's Harbaugh (in the khakis) standing upright in front of it 10 yards behind scrimmage. He couldn't see shit.
Also keep in mind - while we're talking about preferential treatment from the officials - that this was a 4th down that never should have been allowed to happen.
That's because two plays earlier Ben Gedeon literally pulled Barrett to the ground by his facemask in clear view of the back judge, obviously a Michigan fan. That's an automatic 1st down and half the distance to the goal, stolen from Ohio State in double overtime. (Ed. Or as heroically pointed out below - probably not? Camera angles can't melt steel beams)
A word of caution - enjoying Harbaugh's meltdown is a ripe opportunity for Buckeye fans to get caught in a hypocritical wash, so try and learn something from it. Harken back to that lousy night in Beaver Stadium when the Buckeyes absorbed eight flags while the Nittany Lions were penalized only once for 5 yards.
What did you do or say after Penn State's Jarvis Miller tackled James Clark for objectively obvious pass interference on what would be Ohio State's final drive with the game on the line?
Play better than having to rely on a 4th quarter whistle to a 19-point underdog, IMO

— Ramzy Nasrallah (@ramzy) October 23, 2016
Rarely are you handed anything in life or in football, even blatant facemask or pass interference penalties. Officiating is generally bad. Prepare to win in spite of it.
---
The Overtime King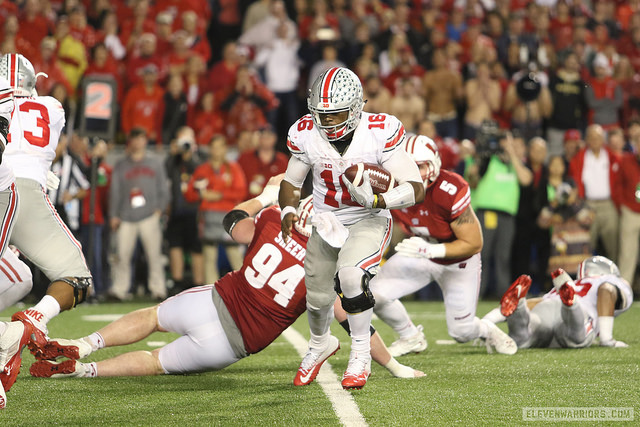 This is an Ohio State site, so let's take a break from Michigan to laud the leader of the local team. DJ talked about this yesterday but Barrett has been so damn good in overtime that we have to get more granular.
Here is every play Barrett has been involved with in overtime since starting college:
JT THE VIP QB IN OT

| GAME | SCORE | DOWN | PLAY |
| --- | --- | --- | --- |
| AT PENN STATE 2014 | 17-24 | 1st | Zeke handoff for 3 yards |
|   | 17-24 | 2nd | Barrett run for 17 yards |
|   | 17-24 | 1st | Barrett run for 5 yards (TD) |
|   | 24-24 | 1st | PSU personal foul for 12 yards |
|   | 24-24 | 1st | Zeke handoff for 2 yards |
|   | 24-24 | 2nd | Barrett run for 6 yards |
|   | 24-24 | 3rd | Barrett run for 4 yards (GWTD) |
| AT WISCONSIN 2016 | 23-23 | 1st | Barrett pass to Samuel for 10 yards |
|   | 23-23 | 1st | False Start Isaiah Prince for -5 yards |
|   | 23-23 | 1st | Barrett pass to Clark for 12 yards |
|   | 23-23 | 2nd | Holding Jamarco Jones for -10 yards |
|   | 23-23 | 2nd | Barrett pass to Samuel for 7 yards |
|   | 23-23 | 3rd | Barrett pass to Brown for 7 yards (GWTD) |
| vs MICHIGAN 2016 | 17-17 | 1st | Samuel run for 18 yards |
|   | 17-17 | 1st | Barrett run for 7 yards (TD) |
|   | 24-27 | 1st | Barrett run for 5 yards |
|   | 24-27 | 2nd | Barrett sacked by his facemask for -4 yards |
|   | 24-27 | 3rd | Samuel run for 8 yards |
|   | 24-27 | 4th | Barrett run for 1 yard |
|   | 24-27 | 1st | Samuel run for 15 yards (GWTD) |
The Buckeyes are 3-0 in OT with five touchdowns in the five drives Barrett has led. He hasn't thrown an incompletion. His only negative play should have been a personal foul on Ben Gedeon but the refs were cheatin'.
BARRETT'S OVERTIME STATS

|   | # | YARDS | AVG | TD |
| --- | --- | --- | --- | --- |
| RUSHING | 7 | 46 | 6.6 ypc | 3 |
| PASSING | 4/4 | 36 | 9 ypa | 1 |
Samuel's game-winner was the first touchdown Barrett didn't notch himself. On behalf of all of us, I'd like to thank Harbaugh for choosing to tie the game in the first extra period instead of going for two. He ceded control of an overtime game back to the guy who doesn't lose them.
---
The Bourbon
There is a bourbon for every situation. Sometimes the spirits and the events overlap, which means that where bourbon is concerned there can be more than one worthy choice.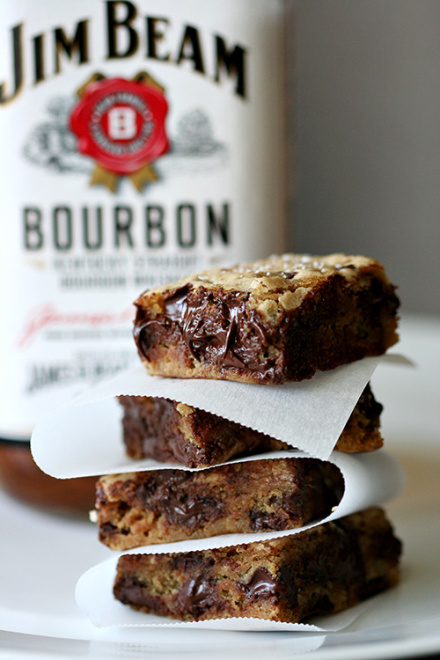 Michigan fans have been salty for the better part of the current century because of the Ohio State game. This kind of salt, as previously discussed above, is delicious. Bourbon is also delicious. Hmm...
Sweet and salty pair exceptionally well, albeit not necessarily in a rocks glass - please recall the salted caramel vanilla bourbon for pouring over twinkies from several Situationals ago. Today we'll be reuniting salt with bourbon to celebrate Ohio State's latest uncontroversial win over Michigan.
Here is how you make Salty Harbaughs:
Before you get started, pour yourself a bourbon since baking is hard, hot work. Preheat your oven to 325 and grease your pan. Line it with parchment paper too, because Salty Harbaughs are fragile, if not volatile.
Put your butter in a saucepan over heat and once it gets melty add the brown sugar to it. Stir until consistent, then remove from the heat and allow it to cool - this is important because you don't want to cook the egg you're going to add to it. That's gross.
Add the egg to the cooled mixture, along with the vanilla, salt and bourbon and beat it in double overtime until it looks right. Stir in the flour and then at the very end, drop in the chocolate.
SALTY HARBAUGHS 

| Ingredient | quantity |
| --- | --- |
| FIRST SHELF BOURBON | 2 tablespoons |
| DARK BROWN SUGAR | 1 cup |
| BUTTER | 1/4 cup |
| BAKING FLOUR | 1 cup |
| BAKING POWDER | 1 teaspoon |
| SALT (FROM TEARS IF AVAILABLE) | 1/2 teaspoon |
| EGG | one |
| VANILLA | 1 tablespoon |
| BITTERSWEET CHOCOLATE | 8oz, chopped |
| COARSE SEA SALT | to taste |
Spread the mixture in your pan - the smaller you go here, the thicker your Salty Harbaughs are going to be. If you like thin, go bigger and spread wider. Put your pan in the oven and pour yourself another bourbon; you've earned it. 
About 20 minutes later it's going to take on a golden brown color. Don't stress underbaking these things because frankly that's a win - you do not want to overbake them. Remember, gooey is always better in life except for when it comes to offensive linemen. 
Once you remove them from the oven, sprinkle your coarse sea salt over the top and then use the parchment to lift them out of the pan for slicing into individual Harbaughs. If you didn't use parchment, wait for the pan to cool completely before you use your face to remove the gooey bits stuck to the bottom of the pan. Safety first.
Enjoy. With a full-bodied milk, if that's your thing.
---
The Playoff
The Cleveland Browns aren't the only professional team that's been snatched from a city and then returned to it - albeit in severely degraded condition - several years later. The Winnipeg Jets moved to Phoenix just months after the Browns moved to Baltimore. 
They returned in 2011 and in 2015 made the playoffs for the first time since their final 1996 season. What do you do when your team returns from the grave and makes the playoffs for the first time in nearly two decades?
You create The Playoff Anthem. And since this is Manitoba, it's a fresh, much-needed parody of a 15-year old rap song. 
The Playoff Anthem was released, and then Winnipeg was swept out of the first round by Anaheim. As sad as that sounds, Browns fans are still jealous.
Thanks for getting Situational today. Enjoy your Salty Harbaughs.