Like anyone involved with or that follows the sport, Mark Dantonio is aware of the College Football Playoff rankings. But the coach also knows the harsh reality for his team this season.
"We're not in them," Michigan State's head coach said Tuesday on the Big Ten teleconference. "That's all I know right now. We have to focus on what we can accomplish."
Michigan State is nowhere near the top 25 rankings, entering Saturday's matchup against Ohio State with an ugly 3-7 record. The mark is a shocking and sobering reality for a program that won the Big Ten a year ago and received an invitation to the College Football Playoff.

MICHIGAN STATE SPARTANS
3-7, 1-6 B1G
ROSTER / SCHEDULE
---
NOON – SATURDAY, NOV. 19
SPARTAN STADIUM
EAST LANSING, MICHIGAN
---
ESPN
WATCHESPN
"Even though we've had a disappointing season by our standards and other standards as well, you always look to move forward," Dantonio said. "I think that's what we're trying to do as a program."
Any program wants to do that but Saturday's matchup pits two teams and coaches knee-deep in a budding rivalry. Urban Meyer's sparkling record at Ohio State stands at 59-5 in what is now his fifth season in Columbus. Forty percent of those losses are to Dantonio and the Spartans, and each ripped away Ohio State's chance to win Big Ten and national championships.
"Extremely dangerous. I know their personnel. We recruited a lot of those guys," Meyer said on Wednesday. "I think they are as well-coached as any team in the country."
Dantonio out-foxed Meyer in half of the four previous matchups between two of the Big Ten's titans. And though his Spartans are meddling in a forgetful campaign with a roster wrecked by injuries among other issues, Dantonio knows he can partly save face the last two weeks of the regular season. First, the No. 2 Buckeyes come to town followed by a trip to State College to take on Penn State.
Both Ohio State and the Nittany Lions are battling for a chance to play for the Big Ten Championship and on a grander scale, in the College Football Playoff.
"We understand where they're at in the big scheme of things. I understand where Penn State's at," Dantonio said. "The road may go through East Lansing a little bit I guess but I just look at it as an opportunity to play and be challenged by great football teams and an opportunity to move ahead as a program."
And with talk of the Playoff Selection Committee potentially facing the need to consider an Ohio State team with a strong résumé but no conference title for a top-4 spot should both the Buckeyes and Nittany Lions win out, Meyer presses on with his attention toward solving the riddle that is Michigan State.
"All focus and laser lights are on a team that we know very well, a lot of respect for, excellent players, great coaches, and we're going to do our very best to perform well on the road," Meyer said.
Michigan State Breakdown
Before throttling a hapless Rutgers squad 49-0 last Saturday, the Spartans were on the cusp of setting the wrong kind of history. Michigan State started the 2016 season 2-0, then lost seven straight games. An eighth would have tied the program's longest losing streak since 1982.
"Doesn't mean that we're back, but I think it meant a lot to our football team and our players in terms of how we played and how we played with each other and the energy that existed on the football field," Dantonio said.
Dantonio will never accept moral victories—Jim Tressel taught him that—but did admit during his press conference on Monday his team was "out there in the desert a little bit" before it took care of the Scarlet Knights. It is weird to see losses pile up on a program that won two of the three last Big Ten Championships, a Cotton Bowl and scored major upset victories against top rivals Michigan and Ohio State last season.
Injuries have mounted for Dantonio's group this season, forcing youth not ready to perform at a high level into key positions. Starting quarterback Tyler O'Connor is one of three players to take snaps from under center this season, along with freshman Brian Lewerke and junior Damion Terry.
2016 Statistical Comparison
 
OFFENSE
46.5
2nd
POINTS FOR
26.1
84th
267
10th
RUSHING OFFENSE
175.6
65th
244.4
53rd
PASSING OFFENSE
230.7
69th
511.4
11th
TOTAL OFFENSE
406.3
68th
.526
5th
3rd DOWNS
.390
73rd
.907
24th
RED ZONE
.778
103rd
DEFENSE
12.7
3rd
POINTS ALLOWED
27.1
59th
111.6
11th
RUSH DEFENSE
160.3
56th
162.8
5th
PASS DEFENSE
200.2
29th
88.2
1st
PASS EFFICIENCY DEFENSE
128.8
60th
274.4
4th
TOTAL DEFENSE
360.5
31st
.291
8th
3rd DOWNS
.426
96th
.679
3rd
RED ZONE
.943
125th
SPECIAL TEAMS
5.5
93rd
PUNT RETURN
7.9
65th
24.9
17th
KICKOFF RETURN
21.2
57th
42.8
4th
NET PUNTING
37.6
59th
MISCELLANEOUS
+ 1.3
4th
TURNOVER MARGIN
- 0.3
92nd
6.8
91st
PENALTIES
6.7
84th
16
EDGE
2
O'Connor looked awful against Wisconsin, tossing three interceptions against the Badgers in an embarrassing 30-6 home loss. Dantonio shuffled the deck and inserted Lewerke and Terry at different points following that game, just looking for something, anything, to spark a unit that struggled to find a part of its playbook to hang its hat on this season.
It is hard to win big games when there are questions at quarterback, even with explosive and powerful skill players like running back L.J. Scott, receiver R.J. Shelton and tight end Josiah Price. Those guys can only do so much, and revolving doors on Michigan State's offensive line—which had to deal with replacing three NFL Draft picks—does not help either.
But Ohio State still knows what guys like O'Connor, Shelton, Scott and others can do.
"I put the tape on and watch their explosive play reel. It's 30-something plays, passes alone, so you're talking three explosives a game," defensive coordinator and safeties coach Greg Schiano said Wednesday after practice. "If that happens to you, it could be 21 points. Their offense is middle of the pack or higher in every statistical category in the Big Ten, so you don't have to say anything more than that."
Schiano is correct—the Spartans are seventh in the league in rushing offense, seventh in passing offense, sixth in total offense and is tied with Indiana for the fourth-most touchdown passes with 18. Scott is eighth among all Big Ten players in rushing and Shelton is seventh in receiving.
The numbers are there. The wins are not.
"Having some experience against this team, they always come out to play. Records don't matter in this game. They don't," Ohio State center Pat Elflein said. "It's a Big Ten matchup. They've got really good players. They've always had a good game plan against us."
Dantonio's past connection to the Buckeyes helps too. He served as a graduate assistant in 1983-84 before returning as Jim Tressel's defensive coordinator from 2001-03. Dantonio knows the ins and outs of the program and for whatever reason, gives Meyer headaches. But the Spartan head coach has his work cut out for him this year against the Buckeyes, who are charging hard and peaking in November. On the other side, Michigan State started three true freshmen and a host of other new faces on defense last week.
"They better learn quick," Dantonio said.
The status of star defensive tackle Malik McDowell remains up in the air. He injured his ankle against Illinois and didn't play last Saturday. The Spartans did not list him on their depth chart this week. Dantonio said he will either start or not play.
Freshmen Josh King and Mike Panasiuk worked in McDowell's place alongside redshirt freshman Raequan Williams and redshirt sophomore Robert Bowers, two guys who had not played in 2016 until the Rutgers game. Freshman Donnie Corley played in the secondary like he has in the past this season, despite being highly-ranked as a wide receiver recruit. Justin Layne (another true freshman and former receiver) started his third straight game at corner against Rutgers.
Youth, youth and more youth. It is everywhere on Dantonio's team, as the head coach and his staff have eyes toward 2017 and beyond.
"We talked about this being a starting point for us to build from and take the momentum into next year," co-defensive coordinator and defensive backs coach Harlon Barnett said after the Rutgers win. "Let's finish these last three games out strong, and our guys started out right.
"So let's see if we can keep it going."
The task won't be easy against the Big Ten's top overall, rushing and scoring offense. But the Spartans were underdogs in the 2013 Big Ten Championship game as well as last year in Columbus. They won both.
"I don't think we've ever gone into a football game here where we didn't think we could win. Every football game is a challenge so you have to play well independently in each of those games," Dantonio said. "The first one up is Ohio State and it'll be a great challenge for us. We gotta measure up. There's no other way around it."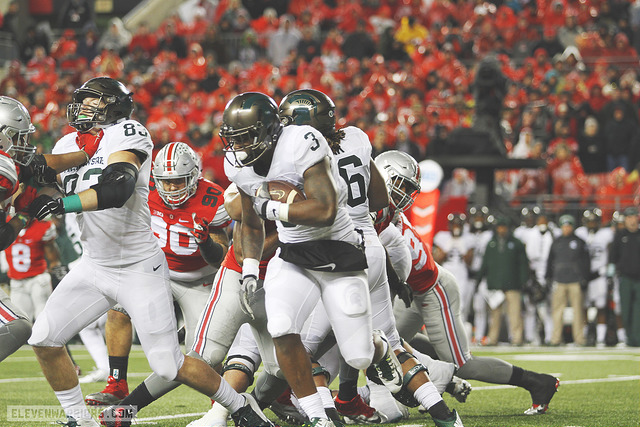 Dantonio also started redshirt freshmen Tyler Higby and Cole Chewins at left guard and tackle against the Scarlet Knights. Each played well until Higby left with a lower leg injury. With how the Spartans like to bull rush teams with Scott and Gerald Holmes, which offensive line shows up and how it performs will be key against a Buckeye front that rotates upwards of eight players throughout the game.
"This is the No. 2 team we're facing," Dantonio said. "The question is, how do you measure up?"
How well O'Connor plays will factor immensely into the outcome, especially with cold, rainy and windy conditions expected around kickoff on Saturday. He and Terry worked together to down Ohio State last season in Columbus in place of injured Connor Cook and Saturday represents O'Connor's final game in Spartan Stadium. The same goes for Shelton, Price, linebacker Riley Bullough and defensive back Demetrious Cox. All own two Big Ten Championship rings and are part of a senior class that has 40 wins to its name.
"This senior class didn't give up on Spartan nation, didn't give up on this team and didn't give up on its coaches," Shelton said this week.
"This season, obviously, will be the greatest reflection, probably, on what we've done here," O'Connor said. "But I guess the biggest thing is we've never stopped fighting."
Taking down Ohio State will go a long way to swinging fair-weather fans back to their side as their careers wind down. Though the 2016 season is without a doubt a disappointment, Senior Day represents an opportunity.
"Hopefully this period of time in their life helps strengthen them for later disappointments in their life where they have challenges in their life and have to be able to go through them in order to come out the back end," Dantonio said.
Buckeye Breakdown
It is hard to nitpick a team after it wins consecutive games 62-3, even if one came against an overmatched Maryland squad. But that is how Ohio State enters Saturday's tilt, rolling in all phases and stepping forward the way its head coach hopes for each season despite an inexplicable defeat at Penn State on Oct. 22.
"Ever since the loss, we've just been all schedule boards are covered up and just focus on one and let's not worry about [the] big picture," Meyer said on Monday.
That is the challenge for Meyer this week, especially after the Buckeyes rose three spots in the College Football Playoff rankings to No. 2 following losses by Clemson, Michigan and Washington last weekend. The postseason discussion will only intensify should the Buckeyes continue at their current pace and take care of Michigan State. Next week's battle with the Wolverines could serve as a quarterfinal for the Playoff.
The Buckeyes don't necessarily control their own destiny in terms of the Big Ten race because of the loss in State College. Meyer wants everyone involved with the program to focus on Dantonio's Spartans because as he said on Monday, nothing else matters if Ohio State doesn't win in East Lansing.
"I just count on our players. We have really good guys here. We have good leaders," Meyer said. "I wish I had more of a detailed answer for you because, when they leave here, they're not here all day long or it would be easy. Just lock them in the locker room and feed them once in a while, but it's not that simple."

The majority of the roster that suffered the loss to Michigan State in Columbus last season is now elsewhere. But there are plenty of faces who played key roles in that game and know how it felt walking off the field with their dreams shattered by a last-second field goal.
"They always have a chip on their shoulder when the Buckeyes are in town. It's going to be the same way this Saturday," Elflein said. "We have to prepare like we do every other week. The records don't matter. It's going to be a hard-fought game. Very important game."
"Whenever we lose here at Ohio State it's because we beat ourselves," middle linebacker Raekwon McMillan added. "We gave up some key opportunities to make plays last year in the big part of the season and it just played out how it did."
On paper and in terms of how each team's season has gone through 10 games, Ohio State should win handily. But players from both teams are from Michigan and Ohio, so the personnel is well-known by each coaching staff. Plus, it is always a battle when these two teams get together—the combined score between them the last four seasons is 104-104.
"I think they've had some injury issues and all that but we're preparing for Michigan State," Meyer said. "There's not a person around here that doesn't have incredible respect for that program."
The road team has won the last five matchups between the two schools in games played on their respective campuses. The last time they met at Spartan Stadium represented J.T. Barrett's coming out party. The then-redshirt freshman torched a highly touted Michigan State secondary for 300 yards and three touchdowns and ran for 86 more yards and a pair of scores. Michigan State simply couldn't stop him.
"It was I think a great plan we had going into the game," Barrett said of the 49-37 win. "We were playing well as a team and we knew we were like the underdogs in that game so we wanted to just come out and play hard for each other. It came to be a good game for us, especially offensively."
"We have to prepare like we do every other week. The records don't matter. It's going to be a hard-fought game. Very important game."– Pat Elflein
Ohio State racked up 568 total yards of offense and still won by two possessions despite turning the ball over twice that night. Barrett and a new cast of characters appear to be hitting their stride in recent weeks, with the deep passing game and an ultimate weapon of Curtis Samuel piling up yards and points behind an offensive line playing the best it has all season.
But Barrett is the key to it all. He will be the key Saturday too, as he must get the ball to Samuel and his other playmakers to dissect a permeable Michigan State defense.
"He's almost unrivaled as a quarterback now in college football. That guy's been on the end of 94 touchdowns some way or another," Dantonio said. "Got a great group of people to throw it to and hand it too. I think he's a guy that makes it work. He's steering the ship. He's done a tremendous job and I think he's done a great job leading too."
Saturday provides Barrett another shot at the Spartans after Ohio State's offense managed just 132 total yards and five first downs last season in Columbus.
"I don't think it's revenge. Would I say I forgot? No," Barrett said. "Does it mean a lot playing each year against Michigan State? Absolutely. But revenge, I don't think that's the right word to use for that.
"It's just a battle each time we play one another. It's really not a blowout game. It's always been one of those ones that always goes down to the fourth quarter and that's just kind of how it's always been."
How It Plays Out

As much as Meyer doesn't want to talk about it with the media, he knows Ohio State cannot slip up in East Lansing. The Buckeyes are playing as well as any team in the country with November winding down and the only thing they can control is winning their final two games. Should a chance at the Big Ten Championship come with a Penn State loss, Ohio State will take it. But should it not, finishing 11-1 is next best.
Getting to 10-1 must happen first, though. If not, all the conversation about the College Football Playoff is wasted breath.
"Just want to beat Michigan State, man," Meyer said.
Unfavorable weather conditions wreaked havoc on Ohio State's offense last season, as Meyer clammed up and elected to give the ball to J.T. Barrett and hope his quarterback could win the game for him. But Sparty won at the line of scrimmage all afternoon and left with a victory despite not leading until there was no time left on the clock.
"There's not a person around here that doesn't have incredible respect for that program."– Urban Meyer on Michigan State
Rain and wind are forecasted for East Lansing on Saturday, something Meyer said has a "major impact on game planning." He isn't ready to use it as an excuse, however.
"Just have to execute in it," he said. "They're dealing with the same issues."
Michigan State can play spoiler to both the Buckeyes and Nittany Lions next week in an attempt to salvage some semblance of a decent season following a seven-game losing streak. The Spartans use play-action well but cannot do that if L.J. Scott and Co. do not find holes in the running game. Injuries are the story of the season and play into the team's 3-7 record, a fact despite the Spartans leading at one point in every single game this season.
"It comes down to fundamentals and we've gotta win in those areas," Dantonio said.
Those areas will help determine if the Spartans can pull the upset or if the Buckeyes take another step toward their goals of competing for championships. Michigan State can no longer reach those goals this season. But if the past four seasons are any indication, it won't matter come Saturday.
"Let's worry about the accolades and everything else later," Meyer said. "Let's get ready to go beat Michigan State."
---
ELEVEN WARRIORS STAFF PREDICTION: Ohio State 45, Michigan State 13