There are times in Ohio State's running backs room where Tony Alford hands a dry erase marker to one of his players and lets them do the talking.
At a program that boasts former players at the position who are current starters on NFL rosters in Carlos Hyde and Ezekiel Elliott, the expectation is you better be able to hold your own when your position coach puts you on the spot and tells you to draw up a play. Those two guys did it and put together terrific careers under Urban Meyer before heading to the NFL.
It wasn't until recently that Alford felt Demario McCall, a true freshman, could explain to him how things operate in Ohio State's offense as a tailback the way the running backs coach wants things to be spelled out.
"I'd say Week 5 it seemed just watching him and listening to him talk, we're in meetings and going through things on the board that he truly started to grasp it," Alford said of McCall on Monday.
At that point, McCall had 20 carries for 144 yards and two touchdowns in addition to a 36-yard touchdown catch and run against Bowling Green to his name in his Buckeye career. His speed, elusiveness and quickness in and out of cuts make McCall dangerous anytime he touches the ball. But 10 games in, really the only time the Buckeyes put him on the field came in garbage time.
That happens when you have a horse like Mike Weber and a Swiss Army Knife in Curtis Samuel needing carries at running back. The two have been listed as co-starters on the depth chart all season. Alford said on Monday that McCall is the next guy in the pecking order.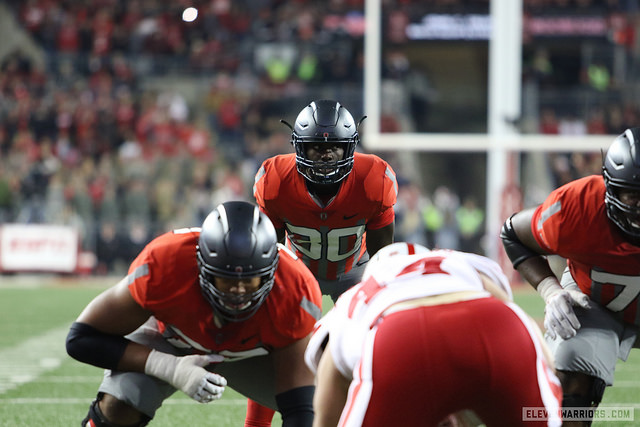 "We're gaining more trust and more faith in him and he has earned that and he's earned that through his practice time and his practice habits," Alford said. "We'll obviously continue to try to improve those things. He's becoming more comfortable in the game, in the college football game, as the season progressed. And he'd be the first to tell you that."
Urban Meyer wanted McCall to add weight after he arrived to Columbus from North Ridgeville High School, Southwest of Cleveland. At only 5-foot-9, the Buckeyes generously listed McCall around the 180-pound mark when he enrolled. He is listed at 182 now and Alford said he has put on a considerable amount of weight since the summer, which is what Meyer was unsure would happen right away.
"I was a little worried because he's so little," Meyer said on Saturday after McCall ran for 53 yards and a touchdown on 13 carries in Ohio State's 62-3 win at Maryland. "But he's getting bigger and stronger, taking care of himself. Great kid to have on our team. Nice future."
How much that future falls into place as the 2016 season winds down depends on the status of the two key pieces in Ohio State's offense ahead of McCall on the depth chart, Samuel and Weber. Dontre Wilson remains in the conversation as well.
But what McCall did against Nebraska (16 carries for 73 yards) is encouraging for Alford. And a product of the step the true freshman made over the last month.
"It was kind of like drinking out of a firehose when he first got here," Alford said. "He's obviously gained some weight, gained quite a bit of weight which is obviously helping him as well."
McCall needs to continue to improve and show a willingness to pass block, taking that as serious as getting a handoff and cutting through a hole.
"You see those flashes where he can break off a run at any time, but he doesn't go hard all the time," quarterback J.T. Barrett said. "Sometimes he may take a play off if he doesn't think the ball is coming to him or he may not get it, it's kind of relaxed instead of being locked in and focused every time he's out on the field."
"We're gaining more trust and more faith in him and he has earned that and he's earned that through his practice time and his practice habits."– Tony Alford on Demario McCall
Barrett would know, having played with Elliott and now Weber and seen how serious they take plays when they do not get the ball. It is a reason Weber earned a starting role this season and something Meyer said the redshirt freshman is getting better as the season progresses. Understanding all of those intricacies in Ohio State's offense and where you need to be as a running back, a key element to what the Buckeyes do, takes time and repetition.
"Things start to sound the same. You think you have this concept down, then you go to this concept and we throw this concept at you and all of a sudden it all starts to blend together," Alford said. "All the signals are coming in at a high rate of speed, going fast."
McCall also dabbled in some punt return duties late in the games against the Cornhuskers and Terrapins. His experience at that spot comes from doing it so often at North Ridgeville.
"That's good recruiting when you have a number of guys going in and doing a multitude of things," Alford said.
It is also good recruiting when your third running back—a true freshman to boot—is fourth on the team in rushing yards despite only seeing action in five games. That is quite the uptick in development in recent weeks and a credit to McCall's ability to take advantage of the limited opportunities present to him.
"We'll see where he goes but he's obviously improving," Alford said.