Our long national nightmare known as Bye Week is just about over as Ohio State gets ready to open the B1G slate with a noon showdown against a Rutgers outfit that just lost two of its best players last weekend in a tight loss to Iowa. 
With former Buckeye co-defensive coordinator and safeties coach Chris Ash leading the Scarlet Knights into the Horseshoe, that's at least an interesting side story to keep an eye on as Ohio State enters the game as a modest 38-point favorite. 
Will a wide receiver finally step up to complement Noah Brown? Is this the game Mike Weber really blows up in multi-touchdown fashion? Should we expect J.T. Barrett to break Bobby Hoying's school record for career touchdown passes? 
For answers to these questions and more, Eric, Johnny and Mr. Lind belly up to the roundtable. 
Having the bye week come after an emotional heel-stomping of Oklahoma and before a noon matchup with a conference also-ran seems a bit ill-timed though I guess it depends on how you look at it. What kind of attitude will the squad bring onto the field Saturday? Will the early start and lackluster opponent have the Buckeyes going through the motions or will the fact this is still a young team help Urban Meyer ensure the team comes out with its hair on fire?
Eric: To be honest, when I looked at Ohio State's 2016 schedule for the first time I immediately noted the Rutgers matchup as a potential "trap" game. Then I realized the Scarlet Knights fired their coach and Ohio State beat them 49-7 in New Jersey last year. So while I think the noon start could certainly lead to Ohio State "sleepwalking" early against Rutgers it won't make much of a difference in the end. Urban Meyer and his staff will do everything in their power to avoid such a situation and I bet the team is anxious to get back on the field after sitting at home for a weekend.
Johnny: Logic says that yeah, a sluggish start and an overall uninspiring performance is to be expected, but that same logic says that they should've performed that way against Tulsa. Which kind of happened, but when you win a game against any team 48-3, you're really only competing against your own standards of greatness.
I don't see a letdown happening; the youth of the team might actually work in their favor at this point, as any playing time is good playing time. For a young team with a lot of players still jockeying for position on the depth chart (particularly in light of several injuries), Rutgers represents an excellent opportunity. 
Andrew: It's easy to see a lesser opponent on the schedule and think Ohio State is in for a fight it wasn't expecting. But if there was to be a letdown this season, in my opinion, it was going to be against Oklahoma. Inexperience at several positions and a hostile environment could have allowed the Sooners to roll, but this young team kept its head on a swivel and came away with arguably the most impressive win by any team this season.
This isn't last year's team, which just showed up and expected to walk all over an opponent despite only going through the motions. These players are hungry and eager to show their former defensive coordinator, Rutgers head coach Chris Ash, that wolves hunt no matter the time of day.
Ohio State enters Saturday with the league's top-ranked rushing attack at 306 yards per game while Rutgers is next-to-last in rush defense yielding 181.8 yards per game. What can we expect from the Buckeye rushing attack on Saturday? Will Mike Weber go off and finally have a multiple rushing touchdown game? Will the staff severely cut back J.T. Barrett's rushing attempts considering the opponent?
Johnny: If J.T. Barrett has more than 10 or 12 rushing attempts I'm gonna barf. This is about the time of year that I start to get very nervous about the ability of an Ohio State quarterback to get through the season unscathed. As Beau has pointed out on the Dubcast, no Urban Meyer quarterback has ever gotten through an entire season unhurt, and if Barrett got dinged up in what should be a pretty thorough ass kicking of Rutgers, it'd be some real Icarus crap.
Andrew: Mike Weber and Curtis Samuel have been the perfect complement to J.T. Barrett's passing attack this season, filling in for former running back Ezekiel Elliott better than anyone could have expected. Weber has nearly surpassed 100 yards in all three games of his short career, coming up just eight yards short of the century mark against Tulsa. I fully expect that trend to continue, as the Buckeyes will have no problem moving the ball against the Scarlet Knights. Weber will find pay dirt twice in the first half and head coach Urban Meyer will rely on him to tote the rock and run out the clock for most of the second half when backup quarterback Joe Burrow sees his first extended playing time of the year.
Eric: Urban Meyer spoke on Monday and has often this year about how he doesn't want J.T. Barrett to take as many hits in the running game in order to ensure he stays healthy for the entire season. Barrett added that he, Meyer and Tim Beck also talk about that often. But as Ohio State continues to show, it will do whatever it deems necessary to win the game even it involves running Barrett more than 20 times. That's what happened in the Fiesta Bowl against Notre Dame, for example.
However, I think the staff won't run Barrett that much on Saturday because he won't need to. Curtis Samuel and Mike Weber should have huge days against Rutgers' porous defensive front and the fact they were the Big Ten's two leading rushers through three games in 2016. I think Weber will score twice and Samuel should also find the end zone multiple times as Ohio State racks up more than 300 yards on the ground.
Meanwhile, Rutgers running back Robert Martin has been one of the few bright spots for the Scarlet Knights. The junior currently leads the B1G with an average of 119.3 rushing yards per game and is coming off back-to-back 100+ yard outings against New Mexico (169 yds) and Iowa (106 yds). With Martin doing the heavy lifting Rutgers ranks a respectable 6th in the league in rush offense at 220 yards per outing. How much success will Ohio State's defense have in slowing down the junior from Harrisburg, PA and the rushing attack overall? Give us a final stat line.
Andrew: Without wide receiver Janarion Grant, Rutgers' offense is far less explosive. The senior, who was injured in last Saturday's game against Iowa, has accounted for more than 35 percent of the Scarlet Knights' all-purpose yardage this season, doing a little bit of everything on the ground, in the air and on special teams. He's also had a hand in six of Rutgers' 13 touchdowns this season. Without that threat, Ohio State will be able to zero in on Martin and hold him to a season-low 60 yards rushing.
Eric: When the game is not decided, I think Ohio State will have plenty of success in shutting down Martin. The Buckeyes defended the run well at Oklahoma, which has a better rushing attack with Samaje Perine and Joe Mixon and a strong offensive line than that of Rutgers. Still, Martin is bound to become more of a focal point in the Rutgers offense with star wide receiver and playmaker Janarion Grant sidelined with an injury. Martin is likely to get some garbage time touches and yards late in the fourth quarter while Ohio State's backup defenders play so I'll say he finishes with 100 yards on 25 or so carries.
Johnny: He's boned. Martin is a legit running back, but there's really no reason to do anything but sell out against the run versus Rutgers because their quarterback Chris Laviano is pretty butt. Laviano hasn't passed for even 200 yards in any of his four games, and has struggled to string together more than a few completed passes in a row. Martin might go for 90 or 100 yards, but it'll take 25 or 30 carries to get there.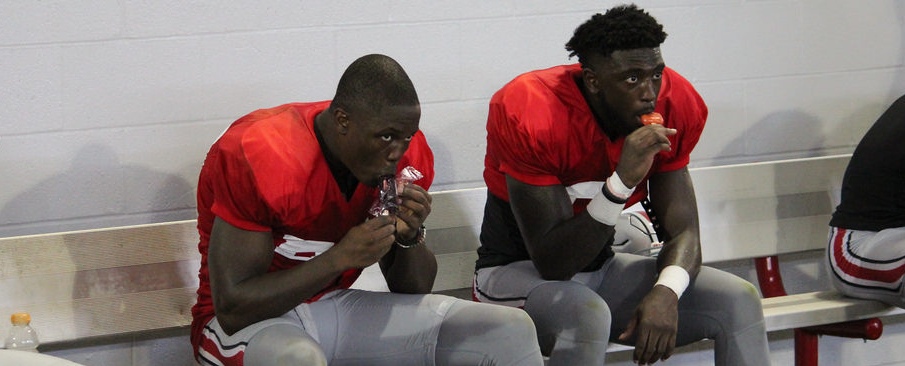 There's a good chance we'll wait all season for a true wide receiver to step up and complement Noah Brown on the outside and the combo of Curtis Samuel and Dontre Wilson on the inside. For one week, however, anything can happen. Do you have any confidence someone other than Brown will step up on the outside even if just for this week? If so, who and why?
Johnny: Not particularly, but as long as Samuel is a viable passing option, none may have to. Samuel is the leading receiver on the team in terms of yardage by... well, a lot. It's easy to be enthralled by the potential of a Noah Brown, especially after what he did to Oklahoma, but he's still a good 125 yards and seven catches behind Samuel for the team lead.
This isn't an indictment of Brown; it's more an endorsement of Samuel as a potential Jalin Marshall 2.0, and also some serious praise for J.T. Barrett, who has spread the ball around to a ridiculous amount of pass catchers this season and continues to do so.
Andrew: As much as we'd like to see someone like fifth-year senior Corey Smith or Parris Campbell step up and take hold of the second wide receiver position, neither has shown the desire to do so this season. K.J. Hill looked the part in the season opener, but he's out for at least three weeks. Smith has a cast on his hand, too, so I'm not sure how well he can catch. But if there is someone to step up, I think Meyer let us in on the surprise during Thursday's coach's show. I mentioned I expect Burrow to get plenty of playing time at quarterback, which means that Ohio State is up comfortably fairly early. Therefore, Binjimen Victor will have a chance to show what he's capable of. If he truly catches everything and is quicker than we think, as Meyer alluded to, then he'll have a chance to assert himself as a go-to option on Saturday.
Eric: I continue to wait for Parris Campbell to be that guy because he is on the field so much as a stellar edge blocker in Ohio State's running game but it took him a full season plus two games to record his first career catch. With K.J. Hill's ankle injury knocking him out for 3-4 weeks, I'll pick Terry McLaurin. He is fourth on the team with five catches for 50 yards through three games, has excellent speed and is going to continue to play considerable snaps because he, like Campbell, is a strong blocker. My confidence isn't very high that McLaurin will have a big day receiving, however, due to how much Ohio State rotates at wide receiver and the fact that Rutgers isn't very good but I'll choose him anyway.
Speaking of the passing game J.T. Barrett enters Saturday just three touchdown passes away from passing Bobby Hoying's career total of 57 for the most in school history. Does he get the record versus the Scarlet Knights? What kind of overall statistical performance can we expect overall?
Eric: Absolutely. Unless Barrett gets hurt early in the game I think he'll have a terrific day. The Rutgers secondary isn't as terrible as it was a year ago when it started a bunch of freshmen because of injuries and other things but Barrett is playing well right now and really in command of Ohio State's offense. He put that on display at Oklahoma with four touchdown passes to Noah Brown. I think he'll get that many against Rutgers and finish with 300 yards passing on more than 25 completions without a turnover.
Johnny: He'll get close. This is looking more and more like Mike Weber's game, so while Barrett might not get past the record given limited opportunities, he's also been incredibly consistent, accurate, and intelligent about how he's handled the passing game. If anyone can go four for four on red zone touchdown passes, it's him.
Andrew: I honestly expected this record to be broken sometime during the middle of last season, but we all know how Meyer mismanaged the quarterback situation for most of the year. But I digress. If Ohio State comes out firing the ball all over the field, Barrett could easily break the record in the first quarter of Saturday's game. But I expect the gameplan to center around running the ball so that the offense is running efficiently and effectively deep into Big Ten play.
While the Buckeyes have largely dominated the action through the first three games a few areas of concern persist. Put your Negative Nancy hat on and tell us what concerns you most about this team and why. Is it Damon Webb's play? Maybe you're still not sold on the interior defensive line? What say you?
Johnny: Injuries. While I'm more pleasantly surprised by how this team has performed through the first few games of the season than anyone, this team is also much thinner than a lot of people realize. As injuries pile up (and they will be harder to avoid during Big Ten season), Urban Meyer and company will have to find depth on a roster with pretty much zero experience as is.
That's not a big deal against the Rutgers of the world, but the last half of the schedule could be difficult if the Buckeyes can't stay healthy.
Andrew: Lack of a push from the defensive front could be considered an area of concern, but I think it is more so to do with Ohio State's first three opponents and their penchant for spreading things out than anything. And though injuries at linebacker also begin to mount, I can't single any particular player or position that causes me anxiety at the moment. Instead, it's play calling in unfavorable weather that should be given consideration. In last season's loss to Michigan State and against Tulsa, the offense seems to tighten up. If it rains when the Buckeyes travel to Camp Randall or Happy Valley, what will the offense look like? I'm not so certain that moving Ed Warinner to the press box solved that part of the equation.
Eric: I still have questions about the wide receiving corps. Noah Brown is excellent and I think has the potential to be an All-Big Ten player but as mentioned above who is going to be another guy on the outside to make plays? I understand Ohio State wants to keep rotating all of those guys in an effort to wear defenses down and keep their wide outs fresh for the fourth quarter but sooner than later you have to cut it down to five or six players at the most. That way Barrett can feel comfortable throwing all of Ohio State's route tree to them in bigger games late in the season.
My second cause for concern is the depth on the interior defensive line but I think that group is going to get better as Nick Bosa gets better and plays more. He is a difference maker.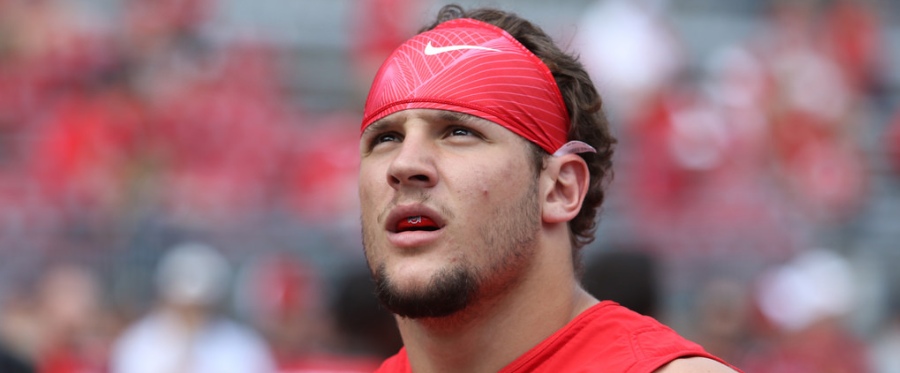 Around the B1G, Wisconsin demolished Michigan State in East Lansing last weekend, Nebraska remained undefeated and Michigan continued to look good albeit against a less-than-stellar schedule. Give us your thoughts on the top three teams in the league. With what you know now, which future OSU opponent worries you the most and why?
Eric: I think the top three teams right now are pretty simple: Ohio State, Michigan and Wisconsin. Michigan State's flop at home against the Badgers surprised me but its questions at quarterback are a real issue and Mark Dantonio's secondary is not what we're accustomed to seeing. I think Michigan is going to beat Wisconsin pretty handily on Saturday afternoon and the Wolverines should worry Ohio State fans plenty. But I think Wisconsin is a bigger deal right now.
I say that because it is Ohio State's first road game, the Badgers are off the weekend before they host Meyer's team and it is at night. Camp Randall Stadium is a rowdy venue and Wisconsin is going to be excited to finally be back home.
Andrew: We've watched Michigan so many times make it through September unscathed only to fall apart in its first big-time matchup of the year. The Wolverines are a different team under Jim Harbaugh, and I don't expect that to ever happen again under his watch, and we'll find out if they're for real this weekend when they play Wisconsin.
The Badgers are coming off of a steamrolling of Michigan State, and if they do it again on Saturday, maybe I'm a little more concerned about the impending trip to Madison than I once was. Nebraska has navigated a fairly easy schedule, but its big win came over an Oregon team than turned around one week later and lost to a Colorado squad that was handled by Michigan.
The Cornhuskers are the least of my concerns, seeing Ohio State has them at home at night. But this Michigan-Wisconsin game — the first since 2010, I might add — will go a long way in shaping my feelings about the state of the Big Ten.
Johnny: As long as Michigan is in the tier above "essentially garbage," it's always going to be them. This year that Wolverine dread is more easily justified, but their matchup on Saturday against Wisconsin will go a long way toward telling us which team Ohio State needs to watch out for. My guess is that Michigan rolls pretty easily at home, which, in addition to a really absurd Big Ten schedule that allows them to spread out their three remaining difficult games over the span of about two months, will make them even more dangerous come November.
Ohio State announced earlier this week Earle Bruce will dot the "I" at halftime.  If you were in charge, who would you have dot the "i" come November 26th when the Buckeyes host Michigan and why?
Johnny: Earle Bruce dotting the "I" during a Michigan game would be incredibly appropriate, but if we're going to throw in a ringer, maybe someone like Eddie George? Actually, I'm not really sure that there are a lot of people on the shortlist for that kind of honor who haven't done it so far. As much as I like Eddie, I'm not sure a guy like him can really match the gravitas of an American hero like John Glenn, who dotted the "i" in 2009 and has made massive contributions to both his country and to Ohio State.
On the other hand, if R.L. Stine wants to come out in a wolfman costume, I'm down with that.
Eric: This is a no-brainer to me: LeBron Raymone James. There is an excellent chance both Michigan and Ohio State are undefeated when they meet the Saturday after Thanksgiving and that matchup will decide who from the Big Ten East goes to the conference championship game. James already was an Ohio hero before he won Cleveland a championship this June. He is an Ohio State fan and is close with Urban Meyer. That should be a pretty significant recruiting day as well and it wouldn't hurt Ohio State to have the best basketball player on the planet in Ohio Stadium. The only issue is Cleveland plays at Philadelphia at 1 p.m. the day after The Game.
Andrew: National championship-winning coaches, school presidents, astronauts, championship boxers and all-time great golfers, just to name a few. It's very difficult to find someone worthy of dotting the "i", but a 9-1 record against that team up north is hard to argue against. That's why the obvious answer former head coach Jim Tressel. Also, the last time he was in Ohio Stadium for The Game, the Buckeyes completed an undefeated season. Let's try for Part II.
To wrap it up, Ohio State's a huge 38-point favorite thanks to what was already a talent mismatch made worse by the loss of Rutgers' Janarion Grant and Quanzell Lambert for the year. Does Ohio State cover? Give us your final score prediction and game MVP.
Andrew: Ohio State has covered the spread in all three games this season, and there's no reason to think otherwise on Saturday. Without Grant, Rutgers won't be able to keep pace offensively and Lambert's absence will allow the Buckeyes to establish the running game with ease. Ohio State takes a 21-3 first quarter lead behind two Weber touchdowns, Barrett adds a pair through the air and another on the ground before giving way to Burrow. Rutgers scores a garbage time touchdown, but the Buckeyes roll to a 52-10 win.
Johnny: Ohio State covers by a lot. A lot. Something like 53-13 sounds appropriate, and Mike Weber will wreck havoc for over 150 yards on the ground.
Eric: I think Ohio State will cover pretty easily. My final score is Ohio State 56, Rutgers 10. Barrett gets the nod for game MVP with another solid statistical day that helps him break another school record.