The 11W Football Mailbag is the only stop you need for answers to your most pressing questions about Ohio State's next matchup. Have a question? Ask it, and if we can, we'll answer it.
Why does everyone talk about how familiar Chris Ash is with Ohio State like it will give them some sort of advantage, yet fail to talk about how Urban Meyer is familiar with the staff at Rutgers? Seems like a moot point to me, as both teams have some extra knowledge of one another. — BuckeyeIn NY
As we often do in the media, I think the fact Chris Ash used to coach at Ohio State is being given a tad too much attention this week. I can't put myself on a throne, though, as I wrote about it Wednesday morning. It is a significant storyline considering how Ash helped Ohio State secure top-10 recruiting classes in his two seasons in Columbus and thus knows the personnel his team is set to face on Saturday very well.
Your point about not much talk hitting the airwaves and Internet message boards regarding the fact Meyer and Ohio State will know plenty about Ash's staff at Rutgers is 100 percent fair and true. It works both ways — it just easier to frame the story or "narrative" the other way because the Buckeyes are 39-point favorites, playing at home and it's homecoming weekend.
Plus, I think everyone is trying to find some sort of advantage for the Scarlet Knights because their chances against Ohio State on Saturday are just not very good.
Rutgers gave Iowa a tough game (at home) before losing late to the Hawkeyes, are we seeing improvement from Chris Ash's charges? — Hovenaut
Sure. The more Ash's roster gets game experience in his system they better it should get, at least in theory. Job changes in college football can be tricky based on the personnel left in the wake by someone the university either fired or who elected to take a different job.
Rutgers runs similar schemes to Ohio State on both sides of the ball and as we know, Ash is a brilliant defensive mind. It is just going to take some time for him to get players that are specifically tailored to what he wants to do. But like I said before, once the guys that are still there get more used to what they're being asked to do they should play better.
COUNTERPOINT: That 14-7 win by Iowa is the most Kirk Ferentz thing ever, especially a week after the Hawkeyes lost to North Dakota State at home and two weeks after the school gave him yet another contract extension. *cringe*
400 yards rushing or passing vs Rutgers, which one is going to happen? — BeatTTUN
I don't think either one is going to happen but if you're going to make me pick I will say rushing. In Meyer's 57 games as Ohio State head coach, the Buckeyes broke the 400-yard barrier in the passing game just one time: the 2016 season opener against Bowling Green, when J.T. Barrett finished with 417.
Ohio State has only topped 400 yards on the ground once in Meyer's tenure as well (2013 at Illinois when Carlos Hyde destroyed people and ran for 246 yards on 24 carries and Braxton Miller added 184 more) so it's not exactly easy to do. Which is why I don't think either one will happen.
Will Rutgers bring the colonial cannon guard? — D1145fresh
Sadly, I don't think so. But it would be fun if it did purely because of the Photoshop Phriday D.J. posted last year for this photo: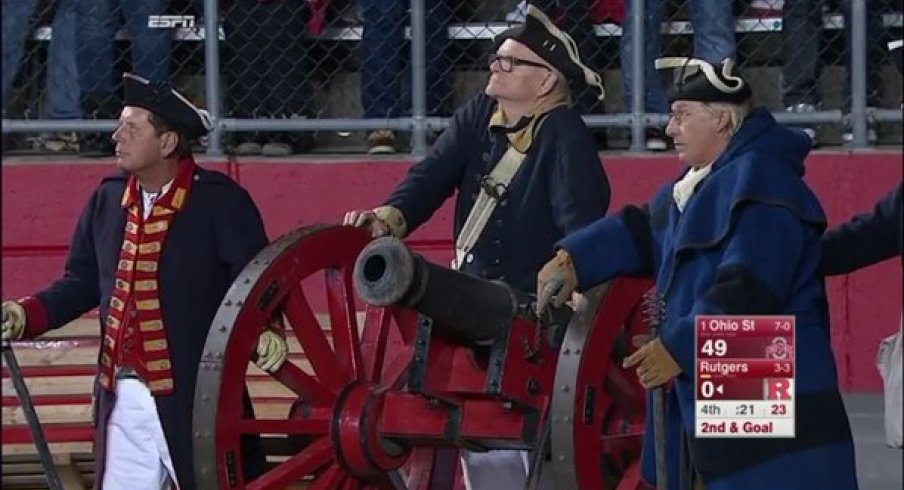 Does Earle Bruce wear the fedora? — BuckGuyFan1
For the uninformed, former Ohio State head coach Earle Bruce is set to dot the "i" in Script Ohio prior to the Ohio State-Rutgers game on Saturday, a rare thing for a non-band member to do.
Bruce used to don a baller fedora while he coached the Buckeyes, which he did from 1979-87. I don't see Bruce wear his fedora much anymore so I doubt he does on Saturday. Though he absolutely should because it is all sorts of awesome.
One thing I do know is that Bruce planned to practice his "i" dotting on Thursday with the band. He told NBC4's Jerod Smalley that on Tuesday. Talk about a meticulous being.
To be honest, I am not very familiar with Rutgers at all, so who are the players there that we need to watch out for? — BuckeyeCWRU
Well, the Scarlet Knights lost a significant amount of firepower last week in that 14-7 lost to Iowa. Star wide receiver, returner and the team's best offensive playmaker Janarion Grant hurt his right ankle at the end of a 76-yard catch and run against the Hawkeyes. Defensive end Quanzell Lambert also hurt his knee late in that game. Both are out for the season. Two huge losses.
However, junior running back Robert Martin is a pleasant surprise for Ash and has 358 yards on 58 carries this season in addition to a touchdown. That rushing total edges Ohio State's Mike Weber by 7 yards for the current Big Ten lead. Quarterback Chris Laviano—the guy Ohio State held to 117 yards passing and intercepted once last year—is still there and has been nothing but meh this year. A completion percentage of 52.2 isn't exactly something to write home about but he does have five touchdown passes.
Grant had 20 catches before he got hurt. The next closest on the team are Jawuan Harris and Andre Patton, with eight apiece. Harris is averaging 20.1 yards per catch but is a freshman.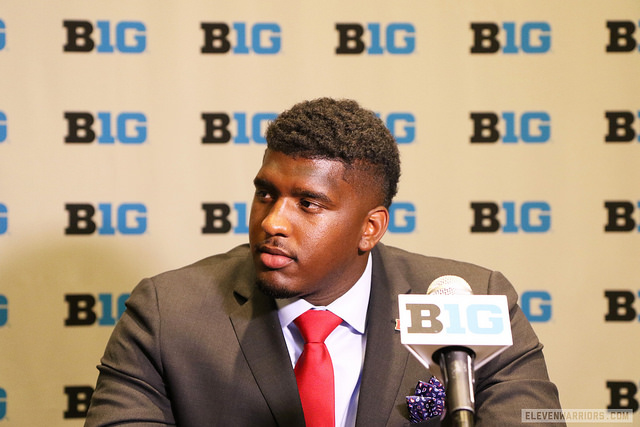 Rutgers' secondary should be improved from last year for the simple fact a bunch of freshmen got to play after injuries and other incidents forced then-coach Kyle Flood's hand. But without Lambert out and defensive tackle Darius Hamilton battling ongoing injuries there isn't much firepower defensively outside of Julian Pinnix-Odrick. The senior defensive lineman leads the team with 5.0 tackles for loss and 4.0 sacks so far in 2016.
Defensive end Kemoko Turay is also a great player but can't stay healthy. Speaking of...
No. 58 Kemoko Turay, defensive end for Rutgers has been projected to possibly be a higher pick in the NFL draft. Any other draft-worthy players to keep an eye on in this game? — WeakSideLB
Turay is talented but had shoulder surgeries this spring after playing hurt last year and has yet to make an impact in 2016. As far as others, I asked CBSSports NFL Draft analyst Dane Brugler about Rutgers because he is far more adept at identifying pro prospects. He said right guard Chris Muller is their best senior prospect and Grant is the top guy overall but his injury knocks that back a bit.
On Turay, Brugler said: "Turay has terrific flashes but is far from polished and the fact that he can't contribute significant snaps this year doesn't help."
Coming off a big win, a bye week, and playing a former coach at noon. How much should the coaches focus on not coming out flat? And could this lead to one of the annual sleep walking ugly wins, we sometimes see with a noon kick mid-ish season against an inferior opponent at The Shoe? — RK84
I'd be willing to bet preventing a flat start is weighing heavily on Meyer's mind this week for the exact reasons you mentioned. That being said, with the season still being young and so much youth on the roster I think Ohio State's players will be eager to play against anybody. Meyer's staff will also stress to them how important it is to get Big Ten play started on the right foot, even it is against Rutgers.
It could lead to a sluggish start for Ohio State because of the noon kickoff time but it seems unwise to think the Buckeyes will do anything other than win this game. Though I'm sure if Ohio State does start slow some fans will let their panties in a bunch for the next week worrying about how badly their team played in what will be a blowout.
Since Ohio State is starting its nine-game Big Ten schedule without an off week, will we see more of the backup players if the Buckeyes are ahead enough late in the 3rd or 4th quarter? Realistically, Does Joe Burrow take over in the third quarter or later? — Kid Buckeye and BadApple
There is a solid chance of that but it all depends on the deficit and how comfortable Meyer feels come the fourth quarter. I don't really foresee backups getting a bunch of time until then because Ohio State just came had an off week and will want to make sure it is sharp as the calendar turns to October.
Still, if Ohio State leads by 45+ in the fourth quarter Joe Burrow and the second offense should get some playing time. Same goes with the younger guys on defense. It just makes sense.
Bye weeks tend to disrupt the routine of what has been going well, but they can also recharge and allow players to get better from injury/bumps and bruises standpoint. The bye week seems a little too early this year. Is there ever a good time to have a bye week? If so, when should it be? — EnonBuck79
I'm not necessarily sure there is ever the "right" time to have an off weekend in terms of scheduling purposes each year. For example, no coach is going to say, "Man, having Week 9 off every season is the best."
I think it varies with each team based on its situation. Some teams might need it later in the year because of injuries to key players in the hope of getting them back for the stretch run. But that is something you can never predict since injuries can pop up at any time.
Having one before October, however, is a little odd to me. Maybe we'll learn more somewhere down the line why coaches want it to come earlier (if that happens, which is unlikely) but I can name top three teams off the top of my head that took a weekend off in the first month of the season: Ohio State, Michigan State and Stanford. Then again, it is up to the administrators to do the scheduling. Coaches usually have zero say, which Meyer expressed both this week and last.
If I was a head coach I would think having a bye somewhere around Halloween would be welcome. The season is a little more than half over and if you face a backloaded conference schedule, a break to rest your players would be welcome after two months straight of games.
That's just my #take but please read it with a grain of salt as I am only a man who writes about sports on the Internet.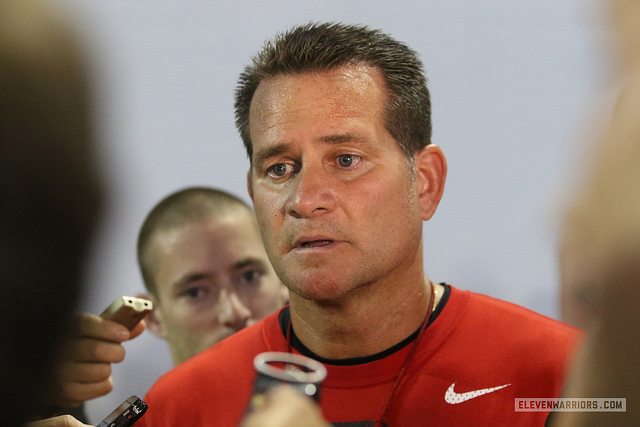 If Ohio State fails to score 70 points for the third straight game, who gets fired? — Buckeyevstheworld
No one, though I'm sure Ohio State fans will hit their favorite Internet web pages and clamor for Tim Beck's head on a plate.
Is there a No. 2 receiver emerging behind Noah Brown not counting Curtis Samuel or Dontre Wilson? Or is it going to continue to be WR by committee moving forward? — KDearthVader20
This is actually the thing I chose to speak about on the Eleven Warriors Report Tuesday that I plan to watch for this weekend. All indications point to a WR committee approach continuing as the season progresses but I personally think Ohio State needs another guy other than Brown, Wilson and Samuel to be a consistent threat on the outside in the passing game. If one of those guys goes down with an injury, then what?
Ohio State's wide receiver statistics indicate that Terry McLaurin is in the lead to be that guy, though I wouldn't necessarily call five receptions in three games "emerging." If I had to pick, McLaurin and Parris Campbell would be my choices after the injury to K.J. Hill.
Malcolm Pridgeon's status/recovery progress, lest we forget he too is on the team. — OSU992
Pridgeon is out for three months with a knee injury, so you can go ahead and essentially count that as the season. That is the last we heard about him from Meyer or anyone else about his status but then again Greg Studrawa has not been made available to reporters since media day in mid-August.
I imagine he is rehabbing and still around the team in the same way as Tracy Sprinkle and Darius Slade.
Thoughts on the Louisville-Clemson game? — Bwherbert
It should be an excellent matchup and I am excited to have a chance to watch it since it is at 8 p.m. and I should be finished working for the night. Lamar Jackson is terrific and extremely tough to defend—he reminds me a little of Braxton Miller with his shiftiness and explosiveness in the open field and has an excellent offensive mind in Bobby Petrino putting him in a position to have success.
It looks like Clemson is suffering from a little bit of a hangover this season after making it to the title game a year ago, sort of like how Ohio State in 2015. The Tigers still have Deshaun Watson playing quarterback and a ton of speed everywhere, which is why I think they will win in a close game. Playing in Death Valley doesn't hurt their chances, either.
Are their losses (Rutgers) from a lack of talent or sub-tOSU standards coaching (Drew Mehringer as an OC and whoever their DC is)? I wonder how much of their performance, or lack thereof, is due to not having a fully installed system since inherited players' strengths don't align well with the desired system (much like 2012-2013 seasons for us as Urbz kept saying that it wasn't the full system yet) or just poor effort/performance or talent or all of the above. — ISURVIVEDCOOPER
I think it's all of the above. Ash is getting his guys to play hard and compete, which is something I think Kyle Flood lost while his time in Piscataway slowly but surely widdled down the drain.
It's going to take some time to get players that fit Ash's system on both sides of the ball but especially offense, where he's installed a spread look after Flood ran more of a dropback passing attack. But there also just are not as many good players on that roster as there are at other places.
Is Ash regretting his decision yet? — TXsBuckeye
Not at all. Fixing Rutgers was going to take more than one year and Ash is an excellent recruiter. He also calls New Jersey home, a very fertile recruiting state. If he can convince some of those top players to stick around and play for the Scarlet Knights in the coming recruiting cycles, things should look up. I also think he has a very young and eager coaching staff on his side—guys who want to prove their worth and are ready to work their tail off in order to do that. For more, I'll defer to Urban Meyer.
"He had a couple opportunities. When this one showed up we sat and had a long conversation," Meyer said Wednesday after practice. "It's all about recruiting and there's two things you look for in my opinion. When I advise coaches if they ask my opinion it's recruiting No. 1 and have they won before. If the answer is the recruiting base is below average and they haven't won before, don't you take that job. Don't you do it. Because in four years you'll be looking for one, or three years. The one thing about Rutgers, have they won before? Absolutely. Do they have a great recruiting base? One of the best in America. It's kind of a no-brainer for him. And the athletic director and him had a really good meeting."
With the season ending injury to Hilliard, who do think will be the likely player to replace him on special teams? — Icouldnotgofor3
I honestly have no idea but I could see Keandre Jones or Malik Harrison stepping in because they play the same position as Hilliard and are both very athletic.
Is this the week Mike Weber breaks one? He's been close a few times and lost out to shoestring tackles. Weber's seriously impressed me with his blocking and his consistency to get solid gains on any play but I think we still need that big run play threat we've come to rely on the last 2 years. Are the play calls causing the lack of big running plays or is it more of Weber's inexperience in breaking past the second level on a college level? — Brohio
It's not the play calls. It's also not because Weber isn't good, he's just not Ezekiel Elliott. Which is nothing to gripe about—some people forget Elliott was a high school track star which aided to his monster athletic abilities. He had an uncanny knack for breaking long runs, which he honed over time.
 Weber is averaging 6.5 yards per carry this season, which is not exactly terrible. The more touches he gets, the better chance he has to break a long one, in my opinion.
Here is what running backs coach Tony Alford said on Wednesday when asked if the fact Weber doesn't have a long score is a source of frustration for him:
"You'd have to ask him that. We left some yards out there on a couple of runs, even in the Oklahoma game we did, and so we'll coach that. We'll look at those things, see where he could have improved, he knows where those instances come from and that's on me too to make sure we're putting ourselves in a position to make those plays."
I've always hated the name Rutgers.  Would you rename it the University of New Jersey or something like that? — Kangarooman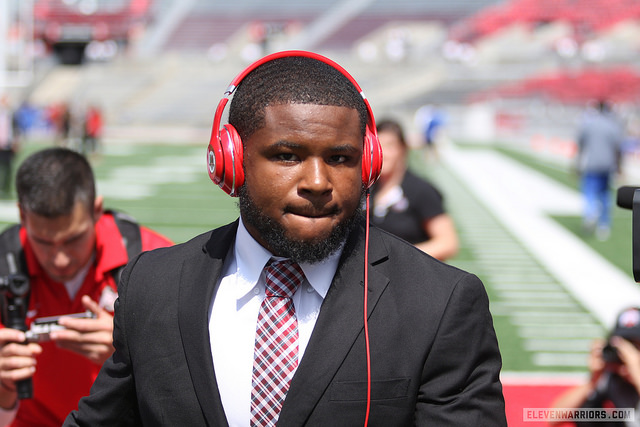 As NavyBuckeye91 noted in the mailbag thread, it's "actual" name is Rutgers, The State University of New Jersey. Still silly to me and I agree that calling it the University of New Jersey is a better alternative.
But they named it Rutgers after Revolutionary War veteran Colonel Henry Rutgers, who sounds like a badass.
A colleague is a Rutgers alum and predicts at least 49-0. He also stated that Rutgers punted from the New Mexico 28-yard line. What are the chances the margin of victory is bigger than it was against BGSU? — Jumar
I think the chances the margin of victory for Ohio State over Rutgers is larger than BGSU is zero. I can't really see a situation where Ohio State drops 77 points again this season or even 67 for that matter. Bowling Green is terrible. Rutgers, while not great, is not that bad.
If I'm wrong, I'll take the heat which I'm sure you all will graciously provide.
Have you heard any solid names for trick plays or special formations (e.g., a reverse-toss from Guiton (QB) to Braxton (WR) a few years back was called "Jazzy")? — GOOMBAY
I have not heard any names for those type of what I like to call "fun" plays and didn't last year or in 2014. Unless I'm mistaken, Ohio State hasn't really done something wild like that since Evan Spencer threw a touchdown passes to Michael Thomas in the Sugar Bowl. And even when that happened, it caught everyone by surprise.
Can you give us an update on WR Corey Smith and his big bandaged hand? Will he play on Saturday, and if he does, will he register a catch? — 1MechEng
Meyer said on his radio show Thursday that Smith is playing with a small fracture and will again have a cast on his hand/wrist. So expect him to play but don't expect him to register a catch. It's not exactly easy playing wide receiver with only one hand but he is a big part of the rotation because he can block.
In another forum, I asked if Curtis Samuel goes over 1,000 yards rushing and passing if he would be the first FBS player to do so? Secondly, if he reaches this mark would that be enough to go to New York? — BlockO
I don't think Curtis Samuel is going to finish with more than 1,000 yards passing, so I'm going to assume you meant receiving in your question. And that is an excellent inquiry because after three games Samuel has 260 rushing yards and 259 receiving yards. He is certainly on pace to reach 1K/1K.
As D.J. linked to in Thursday's Skull Session and Brian Bennett wrote about on ESPN, only two NFL players ever recorded more than 1,000 yards rushing and receiving in the same season: Marshall Faulk and RogerCraig.
So if Samuel does it, he'd be the first college player to do so. I personally don't think he'll get there because it is very difficult to do, he's had injury issues in the past and Ohio State's schedule only gets tougher as the season goes on. But if he did and he doesn't go to New York for the Heisman Trophy ceremony, something is incredibly, incredibly wrong and that system is broken.
Where does Les Miles land next? On a similar note who do you think the next head coach at LSU will be? Does it go for a straight offensive coach and really contemplate hiring Art Briles considering there fan base is tired of no offense or explosion? Also, what do you think is more likely, that they return to glory under a new coach or suffer a fate similar to Tennessee? — RubixTube, DIZ_20Buckeyes and BuckeyeCWRU
I think Miles will certainly consider staying in the coaching ranks, whether it is as an assistant or if another school takes a chance on him. This is hard to predict though because of how off-the-wall the guy is—one second he's profound and winning games and the next you don't understand what he is saying and he's eating grass.
He is 62, a tough age to want to start anew for anyone on anything but then again this is Miles we're talking about. I think he'll end up in a broadcast booth eventually and if ESPN has any brains it will throw money at him and Steve Spurrier and allow them to have their own segment on GameDay where they throw quips and witty #takes at one another for our enjoyment.
I think Tom Herman will be the next head coach at LSU. He seems to be the favorite among people who are a lot more plugged in than I am and his prowess as a recruiter would make the Tigers terrifying because of the talent base in the south. Jimbo Fisher is a close second even though he claims he isn't listening or thinking about LSU. Herman is rising and Fisher is falling at their current jobs so a move could help them both for different reasons. However, I think some coaching situations at other schools like Texas, USC, Texas A&M and more need to shake out before we get anything definitive.
Sleeper pick that really isn't that much of a sleeper: North Carolina's Larry Fedora.
Whoever gets the job should have success there as long as they are a good offensive mind, which the three guys I mentioned above certainly are. Miles lost his handle on things when he couldn't move the sticks consistently with players like Leonard Fournette, Jeremy Hill and Odell Beckham.
The only thing I'll say about Art Briles is he should never work in college football again because of what he allowed to happen at Baylor. But he will because he won games. It's a shame no matter how you look at it.
How are your Fantasy Football team(s) doing? — IBLEEDSCARLETANDGRAY
Team Aaron Out My Nelson sits at a weak 1-2 right now and likely going to be 1-3 after this weekend because the Packers and thus Aaron Rodgers are on a bye week. That's all I'll say because I'm sure no one wants to hear about my fantasy team.