Season openers are often times snoozers. Yesterday wasn't one of those times. 
Riding the veteran experience of J.T. Barrett and Curtis Samuel, Ohio State also received numerous contributions from tons of new blood in a 77-10 drubbing of Bowling Green. 
The points came early and often in an exciting preview of what's to come for a young, hungry and supremely talented team. I still can't get over the amount of speed on this roster. 
The win improved Urban Meyer to 55-5 in August / September games as Ohio State moved to 37-1 in season openers dating back to 1978. 
Before we turn the page to next week's tussle with Tulsa, here are Five Things from yesterday's impressive Act I of the 2016 slate. 
---
3... 2... 1...
After an aborted takeoff in the form of a poor decision and throw from J.T. Barrett on Ohio State's first possession the floodgates opened on a big play explosion. 
The offense looked largely outstanding and with all that speed explosive plays were the order of the day. Ohio State racked up 19 such plays (rushes of 10+ yards, passes of 15+ yards) with eight of their touchdowns coming via the big play. 
Seven different Buckeyes tallied a chunk play in the stat book led by five each from Mike Weber and Curtis Samuel. Three of Samuel's chunks resulted in touchdowns.  
Also turning in chunk plays were Dontre Wilson (3), Demario McCall (3), K.J. Hill (1), Joe Burrow (1), and Noah Brown (1).  
Bowling Green or not, the speed flashed at the skill slots gave me a confidence this offense will be a big play threat every snap and give opposing defenses nightmares as long as the offensive line give Barrett time to do what he does best – distribute the football. 
O-H LINE
The most important position group of all, despite having to replace LT Taylor Decker, C Jacoby Boren and RT Chase Farris, came out and dominated the line of scrimmage giving Barrett and the skill guys all the time and holes needed to carve up the Falcons. 
The left side of the line anchored by LT Jamarco Jones and LG Michael Jordan did the heaviest lifting as Ed Warinner and Tim Beck seemed to lean on that side of the line for the majority of the day. 
Behind the revamped Slobs featuring Jones, Jordan, Pat Eflein at center, Billy Price at right guard and Isaiah Prince at right tackle, Ohio State racked up a single-game school-record 776 total yards of offense. 
The heady yardage total was boosted by the noted explosive plays made possible by the work done in the trenches. 

In 94 snaps, the Slobs surrendered zero sacks and zero tackles for loss. 
The group was dominant racking up 41 first downs, good for 2nd all-time in school history. On those 1st down snaps, the Buckeyes averaged 8.4 yards per play which set up 2nd and short scenarios further fueling the romp. 
Overall, again trying to keep the opponent in mind, the starting offensive line looked like it can evolve into a dominant unit. Jordan's debut at left guard couldn't have went much better and Jones was a force to his left. 
The key here will be to keep developing in prep for the tougher foes on the schedule and avoid injuries since depth is in such short supply. 
GRIN AND BARRETT
Starting his season with a pick six, Barrett responded like the veteran he is throwing for 349 yards and tying his own single-game school record with six touchdown tosses. 
Barrett also added a touchdown on the ground giving him 379 combined rush/pass yards with seven scores. 
The most important development regarding Barrett might be the fact he carried it just six times as Meyer and company leaned on Mike Weber, Samuel and Dontre Wilson to rush the football.
Don't get me wrong, I'm a fan of the designed quarterback runs and I'm sure those will be employed with greater frequency against better competition but to see the staff rely on the plethora of non-QB weapons to reduce hits on Barrett was a welcome sight. 
Along with the poor read and throw to start the game, Barrett had another interception dropped and fell into the old habit of staring down his receiver a few times but was otherwise sparkling. 
He hit a handful of deep shots and showed finesse on a few teardrops benefiting from having all day to throw. 
Yesterday underscored that despite all the talent around him, Ohio State needs Barrett to be turnover free against good teams and if that happens they will be nearly impossible to beat. 
A PAIR AND A SPARE
Looks to me like Ohio State, despite losing the best running back in the country to the Dallas Cowboys, is in good hands at tailback. 
Mike Weber exceeded all my expectations with 19 carries for 136 yards (7.2 ypc) showing an impressive blend of speed and power. Weber hits the whole with purpose and only a few shoestring tackles kept him from making a run at 200 yards. 
Samuel, finally deployed as a feature weapon after having to wait his turn, is going to be pretty much unstoppable. The most versatile slot guy Meyer has seen at Ohio State, Samuel is also the best tailback on the squad and yesterday went for 84 yards on 13 carries (6.5 ypc) with a touchdown.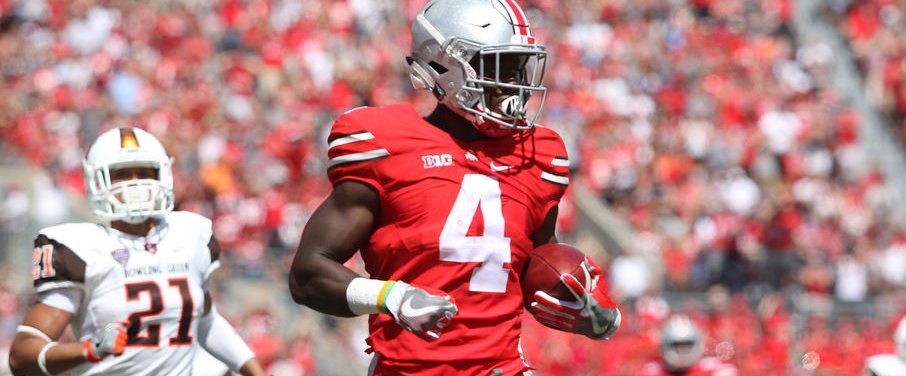 Being able to lean on that duo should be a solid security blanket for Barrett provided the offensive line continues its evolution. 
Though I prefer him in the slot full time, Dontre Wilson was also solid dotting the i with 36 yards on five carries (7.2 ypc) and y'all better get ready for the Demario McCall experience. 
McCall is going to be special. He went for 54 yards on the ground (6.8 ypc) to complement a 36-yard touchdown grab showing a versatility Ohio State will no doubt lean on in coming years. 
We'll see what happens when the competition gets tougher but consider me extremely bullish on the Samuel/Weber tandem carrying the rushing load. I didn't even mind the wildcat look which normally feels so forced. 
TURNING TRICKS
I almost failed to mention the other side of the ball because of what we saw on the other side of the ball. 
Collectively, the defense had no trouble with the Falcon attack holding them to just three points of output on 3.4 yards per play. 
The linebackers didn't wow me, losing Tracy Sprinkle is going to leave a mark and I would've liked to see more pressure from the defensive line in the first half but holy smokes Malik Hooker was balling. 
Hooker flashed his ball skills during the spring game and picked up right where he left off yesterday with a pair of interceptions showcasing an athleticism making him the perfect fit to roam the back line of Ohio State's defense. 
His ability to rotate over in coverage and high point the football is off the charts and he also came up to support the run logging a modest but team-best four stops. 
I'm not quite sure I see this defense being as smothering at the line of scrimmage as some of the more recent editions so having playmakers like Hooker to help bad the turnover margin could pay huge dividends as the season wears on.