Due to some technical issues, the Dubcast will publish on Friday. In the meantime, enjoy something like 1500 words about superhero movies!
My girlfriend's brother is a good guy. I wasn't sure he was a good guy when I met him, because "kind-of-cocky well-put-together Type A coolbro" tends to clash with my "needs-a-haircut Type B anxiety-ridden Pomeranian." But as it turns out, he's a devoted father, really funny, and generally a very friendly and open-minded individual. All of which is great, but I don't golf or wear a lot of polo shirts (the two things that I knew about him initially). So while I was sure that I could get along with the dude, I also wasn't sure if we'd have any real common ground.
Then someone mentioned comic book movies, and his face lit up like a Christmas tree.
As did mine, for that matter, because I'm a huge freaking nerd, and whenever we hang out the conversation inevitably steers back towards comic books and comic book movies. And after seeing him last weekend, I started to think: What if life really does imitate art, and vice versa? What would the biggest superhero movies of the year have to say about the Ohio State football seasons that took place during the year of their release?
As it turns out, way more than I thought they would when I came up with this ridiculous idea in my head.
BLADE II AND THE 2002 NATIONAL CHAMPION OHIO STATE BUCKEYES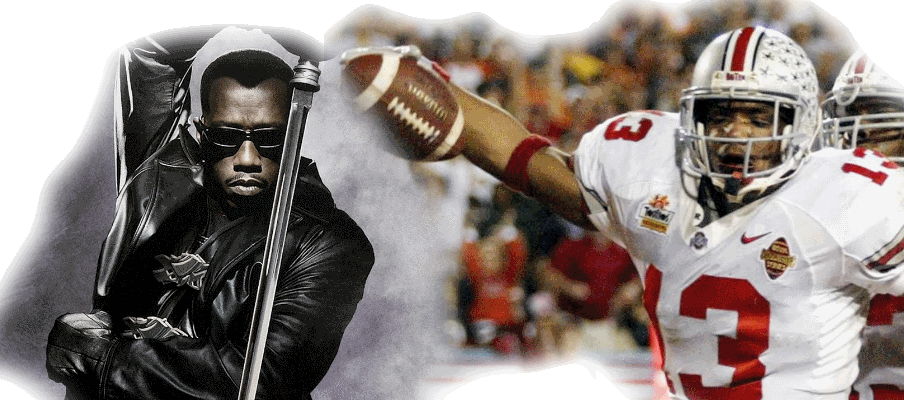 Similarities
Surprise mega-hits despite being underdogs
Led by misunderstood anti-heroes who deep down wanted to be loved
Did battle with pasty, disgusting night walkers who pretended that they were better than everyone else
Differences
Kind of hard to see Blade being mentored by a guy in a sweater vest
"Blade" implies offense, which, you know...
Revealing quote
"I had enough of their world. They're just shitting bricks because they're no longer top of the food chain."
SUPERMAN RETURNS AND THE 2006 OHIO STATE BUCKEYES
Similarities
Maybe a little over-hyped
Definitely a gigantic wasted opportunity
One glaring weakness, be it kryptonite or delicious made-to-order late night burgers
Incredibly slow and plodding when it came right down to it
Differences
You didn't spend half the season wondering why you were expected to care about Jim Tressel's asthmatic 9 year old kid
One had very real stakes that made you invested in the story, whereas the other was basically about an overly-complicated real estate pyramid scheme
Revealing quote
"Well, I hope this experience hasn't put any of you off flying. Statistically speaking, it's still the safest way to travel."
THE GREEN LANTERN AND THE 2011 OHIO STATE BUCKEYES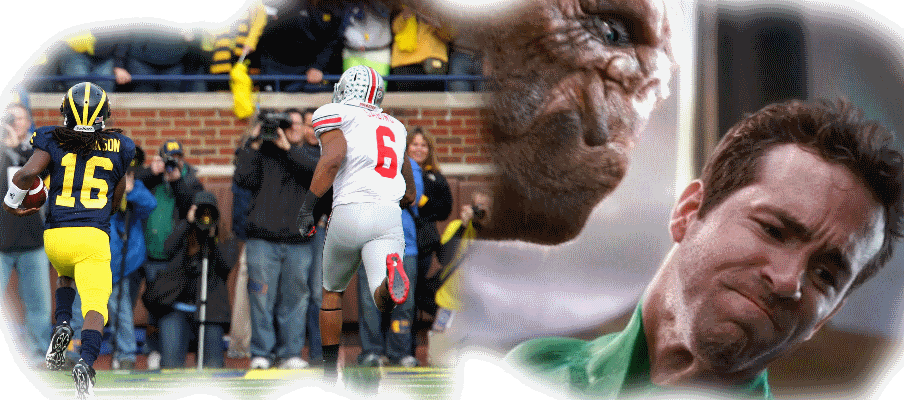 Similarities
Fear is ostensibly the villain in both
Joe Bauserman, starting quarterback, was exactly as competent as Ryan Reynolds was in this movie
Ultimately just a gigantic waste of time
Differences
Despite the outcome of the 2011 game, yellow doesn't really inspire fear in Ohio State anymore
The Green Lantern is just a movie, but the 2011 football season actually happened, which is incredibly depressing
Revealing quote
"The bigger you are, the faster you burn. Gravity's a bitch."
GUARDIANS OF THE GALAXY AND THE 2014 NATIONAL CHAMPION OHIO STATE BUCKEYES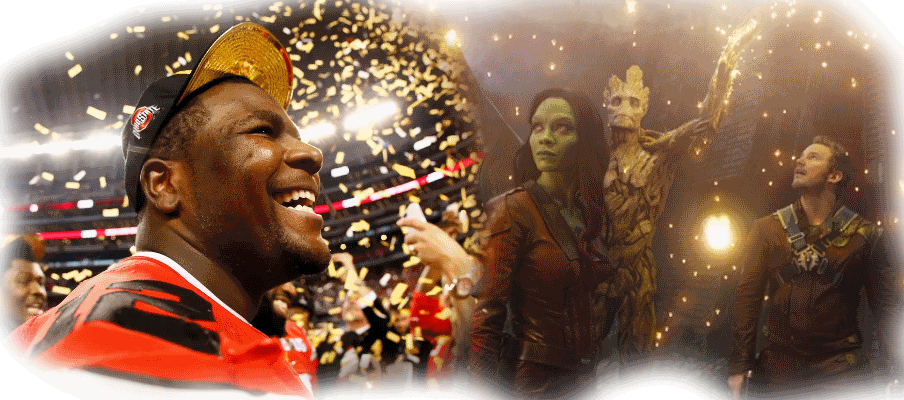 Similarities
Complete underdog, out-of-nowhere, couldn't possibly work story that beat everyone despite the odds
Likable motley crew, including a cocky wildcard who by all most estimations should never be in charge of anything
Seriously, pretend that this is Cardale Jones and the entire basis for this post becomes clear
Differences
Revealing quote
"WE DIDN'T HAVE TIME TO WORK OUT THE MINUTIAE OF THE PLAN"
---
So why do we like superhero movies? Why do we spend sometimes literally billions of dollars watching these things? Wouldn't we be better off carefully dissecting the intricate plot of Tinker, Tailor, Soldier, Spy rather than shoveling fistfuls of buttery globs of popcorn into our mouths as Captain America sheds a single tear for liberty right before punching a Nazi in the face?
And by that same token, why do we watch football? Isn't there something kind of messed up in taking abject glee at giants running into each other at high speeds for three and a half hours?
Well... yeah, probably. Neither football nor superhero movies by themselves are really high art or anything, unless you look at them ironically. You could still probably learn something about the human condition from The Brothers Karamazov in the same way you could from watching Sam Hubbard turn a quarterback into mush, but you might take the wrong lesson from it.
Still, what snooty social critics might miss is that superhero movies play the same metagame that we mentally play at the onset of every football season. Here's an example of what I'm talking about: Marvel Studios has, by and large, created a long line of very successful movies, both critically and financially. They've also been criticized for being too "safe" or "formulaic," and while successful, they just don't inspire the awe that many critics wish they would.
And as a big fan of Jim Tressel, I didn't have a huge problem with running Dave fifty times in a row if it gets you five yards every time. After all, you know you're going to win, so why bother changing the formula? Let Beanie Wells run it 84 times in the first half against Michigan, don't sweat it if we've seen Iron Man be a dick and then fly around shooting lasers and then get all sad (in that exact order, about five times now), it's all awesome either way. It's simple and it works about 85% of the time.
But sometimes formulas fail you. Sometimes, you go out on a limb and make a movie about a talking tree and his foul-mouthed raccoon bro, and sometimes you have to play your entire season with a backup quarterback and then are forced to win a national championship with the backup plan to your backup plan to back up your backup plan. And sometimes you make a movie where the bad guy tricks a lady into drinking his pee, thereby cementing himself as Superman's greatest enemy. Messing with the formula isn't always great, but it can also be necessary.
Ohio State football in 2016 is going to be anything but formulaic. There will be highs and lows, shocking twists of fate, laughter, chaos, heartbreak, all the good stuff that you need for a big hit. And while I kind of doubt it given this cast of characters, it could also suck, and end up being a lot more like The Rise of the Silver Surfer than Winter Soldier. "Suck" being a relative term, obviously, but the point is that it will be anything but boring, which is just like superhero movies should be; exciting, fresh, and giving you something that maybe you weren't expecting.