We all have our favorites.
Whether it be music, friends, television shows, or in the realm of sports, we can't help but compare and contrast what we witness over the years and eventually stack up a list of favorites to celebrate and often times, defend. 
When it comes to Ohio State football, there's no shortage of players, especially if you're a bit older to choose from when determining your top five Buckeyes in history. 
Muddying the lists from person to person is the criteria with which you choose, not to mention the subjectivity in which you apply it. 
Though I consider myself to a pretty decent historian when it comes to what the football Buckeyes have done on the field, I limit my own top five list to players I was able to experience during my lifetime. That means I give myself a good year 10-year buffer post-birth to feel comfortable with not just why I favor that player, but to give myself a legit emotional connection to their accomplishments, and therefore standing, on my list. 
Your own criteria for inclusion into your top five can certainly differ from mine – and I'm sure some of the players will – so after running through my list I encourage you to share your top five (and why) in the comments. 
Without further adieu here's current my list, in order from first to fifth. 
CHRIS SPIELMAN
If you were born at any point in the 1970s, you are old enough to remember Chris Spielman's time at Ohio State, I struggle a little with how you can't have him at the top of your list, or at least in the top two. 
Spielman was already a legend when he arrived at Ohio State thanks to stories of his playing tackle football on blacktop in the summer and an absolutely magical moustache perfect enough to adorn a Wheaties box. 
As a freshman, he paced the sidelines like a wild man itching to get in the game and if not for a couple ankle injuries in his first season, Spielman easily would've been a four-year starter in Columbus. 
You know the numbers on Spielman; the 29 solos against Michigan in 1986, the two All-American nods, the Lombardi Trophy. Those are all great reasons to put him atop my list but they are augmented by the way he played the game. 
Spielman was a throwback in every sense of the word just as his neckroll would suggest. His style, which easily made him my dad's favorite player of the Earle Bruce era, made me love Spielman even more. If he was good enough for my dad to revere, then that was frankly good enough for me – Spielman's elite play was just icing on the cake. 
ANTOINE WINFIELD 
At about 5-foot-9, 180 pounds, Antoine Winfield is pound-for-pound the greatest Buckeye of all-time. 
Like Spielman, the way Winfield played the game is why he's in the two-hole of my favorite Buckeyes. Despite his size (and position), Winfield had the ability to dominate games from the cornerback position thanks to not only superb coverage skills but a willingness (and effectiveness) to play the run game on a level equivalent to an elite safety. For example, in 1997 Winfield racked up 82 solo tackles, good for the 5th-highest single-season total in OSU history.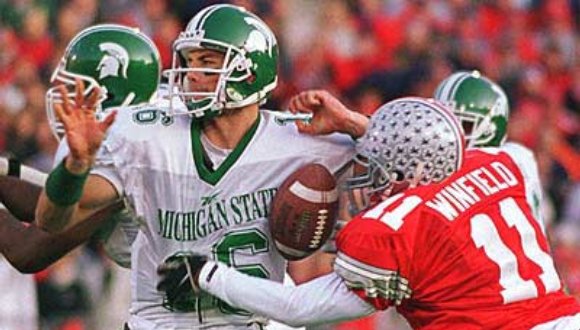 The following season Winfield became the first Buckeye to win the Thorpe Award which as his OSU bio notes, was one of numerous "firsts" including first non-Buckeye linebacker to record 200 solo tackles, first defense back to earn team MVP honors (1997) and first corner to lead the team in single-season tackles (1997). 
Winfield was a boss and he knew it. Showing no fear blasting out the legs of a huge B1G tailback in conjunction with locking down half the field in the pass game, all with a smile on his face fueling the Silver Bullets' swagger make 'Toine an easy choice in the two-hole. 
JOE GERMAINE
Third on my list is none other than the chalky gunslinger, Joe Germaine. 
Germaine earns lofty status obviously for his ability to throw the football but even moreso for his physical and mental toughness and work ethic. 
Imagine being the best quarterback on the roster for two years but being forced to share reps with another guy for reasons beyond your control. Not only did Germaine never rock the boat during those two years when Stanley Jackson was stealing snaps, he stayed ready and positive and the results showed. 
Germaine's mental toughness was also on display as he took the field on the final drive of the 1997 Rose Bowl and took down Jake Plummer and Arizona State with a 65-yard drive capped with a short toss to David Boston for six. 
His physical toughness showed specifically in the 1998 Sugar Bowl when he kept getting up from blow after blow as Ohio State's offensive line got exposed against Andre Wadsworth and Florida State. 
The following season Germaine set 11 school records (3,330 yards, 25 TD) thanks to pinpoint accuracy and scooped up the Silver Football putting a cap on an outstanding career. Man I loved watching Germaine stand in the pocket and sling it. 
keith byars
While I'd have to say Eddie George and Ezekiel Elliott were the most dominant running backs I've seen at OSU in my lifetime, Keith Byars was the first. 
In 1984, Byars led the NCAA in carries, rushing yards, rushing touchdowns and because of a truly outstanding pair of hands, added another 479 yards on 42 catches. His 2,243 yards from scrimmage was tops in the NCAA. 
I remember meeting Byars at Photo Day on the old turf at Ohio Stadium and he was as nice as could be. He was on one knee as I put my arm on his shoulder pad while my dad snapped a few pics. I remember him complimenting my Columbus Clippers wristbands (for whatever reason) and telling me I could play on this field one day if I worked hard.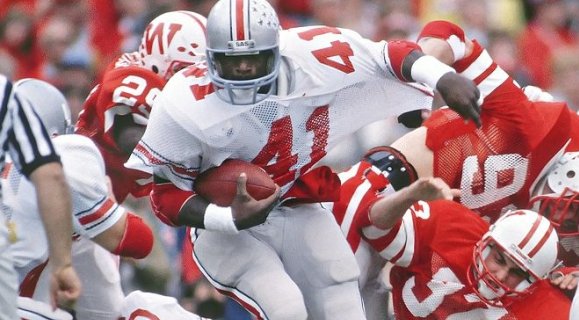 My other vivid memory featuring Byars occurred as me, my dad, my uncle and a couple of their friends watched the 1984 Illinois game. I remember Ohio State fell into an early 24-0 hole but it all changed after Byars scored and upon entrance to the end zone found a CBS camera and simply stated, "We're coming back!" with a deadly serious look. 
He backed it up rushing for 274 yards and five touchdowns, one coming on a 67-yard touchdown run putting OSU in front 35-27. 
Byars should've won the Heisman that year but too many people got swept up on Flutie mania and the fact Byars was a junior with a high probability of winning the award in 1985. Of course, that wouldn't happen as foot injuries all but crushed his final season in Columbus. 
Watching that guy show such amazing footwork and versatility for his size was just so fun to watch. You never forget your first, as they say. 
VONN BELL
As of a few years ago, I might have Mike Doss in my final slot but entering 2016, Vonn Bell gets the nod. 
Another guy who is a bit of a throwback, I loved watching Bell roam the field with bad intentions while also flashing a knack for the big play. I was also sentimental toward Bell because I felt like the staff really held him back as a freshman especially in light of the poor play from Pitt Brown. 
Bell showed his stuff in 2014 racking up the most tackles by an OSU safety (92) since Doss in 2002. Bell also showed up in big games and tallied four picks over Ohio State's final seven games en route to the national title. 
Despite earning All-American honors as a junior in 2015, my love for Bell is further fueled by what I feel is a general undervaluing of his impact not just by the OSU staff during his freshman year but my the media. Bell was just an honorable mention B1G selection in 2014 despite all those tackles and picks. 
I loved Bell's approach to his position – he was certainly less vocal off the field than his positional counterpart – but his play on the field spoke volumes. Just wait and see how much he is missed in 2016.