A cornerstone to Urban Meyer's first four seasons in Columbus, Joshua Perry is a future NFL Draft pick. Over the next few weeks, the Ohio State linebacker will join Eleven Warriors to share his thoughts on the process of turning pro.
---
Buckeye Nation,
I gave you my thoughts on the NFL Combine before I went to Indianapolis. It was a great and overall interesting experience. I got to meet with a ton of teams, had a bomb ass workout (I was hauling it for 254 pounds) and it was cool hanging out with the other players. The overall week was a success and that chapter in my diary is finally finished. 
Before I left, though, I promised to answer some of your questions. Y'all were really involved in my college career and I want to make this part of my journey inclusive to you too. This is a special opportunity to share with you all and I want to make sure the content is where you want it. 
So here they are:
Where did you train and who did you train with?
I trained at a facility called EXOS in Gulf Breeze, Pensacola. It was a great facility with some world class trainers. I trained with players from all over and some notable names like Tyler Matakevich from Temple and Leonard Floyd from Georgia. 
How would you compare the intensity of combine workouts to what you did at tOSU?
NOT EVEN CLOSE. It's just a different world. They aren't trying to create tough guys or a team mentality. They are trying to get us to run our fastest 40 or shuttle, or bench the most reps, or be as fluid as possible on our drills. The structure is different too. Nobody is pushing you or monitoring you. Self-motivation is huge. I also got a huge boost on the nutrition side compared to here. I had every calorie accounted for. I wasn't big on supplements and protein before (believe it or not) but I also fortified my nutrition plan with products from Adaptogen Science. It totally helped my get to my goals, quickly and simply. 
Were you able to meet your goals you set for training? 
Simply, yes. I ran faster than people expected and my drills were fluid. Being on a team of athletes, sometimes I got lost in the sauce and my true athleticism didn't shine, but my showing allowed to me let people know I'm not just a big, clunky linebacker.
What was the weirdest question you were asked at the combine?
I won't share any I was personally asked, but I know someone who was asked if he thought his mother was attractive. Weird. 
Did you wear the glasses as an interview tactic?
Nah, man. I think the bald head adds more wisdom, anyway.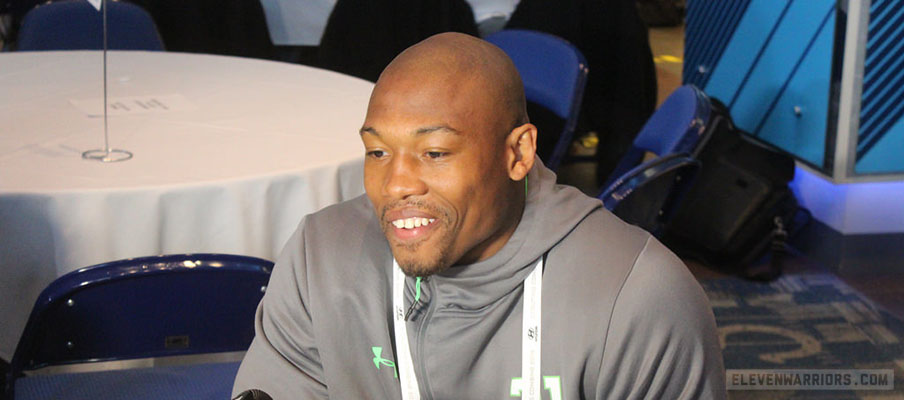 Do you have a team you want to go to?
No, I want to play for the team that wants me. My only preference.
Did Urban Meyer get the National Championship tattoo? 
That is a different story for a different post. But let's just say he has some explaining to do. 
What were the accommodations like?
Bruh, you don't even wanna know. It was exactly how you would expect them to treat pro athletes. I had a two bedroom, 2.5 bathroom, 1,300 square foot condo with beach access and views of the Gulf of Mexico – all to myself. It was some comfortable living, to say the least. 
Last question…
Do you ever find being a high profile athlete and a guy that is so active/visible in his charitable works to be a burden? How do you find time to balance the service with being a football player and just a guy?
Well, I'll start by saying this—I'M BLESSED to be in this position and wouldn't trade it for anything. Its never a burden, and I don't get people who say it is. Granted, fans and media can get carried away, but we chose this life and we have to take the good with the bad. In terms of balance, I don't think it's that hard. The things I get recognized for are often simple things that don't take a ton of time and planning on my part. Paying forward doesn't have to be an event. The simple things go a long way. And I always tell myself, if I turn down a simple but impactful opportunity to pay forward, I'm probably a bad guy. And if me saying that made you feel uncomfortable, look in the mirror and see what you can do. Opportunities are all around. Don't let them pass you by. As for being a ball player and just a guy—been doing it since the 4th grade. 
Thanks for reading and I'll holler at y'all soon. 
Joshua Perry