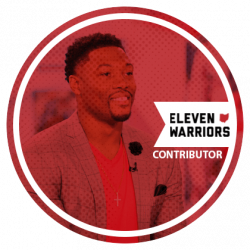 Joshua Perry
Contributor
MEMBER SINCE February 19, 2016
Recent Activity
BTN doesn't own rights to that footage... Otherwise we would have!
This hasn't aired on BTN yet. It's out on YouTube, but there will be a version aired as a TV show, with interviews of the panel and some other cool elements as well! I'll let the 11w crew know in advance!
Michigan's most impressive, recent football game was definitely their thrashing of ND in 2019. Regardless of how good or bad you believe ND was last year, it was a huge win. The only issue is that it wasn't even remotely entertaining. Michigan was 8-14 passing that night en route to 45 points. That's because they ran the ball 57 times for 303 yards in a monsoon. BTN wouldn't dare show that game.
With Hafley leaving and Yurcich looking at Texas, how is this not a distraction for coaches who need to be focused on task at hand. What is your take?
Tom Herman, 2014. Saw this story first hand. Hafley was in Columbus for practice on signing day. Imagine, he wasn't even in Boston to see LOI's come in. It's tough duty, but these guys are committed to winning. It literally only helps them at their new job. It's easier to recruit and capture a new school with a Nati to show off, rather than a failed playoff run. The other side of that is that Clemson coach Jeff Scott has taken USF and he has spent noticeably more time away from Clemson. But they will figure it out too.
Josh , I know being a media person you have to remain pretty neutral , but why has the narrative flipped all of a sudden to favor Clemson over OSU , which had been touted as the most complete team?
E$PN is in bed with the ACC and SEC and the CFP overall. It's good business to pump their teams. But OSU also prints money for them and when you can get a fanbase to hate watch you, that's good business as well. I also think that OSU had 3 battles at the end that showed some vulnerabilities for the Buckeyes. Clemson has been rolling, and killed UVA in the conference championship game- recency bias is a real thing. These are the most complete teams. Outside of the UNC game, Clemson has been "more" dominant than OSU (but people stopped watching them). The issue there is Clemson's best win is over a 9 win team. I believe OSU has 5 wins over teams with at least 10 wins (If you count Wisconsin 2x). SO, the narrative flipped because of what we last saw and media people have stats to back up either opinion.
IMO it's our DBs ability to contain their WRs. Michigan seemed to have a lot of success in the short passing game with their WRs, & if it weren't for the dropsies in the 2nd half, could have scored some more points.

That'll be a big matchup but I think it's all up front for OSU. The game will be won in the trenches. Trevor Lawrence can't get 4 to 5 seconds to find a guy down field. On the flip side, Fields will need to be in a clean pocket to hit some shots.
It looks to me like Clemson plays a lot of 3-2-6 defensively. Am I right about this? If so, can they get away with daring Ohio State to run out of this formation? If O state does run successfully, how will Clemson counter?
thanks for your time man
Yes, the use 5 or 6 DBs all of the time. The constant is that they prefer 3 DL this year. They don't feel confident in the depth that they have up front. If OSU cannot run into that, I'll be really surprised.
Joshua, just after the Bama game you commented that the practices that were held before the Sugar Bowl were something totally different from the norm. Can you enlighten us on those differences, and do you think Coach Day will be implementing similar changes in practice approach in preparation for Clemson?
It was a unique urgency and intensity. The fact that school was out an exams were over was a bonus for us. But we knew that the preparation for that game was going to be more pivotal than any of the other games we played. Coach Day is definitely bringing that urgency to his team's prep for this game.
Who do you think is the most important player who is NOT an all-American for tOSU? I would say Hamilton, but curious to hear your thoughts
Malik Harrison. His presence for the majority of the season has mad a huge difference. There are very few bad plays he's made that I can think of.
Josh, is there a difference in playing a Southern team like Clemson for an Ohio State team? Is there a mental edge teams like Alabama or Clemson think they have over a midwest team?
A mental edge because they're from the South? Hell no. These cats play in the ACC. Boston College and shitty FSU and UNC and Wake Forest. No, no, no.
How does this Clemson OL compare to the one that the buckeyes faced in '16?
No clue. I haven't watched the '16 game in depth.
One unit I'm a bit nervous about heading into this game is the linebackers. They've been much improved this year, but I'm curious if you think they're ready for the challenge facing a dynamic home run hitting back (Etienne) and underrated scrambler (Lawrence). Do you see Hafley/Mattison doing anything unique to set our LBs up for success? Thanks!
I don't know why people are all of a sudden so worried about the backers. Will Levis gets some yards, Michigan hits a couple of TEs and Jonathan Taylor had one good half and now people are scared. This LB group has been amazing all year. You can credit a lot of the problem plays to circumstance rather than poor play. There is an athletic QB who makes a play and it's the LB's fault, but the reality is that the DL did a poor job with rush lanes or got tossed out of a gap. Or the LB misses a tackle, but the safety did a poor job of running the alley. Or an LB gets beat on a pass, but his help wasn't there. I'm confident that this defense will continue to play well and they the LB's will be fundamentally prepared and assignment sound.
Does ohio state continue to mainly roll out the single deep safety look, or do we get more 4-2-5 this game than we've seen on average this season?
Well, the 4-2-5 is really just talking about the personnel and the defensive front look. They could run quarters out of a 4-2-5. What I think will happen is that we will see that 5th DB in the game a little more instead of the traditional 3 LB sets we've seen this year. But there is no mistake that this team is a single safety high team. 3 deep and man to man are what the Silver Bullets major in.
Do you think this Clemson team will pose a tougher match up than Bama in 2014?

Also, which bar closed on High St. do you miss most?
No. They have a better QB, but that Bama team was loaded. And we were on a 3rd string QB and our defense wasn't as good that year.
And I wasn't out that much so IDK
Last 2 games Fields had a slow start before turning up later, what's the key to having a great start and with Clemson having an elite defense as well do you think we can overcome a slow start against this type of elite defense?
In Justin's defense, the team had a slow start last time they played so I'll let that pass. I think in the Michigan game, he was just struggling to get a rhythm. He has to have the short passing game rolling early and he has to have the run game rolling too. I think both teams will be rusty early. Procedure errors, Dropped passes on timing rtes. It'll take them a possession or 2 to get back in game rhythm.
When the two teams are together during bowl week (assuming they are), is there any trash talking between the players?
There aren't too many situations where the teams get together actually.
Do you think it is an issue that Clemson may not have had to put much on tape this year due to the ability to beat the teams on their schedule with basic gameplans?
Not at all. Clemson is one of the few powerhouses that doesn't turn over coordinators year after year. OSU will have the ability to look back and see what they have shown over the years. And the fact is that coaches run a lot of their stuff in games. There is only so much you hold back.
All the talk seems to be how the Buckeyes handle their toughest task yet, while Clemson's toughest game this year was against a not so good UNC team.

Where is Clemson's greatest weakness, or where do you expect the Ryan Day and staff to attack Clemson the most?
Clemson is nowhere near where they have been the last few years across the defensive line. They have shifted to a 3-3-5 alignment as their base alignment. They will move an LB down to the DL to get a 4 down look. They run the 3-3-5 look like 3 DL, 3 LB and 5 DB or they will opt for a 6th DB instead of the 3rd Backer. OSU will have an advantage in the trenches for sure.
Are you required to go to the game? If so, being an ex Buckeye, are you allowed on the Clemson sideline? We may need you to channel your inner Bill Belichick.
I'm not gonna be at the game. I'll be at the BTN Studios in Chicago covering the semifinal, and then I'll head over to Pasadena for the Rose Bowl, covering Wisconsin. Sorry!
Hey josh. How do you see this game playing out? Do you think the bucks can stop the run and force Clemson to beat them in the air?
Sure! UNC, South Carolina and TAMU kept him under control. I don't see why we wouldn't be able to. I see this as a battle. But I think the depth of OSU and the fact that OSU has been in some recent battles with consequential result will give them a slight edge.
There are a lot of similarities between the two teams, but what do you think is the single most important factor for the Buckeyes to beat the Tigers?
Simply, OSU will need to do two things: control the trenches on both sides and play a clean game in terms of penalties. If Ohio State can stop the rush and make Trevor Lawrence throw under duress, they will gain an edge. On the flip side, OSU must get Dobbins/Fields rolling early in the run game and handle the different blitzes that Clemson will use. And then, you can't play sloppy and have penalties. They kill drives.
n the 2016 match-up, DC Venables seemed to know exactly what the OSU offensive staff was calling prior to the play. I do realize that offense was very predictable Ie - Running a jet sweep anytime JT was under center. That said, there has been talk about Clemson's ability to steal play signals from opposing teams. Do you think there is any truth to those rumors from fellow ACC coaches, and if true, what can the OSU staff do to mitigate Clemson stealing signals?
It's hard playing the game like that, but if they can do it, they can do it. Anyway, if they steal signals they might be in trouble from the standpoint that Ryan Day and co will likely change them in the time off. We did that on defense. They also have one person signal to the backfield, one to the WR and one to the OL, unlike when I played on defense where there was just one signal for the base call and the adjustments were made on the field. That is a lot to try to process if you steal signals.
Hey Josh, you have to love the fact that we can run the ball (yes, with a RB) to grind our opponent and control a game. JK was still breathing through his damn nose midway though the 4th when we were riding that horse. I think our rushing attack can be the difference for this run. What say you?
We should be able to run all over both teams.
Ryan Day and Company have slowed down the tempo a little bit this year, compared to previous seasons. However, they still have shown moments of going quick, and keeping the defense guessing. I was reading an article on Venables, and they credited his massive success on his last second call changes. Do you think OSU will increase the tempo a bit to try and counter that style, or does OSU go in there with the mindset of doing what they do, and not change who they are.
Yes, but I've never understood how Venables does that. Even the greatest coaches can't tell you what's coming based off of seeing the formation that late, there really isn't a perfect call and I don't know how the players can adjust that quickly. But hey, that's why I don't make $2.5M/ yr