INDIANAPOLIS — Taylor Decker isn't sure what team will draft him or what round he will come off the board in the 2016 NFL Draft, but he wants to make a living playing the position that made him a two-time All-Big Ten performer and All-American at Ohio State.
"Of course, I would want to be a left tackle, but at the end of the day I just want to play football and compete," Decker said Wednesday at the NFL Combine. "So if a team asked me to play another position, absolutely I would."
That's Decker. A three-year starter at Ohio State and the anchor of an offensive line that paved the way for record-breaking rushing numbers in the form of 2015 Big Ten Running Back of the Year Ezekiel Elliott. He played right tackle as a sophomore in 2013 for Urban Meyer opposite of current Indianapolis Colt Jack Mewhort. That year, Decker — the tallest offensive tackle in this year's combine at 6-foot-7 — said he faced his biggest individual on-field challenge as a Buckeye.
Other than going against two-time All-American defensive end Joey Bosa every day in practice.
"I would either say it was Joey or Khalil Mack my sophomore year," Decker said when asked what his toughest battle was as a Buckeye.
He got his feet wet on the Division I college football gridiron at right tackle, but believes he can play at a high level on the other side of the offensive line. Left tackle is reserved for the elite of the elite, because protecting a franchise quarterback is of utmost importance in the league.
But as he endures the most important job interview of his life, Decker knows he might be asked by his future employer to revisit the day he struggled against Mack in Ohio Stadium. If so, he's fine with it.
"I don't think anybody would want to come in and be like, 'I'll ride the bench for a couple years,'" Decker said. "I want to come in immediately and I do want to be a starter."
The 310 pounds that comprise Decker's stout frame were by a key piece to what Meyer built in four seasons at Ohio State. A senior captain and leader of the program, the 50 wins the Buckeyes tallied in that time wouldn't have happened without him.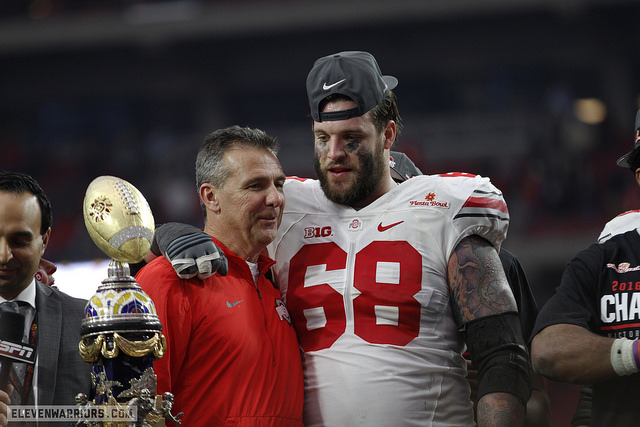 "He's a guy I count on quite heavily for leadership," Meyer said of Decker. "And he's going to have a long NFL career if he stays healthy because he is obviously that talented."
Decker might sneak into the late first round of the NFL Draft. He might get to play his desired left tackle position. He might not. That remains to be determined, but above all, he just wants to play at a high level.
Just like he did at Ohio State.
"I don't want to be a player that, 'We can survive with him,'" Decker said. "I want to be able to add some value to the team, to be an asset and not a guy that's dead weight."