SCOTTSDALE, Ariz. — The last time Clemson and Ohio State played a football game, the Buckeyes allowed way more points to the Tigers than was acceptable for Urban Meyer.
Clemson allowed a bunch too but still won the 2014 Orange Bowl 40-35 on the heels of a magnificent performance by quarterback Tajh Boyd and wide receiver Sammy Watkins. The Buckeyes, led by Braxton Miller, tallied more than 420 yards of total offense and scored on multiple plays of more than 30 yards.
The two teams meet in the desert on Saturday in the Fiesta Bowl as part of the College Football Playoff. Before the Tigers left for Phoenix on Monday, defensive coordinator and Broyles Award winner Brent Venables sat down with his current defense and hashed out the game film from that night in Miami. They needed to see what Miller, Carlos Hyde and others did to the Tigers.
"Our guys, when they watch stuff like that and see that paw on the side of the helmet, they relate to that. It's different than watching that happen to Wisconsin," Venables said on Tuesday. "They get up on the edge of that seat when it happened to us in the Orange Bowl. That's why we watched it.
"We won the game—we're not sitting there watching all the great plays we made, that's not what we're watching. Here's how they got after us. Here's why that game was close."
Both teams are very different now than when they met to close out the 2013 season. Miller, Boyd, Hyde and Watkins are all gone but the Tigers believe the schemes on Ohio State's current offense are in line with what they were then. The minds leading things now on that side of the ball are different than during that Orange Bowl game too, with Ed Warinner and Tim Beck teaming up with Urban Meyer this time around while Tom Herman ran the show three seasons ago.
But there is enough for Venables to pull out, slap on the bulletin board and get the attention of his current unit.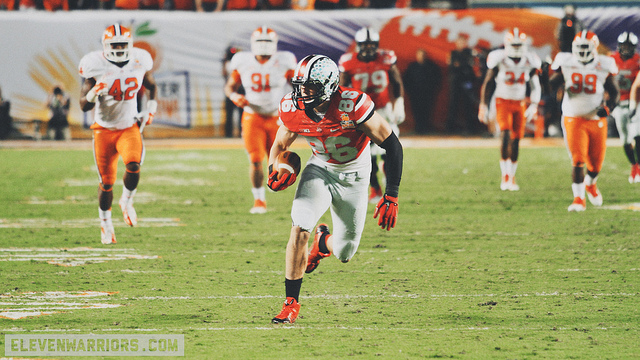 "Ohio State is Ohio State regardless. They're going to be a great team no matter who's in the backfield, no matter who's on defense. They have a good recruiting process. I really don't see anything different," cornerback Cordrea Tankersley said. "J.T. Barrett reminds me of Braxton Miller and then they also have an addition, [Curtis] Samuel, who's been great for their team."
Jeff Heuerman got loose for a 57-yard touchdown in that game and Miller broke contain for a 33-yard score. Ohio State's defense had its own troubles that night trying to stop Watkins and Boyd but Clemson watched it to focus on certain situations where they gave up back-breaking plays to Miller and Co.
"Just looking at the little things that they did, the situational plays. Things they went to in certain situations in the game," safety Jadar Johnson said. "They definitely have a lot of new stuff that they put in since then but it's really just small stuff about situational positions."
The chess match between Venables, Warinner and Meyer is going to go a long way to deciding who wins on Saturday night to advance to the College Football Playoff national championship game. You can bet the Buckeyes tore that tape apart too.
It all boils down to who can limit the big plays, because that failed to happen in the Orange Bowl.
"What they were doing scheme-wise and things that caused us problems. The wheel routes and throwbacks, the motions. Some things, those aren't just going to go away," Venables said. "They still do the same stuff. They're involved in lots of ways. You're not showing them to show physically what it was about. You're showing them scheme. That's why."