THE MOST IMPORTANT phone call Taylor Decker ever received was one he did not answer.
It was December of 2011 and Decker was a senior at Butler High School in Vandalia, Ohio, home sick for the day when his cell phone rang. He glanced down and did not recognize the number so he didn't answer. He never does. "If I don't have them in my phone, I figure they don't really have anything to say to me," Decker says.
The person on the other end left Decker a message, though, and as soon as he saw he had a voicemail Decker decided he should give it a listen.
"Anytime somebody leaves me a voicemail, I'll probably check it unless my voicemail is full, which it usually is because I don't delete them," Decker says. "Lucky for me, it wasn't full."
Decker says he's lucky because the person who left him that voicemail on that December day was Urban Meyer — the recently hired Ohio State head coach.
At the time, Decker, a four-star recruit and the nation's 19th-ranked offensive tackle, was committed to Notre Dame. But the Ohio kid who grew up roughly an hour west of Columbus always wanted to play for the Buckeyes.
The only problem with that wish? Decker didn't have an Ohio State offer just yet.
That phone call from Meyer was the first step in him getting that offer, though. And even though he didn't answer the initial call, Decker remembers listening to his voicemail on that specific day.
"I listened to the voicemail and it was kind of, 'Taylor, this is Urban Meyer with Ohio State, blah blah blah. I'd love to talk to you if you get a chance,'" Decker recalled Wednesday at Fiesta Bowl media day. "I can't remember the exact wording, but then I remember I was just like, 'Holy shit.'"
After hanging up his phone, Decker sprinted upstairs to inform his mom who had just called him. "She said, 'Well, did you call him back?'" Decker recalls. He hadn't yet, but it didn't take him long to do so.
"[Meyer] kinda said to me, 'Give me one day, come and visit. I know you've been committed to Notre Dame for a long time, but just give me a day to visit,'" Decker said.
The rest, as they say, is history.
---
DECKER'S LOVE FOR Ohio State was not really a secret throughout the entire recruiting process. He says he would have committed to the Buckeyes instead of Notre Dame from the beginning had he simply received a scholarship offer from the Ohio State coaching staff before Meyer. Greg Bush, Decker's high school coach at Vandalia Butler, said he has a photo of Decker and "eight or nine other kids who played for me" at one of Ohio State's youth football camps. He was always a Buckeye.
It hurt Decker, though, that he hadn't done enough to warrant that scholarship offer from the school he grew up cheering for. As a result, he had to settle for choice No. 2.
"That was kind of a tough pill to swallow there for a while," he said. "I just kind of had to move on to my next choice and that was Notre Dame."
Decker committed to the Irish on March 4, 2011. He pledged so early because he wasn't too fond of the whole recruiting process and he remained solidly committed to Notre Dame for over a year and a half.
Even after Meyer was hired at Ohio State and made that initial phone call to Decker, he still was hesitant at first to take the Buckeyes coach up on his offer to come check out the campus.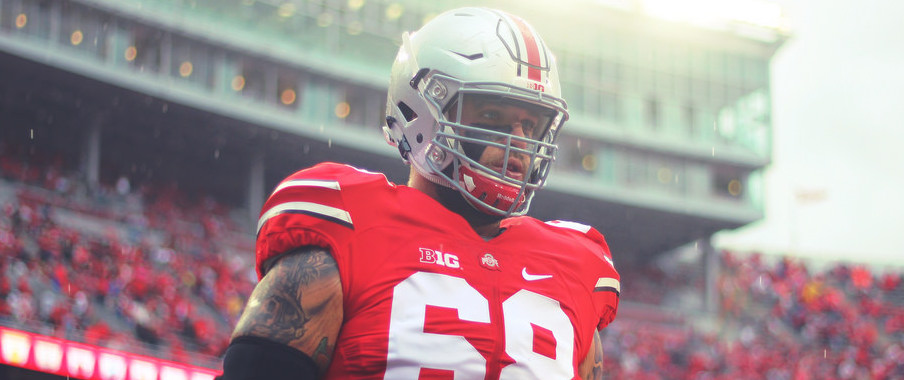 "Initially, that was kind of tough for me because I had been committed for so long and I think loyalty — it's a big thing to me," Decker said. "But I thought it over and I ended up taking a visit because that was my No. 1 school, where I wanted to go, because I'm an Ohio kid and that was the team I grew up rooting for."
Meyer taking over at Ohio State was already a big blow to Notre Dame in its recruitment of Decker. But when Meyer brought Irish assistants Tim Hinton and Ed Warinner over to Columbus with him, that presented an even bigger challenge for the Fighting Irish.
Warinner and Hinton were Decker's two main contacts at Notre Dame. Hinton joined Meyer's staff as tight ends coach while Warinner became Ohio State's offensive line coach.
"Once Ohio State showed an interest and the people that [Decker] knew left Notre Dame, it was kind of black and white — it was kind of an easy decision on his part, I think," Bush said. "When the people you're going to play for are not there at Notre Dame and they go to Ohio State and you're an Ohio boy, it made sense."
---
FRIDAY'S FIESTA BOWL matchup featuring Ohio State and Notre Dame will be Decker's 42nd-straight start on the offensive line for the Buckeyes. His most memorable one of those, though? That would probably be start No. 1.
Ohio State hosted Buffalo to begin the 2013 season and Decker, the lone non-senior starter on the Buckeyes' offensive line that year, started at right tackle. The player he went up against most that day? Khalil Mack.
"Man, that was miserable," Decker recalled of his matchup with Mack. "That was really hard for me. That was probably my most difficult experience here at Ohio State. I was able to win that starting spot, but I still wasn't very confident in myself. I wasn't confident in my abilities, just kind of mentally beat down. Then, in my first start, I don't think I was ready for that caliber of player."
Mack was the best player on that field in that game. The Buckeyes won, 40-20, but Mack had himself a day and it was mostly at Decker's expense. He finished with nine tackles and 2.5 sacks and also returned an interception for a touchdown.
After that season, Mack declared for the NFL Draft and was the fifth overall selection by the Oakland Raiders. Now in just his second professional season, Mack was selected to the Pro Bowl and leads the NFL with 15 sacks.
Even though Mack was a highly-touted prospect and showed his full arsenal on that day, Ohio State fans were worried about the right tackle spot despite the fact it was just Decker's first career start for the Buckeyes.
"After that game, basically just having everybody say just how terrible of a player I was, saying I didn't deserve to be here and that I was going to lose us a game, that's probably one of the things that stuck in my memory from my time at Ohio State," Decker said. "People were just throwing me under the bus and they don't really care about you as a person if you don't produce on the field. That hurt, that was tough for me. I remember that feeling to this day. I see other players, when they're not doing well, people just tossing them aside and it's just not something easy to handle. That was a huge motivation for me and I think that's a big reason why I progressed every single game that year."
That game, however, springboarded Decker to what has become a storied career in Columbus. He started every game at right tackle during that 2013 season, then switched over to the left side for both 2014 and this season and hasn't missed a start.
The Buckeyes, of course, won the national championship last year and were anchored up front by Decker, who paved the way for running back Ezekiel Elliott's 696-yard, eight-touchdown performance in the postseason. This year, as a senior, Decker was a consensus All-American and was named the Rimington-Pace Offensive Lineman of the Year, given to the top offensive lineman in the Big Ten.
Decker was also voted a team captain this season and, along with senior linebacker Joshua Perry, served as Ohio State's unofficial team spokesmen.
"He's a guy I count on quite heavily for leadership," Meyer said of Decker. "And he's going to have a long NFL career if he stays healthy because he is obviously that talented."
It didn't always appear that way, though. Not after that first start against Mack, anyway.
But that's exactly why Decker is the player he is today. That performance in his first career start helped shape and mold him.
"My first start was against a top-five pick, Pro Bowler," Decker said. "It was a little Baptism by fire, for sure."
---
BUSH HAD A feeling Decker would be a special player, but he didn't really know for sure. Every high school coach believes their kid is going to go on and do big things at the next level, but nothing is ever certain.
"College recruiting is not a science," Bush said. "Those guys get it wrong as often as they get it right, I think. You can look all over the country and see kids that schools didn't really pursue and they really excel at a certain place. It's not a science on their part, it's not a science on our part either. You can measure someone's speed or weight or height or how much they bench press and you can watch film, but it actually plays out and it's a wish and a hope on our part, a wish and a hope on their part, too."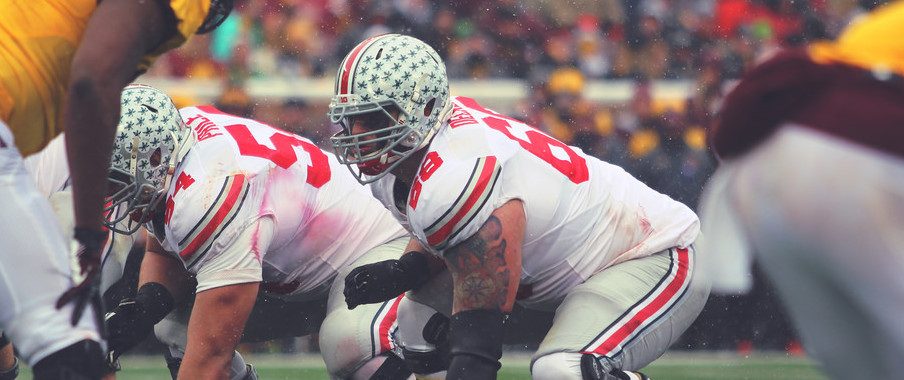 They got it right with Decker, though. And one could argue he even exceeded expectations coming out of high school.
But perhaps even more important than Decker's on-field play is how he helped shape the Ohio State program. He was often praised for his leadership and the way he helped guide the team.
"Without him, my development would not be where it's at," left guard Billy Price said. "I give a lot of credit to him for being my right hand man to help me out. It's given coach Warinner — he can take a step back because he has got someone he can trust and that's Taylor."
Added right guard Pat Elflein: "Just setting the culture in the weight room and the offensive line room and then upholding that culture and setting the standard. Leadership for the team and just making guys around him better."
It's a trait that Decker has always had.
"He's a leader and he's always been a leader, but he's a little bit different in the fact that you don't see Taylor out there banging his chest, you know what I mean?" Bush said. "That's not how he did things and as a coaching staff that's not how we do things, it's not how his family does things. That part of it, I think it's natural to him. You see people kind of lead by example or take the back seat, whatever the cliché is."
Decker has always been driving the car or, at the very least, riding shotgun.
---
JUST A FEW days before his college career comes to an end, Decker is sitting at his podium inside the JW Marriott Camelback Inn and takes a moment to reflect on everything that's happened in his career up to this point.
Then, he thinks about what's next. One final game against the school he was once committed to.
"It's super ironic," he says. "If we didn't make the playoff, this is the game I wanted. I wanted to play Notre Dame because it is just kind of odd that I almost started my career there and now I am going to end my career playing them.
"It's really kind of cool."
Games like this Fiesta Bowl are precisely why Decker opted to return to Ohio State for his senior season when he easily could have left following last year's national title and been an early-round selection in the NFL Draft. He didn't, though, and he has reaped plenty of benefits because of that.
"For me, I had personal goals. I wanted to be a first-team All-American, I wanted to get a tree in Buckeye Grove, I wanted to be a captain and I knew it was important for my parents to be out there on the field for Senior Day for me," Decker said. "I grew up watching this school and it was important for me to play here. The next level will be there when I move on."
That time to move on comes after the Fiesta Bowl and Decker will go on to the 2016 NFL Draft where he is likely to be selected in the first round. He leaves behind quite a legacy and will be mentioned with some of the all-time great Ohio State offensive linemen.
"My biggest motivation — obviously I have my own goals and aspirations and things I want to do — but just to make my family proud and particularly my parents," Decker said. "I know that I've been really, really fortunate just to have the support system that I do. That's my biggest motivation is for my parents to talk about me and have pride."
Decker accomplished all of those things, and more, during his four years at Ohio State.