PISCATAWAY, N.J. — Urban Meyer was hesitant to admit his mind was put a bit at ease — in a stage of comfort, so to speak — as his team prepares to head into its bye week, but the Ohio State head coach did exactly that following the Buckeyes' 49-7 rout of Rutgers on Saturday night.
J.T. Barrett's performance allowed him to concede that notion.
"It really does," Meyer said. "I don't want to admit that, but it does."
Barrett — making his first start of the 2015 season — looked like he did much of the 2014 campaign that saw him finish fifth in the Heisman Trophy voting. It was precisely the performance Meyer had been looking for from the quarterback position — the spot that had likely caused him to do the most thinking so far this season.
The redshirt sophomore quarterback finished the day 14-for-18 passing for 223 yards and three touchdowns, while also carrying the ball 13 times for 101 yards and two additional scores. The Buckeyes' offense operated in a smooth and surgical fashion as they racked up 528 yards of total offense. There were both long, sustained drives as well as big plays.
The Buckeyes looked like themselves again and it was Barrett who was calling the shots.
"I didn't think I was forcing anything, just let the game come to me," Barrett said. "Didn't do anything crazy, didn't have to. Just took what the defense gave me and I think as an offense we played well.
"We can definitely get better."
The first half of this season had been filled with highs and lows for Barrett as he served as the backup to Cardale Jones for the first seven games. The Buckeyes went 7-0 in those contests, but something just felt off. Ohio State never quite looked like itself.
Meyer opted to make the switch to Barrett full-time after last week's 38-10 win over Penn State.
That decision, for now, seems warranted.
"[Barrett] seemed to execute very well and he makes a lot of plays with his feet; he gives you something there," offensive coordinator Ed Warinner said. "J.T.'s a leader and we put the game plan around what we thought he could do well and what the rest of the team could do well."
Barrett makes Ohio State a more dangerous offensive team because of his ability to run the ball as well as throw it. He's efficient as a runner — his first carry of the game went for 39 yards — and as a passer, completing 78 percent of his throws Saturday night.
But it also seems to go deeper than the numbers with Barrett at the quarterback position. He's consistently been praised for his leadership and intangibles ever since he took over last season and there just seems to be a sense of calmness about Ohio State's offense whenever he is on the field.
It's hard not to notice.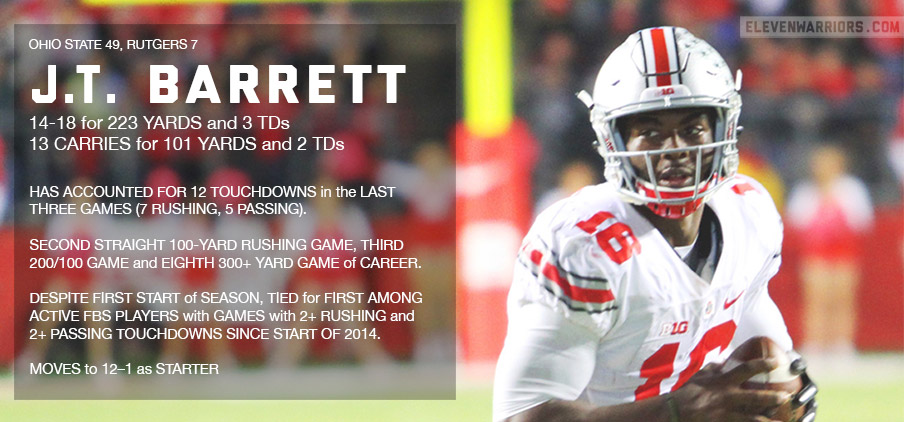 "I think we've just got chemistry with J.T. from last year," wide receiver Jalin Marshall said. "Cardale came in the last three games [last season] and we had a lot of momentum so we had to bond together and make it work. We had just a little more chemistry with J.T. Cardale is still a great player, but I just think the chemistry we have with J.T., it helps out."
Meyer took a risk changing quarterbacks seven games into the season when his team hadn't yet lost a game. Barrett validated that decision, though, with his performance Saturday night even though it did come against a middling Rutgers defense.
Ohio State is now 8-0 on the year and seems to finally have its quarterback situation solidified for now, even though it may have pained Meyer to admit as much.
The Buckeyes may just be rounding into form at the right time. It's Barrett who is allowing them to do so.
"I think he's in full swing now," Meyer said. 
"Just getting to what we do well, playing fast. Being quick offensively, making sharp decisions," Barrett added. "Get the ball in my hands and get it to the players that we have and I think today we saw a little bit of it.
"We just keep getting better, but it was good today."