ICYMI:

FINDING BRAXTON MILLER. It's been a quiet month for Braxton Miller since he put Virginia Tech through the wash cycle. This week, Urban Meyer made an interesting point about Miller's lack of touches.
From ESPN.com:
"It's frustrating, but you know, he graded a champion. The Virginia Tech game he did not. So think about that. ... Offensive football is not a one-man show. It's 11 guys getting their jobs done. So the positive is that he's heading in that direction to be a full-time receiver."

The negative for the Buckeyes is that his elite speed, head-turning acceleration and one-of-a-kind juking ability aren't getting used nearly as much as they used to be, prompting Meyer to jokingly ask for input from the media on how to get him more involved last week.

The suggestion box must have been empty, as Miller got his hands on the football just twice, with the first one coming on the opening play of the game. The play, a push pass on Ohio State's first drive, was botched and ended up costing the offense 9 yards, leaving them well behind the chains, out of rhythm and quickly forcing to punt. It was more proof that forcing the ball to Miller isn't prudent.
Urban said post-game he was "sick" about not getting Braxton the ball more against the Hoosiers. He mentioned getting caught up in the game, which is odd since Urban's whole schtick is getting his playmakers the ball in space.
It begs the question — Is Braxton Miller currently Ohio State's best H-Back?
From Cleveland.com:
"He deserves touches," Meyer said. "He's an electric player with the ball in his hand. We just have not got him loose the last couple of games. ... The defense directs where the ball goes. You can't say, 'Throw it to him,' you just can't do that. What if he's covered? It's frustrating."

In those last three games, Samuel has 10 touches for 152 yards (15.2 yards per play), while Wilson has six for 57 yards (9.5 yards per play). 

Of Wilson's play against the Hoosiers, Meyer said, "Dontre Wilson was back full speed and played one of his best games. Performance-wise he didn't touch the ball as much, but his effort and blocking was exceptional."
Urban said before the Indiana game all three players deserved more touches, which would bring us back to square one.
I'd love to see Miller more involved in the passing game, and I'd love to see him throw from one of his direct snaps, though I doubt we see the latter against the likes of Maryland or Rutgers. 

BELL GETS HIS ISLAND. Vonn Bell's playing at a "very high level," which seems to be the highest level available in Urban Meyer's glorious vernacular. Judging by some of Bell's quotes, he knows it too.
From 247sports.com: 
Bell was adamant that he was put in a position to blanket an Indiana receiver. As it turned out, he made a great recovery on a second-and-goal pass from the OSU 10. He batted the ball away from IU's Jordan Fuchs with 16 seconds left and OSU holding a 34-27 lead.

"I asked for it with Coach Ash," Bell said. "I told him to put me on an island. I said, 'I'll get the job done for you.' We have talked about it all year. He was just waiting for the right time.

"On that play, we knew they would have two (receivers) to the flat. I know they would run those routes. It's a corner beater. I told Coach I wanted to take it away … and that's what I did."
Both of Ohio State's safeties seem to be students of the game. That's a winning recipe.

WHAT THIRD DOWN WOES? There's a lot of hand-wring in Columbus over Ohio State's third-down offense. Perhaps the plan of attack is to "Feed Zeke and carry on."
Ezekiel Elliott on 3rd/4th down: 16 carries, 187 yards, 10 first downs, 3 TD

— CFB Film Room (@CFBFilmRoom) October 7, 2015
Ezekiel Elliott has 16 rushing attempts on 3rd and 4th down this season, 13 have resulted in a first down or touchdown.

— CFB Film Room (@CFBFilmRoom) October 7, 2015
It looks like Maryland will try to take a page out of Indiana and Northern Illinois' book to try and stop the St. Louis beast.
From TestudoTimes.com:
Ohio State's offense has looked weakest this year against Northern Illinois and Indiana. Linebacker Jermaine Carter said Maryland could borrow from those teams in approaching the Buckeyes.

"They loaded the box against Ohio State," Carter said. "It was a main focus of stopping them. Don't let Ezekiel Elliott run the ball. I think we can try to duplicate that."

Linebacker Jalen Brooks said, too, that such an approach could work.

"Definitely, because if they don't have anywhere to go and our numbers outnumber then, and everybody understands that and everybody's focused in or honed in on that before the ball is snapped," Brooks said, "then everything's going to be OK."
Everything is always okay until Ezekiel Elliott is hurdling a safety and dashing down the sidelines. Indiana did great against Elliott... until he broke their back in three plays.

MARYLAND ROLLING IN WITH ITS OWN QB HYDRA. Turns out the Terps will bring its own #QBgeddon to Columbus this weekend.
From BaltimoreSun.com:
Daxx Garman, Perry Hills and Caleb Rowe were listed as co-starters at quarterback on the depth chart released by Maryland ahead of Saturday's matchup at No. 1 Ohio State.

"Everybody's in play there," coach Randy Edsall said Sunday. He also said the starter could be a gametime decision.
247sports.com's Josh Stirn says it's likely Perry Hills will get the nod. I'll believe it when I see it, because "Perry Hills" sounds like an alias a drunken freshman gives to a cop thinking it'll get him out of an underage. (It won't.)

THOUGHT THIS WAS COOL. Columbia, South Carolina is dealing with the aftermath of catastrophic floods. LSU–South Carolina was scheduled to be played there on Saturday, but officials made the call on Wednesday to move the game to Baton Rouge.
This, however, will not be a windfall for the Tigers.
LSU: "All proceeds generated from ticket sales, minus the expenses that LSU incurs for hosting the game, will be given to South Carolina"

— Josh Kendall (@JoshatTheState) October 7, 2015
#LSU source confirms Tigers "can't have recruiting functions" Saturday when hosting #SouthCarolina and "must treat it like an away game.

— Jeremy Crabtree (@jeremycrabtree) October 7, 2015
Speaking of LSU-USC... I would pay $10 to listen to the pre-game conversation between Les Miles and Steve Spurrier.
In fact, I would like to spear-head a $10,000,000 Kickstarter to produce a podcast featuring both of those two upon their retirement. That just might be the medicine this corrupt world needs.

LECHUCK SWAGGER. I'm an organ donor, so my organs would end up inside other people if I ever stepped foot on an NFL field. That said, would anyone judge me if I hung LeCharles Bentley's in-season performance checklist in my shower? 
via @JeremyClay (click to enlarge):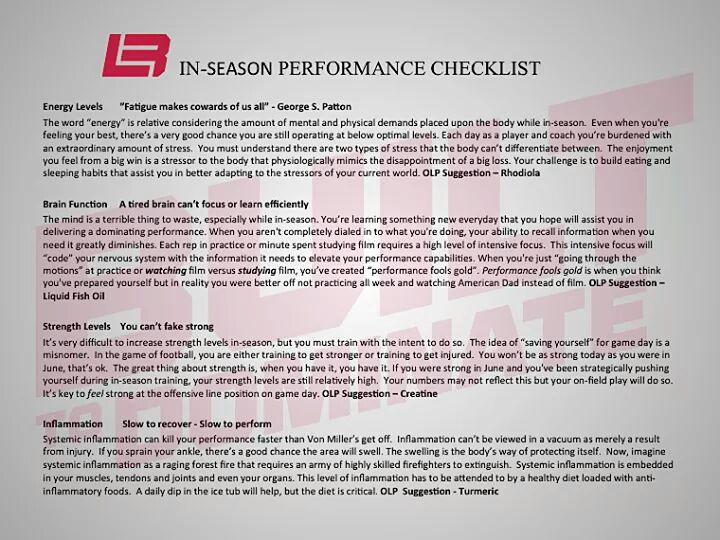 Speaking of beast offensive line performances, here's Alabama's OL (almost) literally steamrolling Georgia's DL:
Wow, @AlabamaFTBL's offensive line DESTROYED Georgia. A closer look at the tape reveals complete domination. http://t.co/vqmvc4mmms

— SEConCBS (@SEConCBS) October 7, 2015

Poor Georgia. I have disdain for most SEC teams — even sorry-ass Tennessee — but I pity the Bulldogs. They lose like four games every year, and when it looks like they may be good Alabama rolls through and splinters their teeth.



 MICHIGAN: THE B1G'S BEST? Folks... this may shock you... but it appears the way to make money in college athletics isn't to treat it like big business but to hire a competent football coach.
From WashingtonPost.com:
ANN ARBOR, Mich. — The ripples start in a parking lot.

The large parking lot at the big high school across the street from the giant stadium reaped between $43,000 and $54,000 for each of the first three home college football games of 2014. For the first three games of 2015, make that $62,000, $65,000 and $59,000.

"Isn't that amazing, how one person can make that much difference?" Judy Solowczuk said.

[...]

On the football field, Jim Harbaugh already has worked his usual art of deleting inefficiencies, coaching a team that had gone 5-7 last season and 31-20 across four seasons (including a lukewarm 18-14 in the Big Ten) to a 4-1 record and a No. 18 ranking in the Associated Press poll. In the larger ecosystem, his commanding presence boosted season ticket sales to 89,975 (the most since 2012), including 72,076 non-student season ticket sales (the most since 2009) before the season began.
Harbaugh is always great upon initial impact. Nobody is denying that, but some media members think Big Blue is already the Big Ten's best.
From CBSSports.com:
In Michigan's four wins, it's outscored its opponents 122-14, and it hasn't allowed a single point in over eight quarters. That's 30 straight possessions in which Michigan's opponent has failed to score a single point.

Compare that to Ohio State and Michigan State, the two Big Ten teams ranked ahead of the Wolverines in the polls, who found themselves in fourth quarter battles with Indiana and Purdue respectively.

According to the Sagarin Ratings, Michigan's strength of schedule to this point is ranked No. 31. Ohio State checks in at No. 74, while the Spartans pull up the rear at No. 83. So Michigan is playing a tougher schedule and blowing out its opponents in the process, while Ohio State and Michigan State are sleepwalking against easier opponents.
Nobody gets a trophy for looking good in October.
Michigan is better than it's been in a long time, but Jake Rudock is still its quarterback. If Rudock is the QB of the best team in the Big Ten then it might be time to disband the conference.

THOSE WMDs. Chuck E. Cheese to expand alcohol selection to appeal to adults... Uncle Luke is pissed off Miami's swagger is being erased... Barcelona's (professional) youth team should be illegal... Here's something always hilarious: People's bad tattoos.