With all eyes on the offense following a pair of middling performances against the likes of Hawai'i and Northern Illinois, the unit responded to the task – for the most part – and the Silver Bullets scored a defensive touchdown again while holding Western Michigan to 106 yards in the second half of a 38-12 win. 
The win moves Ohio State to 4-0 and sets the stage for the B1G opener next weekend at Indiana. The Hoosiers are also 4-0 with an average margin of victory of 6.3 points against the likes of Southern Illinois, Florida International, Western Kentucky and Wake Forest. 
Before you start making plans to invade Horseshoe West, here are Five Things from yesterday's defeat of the Broncos. 
GAUGING PROGRESS

Urban Meyer provided some clarity on his quarterback situation earlier in the week reaffirming Cardale Jones as his starter and with Jones feeling a little more safe in his standing, the big man completed 19/33 passes for 288 yards with two touchdowns against one interception. 
His 58% accuracy on the day was far from spectacular but still his best mark since week one against the Hokies and those 288 passing yards were 101 better than his previous season high. In fact, over the last two games, Jones threw for just 147 yards with zero touchdowns and two picks. 
Cardale's outing wasn't without its warts, however. There were five instances where he underthrew his receiver on a deep ball which is often touted as one of his key strengths. On each, it appeared Jones was slow to read or at least slow to release the ball and seldom stepped into the throw leading to one interception and four incompletions, leaving a couple touchdowns on the table.
At this point, it feels fair to at least discuss Cardale does in fact have a tremendous arm but there is a difference between that and throwing an accurate deep ball. Maybe Devin Smith's ability to make plays on deep balls ended up giving Jones too much credit for his ability to truly be accurate on long throws. In either case, I love that taking deep shots is part of the offense and I do expect Jones to get better. 
On the plus side of the ledger, Jones used his cannon of an arm superbly on numerous throws posting his highest yards per completion (15.2) since the season opener (18.7) and he was a beast in the 1st half posting 226 passing yards on 13/19 with two touchdowns. His 37-yard post to Jalin Marshall was pretty, the 40-yard teardrop to Curtis Samuel was even prettier and I loved his 16-yard completion to Nick Vannett on 2nd and 15 as he rolled right and cat/moused the linebacker creating a seam to throw leading to a field goal and a 17-6 lead. Jones was also sharp with his accuracy and timing on two curl routes to Dontre Wilson and Marshall to move the chains.  
Again, not a perfect day which also included a sketchy backward pass under duress but Jones looked much more crisp with the majority of his throws and the offense ran at a significantly improved pace. If Jones can build on this performance ext week then the Buckeyes might finally go on the offensive tear we've been waiting on. 
STUMPING FOR SAMUEL

Curtis Samuel is playing some damn good football but it feels a bit lost amid so many other offensive storylines.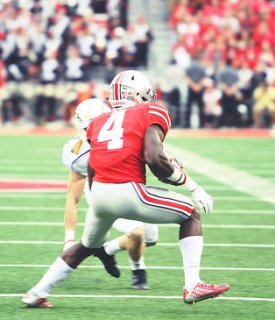 Yesterday, Samuel had just four offensive touches for 104 yards with a touchdown. Including his 25-yard kickoff return, Samuel was second only to Ezekiel Elliott with 129 all-purpose yards on five touches. 
Lining up at various receiver spots despite being the second-best running back on the team, Samuel has evolved into a versatile weapon with great hands and burst. I love that he doesn't try to take every play to the House – a trait it feels like Braxton could emulate, to be honest – instead he is decisive and purposeful with his cuts to always at least get what's there. My belief is that he runs the jet sweep better than anyone else on offense. 
Forty percent of his touches went for big plays yesterday as he got behind his man and hauled in a 40-yard toss from Jones leading to a field goal and later added a 40-yard run for the game's final score. 
I don't pretend to know where the extra touches should come from but I would love to see Samuel get a few more opportunities per game going forward. 
RETURN OF THE SLOBS

Much of the offense's recent struggles have been placed at the feet of the O-line as a rash of penalties, bad snaps and general lack of execution have gotten numerous possessions off-schedule. 
Yesterday, the Slobs appeared to have had enough of the negative chatter and paved the way to 511 total yards on 7.3 yards per play including 223 rushing yards on 6.6 per pop. The crew surrendered just one sack on well over 40 dropbacks and ensured Elliott would crack the 100-yard mark (16/124, TD) for a ninth straight game. 
Fundamentally speaking, Jacoby Boren's shotgun snaps were on point and the unit had just one false start (Chase Farris) though two more came from tight end Nick Vannett with one of those looking like maybe Boren blew the snap count since virtually everyone moved except the center. 
Up 24-6 at the half and getting the ball to start the 3rd quarter, the line was clicking on a 14 play, 75-yard touchdown march to largely break Western Michigan's spirit. The offense gained positive yards on all six rushing plays highlighted by Zeke's untouched six-yard march to the end zone while the pass protection was solid throughout. 
In particular, Boren and Pat Elflein were dominant in pulling situations creating huge running lanes for the skill guys. The only fairly consistent blemish was Farris appearing to struggle in pass pro a few different times but overall it looked like the Slobs got their groove back. 
KWON YOU DIG IT?

In his first year as the starting middle linebacker after backing up Curtis Grant as a true freshman, Raekwon McMillan is easing into his role.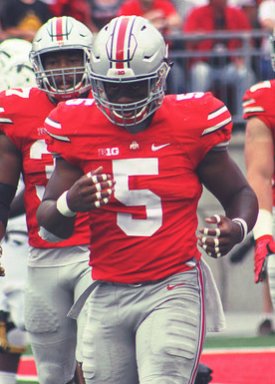 Against Western Michigan, McMillan had his most prolific day as a Buckeye with 16 tackles, a sack and a hurry. In the first half alone he tallied 11 stops. 
McMillan hasn't made as many big plays as some might have expected but his sack yesterday was one such instance. With Ohio State leading 7-0 and the Broncos running their 11th play of a drive, McMillan picked up a sack for a four yard loss throwing WMU off schedule. Three plays later they would miss a 47-yard field goal. 
Despite the 16 tackles, I read numerous comments criticizing McMillan for being out of position on both runs and passes alike. To my eyes, it did appear he got lost in pass defense a couple times which is often the last piece of the puzzle for a young linebacker but the larger problem against the run was the line not always absorbing guys thus creating seams for linebackers to make plays. That's not to say McMillan was in perfect position on every rush as WMU had success running up the middle in the first half but in large part, McMillan was around the football all day long and 16 tackles is hard to sneeze at period. 
Through four games, McMillan is averaging 10 tackles. Sounds solid to me. Plus, he's only going to get better with increased reps.
SHOWING SOME LEG

Following a week in which three of his six punts uncharacteristically went for touchbacks and only one was downed inside the 20, Cameron Johnston was back to his old self against the Broncos. 
Yesterday, the thunder from down under booted it four times for a 51.5 yard average placing three inside the 20 and two inside the 10 with just one touchback. Oh, and as per usual, he helped the unit surrender exactly zero return yards. 
After the WMU offense kept the Silver Bullets on the field for 9:13 of game clock before eventually missing a field goal to preserve a 7-0 OSU lead, the Buckeye offense immediately went four-and-out chewing up just 1:31 of clock. With the defense still catching its breath, Johnston came in a launched a 55-yarder pinning the Broncos at their own eight. Very nice. 
Later, after the Broncos cut the lead to 14-6 and the OSU offense went three-and-out using a mere 1:25 of clock, Johnston again went to work booming a 67-yarder to the WMU one-yard line triggering a three-and-out leading to a Buckeye field goal and a 17-6 lead. 
Through four games, Johnston and the punt coverage unit have allowed only three punt returns for a ridiculous eight yards with three of four games resulting in zero return yards. Somewhere, Jim Tressel is sporting a shit-eating grin. 
Bonus Sixth Thing: P.J. Fleck is a talented yet crazy man who wears FUBU and I want to hate him for lame things like sprinting the length of the field at the end of quarters but I can't.