Ohio State's rematch with Virginia Tech's been circled on the proverbial calendar of Buckeye fans ever since that fateful night under the lights at Ohio Stadium, where they couldn't figure out the 46 Bear Cover 0 defense and fell to the Hokies, 35-21.
That's why news of the suspensions of four players — defensive end Joey Bosa, H-backs Dontre Wilson and Jalin Marshall and wide receiver Corey Smith — for the Labor Day Night clash in Blacksburg, Va., floundered across college football like a screeching tire.
"Then you got other potentials. You got a big kid named Josh Perry that can do some things for us if we decide to change up our defense a little bit."– Urban Meyer on replacing Joey Bosa at DE
The 2014 national champions will be without a quartet of key contributors when they kick off their season, including the guy projected by many to be the No. 1 overall pick in the 2016 NFL Draft in Bosa. Ohio State is loaded with offensive talent to mask the void left behind by the skill guys who won't play against Virginia Tech, but Bosa's shoes are nearly impossible to fill.
Ohio State is now set to be without three of four returning starters from the team that won it all in January after Steve Miller and Michael Bennett both graduated. Adolphus Washington returns, but young guys like Sam Hubbard, Jalyn Holmes, Darius Slade and Tyquan Lewis must step up their production.
Urban Meyer knows it, too.
"Hubbard, well Tyquan pretty much secured that one spot," Meyer said Monday when asked who steps in for Bosa in the season opener. "You have Hubbard, you have Jalyn Holmes and Darius Slade."
There was one name, though, that Meyer uttered for the first time as a possible replacement for the junior All-American defensive end.
"Then you got other potentials," Meyer said. "You got a big kid named Josh Perry that can do some things for us if we decide to change up our defense a little bit."
Ohio State's always ran a 4-3 defense under Meyer, implementing a press quarters, Cover 4 style on the back end with Chris Ash's arrival prior to last season. The defensive line is perhaps the defense's most important unit, particularly in an age where getting to the quarterback is essential.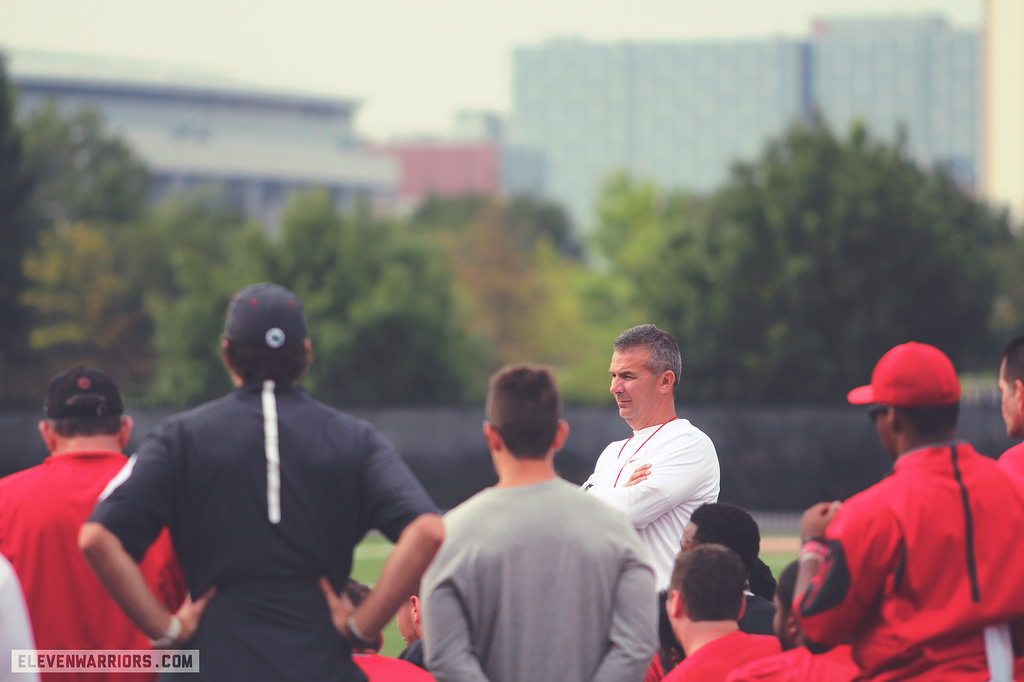 That's why a loss like Bosa could hurt mightily, and also why Meyer and his staff appear to be exploring all options to make up for his absence.
Perry is the stud outside linebacker who led the Buckeyes in tackles last season with 124. He's the senior leader of the defense who is all but assured a team captainship for 2015.
But is he a defensive end?
If the Buckeyes elect to use Perry in the rotation as a guy with his hand on the ground like a defensive end instead of his usual spot of linebacker, it's likely because he's just a better option than some of the young players in Larry Johnson's position room.
Fall camp is only a day old, so there's still plenty of time for Hubbard, Holmes, Slade and Lewis to make an impression on their head coach to keep Perry at his normal spot agains the Hokies.
But having an athletic, smart and frankly, big (Perry's listed at 6-foot-4, 254 pounds) senior with the career aptitude of Perry is a nice toy to play with if you're Meyer.
Plenty can change between now and Sept. 7, but Ohio State's considering all avenues to replace perhaps their best defensive player.
"There's alternatives and we're studying them all right now," Meyer said.