Back in 1996 true freshman Andy Katzenmoyer racked up 85 tackles.
He also set two school records that season on a defense teeming with NFL talent, with an astonishing 23 tackles for loss and a dozen sacks from the linebacker position. As first years go, that one is hard to top.
Almost two decades later Curtis Grant entered his senior season having compiled in three years a fraction of what Katzenmoyer accumulated in just his first few months on campus: 62 career tackles, 5 TFLs and 2.5 sacks.
Katzenmoyer was the top defensive prospect of 1996 while only Jadeveon Clowney was ranked higher than Grant coming out of high school in 2011. They're the two highest-rated Ohio State defensive recruits in that span.
Grant MIGHT BE THE MOST VALUABLE "BUST" OHIO STATE HAS EVER HAD.
And while Grant piled up 69 tackles and 5 TFLs during his senior season, he won't ever be mentioned alongside OSU linebackers like Katzenmoyer, Randy Gradishar, Chris Spielman, Tom Cousineau, James Laurinaitis, Dirk Worden, Marcus Marek, Steve Tovar or A.J. Hawk. His production at its peak was nothing approaching what would be required to be a contemporary to those legends.
So filling his void in 2015 should be academic, right? Darron Lee and Joshua Perry both return, as do Raekwon McMillan, Dante Booker, Chris Worley - with Justin Hilliard and Jerome Baker arriving in fall - and Nick Conner already on campus looking the part.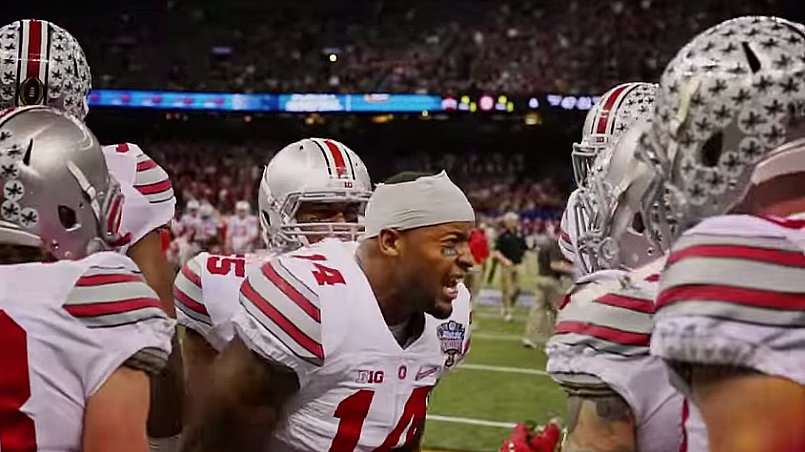 Unfortunately it's more complicated than that, because Grant's value to Ohio State was more nuanced than his statistics or highlights might indicate. He was the quiet catalyst for turning around Ohio State's curiously bedeviled linebacking corps under Urban Meyer.
He worked tirelessly to make his teammates better regardless of if they were lined up beside him or trying to bump him down the depth chart. The 2014 Buckeyes probably don't win the national title without his influence on program culture (his 10 tackles against Alabama didn't hurt either).
Grant's importance to the 2014 national champions was hard to appreciate when the whole world was watching. That's because he was at peak value when there were no lights or cameras.
---
Ejuan Price never even made it to campus after signing. Tatgate scared him away.
Dorian Bell, Scott McVey, David Durham, Jamel Turner, Conner Crowell, David Perkins, Luke Roberts, Mike Mitchell and Trey Johnson either never played or barely played before leaving.
That's 10 coveted linebackers between 2010 and 2013 who didn't pan out. Ten. At Ohio State!
Their four recruiting classes produced just three starting linebackers: Ryan Shazier, Perry and Grant. Camren Williams and Worley have also contributed, but that's it. That's everyone. That's how OSU linebacker play plummeted into the abyss.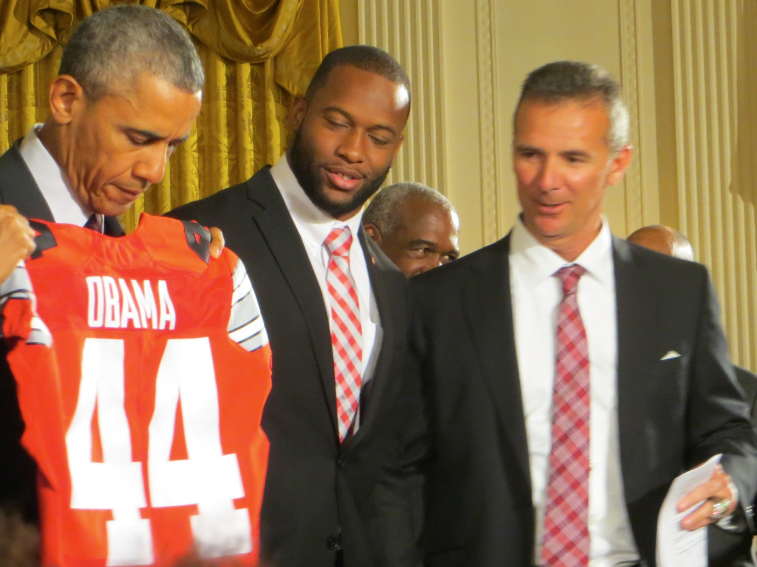 Cruelly, when the slide began Ohio State had just been named Linebacker U for the previous decade. When Grant arrived on campus it was already in decline; the Buckeye linebackers were Etienne Sabino (a converted DE), Storm Klein, Andrew Sweat and Jordan Whiting. The following year Zach Boren was abruptly switched over from the offense prior to the Indiana game.
By 2014 the Buckeyes had one guy left in the room who had seen the bottom. He experienced that 6-7 season, the coaching change and the surprise bowl ban; witnessed a senior fullback joining his group mid-season and immediately becoming a starter - and read article after article about how everyone was waiting for his performance to approach his lofty recruiting ranking.
Grant responded by doing everything he could to elevate the entire group to back to where it belonged: atop stories identifying which program could justify calling itself Linebacker U.
Grant being named AN OHIO STATE FOOTBALL captain was no surprise.
His desire and selflessness were infectious. When Ohio State named its captains last August, Grant's inclusion was publicly received as a surprise.
After all, those 62 career tackles, 5 TFLs and 2.5 sacks were dwarfed by classmate Shazier his sophomore year alone - but if you knew about Grant's peak value when there were no lights or cameras, him being named captain was no surprise at all.
Ohio State's coaches were fully aware they had one of the most altruistic and least-entitled linebackers they would ever coach in their locker room. That's a captain. That's a leader.
---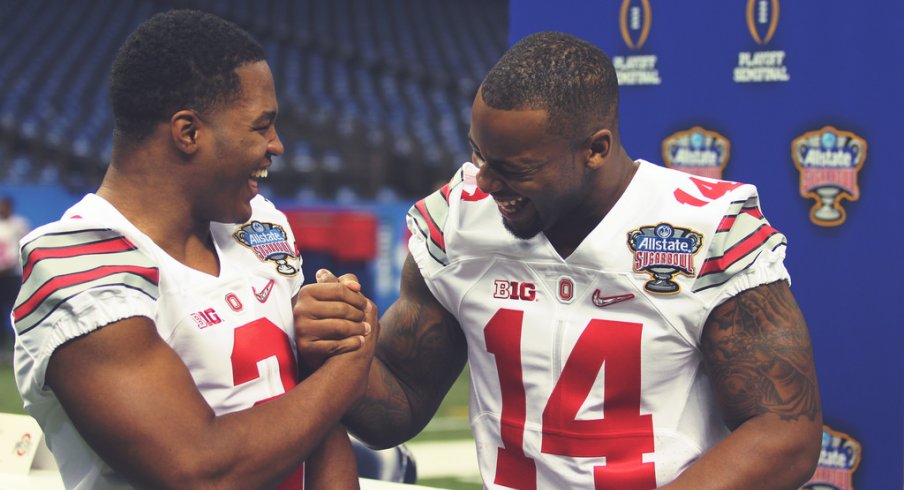 Google him. The stories all look similar.
"Curtis Grant, Jr. (born 1992) is an American football linebacker," reads his Wikipedia page. "He played college football at Ohio State University. Having arrived at Ohio State as a five-star recruit, he was never able to live up to the expectations."
"[This is] a story about how Grant can salvage an underwhelming career that will surely end in a most unexpected way after coming to Columbus as a consensus five-star recruit," read one of our stories heading into the 2014 season.
Highly-touted linebackers kept arriving in Columbus. Grant refused to step out of their way.
Heading into 2013 Bill Rabinowitz wrote a feature about Grant aspiring to finally make an impact as a junior. The Dispatch forgot to scrub the URL prior to publishing the story (it's still unchanged - click that link and look at it). It whispers what everyone was thinking about Grant's career: time-ticking-away.
The first comment beneath that story may look silly now, but it was a common sentiment that season:
Mike Mitchell and Trey Johnson should make immediate contributions at LB. Not convinced Curtis Grant is a game player. Some guys look good in practice and choke at game time. We'll see.
Mitchell never played a down in Columbus and is now at Texas Tech. Johnson retired from football due to arthritis. This sentiment returned last season when Raekwon McMillan arrived on campus. 
Highly-touted linebackers have never stopped arriving in Columbus. Grant simply refused to move out of the way for any of them. As for meeting expectations, perhaps they were unfair or just wrong, and no one bothered to wait past his sophomore year to declare him a bust anyway. Besides, Grant didn't create those expectations. Recruiting analysts did.
They're often wrong. Still, fans typically blame failed expectations on the player. It's not their fault.
---
Last week I was editing the Ohio State section of the terrific preseason magazine put out annually by our friends at MGoBlog. It contains the following generally-accepted and repeated statement: The linebackers lose only MLB Curtis Grant, who never lived up to his five-star billing during a tumultuous career in Columbus. 
Grant's epitaph at Ohio State was completed with half of his eligibility remaining. This is now the same guy who holds an open invitation to the Ohio State Captain's Breakfast for the rest of his life.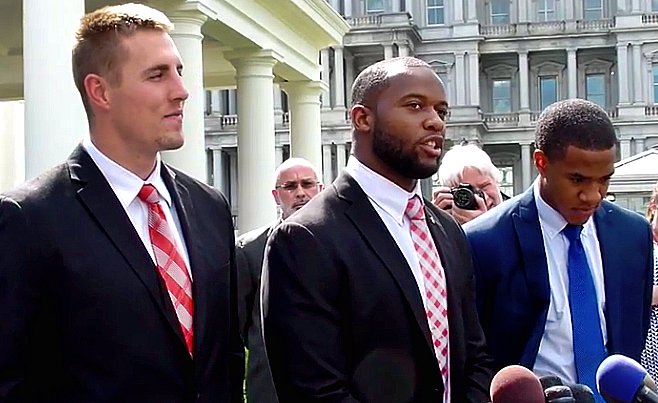 The article goes on to correctly surmise how scary it would be if McMillan becomes the on-field star Grant never became, which is important to bring up because this particular narrative accompanied McMillan onto campus. He was supposed to unseat Grant right away. Fifteen games and a national title later, that never happened.
Instead, Raekwon got a full year of learning under Curtis, and with his mentor's departure he's losing his biggest fan and tutor. This was evident from the moment he stepped on campus up through subbing him out during a live game:
"My big brother Curtis Grant — I talked to him right before I (got on the field for the first time, against Virginia Tech). He really has trust in me, and when he's been helping me for the last eight months that I've been here — nine months, whatever it is."

"Just knowing that I've got support from my big brother and the guy who's been starting here — just going in there and him telling me that he's got confidence in me that I can do it really gave me confidence."

[...]

Everything's that he's done for me is a truly blessing — I couldn't ask for a better big brother here at Ohio State."
Ohio State gave its 5-star LB recruit with impossible expectations the best kind of mentor: His mirror image - but three years wiser, unthreatened and selfless.
---
Grant committed to Ohio State in front of television cameras and with his parents flanking him on National Signing Day. Tragically, he lost his father during the bye week of 2013. Senior never got to see Junior steadily improve on the field, become an Ohio State captain and eventually a national champion. 
A couple of weeks ago Luke Fickell - who served as Grant's second head coach, his coordinator and position coach - presented him with the ring box containing all the gaudy finger jewelry he and the Buckeyes earned during the 2014 season.
Fickell did not mince any words about his linebacker in front of the team:
Sometimes coaches get up and say, I want my son to grow up and turn out just like you and I'd be really happy. The reality is I'm not sure I'd wish that upon my son and the reason I say that is because I'm not sure there are a lot of people who could endure the things you had to endure the past 4-5 years.

So to put somebody in that position to say, hey I want that (points to Grant's championship rings) for my son and my kids, yeah, but to put them through some of the things you had to go through, the struggles you had, the ups and the downs (pause) a lot of you guys don't know about them all, but you've seen him fight. I don't know if I could wish that upon just anybody.

The leadership he's shown is unbelievable. The things he did for our unit, the things you've done for this place are second to none.
Perspective is important here: Fickell arrived on campus in 1992, the year Grant was born. In his years at Ohio State he's seen multiple Heisman winners, national award winners, national champions and Buckeye legends flourish.
The 2015 Buckeyes won't miss who Grant WAS SUPPOSED TO BE, BUT They'll sorely miss who he ACTUALLY was.
And what Grant contributed to Ohio State in that span was second to none. Fickell credited him specifically for bringing greatness back to the linebackers - but his impact reached far beyond his unit.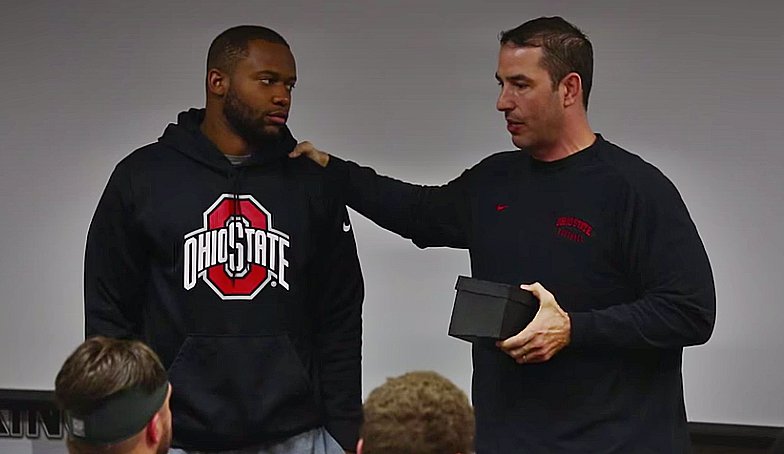 Meyer repeatedly talked about this being the closest team he has ever been around, crediting camaraderie for elevating Ohio State to a championship-level team. Grant may not have been the most productive linebacker on the roster, but he was as good of a glue as the Buckeyes have ever had. That's something stat sheets - and recruiting analysts - still haven't been able to figure out or predict.
What Grant gave Ohio State football should last well beyond his four years on campus, and while McMillan might have the longer runway as a football player he still has enormous shoes to fill in 2015.
It turned out that Grant wasn't the next Katzenmoyer, Gradishar, Spielman, Cousineau, Laurinaitis, Worden, Marek, Tovar or Hawk. It's naive to think Ohio State won't have trouble replacing him because of the popular conclusion around his career, which is entirely based on who he wasn't. That's not who the Buckeyes will miss this coming season.
They're going to have to replace who Curtis Grant actually was. Ohio State has loads of talent, but the gaping void left by his departure just might end up being the biggest hole it has to fill.