King Cardale is already a legend in the state of Ohio.
After leading the team to three straight postseason wins and a national championship, few would've blamed him for leaving school to enter the NFL draft. At 6'6" and over 250 lbs with one of the strongest arms many ever have seen, scouts have every reason to fall in love with the young man's potential.
Jones would've likely been selected late in this year's draft, especially when considering that an NFL team is willing to pay Josh McCown $14 million instead of relying on a rookie from this class. But any NFL team would be betting solely on what Jones might be, as what he showed late in the 2014 season was nowhere near ready for the next level.
As Jones prepares for another season in Columbus though, his timetable for improvement may have sped up more than it would've in the NFL, given the competition for the starting quarterback job. Jones has a major leg up on Braxton Miller and J.T. Barrett however, as the only of the trio healthy enough to take live snaps in practice. 
While normally a multi-year starter like Miller wouldn't benefit all that much from a few weeks on scrimmaging against his own defense, this year's spring practice is more important for those in the QB room as Tim Beck replaces Tom Herman as the group's mentor, while Ed Warinner takes over calling plays.
Few fans and players expect the offensive system to change all that much with Urban Meyer still overseeing the program, but Warinner and Beck will be forced to put a great deal of trust into whomever they send out under center next fall in the opener at Virginia Tech. Simply knowing the playbook won't be enough to separate from this extremely talented pack.
However, Jones still has a long way to go in that department, as the OSU game plan was shrunk for the games in which he started, something Meyer and the other coaches won't settle for as they defend their national championship. Jones should benefit greatly from the increased amount of reps during spring ball though, especially when it comes to developing timing with receivers like Mike Thomas, Jalin Marshall, and Corey Smith.
But not all of Jones' problems relate to the playbook. Blessed with as much natural physical talent as anyone in the country, Jones often relied too heavily on those gifts, and was fortunate not to have cost his team more when doing so. As Jones auditions for the starting gig, there are other areas in which he much improve in the spring if he expects to lead the Buckeyes on the field in the fall.
Pocket Presence

Most likely as a product of inexperience, Jones often looked hurried and uncomfortable when sitting back in the pocket, especially against the talented defenses of Alabama and Oregon. Though he clearly had a green light from the coaches to take off and run if his first or second reads weren't open, Jones often tended to move backwards when feeling rushed in the pocket.
Jones nearly was sacked for a safety in the Sugar Bowl, and his nearly identical fumble to Jameis Winston against Oregon can be traced to his instinctual decision to move further back and away from oncoming blitzers. But moving back in the pocket puts him directly in the track of pass-rushers from the outside, meaning he's continuing to put himself in harm's way with this move. 
It's understandable why Jones relies on this move, as he has both the strength and quickness to shrug off these rushers and keep plays alive on his own. But once Jones begins scrambling, he loses focus downfield, bailing out the defense and effectively rewarding the pass rush for doing their job.
This was clearly a point of emphasis in the 11 days between games in the college football playoff, as Jones occasionally changed his game to step up in the pocket. Not only does he easily side step the rushing defensive ends as he moves up, but more importantly, he's keeping his eyes downfield the entire time, which allows him to complete this deep ball to Devin Smith.
This move requires a lot of trust in the interior offensive line from the QB, but with center Jacoby Boren and guards Pat Elflein and Billy Price returning as starters, Jones shouldn't feel worried about them keeping defenders at bay. Furthermore, Jones can expect opponents to put more pressure on the edge as the Buckeyes look to replace Darryl Baldwin at right tackle, meaning he'll need to rely even more on this kind of movement in the pocket.
Throwing mechanics

As we all know by now, Jones is blessed with a remarkably strong arm, allowing him to make literally any throw on the field. This kind of ability can be both a blessing and curse, as Jones has often relied far too heavily on just his right arm to get the ball to his intended receiver.
Sometimes he gets lucky and his arm alone comes through, like the deep ball to Smith above, but very often Jones misses on throws that he really should complete given how open his receiver may be. Though Jones made big plays in all three games he started, it's easy to forget that he was only completed 18 of his 35 attempts in the Sugar Bowl, showing there is still quite a bit of room to improve.
The key for Jones continues to to be his feet. Sometimes Jones didn't step into his throws at all, relying entirely on upper body strength to get the ball out. While many quarterbacks don't have the strength to complete any passes with just their arms, Jones instead puts way too much on his throws, often watching them sail over the receiver's head.
But even when Jones has time and space to set his feet, his body doesn't always align with where his eyes are headed, leaving him stretched out and off-balance. In this instance, Jones' arm doesn't make up for the lack of power coming from his legs, and the throw comes up short.
Though Jones appears to step through this throw, a closer analysis reveals that his hips are almost completely parallel to the line of scrimmage, leading to an inaccurate throw that lands easily in the hands of a Crimson Tide defensive back. As anyone that's ever thrown a ball knows, the left foot for a right-handed thrower must lead the throw, pointing in the same direction as the ball.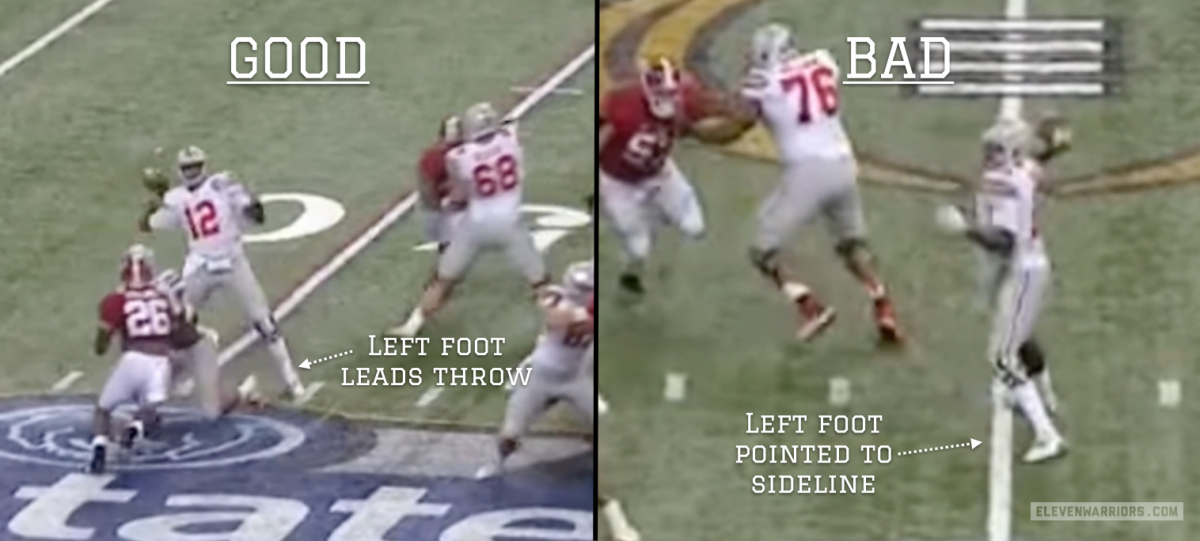 Perhaps what makes this most frustrating is the fact that when Jones does properly set his feet, he has natural pinpoint accuracy downfield, something countless quarterbacks would kill to have. As he'd show later in the Sugar Bowl, and with less space in the pocket, Jones properly steps into his throw, and delivers a beautiful ball to Smith 50 yards downfield.
It's clear that Jones has all the ability needed to develop these skills, and instead of learning something new, it's a question of developing consistency. J.T. Barrett was the poster-child of that attribute before going down with an ankle injury, and no one would blame the staff for relying on him as the safe bet. Conversely, Braxton Miller might be the only QB in America that can compete with Jones on an ability level, and he has nearly 10 times as many career starts under his belt. To build that consistency, Jones will need to make the most of every rep this spring and take advantage of the few live snaps that he'll see before Miller and Barrett presumably join him in training camp.
But there's also another reason for Jones to develop this offseason. Scouts will continue to keep a very close eye on the Glenville product, hoping to see development along the way. While he doesn't have to be a finished product a year from now, Jones could easily move to the top of many draft boards.
Michigan State's Connor Cook and Penn State's Christian Hackenberg fit the classic mold of what NFL teams look for at the position, while Mississippi State's Dak Prescott and TCU's Trevone Boykin put up gaudy numbers in spread offenses, Jones provides teams with a unique blend of both styles. Though he's technically listed as a member of the 2017 draft class, Jones is currently the top ranked QB available in that group according to CBS Sports, and given the premium placed on the position, it's a very real possibility that the first name called in next spring's NFL draft.
He just has to be named the starter of his own team first.