One of the positives, I suppose, about growing older is that we typically develop a better appreciation and perspective on most things than we did in our teens and early 20's and we aren't in such a hurry to move onto "next", whatever that might be. 
With Ohio State capping a seemingly improbable run to the national championship –just the 2nd of my lifetime – with three straight dominating performances as underdogs playing a one-time 3rd string quarterback no less, against the likes of Wisconsin, Alabama and Oregon, I'm not only thankful for historical seasons like this one, I'm just as appreciative they came after I had grown up a little bit as a person.  
Yeah, I know that last bit was run-on and comma-fest but I'm typing from the hip here so try to hang with me. For whatever reason, I prefer this writing to be unfiltered. Sure, it won't come within 10 miles of the incredible prose Ramzy offers but it doesn't have to because it's mostly just a stream of consciousness shared with the intent of hopefully influencing even one of you maybe younger, maybe not, crazed Buckeye fans to slow down and enjoy what we just witnessed. 
Too quickly, some fans can go warp speed from seeing the team up on the stage hoisting a national championship trophy to talking about a multiple titles, a dynasty, how the team is a year ahead of schedule to focusing on who the starting quarterback will be next fall. 
While that's all relevant fodder, the time isn't now to worry about it, at least not too much. Now is the time to enjoy this implausible run to a title for what it was. Savor the moment because no matter how the roster shapes up next year or how deep this upcoming recruiting haul will be there are no guarantees next fall. None. 
Ohio State went 12 years without a national championship before last Monday night happened. It went 34 years between legit national titles before that. It's hard. 
---
As a lad born in 1973, my initial OSU title drought was a lengthy one. In fact, only those born between 1969 and 1972 waited mathematically longer, in the modern era anyway. As such, I feel lucky to have now seen my favorite team in any sport win two national championships with both coming at ages (29 and 41) in which I could fully process the happenings. 
The only downfall to both titles is that I didn't get to watch and celebrate with my dad, the man who raised me a Buckeye, until his passing way back in 1990 when I was but 16 years old. The silver lining to such a tragedy is that I did get to watch and celebrate both championships with my (technically step-) brother, the same guy I've watched 99% of Buckeye games with dating back to the mid-late 90's. 
For the victory in Tempe, our gameday circumstances were odd. We were creatures of habit who believed things like where we watched the game, where we sat on the couch and who else we was us with had an outcome on the game. We also had a 16x20 of Woody in his classic pose that we passed around during games so everyone could rub him for good luck. In between those moments, Woody leaned against the coffee table so he could watch the game too.
On January 3rd, 2003 however, just my brother and I were forced to watch the game in a cracker box of a hotel in Newport News, Virginia, away from the rest of the normal crew, after having won a chance to purchase tickets to see three nights of Phish earlier that fall with the middle show of the run occurring the same night as the national championship date with the Miami Hurricanes. 
Forced to scramble, me and my brother chatted with the guys who normally watched games with us and decided we should take Woody with us to serve as a conduit to good viewing vibes back in Columbus. With the Phish shows being the 2nd, 3rd and 4th they would play since taking an 815 day hiatus, I was able to sell our tickets for the show occurring on the night of the game within about 5 minutes of pulling into our hotel for enough money to cover the cost of the other two night's tickets and then some.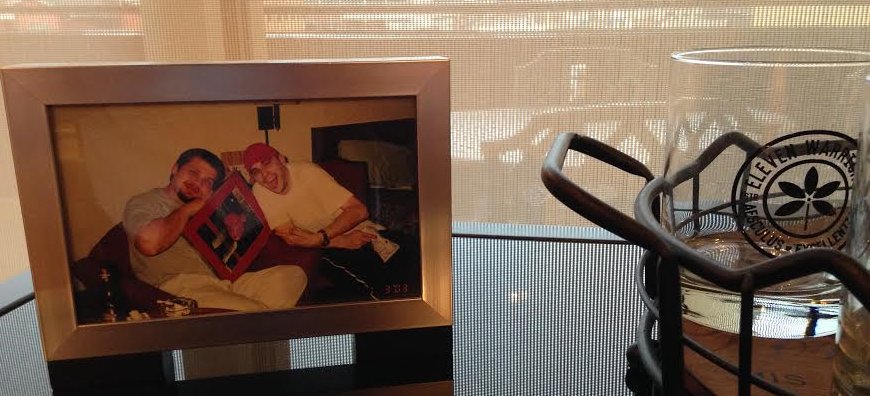 Though we were a bit out of sorts due to the viewing environment, we plowed forward and screamed our heads off during that rollercoaster of a game. I'll never forget jumping and hugging and yelling for what felt like a good 10 minutes after Ken Dorsey's desperate fling fell softly at Donnie Nickey's feet to kick off a celebration 34 years in the making for many, and 29 years for me and my brother. Yeah, we missed a sick concert featuring a Tweezer opener and the always-fun Makisupa Policeman but nothing could top popping our national championship cherries. 
We wore every piece of Buckeye swag we had to the show the next night and were amazed at how many other fans had come to see the three-day run of shows, obviously skipping the middle show to watch Ohio State's date with destiny. The armpit that is Newport News / Hampton Beach area will always have a special place in my heart. 
For last monday's title, there would be no other event impacting our environment. Older, more chill bros, if you will, we were holed up at his house with our significant others in tow. It's hard to get crazy watching games these days as he's got three kids and I'm sitting with a composition notebook on my lap charting plays and taking notes with the laptop at my side, doing the legwork for what will eventually become Five Things. 
That's not to say the victory over Oregon wasn't every bit as enjoyable as the one over the Hurricanes. You never forget your first obviously, and the strange setting only sweetened the story from a historical perspective but the 12 year gap in between titles ensured we would not be taking the moment for granted. The high fives and hugs after every score, the feeling of pure elation when the game clock expired, the reality me and brother experienced another championship victory together, each accompanied by the most special people in our lives made the game one of the best nights of my life. 
---
At the end of day, no matter how young and talented this team might be, repeating is a tall task. Sure, Alabama did it in 2011 and 2012 but you have to go back to the 1994 and '95 Nebraska Cornhuskers to find the next program to do so which is all the more reason to make sure you don't let this one slip away too fast. 
If you recorded it, watch it once every couple months so nearly every key play is seared into your brain. Buy the blu-ray if you didn't. And buy some commemorative swag. Lots of it. Get at least one championship t-shirt and wear the mess out of it. Get another just like it and put it in a drawer to preserve it because you don't know when you'll be afforded the chance to have to buy one for the next title. Plus, owning an original is always better than having to get a throwback. It's just not as nostalgic nor does it mean as much.  
No matter what you buy or how often you replay the game, just make sure you don't turn the page on this incredible story too quickly. With what feels like an embarrassment of riches from a talent and coaching standpoint, you just don't know what might unfold next fall. 
Slow down and enjoy the crown.