This Week in Data, produced by Eleven Warriors and 614Analytics, explores the numbers behind Ohio State athletics through data visualization.
You're reading this on Eleven Warriors, so you don't need us to tell you that the Ohio State–Michigan rivalry is the greatest in sports (despite the best efforts of recent Wolverine coaches to unilaterally ruin things).
The two teams first met in 1897 in Ann Arbor, and the Buckeyes limped away with a 34–0 loss to the mighty Wolverines. Michigan would go on to dominate The Game going 12-0-2 from 1897 to 1912.
Oh, how times have changed.
We turned our eye towards how The Game has changed from that very first meeting. Below you'll find a graphic visualization of the history of this great rivalry.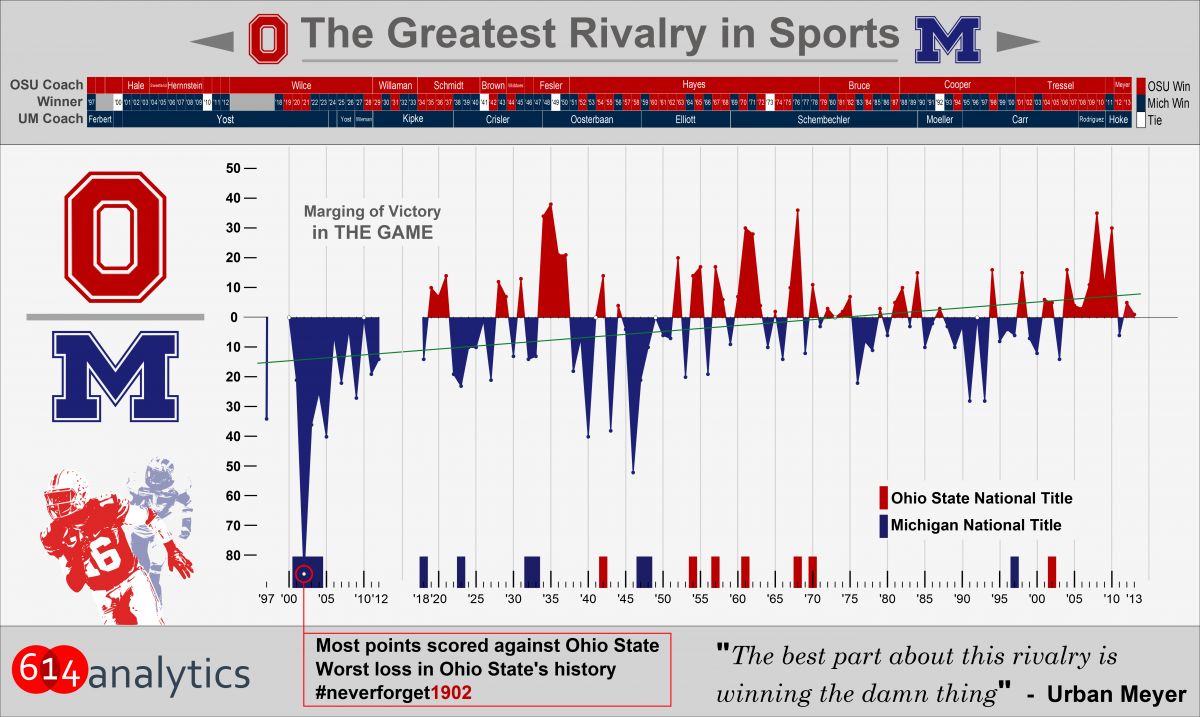 Across the top, you'll find a color coded graph of who won in each year as well as the coaches for both teams. The featured image shows the point differential from Ohio State's point of view from 1897-current.
With a trend line that's hard to deny, it shows a swing in the Buckeyes' favor since the early 1970's – except for the Cooper Era – and it will be difficult for Michigan to retain their 58-45-6 lead for much longer without a serious change of events.
But, a certain data point stuck out to us in the process of creating this visualization.
Let's talk about 1902. The worst loss in Ohio State history came at the hands of Michigan happened that year when the Wolverines crushed the Buckeyes 86-0. To this day it's the most points an opponent has ever racked up against the Buckeyes and also the largest margin of defeat they have ever suffered.
We found a Lantern article, published October 29, 1902 just two days after the defeat prognosticating what was to come. It says, "Never before did Ohio State have such a score run up against her, and she probably never will again."
It's also rumored that Carmen Ohio was written on the train ride home from this devastating loss.
So as we go into the best weekend of the year, never forget the loss of 1902 and use its memory as fuel until Ohio State can return the favor to That Team Up North.