Ohio State clinched a third-straight B1G East division title and a spot in the conference championship game despite committing three turnovers and surrendering 228 rushing yards to Tevin Coleman in a 42-27 win over Indiana on a damp afternoon in the Shoe. 
The Buckeyes actually trailed the Hoosiers 20-14 midway through the 3rd quarter but were rescued by redshirt freshman Jalin Marshall's four straight touchdowns via a punt return, two jet sweeps and a nifty one-handed grab of a J.T. Barrett throw. Marshall's incredible performance was the perfect story line after he committed two costly turnovers in a win at Minnesota last week, drawing the ire of the fanbase's lowest common denominator. 
The win improves Ohio State to 10-1 overall and 7-0 in league play and gives the Buckeyes 23 straight regular season conference victories. 
While Marshall's performance was the talk of the post game, we take a look at five other things from the win before turning our attention The Game against that dumpster fire up north. 
BROKEN RECORD
Shocking. J.T. Barrett broke another handful of records yesterday. With four touchdown passes, though it should be noted two came on jet sweeps, the redshirt freshman broke the school's single-season mark of 30 set by Heisman winner Troy Smith. Barrett now has 33 and Ohio State's season is far from over. 
With 380 yards of offense against the Hoosiers, Barrett also set the school mark for total offense at 3,310 yards, breaking Braxton Miller's old record. Finally, Barrett tied Drew Brees' league record for touchdowns responsible for with 42. Not bad company. 
Despite all the records, Barrett didn't have that great of a day by his standards. Yes, he had 380 total yards and four touchdowns – yawn – he also had two picks. One of those was particularly bad as he overthrew Devin Smith on an ill-advised toss while the other was, at minimum, shared responsibility as he received no help from Evan Spencer on a pass near the goal line. 
It honestly felt like Barrett left at least 100, if not 150, passing yards on the table as he missed a couple wide open receivers for sizable chunks. That said, he still completed 25/35 passes for 302 yards and ran 20 times for another 78. If there was anything to take away from the performance yesterday, it's that this team clearly goes as Barrett goes. The offensive line certainly can have an impact on Barrett's play but at the end of the day, if Barrett doesn't turn it over and racks up 300+ total yards and a handful of scores, I'm not sure who beats this team. If he does turn it over a couple times, the defense might not be good enough to bail him out against an elite opposing offense. 
THE GREAT EQUALIZER
Yesterday was just the latest example of how turnovers can impact a game. Ohio State was easily four of five touchdowns better than Indiana, just as they were easily three or four touchdowns better than Minnesota and probably three touchdowns better than Michigan State but turnovers helped keep all three final scores closer than necessary.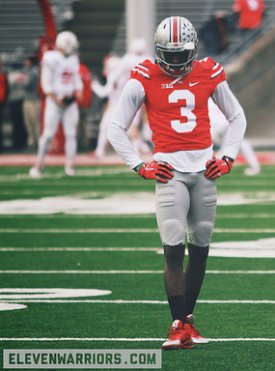 Eleven games into the season, two facets of the game stand out as the most likely to get Ohio State beat against a good team. One is the rush defense and the other is turnovers. 
Over the last three games, the Buckeyes have turned it over a ridiculous eight times, or 2.67 turnovers per game. Conversely, over the first eight games, they turned it over 12 times, or 1.50 turnovers per game. 
Beyond the two interceptions, wide receiver Michael Thomas had the third turnover as he failed to secure the ball on a six-yard reception, allowing Indiana to kick a field goal and cut Ohio State's lead to 14-10. 
There's the obvious impact of turnovers in that they stop drives and can often swing momentum but the other concern is that often, turnovers by the offense can put Urban Meyer and Tom Herman into an overly conservative playcalling funk. 
The Buckeyes must clean up the miscues before they run into a great team or they might finally pay a costly price for sloppy play. 
NEARING THE END
Coming off the best season by a tight end since Rickey Dudley back in 1995, it looked like Jeff Heuerman was primed for a record-setting season. 
The stars haven't quite aligned however as Heuerman nursed some injuries and Ohio State's offense found a handful of other weapons including his backup, Nick Vannett. The result before yesterday's kickoff was a meager 11 grabs for 120 yards and one score for the senior though Heuerman's leadership and blocking were certainly still factors in Ohio State's season. 
Against Indiana, Heuerman was featured early and often as he hauled in a season-high five passes for 74 yards a touchdown. Interestingly, his four-yard touchdown reception on 4th down was his easiest play of the day. Right before that snap, he recorded a 12-yard catch on 3rd and 15 in which he dragged half of Indiana's roster for about five yards. 
Nursing a 21-20 lead, Heuerman converted a big 3rd and 3 with a 13-yard catch to set up Marshall's jet sweep to put OSU in front 28-20 early in the 4th quarter. On Ohio State's next possession, he had a beautiful 32-yard grab to put the Buckeyes in business at the Indiana 30 but it would go for naught thanks to a missed field goal. 
Overall, it was a great day for Heuerman and should give Ohio State's foes in the B1G title game and bowl/playoff something to think about before the class act from Naples, Florida moves on to the next level. 
EZE GETS HIS G
Needing just 46 yards to become Urban Meyer's second back to reach 1,000 rushing yards in a season, Ezekiel Elliott got that out of the way early as he took his first carry 65 yards to paydirt.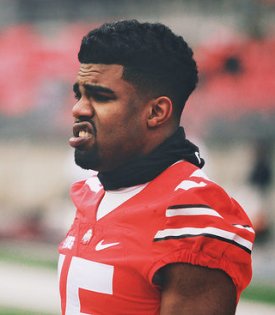 He would carry it 12 more times for just 42 yards as the line struggled to open holes but he still amassed 107 yards on 13 carries to give him 1,061 rushing yards through 11 games. On the season, he's averaging 5.9 yards per carry and 96.5 yards per game which I know any fan would've signed up for preseason knowing Elliott was being tasked with trying to replace the nearly irreplaceable Carlos Hyde. (In case you're curious, Hyde averaged 7.43 ypc and 138.3 ypg.)
While Elliott's most meaningful contribution has come via the ground, his ability to both catch passes and deliver blocks cannot be overlooked. 
Elliott has emerged as one of the best pass and run blockers the school has produced, as he completely sells out in an effort to help a teammate gain a few extra yards or provide Barrett another half-second to find a receiver with his stellar blitz pick-ups.
Through the air, Elliott has become a factor in the swing / short passing game. Yesterday, the true sophomore had seven grabs for 39 yards giving him 25 catches for 201 yards on the season which ties him for 2nd on the team in receptions and slots him 5th in yardage. 
He may not yet be on the level of other B1G backs such as Melvin Gordon, Tevin Coleman, David Cobb, Jeremy Langford and Ameer Abdullah but he's improving as the season goes on and for a second year player, you have to love his well-rounded game. 
With guys like Rod Smith and Bri'onte Dunn falling by the way side and Curtis Samuel getting nicked early, Ohio State would be nowhere close to 10-1 without Elliott doing a hell of a job trying to fill Hyde's shoes. Tip of the cap to Elliott for his work. The fact he's just getting started is icing on the cake. 
GLASS HALF FULL VERSUS HALF EMPTY
Your outlook on life probably coincides with how you feel about the Ohio State defense as it continues to be a bit enigmatic. After Langford and Cobb racked up solid rushing yardage in back-to-back weeks, all eyes were on how the defense would perform against Campbell and when the clock struck zeroes, Campbell had run for 228 yards on 27 carries with three touchdowns. The 228 yards were 58 better than his average in league play.
If you're a "half full guy", you note that Coleman got loose for runs of 90 and 52 yards but on his other 25 carries, he ran for just 86 yards for a rather pedestrian 3.44 yards per carry. 
If you're a "half empty guy", you saw Josh Perry and Curtis Grant fill the same hole while Tyvis Powell took a terrible angle to spring a – gulp – 90-yard score and the three solid running backs the defense has faced have amassed a combined 510 yards and nine touchdowns on a horrifying 7.08 yards per carry. 
In between Coleman's gashes, the defense did tighten in the 2nd half as they forced five 3-and-outs and an interception during one six-series stretch but, again, depending on how positive you are as a person, you're ranging from drinking the Kool-Aid or reserving a spot on the ledge in prep for a likely date with Gordon and the Badgers in the league championship. 
For now, however, it's time focus on watching this team beat Michigan's ass.
Again.