Picked to lose by what felt like roughly 90% of America, Ohio State rode an aggressive offensive gameplan executed masterfully by redshirt freshman quarterback J.T. Barrett to take down 8th-ranked Michigan State, 49-37, last night in East Lansing. 
Barrett's five total touchdowns, buoyed by 154 yards rushing and two scores from sophomore Ezekiel Elliott along with timely plays by the defense allowed the Buckeyes to re-enter the college football playoff conversation while improving to 32-3 under Urban Meyer. 
The win also improved Ohio State to 15-5 all-time in East Lansing and extended its road winning streak to a FBS-best 12 straight games. 
With those heady nuggets as the backdrop, we revisit Five Things from last night's much needed big game victory by Urban Meyer's outfit. 
JOE. THOMAS. BARRETT.
A lot of Buckeyes played well last night but J.T. Barrett remains the straw that stirs the drink.
Barrett, who hadn't been at his best when facing the two legit defenses on OSU's schedule prior to to last night, simply carved up the Spartans with both his arm and his legs as he completed 16/26 passes for 300 yards and three scores while adding another 86 yards on the ground (6.1 ypc) with two touchdowns. 
The five total touchdowns came in the game's first 48 minutes, giving him 34 scores on the season, moving him to within three of breaking Braxton's school-record 36 total touchdowns set last year. 
Even when he was done scoring, Barret was still dominant as his 55-yard run on 2nd & 8 midway through the 4th quarter, with OSU nursing a 42-31 lead, moved the Buckeyes from their own 24 to the Sparty 21-yard line. Two plays later, Elliott found the end zone to make it 49-31 with 7:12 left to essentially euthanize the Spartans. 
Props to Meyer and Tom Herman for calling an aggressive game but they could only do so if they had enough confidence in Barrett, making his 9th career start, and the kid delivered. His throws were mostly right on the money and it wasn't just a dink and dunk kind of night as he beautifully led guys on crossing routes and perfectly placed teardrops over the outstretched arms of Spartan defenders. 
Statistically, he's earned his way back into the Heisman finalist conversation and what he did on 3rd down last night was so damn good that it needs its own Thing to make sure it gets proper acknowledgement. 
MOVING THE CHAINS
I would be remiss to start this section without first hat-tipping the offensive line for a standout performance in the biggest game this season. Billy Price was shaky early but the entire unit came together to open holes and generally give Barrett the time he needed to throw (2 sacks). 
That said, Barrett flat out owned 3rd down last night. The Buckeyes went 10/14 on the most critical down in football which is already a ridiculous 71% but Barrett himself was even slightly better as he either ran for, or was the trigger man, on nine successful conversions in 12 tries (Elliott 1/2).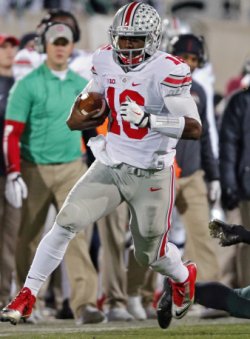 Of his nine conversions, Barrett ran for five of them himself and passed for another four. The most notable was his perfect over the shoulder throw to Devin Smith for 43 yards on what seemed like a doomed 3rd and 23 snap. Capitalizing on the incredible play, Barrett himself would score five plays later on a 4th and Goal to tie the game at 14 all. 
Two possessions later, Barrett picked up a key 3rd & 2 with a 12-yard completion to to Evan Spencer on a designed rollout. Again, taking advantage of the conversion, Barrett found Smith on a 44-yard streak two plays later giving OSU a 28-21 lead at the break. 
After Sparty cut the lead to 28-24 on a six-minute drive to open the 2nd half, Barrett had the answer as he went 2/2 on 3rd downs, one via a short run and the other on a clutch 16-yard out to Dontre Wilson before Elliott plunged into the end zone from one yard out to cap Ohio State's own six-minute drive, extending the lead to 35-24. 
Finally, on 3rd & Goal from the MSU 7-yard line early in the 4th quarter, Barrett made a great throw to Wilson on an out route to push the lead to 42-24. 
Two of Barrett's "failures" on 3rd down occurred as he faced a 3rd & 15 and only found Smith for nine yards before Sean Nuernberger missed a 47-yard field goal, and on 3rd and 29 when he was sacked on a possession that was one of the bigger shitshows in recent memory. The third and final failure to convert came on Ohio State's last possession, after Barrett had already picked up two 3rd down conversions, so the Buckeyes still ran 10 plays and chewed up nearly five minutes to ice the game. 
ALL HE DOES IS CATCH TOUCHDOWNS
I wrote in last week's Five Things, after Devin Smith hauled in three catches for 72 yards including a 32-yard touchdown, that it was perfect timing as it would give Pat Narduzzi something to think about (not that Smith hasn't owned Sparty before) and by extension, hopefully keep the green and white from completely selling out to stop the run and pressure Barrett. 
To what extent Narduzzi schemed to account for Smith isn't known but whatever he drew up didn't work as Smith scorched the Spartans with six grabs for 129 yards and a touchdown (with another 18-yarder erased due to penalty), effectively taking the top off the vaunted MSU defense on two separate occasions. 
Interestingly, Smith already had four catches in the bag before his two biggest impact plays of the night. Early in the 2nd quarter, facing a 3rd and 23 and trailing 14-7, Smith made a spectacular play as he hauled in a 43-yard strike from Barrett. It was a nice throw to be sure but Smith did a great job of controlling his body and tracking the ball as he was able to adjust from looking over his left shoulder to catching it over his right shoulder, very near the the right sideline. Five plays later, the game was tied at 14 and the crowd was hushed. 
Finally, late in the 1st half with the game tied at 21, Smith lined up in the slot and outraced his man for a relatively easy 44-yard touchdown reception to again take the wind out of the crowd's sails as OSU went up 28-21. 
The play was obviously huge at the time but took on even more meaning when you consider Ohio State is now 20-0 when Smith catches a touchdown pass. The grab also moved him into 3rd on the school's all-time touchdown reception list (26). 
CUZ YOU'RE GROWNS UP AND YOU'RE GROWNS UP
There is still plenty of growing up to do considering the incredible amount of freshmen and sophomores playing meaningful minutes but this year's Buckeyes took a huge step forward in the maturation process as they beat a favored veteran team on the road. 
Not only that, they captured the win after overcoming a ton of early self-inflicted adversity, and turned the game in their favor during a pivotal four minute stretch to end the 1st half. 
A sampling of the early carnage included Nuernberger missing another field goal, Gareon Conley getting scorched twice by Keith Mumphrey and missing a few tackles, Jalin Marshall failing to clear out his teammates before Jeff Greene failed to locate a Spartan punt thus extending possession and scoring one play later, and a slew of unforced penalties before Wilson made what could have been a fatal mistake as he fumbled a kickoff at the 18-yard line with the Buckeyes already trailing 21-14 and just over four minutes left in the half.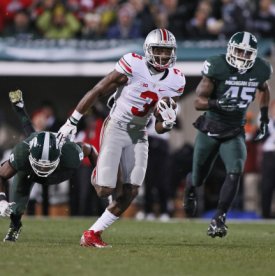 Instead of rolling over or pointing fingers, the defense went to work forcing a pair of incompletions in between a 7-yard run and an offensive holding penalty before Michael Geiger missed a 39-yard field goal to keep the deficit at 21-14 with 3:30 left in the half. 
On the ensuing possession, Barrett hooked up with Michael Thomas on a slant and thanks to Mike's ability to get off the line of scrimmage with a nice fake outside before cutting inside, and impressive speed for a man his size, Thomas outran the safety for a 79-yard touchdown to tie the game at 21 with 3:19 left in the half. 
The Bullets took the field once more and came up big behind Michael Bennett and Doran Grant, forcing a punt which Marshall promptly returned 26 yards to give Ohio State's offense the ball at their own 36 yard line with 1:59 remaining. After a pair of completions moved the ball to the MSU 44-yard line, Barrett found Smith for the noted 44-yard touchdown toss giving the Buckeyes a 28-21 lead they would take into the locker room. 
In a nutshell, the Buckeyes were staring down the barrel of a potential 28-14 deficit late in the half had the defense not held after Wilson's fumble and in a span of four minutes, they picked up two scores of their own to flip both momentum and the score. That's growing up right there, folks. 
IT TAKES A VILLAGE
The defense wasn't exactly lights out as Michigan State racked up 536 yards of total offense, didn't turn the ball over, went 8/15 on 3rd down and saw Jeremy Langford rush for 137 yards (7.6 ypc) and three touchdowns but they did what they needed to do to help win the game. That said, while this defense is obviously improved over last year's shit show of a unit, room for improvement remains. 
Despite the fact Sparty racked up a ton of yards, 37 points, and Joey Bosa was mostly a non-factor, there were still defensive highlights to celebrate. 
First, the pass defense was solid in the opening half, holding Connor Cook to 6/18 for 98 yards and a touchdown. If not for backup cornerback Gareon Conley getting picked on a few times by Cook and Keith Mumphrey (2 rec, 59 yards), those numbers would've been even better.
Cook finished with 358 yards passing as OSU played with a double-digit lead for most of the 2nd half but I thought Doran Grant was outstanding as he was mostly responsible for holding Tony Lippett to 64 receiving yards without a touchdown though Lippett was averaging around 130 yards per game in B1G play. Grant finished with six stops and two pass breakups. 
Opposite Grant, a nicked Eli Apple had his moments with four stops, a TFL and two pass breakups while safety Vonn Bell added seven tackles and a pass breakup. 
In the front seven, Michael Bennett stood out the most. It seems he was constantly in the Spartan backfield and tallied four stops, two TFL, a forced fumble, a batted down pass and a sack in easily his best performance this season. Alongside him, Adolphus Washington also came up big with six stops, a TFL, a forced fumble and a quarterback hurry. With Bosa neutralized, solid efforts from those two was huge. 
Finally, Darron Lee was his usual disruptive self with six solo tackles and pass breakup and a hurry.
Again, this group still isn't quite worthy of the Silver Bullets label but they made plays when they needed to and continue to show improvement over the past few years especially in pass coverage.