When a young man chooses the university where he'll play his college football, it's obviously a very big decision in his life.
But that decision spirals outward and affects everyone around the player. Aside from the player himself, no one is as directly impacted by the college of choice as the player's parents. Folks raise their kids, nurture them, and often make great sacrifices to ensure their boys have everything they need to be successful while they're growing up. But when they're ready to leave the nest, parenting doesn't stop.
According to Darron Lee's mother, Candice, the process of choosing a school starts early and parents are a part of that.
"I was very involved in his recruitment," she said. "I videotaped Darron's games and made his highlight tapes. I sent them to writers like Bill Greene and Marc Givler throughout high school. I tell parents that they have to advocate for their son. Some high school coaches aren't very proactive about getting the college coaches to see their players. Mark Mueller at New Albany was very good."
Ezekiel Elliott's mom, Dawn, got so used to recruiting trips during her son's junior and senior years in high school that the six-hour trip from St. Louis to Columbus seems like no big deal.
"St. Louis to Columbus and back seems like nothing," she said. "I guess I'm so used to it now it doesn't seem that bad at all."
And what did she get in return for all those long drives? Ezekiel would tease her at times by texting her that he was "taking his talents" to St. Louis-area schools like Forest Park Community College and Fontbonne University—neither of which happens to field a football team.
The parents see virtually all the same things on these visits as their sons do. They are being recruited too, because if you can sell the parents on the program, it can be the crucial opening needed to sell the player. Dawn Elliott and Candice Lee were both sold on Ohio State.
"Ohio State was the university I wanted to go to coming out of high school. But my parents didn't have the money," said Candice. "I wanted Darron to get the best education possible. When we moved here in 2007 from Chattanooga, we were big SEC fans.  
"Darron grew up in the shadow of Rocky Top. Alabama, Florida and Georgia were very close neighbors. And of course, Urban Meyer was busy winning championships and Darron was a huge fan. When Coach Meyer got the Ohio State job, I knew Darron was sold. We just had to find a way to get a scholarship offer. But I made it clear that coaches come and go, so he had to be sure he wanted to be a Buckeye."
For Dawn Elliott, the coaching staff and her rapport with the other parents made Ohio State a favorite.
"If he was going to pick a school, I either wanted him (at Ohio State), Notre Dame or Mizzou," she said. "Those were the three, just because of the relationships that I felt with the coaches from those schools. When he picked Ohio State I was perfectly fine with it.  It's such a family atmosphere. We're all very close. Candice (Lee) and Annie (Apple) in particular, we keep in touch like every day."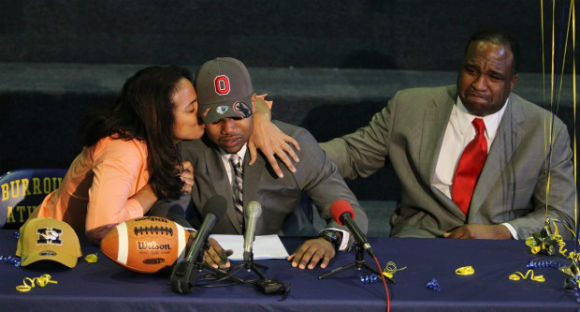 Players aren't the only ones who can be turned off by an experience during the recruiting process.
"Cincinnati was out because, while they were first to recruit Darron, they were the last to offer a scholarship. We didn't have time for those mind games," said Candice Lee. "I wasn't comfortable at Illinois because Coach Beckman couldn't remember his name. He kept calling him Duron. We didn't appreciate negative comments about other programs by the coaches there."
Darron Lee and Ezekiel Elliott are both fighting for spots in the starting lineup this year. While some parents might find it tough to be powerless to help their sons along on this journey, these Buckeye moms think they have the easier end of the deal.
"I wasn't comfortable at Illinois because Coach Beckman couldn't remember his name. He kept calling him Duron."
"It's not a big deal to me whether he starts or not," says Dawn Elliott, matter-of-factly. "It's probably more difficult on him because he's actually doing the work. It might be harder for me if he wasn't happy but he's happy and he loves it. It's very competitive in that running back room."
"Physically, (Darron) has the tougher battle," agrees Candice Lee. "Mom isn't wearing the pads and she sure as hell isn't getting up at the crack of dawn to work out. But as a parent, you worry about your player. This is a job and if you aren't good at it there are three or four other guys behind you ready to put in the work. Raising a son alone is hard work; being a Buckeye is even harder."
Getting to the games can also be an issue for parents. Dawn and Stacy Elliott must drive from St. Louis to Columbus for home games. Sometimes road games are a little easier.
"Last year we had a pretty good schedule because we had road games at Northwestern, Purdue, and Illinois," said Dawn. "So all those games were fairly close to St. Louis. In fact, Purdue and Illinois I just did day trips."
Dawn missed only the Penn State game (family scheduling conflict) and the trip to California last season.
But even living locally doesn't guarantee a parent can make all the games. Candice Lee is the weekend anchor for NBC4 and that often prevents her from watching Darron in person.
"I probably won't be at the Michigan State game this year and it's a tough pill to swallow," she said.
Work schedule aside, attending games can be pretty pricey. 
"The flights alone will kill your budget," said Candice Lee. "Hotels are robbing you without a gun with those high prices. Some families can afford to travel to every game, but the majority can't. It's sad."
The new playoff format and recent addition of a Big Ten Championship Game add to the travel costs. Urban Meyer has gone on record encouraging the NCAA to allow schools to help families get to these important postseason games through a travel fund.
"It's definitely tough. As parents, you get free tickets but you don't get free travel," said Dawn Elliott. "I'm sure everybody would love to see their son play, but realistically everybody can't do it. So there should be some kind of compensation as far as helping parents get to see their sons play. I agree with Coach Meyer 100 percent."
"The conference game is doable, but those other games alone could cost me $5 thousand or more," adds Candice.
So what's the toughest thing about being a Buckeye mom?
"The only thing I struggle with is, at his position, Ezekiel's always either getting hit or blocking, so it's physical," said Dawn Elliott. "That's my biggest fear, I guess, is him getting hurt."
Candice Lee has a much different struggle.
"I change shirts a thousand times on game day," she said. "I literally can't decide between a scarlet or gray shirt. I need to get a number 43 jersey to end the confusion. But then, I won't be able to decide between a red jersey and white jersey."