While the offensive and defensive units are typically the most talked about groups as fans gobble up all the information they can in prep for the season opener, a championship caliber team strives to be elite in all three phases. 
This year's special teams units, though sporting the nation's best punter, aren't without question marks especially at placekicker where two guys who've never made a collegiate field goal vie for the job and at punt returner where there seems to be loads of talent but again, no player on the current squad has returned a punt at this level. 
With those factors serving as a backdrop, today we look at the candidates and how things might shake out on the various special teams units. 
PUNT TEAMS
Ohio State welcomed Australian sensation Cameron Johnston into the Ohio State family last summer after video evidence of his kicking expertise as a former Australian Rules Football player was viewed by Urban Meyer and special teams coordinator Kerry Coombs. 
The move paid off in spades as Johnston's unique skill combined with Coombs' direction to focus on high kicks yielding little opportunity for return produced a number of eye-popping results including:
Finishing 2nd in the B1G with a 44.0 punting average, also good for 16th nationally.
Leading the nation in percent of punts downed inside the 20, a ridiculous 31 of 49 kicks, good for 68%. 
Placing 2nd in the country with 28.6% of punts being downed inside the 10 (14/49). 
Against Wisconsin, Johnston punted six times: all six were downed inside the 20, five inside the 10.
Against Illinois, Johnston set Ohio State's single-game record with a 57.0 yards per punt average, topping Tom Skladany's 52.3 yards per punt mark set way back in 1976. 
Because of Johnston's ability, the punt coverage team was largely untested as they were forced to tackle a punt returner just seven times all season. Only Auburn had less true coverage attempts with five. Though the sample size was small thanks to Johnston's bionic leg, the punt coverage unit ranked 119th nationally in punt return average (16.43 yards per) and gave up one touchdown, a 67-yard gallop V'Angelo Bentley of Illinois. 
This year, the strategy of working to eliminate opponent return opportunities will likely be the same considering how well the stats stacked up in Ohio State's favor a year ago but with the continued infusion of speed and talented guys at positions like linebacker, efficiency of the coverage team should be enhanced. 
At the line of scrimmage, Ohio State finished 2nd in the nation with three blocked punts a season ago and didn't allow an opponent to block a punt in 49 tries. Again, as the talent pool gets richer in long, athletic players, an aggressive style should produce another handful of blocks. 
Though Ohio State held opponents' punt return game in check, they didn't exactly set the world on fire in that facet themselves, ranking 7th in the B1G and 60th nationally with a 8.1 yards per return mark and you might remember a muff or two. Philly Brown returned 23 of Ohio State's 27 opportunities (not counting the three blocks) averaging a pedestrian 7.8 yards per attempt. With Philly no longer on the roster, the job is wide open. This early in practice, it's hard to get a solid read on who will seize the role but there's reason to believe redshirt freshman Jalin Marshall will get plenty of looks over the coming weeks. Beyond Marshall, it's likely Dontre Wilson will get a chance to show what he can do though his expected workload in other areas could be a factor in ultimately leaving him out of the mix. 
KICKOFF TEAMS
Who will kick off when Ohio State tees it up against Navy is yet to be determined with both Kyle Clinton and Sean Nuernberger hoping to win the job. Clinton, a 3rd-year walk-on senior from Dublin Coffman, has five career collegiate kickoffs to his credit with two in 2012 with one touchback and three more in 2013 with another touchback in two years as Drew Basil's primary backup. Meanwhile, Nuernberger is a true freshman early enrollee with a big leg. The pair will also battle for the #1 place kicker role but more on that in a minute.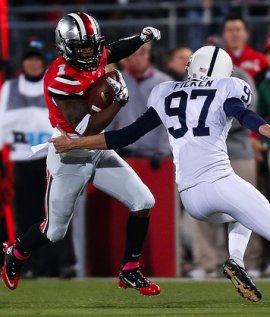 Looking at kickoff coverage, the Buckeyes ranked 12th nationally surrendering just 18.4 yards per return while placing 2nd in the B1G with a 41.0 yard net kickoff average. The unit was forced to cover 74% of the kickoffs as 26% of Basil/Clinton's efforts went for touchbacks. This year, though it's hard to know yet if the kicker's strong suit will be putting the ball in the end zone or dropping it neatly in an inside the five corner of the field, the coverage unit should be more than serviceable based on the athletes Coombs will have at his disposal. 
On the kickoff return front, last year's crop of guys produced an average of 22.9 yards, good for 3rd in the league and 42nd nationally. Wilson was the primary return man with 21 tries featuring a long of 51 and an average of 24.9 while no other Buckeye on the roster had a legit attempt. This year, Wilson figures to again be back deep but the competition will be stiff with guys like Johnnie Dixon, Curtis Samuel, Marshon Lattimore, James Clark and Parris Campbell hoping to get enough attempts in camp to make a name for themselves. Unscientifically, I like Dixon and Samuel as the favorites to join Dontre back deep. 
PLACEKICKER
One of the most important position battles on the entire team is at placekicker where Clinton and Nuernberger wage a battle to earn the job vacated by Drew Basil and his 90% accuracy from a year ago. 
Under most circumstances the senior would have the edge because it would likely come with experience but considering neither player has attempted a field goal at this level and Nuernberger's resume, the edge has to go to the young kid at this point. 
Clinton does have a perfect 3/3 extra point mark at Ohio State but Nuernberger comes in ranked as a top 10 kicker by all the major services. The two-time all-state product was 13/20 as a high school senior but his seven misses featured five blocks and misses from 54 and 56 yards though he did connect from 57 while also averaging 42 yards as a punter. 
With Urban's tendency to go for it on 4th and short, the placekicker has been a bit marginalized during his tenure in Columbus but in a tight game, a legit kicker is still a difference maker. With that in mind, Meyer and company are obviously hoping one of these guys puts a choke hold on the job and the favorite for now has to be the newcomer.