In a scheduling rarity, the 2014 Ohio State football Buckeyes will open the season away from the friendly confines of Ohio Stadium as they take on the Navy Midshipmen in a neutral site affair at M&T Bank Stadium in Baltimore. 
The non-home opener will mark just the 13th time in 125 seasons of football the Buckeyes have elected to kickoff the schedule outside of the Shoe. The scheduling anomaly is a worthy footnote in Urban Meyer's quest to bring a national championship to Columbus as history shows the Buckeyes are just 7-5 in the previous 12 season openers away from while they've won 30 straight season openers at home with the last loss coming way back in 1978 in the form of a 19-0 defeat at the hands of Penn State. 
As you might expect, considering Ohio State's current standing as one of the truly elite programs in college football, nearly half of the season opening roadies took place back when the Buckeyes were a fledgling program not yet able to call Ohio Stadium home. From the football program's inception in 1890 through 1912, the year zippers and the traffic light were invented for some perspective, Ohio State opened their season away from home five times, winning just two, against regional competition. 
OSU ROADIE SEASON OPENER RECORD: 1890-1912

YEAR
W-L
OPPONENT
SCORE
1890
W
OHIO WESLEYAN
20-14
1892
L
OBERLIN
0-40
1893
L
OTTERBEIN
16-22
1894
L
AKRON
6-12
1912
W
OTTERBEIN
55-0

 
The first season opening roadie in school history was notable in many ways. According to Jack Park, it was only made possible after junior George Cole took up a collection to buy a football and rulebook before convincing a buddy, Alexander S. Lilley, to be the team's first coach, free of charge. 
Taking place on a Friday in early May, the Buckeyes defeated Ohio Wesleyan, 20-14, in a game where the scoring system awarded four points for touchdowns, two points for conversions and five points for field goals. That fall, Ohio State would play three more games and finish the slate at 1-3 after shoutout losses to Wooster (64-0) and Denison (14-0) followed by an 18-10 loss to Kenyon College. 
Fresh off a 2-2 season in 1891, the 1892 Buckeyes opened an eight game schedule at Oberlin with a 40-0 defeat. While the score wasn't notable as Ohio State got blitzed, the footnote here is that John W. Heisman made his head coaching debut for the Yeomen, kicking off a legendary career that would eventually see the sport's most famous trophy named in his honor. Interestingly, after the 40 point shellacking, Ohio State would win it's next three games in shutout fashion, 62-0 over Akron, 80-0 over Marietta and 32-0 over Denison before a rematch with Oberlin resulted in another blowout, this time 50-0. Ohio State would go on to finish the season with a 5-3 record. 
The 1893 squad kicked off what would evolve into a 4-5 record with a season opening loss at Otterbein, 22-16, but with the program gaining popularity, the 1894 season saw the Buckeyes play three games technically away from home, at the Ohio State Fairgrounds, including a season opening loss to Akron, 12-6. 
In what would be the last opener away from home for 62 years, the 1912 Buckeyes got smoked by Otterbein, 55-0. The Buckeyes would go 6-3 that year but the 1912 season if far more notable in that it was the last in which Ohio State would play Michigan until 1918 because the Buckeyes joined the Western Conference (eventually known as the Big Ten). With Michigan having left the Western Conference in 1906, member schools could not play the Wolverines, a team Ohio State had not beat in 14 previous tries. Michigan joined the league prior to the 1918 season and the Buckeyes registered their first win over the maize and blue in 1919, a 13-3 win in the state up north. 
OSU ROADIE SEASON OPENER RECORD: 1974-1999

YEAR
W-L
OPPONENT
SCORE
1974
W
MINNESOTA
34-19
1975
W
MICHIGAN STATE
21-0
1986
L
ALABAMA
10-16
1994
W
FRESNO STATE
34-10
1995
W
BOSTON COLLEGE
38-6
1998
W
WEST VIRGINIA
34-17
1999
L
MIAMI, FL 

 

12-23
Fast forwarding 62 seasons, the 1974 Buckeyes were coming off a 10-0-1 record good enough to capture a share of the Big Ten Championship and a Rose Bowl when they made their season debut at Minnesota. Despite high expectations, worry was prevalent after Woody suffered a heart attack early that summer. The old man wouldn't be denied, however, and neither would the Buckeyes as they turned back the Gophers, 34-19, after holding off quarterback back Tony Dungy's attempt at a 2nd half comeback. Ohio State had raced out to a 28-6 bulge on the strength of Archie Griffin's record setting day. With 133 yards, Archie took over the school's career rushing yards record, in game one of his junior season. In what would become a disappointing season, Ohio State finished 10-2 after getting jobbed by the refs in a 16-13 loss at Michigan State before falling 18-17 to USC in the Rose Bowl. 
In 1975, Ohio State would again open on the road, the first time in 81 years they played back-to-back roadies to start a season, but it was worth it as they exacted revenge on 11th-ranked Sparty, 21-0, in East Lansing. That would be the first of 11 straight wins before the Buckeyes fell to UCLA, 23-10, in the Rose Bowl, costing them a national title. 
Following the '75 season, the Buckeyes would open at home for 10 straight years before taking on 5th-ranked Alabama in the Kickoff Classic held in the Meadowlands. Freshman kicker Pat O'Morrow missed three field goals in a 16-10 loss that saw 'Bama outscore the Buckeyes 10-0 in the 4th quarter. Behind Chris Spielman and Cris Carter, Ohio State eventually finished 10-3 with a 26-24 loss to Michigan after a Matt Frantz 45-yard field goal try with a minute left was no good followed by a 28-12 win over Texas A&M in the Cotton Bowl. 
Entering the 1994 season, John Cooper's squad was coming off a 10-1-1 season and featured a new starter at tailback in Eddie George. A junior, Eddie had seen spot duty his first two seasons with 79 carries and eight touchdowns along with a couple soul-crushing fumbles. In the season opener against Fresno State in the Disneyland Pigskin Classic in Anaheim, California, George scored twice and ran for 90 yards as the Buckeyes thumped the Bulldogs, 34-10, in front of barely 29,000 fans. The season itself, however, was a dud as the Buckeyes posted a 9-4 mark with losses to Washington, Illinois, Penn State and Alabama in the Citrus Bowl. 
A year later, the Buckeyes opened the 1995 campaign on the road with a return to the Kickoff Classic in East Rutherford, New Jersey, where they would hand out a 38-6 beat down to a whiny Boston College squad.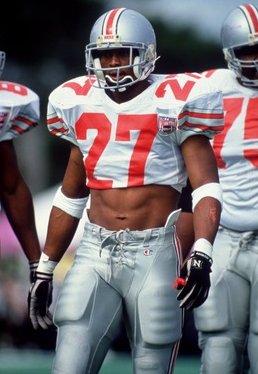 Featuring a bomb squad including names like Pace, George, Hoying and Glenn and anchored by a defense sporting Finkes, Vrabel, Fickell and Springs, the Buckeyes outgained the Golden Showers 488-300 prompting an offensive lineman to talk about how unimpressed he was with the defense and that he had no respect for the way Ohio State played at all.  Scoreboard, Pete. Scoreboard. 
You already know how the 1995 finished so I won't rip the scab off what was shaping up to be a spectacular season before it was Biakabatuka'd. 
Easily my favorite season opener away from home, the 1998 Buckeyes took to the hills of Morgantown, West Virginia to battle the 11th-ranked Mountaineers at night. The atmosphere was electric as WVU students prowled the scene outside the stadium in packs, racing up and screaming in the face of Ohio State fans about the thumping top-ranked OSU was about to take. West Virginia did have a solid offense paced by Marc Bulger and Heisman contender Amos Zereoue but their fans were in a dream world as it related to how their squad matched up against arguably Ohio State's most talented roster in school history. 
In a 34-17 win, the Buckeyes scored 20 straight points after falling behind 3-0 and held Famous Amos to 77 yards on 20 carries including -3 yards on seven carries in the 2nd half prompting one Mountaineer offensive lineman to say, "I hope we don't see defenses like that again." In attendance for this one, easily my favorite OSU game attended in person, I kept my head on a swivel as WVU fans lived up to the hype both inside and outside the stadium. The '98 squad would go on to outscore its opponents 430-144 during an 11-1 campaign that while tainted by the home loss to Sparty, doesn't erase the fact this was easily a top-10 team in school history. 
Feeling the loss of 10 starters from the '98 squad, the 1999 Buckeyes also opened their season on the road, this time back in New Jersey for the Kickoff Classic where they met the 12th-ranked Miami Hurricanes. Also in attendance for this one, the enjoyment factor was quite different as Ohio State was completely inept on offense thanks to the giant hole at quarterback created by Joe Germaine's departure. Somehow, OSU trailed just 16-9 late in the half but Nate Clements got scorched by Santana Moss for a 67-yard touchdown and the Buckeyes never threatened from there as they turned it over four times on the day. Mostly behind Steve Bellasari, the '99 Buckeyes limped to a 6-6 record to finish 8th in the league. 
Now, 15 years later, the Buckeyes are again preparing to open their season on the road and despite the risky nature of doing so, seem poised to overcome the obstacle with Vegas currently listing them as roughly a 20-point favorite. 
Big spread or not, playing Navy is always a little dicey thanks to the seldom seen triple option offense orchestrated by a talented running quarterback and the flurry of sketchy cut blocks that come with it. One has to look no further than Ohio State's 31-27 escape at home against Navy to open the 2009 season for a refresher on the dangers of playing the Midshipmen. I'm nodding at you, B-Rolle. 
This year, Navy boasts another legit running quarterback in Keenan Reynolds who churned out over 1,300 yards last season in guiding the Midshipmen to 50 rushing touchdowns and a 9-4 record. Slowing down the rushing attack will go a long way toward ensuring Ohio State starts the season as expected which is obviously a must as the Buckeyes begin their quest toward a B1G championship and a spot in the inaugural college football playoff.