Though Braxton Miller, the B1G's MVP the last two years returns for one last hurrah and there is much excitement about the plethora of weapons at his disposal, the fact remains Urban Meyer and Ed Warriner must adequately replace four of five starters on what was one of the best offensive lines in school history for the Buckeyes to have any shot of a national title. 
Jack Mewhort, Andrew Norwell, Corey Linsley and Marcus Hall might not be sexy names in Buckeye lore – such is the largely-anonymous life of a lineman – NFL scouts were aware of their talents as Mewhort and Linsley were both selected in the NFL Draft (2nd/5th rounds, respectively) while Norwell and Hall were signed as undrafted free agents. 
Over the last two seasons, Ohio State's version of the "core-four" anchored a rushing attack that carried the Buckeyes to 24 straight wins. Norwell and Mewhort were even good enough to start back in 2011, the same time Braxton was getting his first taste of big time college football. 
OHIO STATE'S OFFENSIVE PRODUCTION DURING BRAXTON MILLER ERA


| YEAR | RUSH YPC | RUSH YPG (rANK) | TOT RUSH YDS | RUSH TD | SACKS/YDS | PASS YPG | TOT OFF (RANK) |
| --- | --- | --- | --- | --- | --- | --- | --- |
| 2011 | 4.4 | 191 (27) | 2,485 | 20 | 46 / 251 | 127 (115) | 318 (107) |
| 2012 | 5.2 | 242 (10) | 2,907 | 37 | 30 / 190 | 181 (101) | 423 (47) |
| 2013 | 6.8 | 308  (5) | 4,321 | 45 | 22/ 136 | 203 (88) | 511 (7) |
The 2011 offense had flaws beyond a raw signal-caller allowing defensive coordinators to overwhelm the line with sheer numbers making it hard to fault the lineup of Mike Adams, Norwell, Mike Brewster, Mewhort and J.B. Shugarts. Well, except for Brewster's rash of bad snaps and a host of predictable false starts from the right tackle spot. Averaging a meager 318 yards of offense per game, the 2011 squad produced the 2nd-worst rush yards per carry over the last 11 years of OSU football at 4.4 thanks to predictable play-calling and Braxton's yet-to-be-developed ability to avoid sacks. Boom Herron playing in just eight games combined with Carlos Hyde not being quite the beast he would become didn't exactly bolster the cause. 
In 2012, with both Miller and Hyde a year better combined with the core-four's first season in the starting lineup along with Reid Fragel at right tackle, Ohio State put an additional 105 yards of total offense on their weekly resume, good for a 60-team jump in the total offense rankings. With the hogs up front starting to gel and Miller's passing acumen still not ready for prime time, Meyer and Tom Herman leaned on the rushing attack to the tune of 5.2 yards per carry for 242 yards per game. 
RUSH YPG - LAST 11 YRS

YEAR
YPC
2013
6.8
2012
5.2
2011
4.4
2010
5.2
2009
4.5
2008
4.6
2007
4.6
2006
4.6
2005
4.7
2004
4.0
2003
3.3

 
The line was so good the Buckeyes nearly had two 100 yards per game rushers as Miller finished at 105.9 per outing with Hyde clocking in at 97.0, with both finishing among the top 36 rushers per game nationally and combining for 29 touchdowns. 
Last season, with the core-four back for their swan song while adding Taylor Decker at the right tackle spot in place of the departed Fragel, the Ohio State offense went bonkers. 
Hyde blew up for 1,521 yards on a ridiculous 7.3 yards per carry for an average of 138.3 per game with 15 touchdowns. Despite those numbers, the most insane stat on his resume is the whole SIX YARDS he lost over 208 carries. Yes, Hyde was a beast but a number like that doesn't happen without a dominant offensive line creating consistent push. 
Miller went off for 1,068 yards on the ground on 6.2 yards per carry, to average 89.0 yards per game as Meyer and Herman dialed his carries back from 227 in 2012 to 171 in an effort to keep him upright. 
Amazingly, on the strength of the line, the Buckeyes had six different backs carry the ball at least 30 times with their individual yards per carry ranging from a low of 6.2 (Miller) to a high of 8.7 (Elliott). 
Though Ohio State's passing yards per game climbed by just 22, the Buckeyes rode 309 rushing yards per game (5th nationally) to post a staggering 511 total yards of offense per outing, good for 7th best in the land, with 45 rushing touchdowns.  
The incredible 2013 offense, particularly the rushing attack buoyed by the core-four should certainly be celebrated but the fact is, it shouldn't have to be duplicated in 2014 for Ohio State to have a legitimate run at a national championship.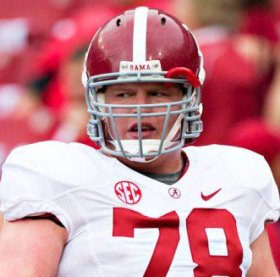 The reality is that title teams come in all shapes and strengths as evidenced by Ohio State's last national championship squad. The 2002 outfit relied on a stout defense as the offense averaged a hefty 118 less rush yards per game, 2.5 less yards per carry, 147 less total yards per game and 16 less points per outing than the 2014 Buckeyes. 
Of course, nobody would accuse last year's defense of being "stout" but with another year of seasoning, a defensive line that could be the best in the country, an influx of talented young players, and a more aggressive approach to stopping the pass, this year's Silver Bullets could pick up some slack while their offensive counterparts work to gel. 
Throw in the fact Miller is now in his fourth year with the program and third under Herman's direction and it's fair to expect an increase in his passing accuracy and overall decision making which should also take some pressure off the line to help generate 250+ yards on the ground on a weekly basis. 
The candidates to start up front this year don't want to hear any of that however, as they'll be focused on becoming a strength of the team. 
Taylor Decker will shift from right to left tackle and all signs point to him having a solid if not spectacular campaign. At left guard, the common thought has Antonio Underwood seizing the gig after not only switching from defense to offense upon Meyer's arrival but also overcoming a torn ACL. At center, the Buckeyes should be loaded with 'Bama transfer Chad Lindsay looking like the favorite to win the job with Jacoby Boren and Billy Price nipping at his heels. Worst case, both could provide depth along the middle three spots. At left right guard, Pat Elflein is a lock to start after filling in admirably for Hall following his double-bird salute in Ann Arbor. At right tackle, senior Darryl Baldwin will enter camp as the starter. 
Depth on the edges will be extremely youthful with names like redshirt-sophomore Kyle Dodson, redshirt-freshman Evan Lisle and true freshmen Jamarco Jones and Kyle Trout looking to solidify a reserve role. 
The lack of proven experience is rightfully cause for concern but with Warriner at the controls and a ton of talent to work with, the future in the trenches is as bright as ever.