Every four years, the World Cup puts many of the world's most graceful and athletic humans on display for us to see. Some of these guys are the greatest athletes their country of origin has ever produced. The smaller the country (population wise), the greater the chances that these are among the very best athletes their nation has to offer.
But in large, very populous countries, such as the U.S. and China, the best athletes typically find other outlets to display their speed, strength, and power. Here, they typically gravitate to football, baseball and basketball. As college football fans, this is good for us (you will never win a Heisman Trophy, Belgium!). As soccer fans, not so much.
If our most physically gifted citizens decided to stick with soccer, the U.S. would likely rank among the world's best teams in relatively little time.
For example, many Ohio State football stars could have been great soccer players. With that in mind, I thought about which players might have really excelled, and that led me to select my all-time Buckeye starting 11.
For this thought experiment, I'll use a 4-4-1-1 alignment. For you soccer novices, that's four defenders, four midfielders and two strikers in front of the goalkeeper, with one striker playing in support behind the other (as the U.S. used Clint Dempsey behind Jozy Altidore before the latter blew out his hammy against Ghana).
Goalkeeper

Goalkeepers are typically big, athletic men, with quick reaction times. I think Terrelle Pryor would be a beast in this role. He's got a big wingspan to cover as much of the net as possible, good speed to get out in front of the box for balls played over the top, and the agility to change direction on those deflected shots.
At 6-foot-4, Pryor is an inch taller than Tim Howard, who is one of the world's best keepers. And his wingspan is notably wider. TP is big enough to handle the banging when the ball is in the air and attacking players are trying to knock him off balance. He's also an athletic freak. My gut feeling is that he'd excel at this.
My backup goalkeeper would be Cris Carter. And the gap between the two is miniscule.
Back Line

The two outside defenders are typically fast players who can attack up the wings and have the speed to recover in time to mark the opposition's forward players when the ball is turned over, blowing up the counterattack. DaMarcus Beasley and Fabian Johnson currently occupy these roles on the left and right, respectively, for the U.S. I like Ted Ginn Jr. and Robert Smith in these spots.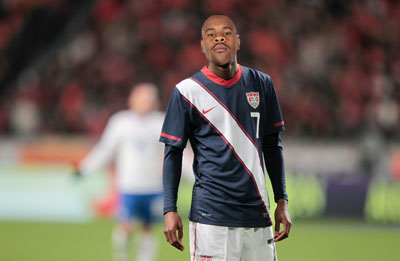 Both Ginn and Smith have the speed to both fly down the wings and to recover and defend when necessary. They could get to the end line, cut in toward goal and either take a shot or thread a pass to a teammate in the penalty area. The opposing outside defenders would have their hands full with these two players overlapping with the speedy attacking midfielders (more on them below).
The two central defenders are typically taller, bigger guys, who can win balls in the air and battle big strikers. They still have to be athletic, because they can cover a lot of ground when the opposition counter-attacks.
I like Rickey Dudley and Jeff Heuerman for these spots. Both are tall, solidly built guys who can run. Dudley is 6-foot-6 and his build makes 6-4 Manchester City / Belgium star defender Vincent Kompany look like a runt.
Dudley could get off the ground and win those headers, even without his sizable height advantage. I'm not sure about Heuerman's hops, but the kid is 6-foot-5 and would be difficult to move. I'd probably have him shed a few of those 255 pounds so he could last the full 90 minutes and keep up with opposing strikers.
My first sub at central back would be Eddie George and, if either Smith or Ginn were unavailable outside, it would be nice to have Devin Smith or Doran Grant in those spots.
Midfield

I'm going with two holding (defensive) midfield players and two offensive-minded attackers.
My star attacking mid is Joey Galloway. I just don't think anyone could handle Galloway in his prime, with his speed, moves and elusiveness. His movement would destroy back lines. My second attacking midfielder is Braxton Miller. At 6-foot-2, and around 220 pounds, Miller is deceptively strong. He has great speed and changes pace and direction on a dime. He'd be nightmare fuel for opposing defenders.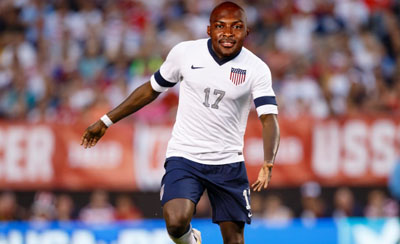 Holding midfielders allow your team to keep possession, cause turnovers, and get into passing lanes on defense. Who could be better suited for this role than Antoine Winfield? Winfield made a career out of solid defensive play, knowing where to be even before the snap, and controlling his area. These qualities would make him a good holding mid.
His holding midfield partner would be Shawn Springs. Springs possesses many of Winfield's qualities, but with additional size. This duo would be slightly shorter than you might typically want for the position—especially Winfield at 5-foot-9—but their speed and ability in the air would likely make up for it.
I'd definitely have Ryan Shazier or Mike Doss as an additional defensive mid to bring into games in place of one of my strikers late in games to protect leads.
Strikers

Strikers come in many forms. The diminutive Lionel Messi is often deployed at striker for his club team, Barcelona, and for Argentina. The U.S. uses the big, athletic Altidore (get well soon!) to hold off the defender while holding the ball and waiting for reinforcements from the midfield. Wayne Rooney is somewhere in between for England.
I prefer strikers in the mold of Didier Drogba of the Ivory Coast—guys big enough to hold play, agile and quick enough to get around defenders, and with enough athleticism to get in the air and win headers. To this end, one of my strikers is David Boston. Boston is the same height as Drogba and had a similar build before bulking up as an NFL player. His route running has him well accustomed to quick changes of direction. And his ability to get up for jump balls on fade routes will serve him well in front of goal on set pieces.
Coming in behind him will be Dontre Wilson in a supporting striker role. Wilson, at 5-foot-10, is a bit shorter. He wouldn't win many battles in the air and might not be able to hold up play as well as Boston, but his quick, darting movements would be Messi-esque.
He'd be the guy creating havoc and forcing the back line to lose its shape. As a guy who worked out of the backfield last year, he's got strength in his lower body, which would translate into powerful shots on goal.
Pryor or Michael Wiley would probably make for some pretty decent backup strikers.
---
Soccer fans, like football fans, love to debate lineups and tactics. I'm sure you've got your opinions. Give us your starting 11 in the comments section below.